Games To Play With Your Kids When You're Exhausted
Preschoolers
Family
Kids
Mums & Bubs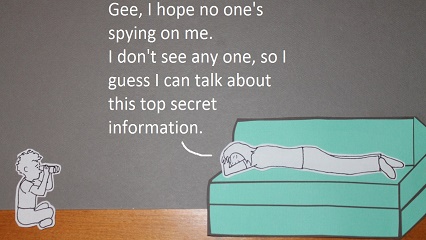 ellaslist COVID-19 update: Please note that all the information on the website is correct at the time of publication. Please check the relevant website before visiting a venue or destination for the latest COVID-19 information. ellaslist is not responsible for any cancellations or closures.
By: Serina Hajje, ellaslist
It is a truth universally acknowledged that kids will want to play when you are most exhausted. You're lying on the couch/bed, drifting off to sleep or trying to unwind with a cup of coffee and a mind-numbing magazine when you hear a scampering of feet and the plea: "Muuuuummmmmmmmyyyyyy…..play with me!" There is no escape! But there are some kids games that can keep you in one spot and your special little one happy.
The Ugly Volvo has a hilarious blog and shares illustrations on kids games that require minimal parental effort. Here are our favourites!
1. Play Doctor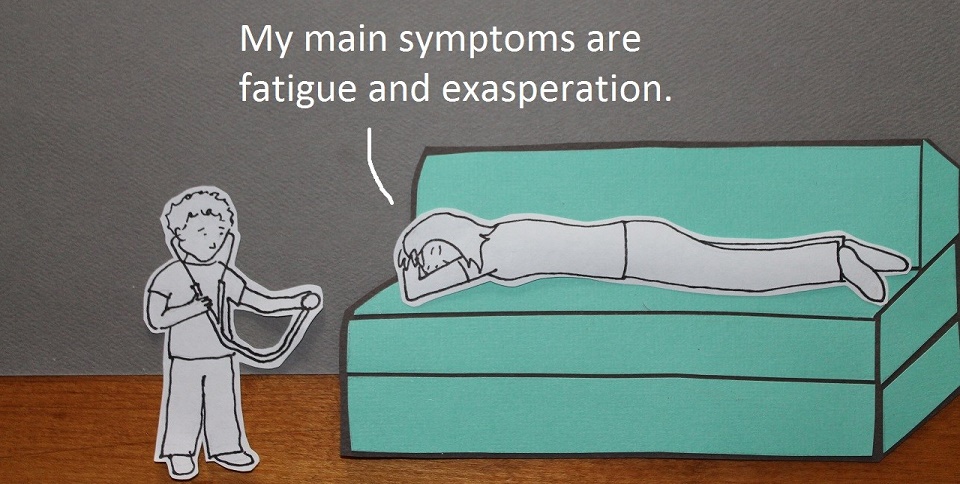 The Ugly Volvo/ Via Facebook: The Ugly Volvo
Doctor, quick! A patient is incapacitated and can only be cured by sticking a thermometer (or spoon, use your imagination people) in her mouth, laying a cloth on her forehead and checking her heartbeat. Feel free to encourage the doctor to scavenge their room for important medical equipment. Oh, and the patient may need to have a drink every now and then.
2. Hair Salon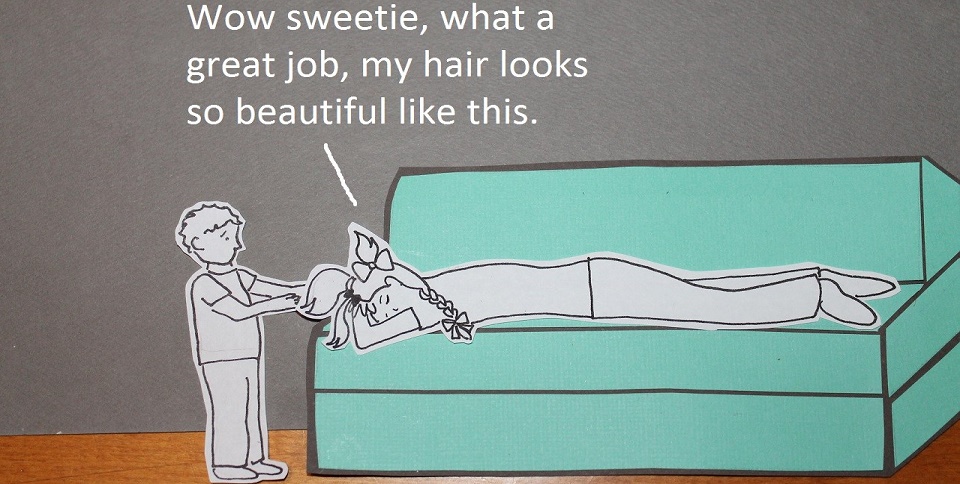 The Ugly Volvo/ Via Facebook: The Ugly Volvo
With a few hair-ties and a brush, your hairstylist will be occupied for a good while. Warning: do not recommend for those with curly hair – your hair will only get knotty and there will be so much pain.
3. Ancient Egyptian Burial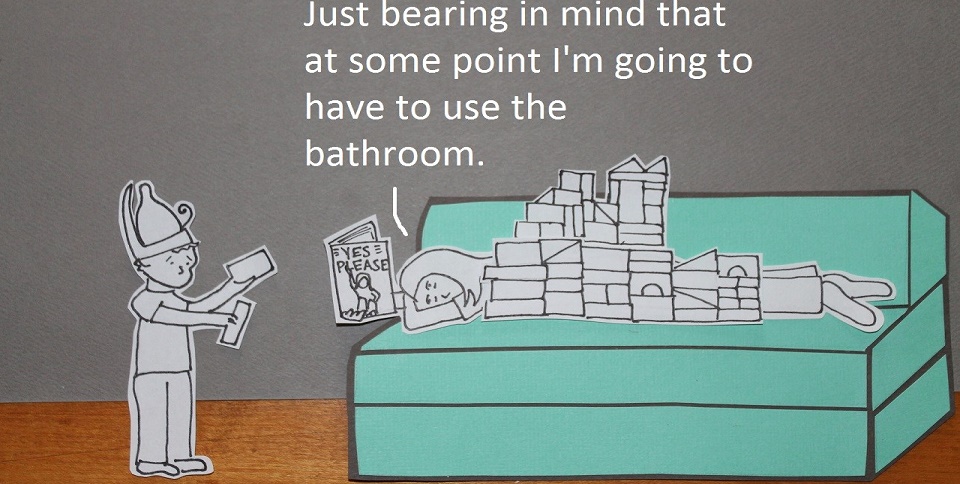 The Ugly Volvo/ Via Facebook: The Ugly Volvo
Play the taxing role of a dead pharaoh and have your faithful little Egyptian servant bury you with bandages, pillows, blocks…anything that won't hurt really! They can also pretend to be an archaeologist and dig you out with care.
4. Climbing the Summit (you)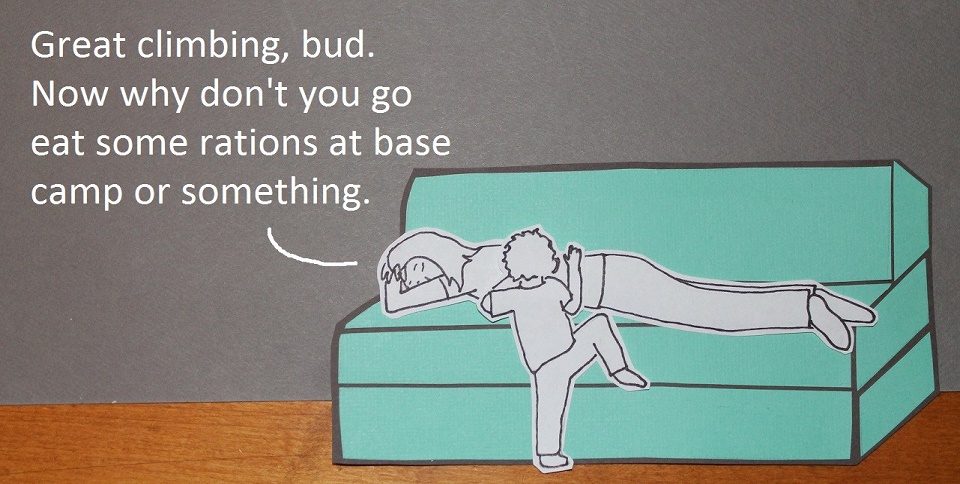 The Ugly Volvo/ Via Facebook: The Ugly Volvo
This requires some sacrifice on your part but you still get to still sit there or lie down so just make sure a toe doesn't poke your eye. This is a great chance to test their climbing skills (sort of)!
5. Drawing Class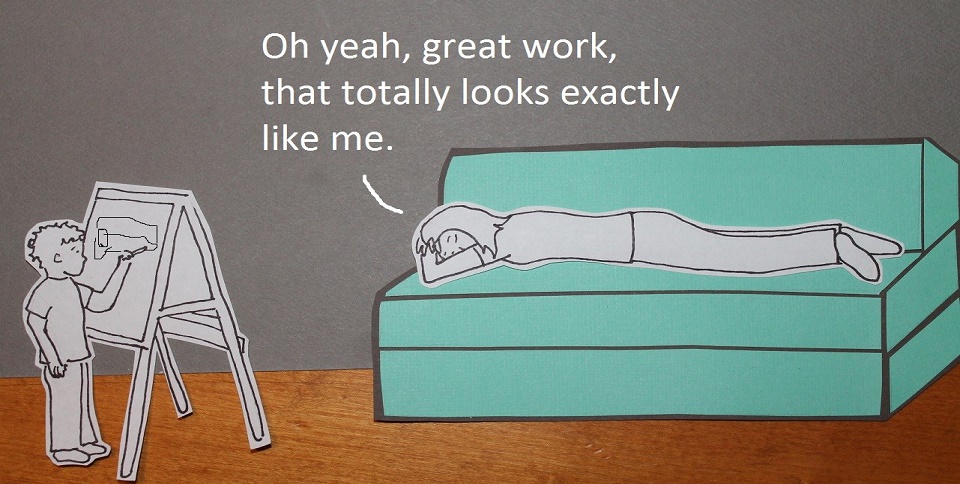 The Ugly Volvo/ Via Facebook: The Ugly Volvo
We're taking a note from the Old Masters and going to do life drawing by taking an object, say a person lying/sitting down, and drawing it.
6. Acting: Late Twenties

[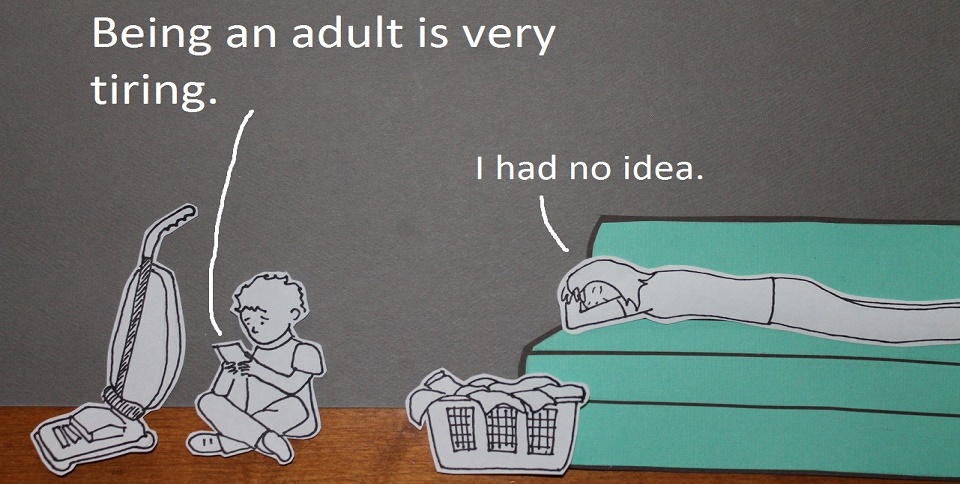 The Ugly Volvo/ Via Facebook: The Ugly Volvo
What kid doesn't love to play an adult? And you just happen to have all the important adult materials that's required. Maybe pull out the heels and make up, or the cleaning utensils for some serious work.
The Ugly Volvo has more suggestions which you can see on her blog. You can also follow her on Facebook or on Twitter.