Fruit Picking Fun with the Family at Watkins Farm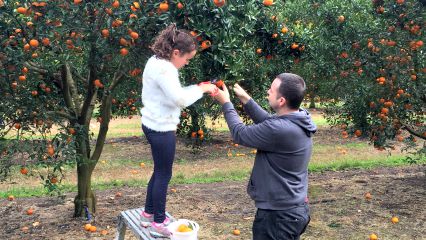 ellaslist COVID-19 update: Please note that all the information on the website is correct at the time of publication. Please check the relevant website before visiting a venue or destination for the latest COVID-19 information. ellaslist is not responsible for any cancellations or closures.
By: Jo McPherson, ellaslist explorer
The mandarin season is not yet over for Watkins Family Farm!
They will be open every weekend and during the first week of school holidays including and ending on the October long weekend. This is a wonderful (and delicious!) family day out!
Escape the city for the fields and enjoy a fantastic day of fruit picking with the family. Just an hour's drive north of Sydney, past beautiful Dural and Hawkins Lookout, down a windy unmade road and nestled next to The Hawkesbury River, you'll find the hidden gem of Watkins Farm. Run by the lovely Mark and Anna Watkins, whose family have owned the business since 1836, Watkins Farm has introduced pick you own fruit.
Trees Laden with Fruit
Winter is the mandarin season and Watkins Farm has over 2000 trees laden with Hickson and Imperial varieties. The farm only uses organic sprays and absolutely no pesticides. The results are natural-looking fruit and superb flavour. You'll also find cumquats; delightful buds of juiciness that you pop into your mouth whole, bite, chew and swallow. As well as mandarins and cumquats, the farm offers honey, homemade jams, chutney and cordials to take home, with plans to add more fruit trees in the future.
How it Works
On arrival you'll be greeted and advised which areas of the orchard are best for picking. Each person gets a bucket and snips (a small bucket for $7.50 and a large bucket for $12.50). The kids can have a small bucket for $5 too if they want. Then you roam the rows of trees to find the juiciest fruit. Don't be fooled into thinking fruit with blemishes are no good – we found that they were often the best. Once finished, you return the buckets and put your fruit into the bags supplied (next time we'll take our own).
Fantastic Facilities & Plenty of Space
Pick your own fruit is becoming more and more popular and Watkins Farm are continually investing in more trees to cope with demand. They've also added some additional facilities so you can make a real day of it. They currently offer a picnic shelter, a refreshment stand and lots of open space to relax and enjoy. We indulged in bacon & egg rolls and cheese & ham toasties which were great value. It's probably cheaper to buy your food here than bring a picnic but if you want to take your own, the farm is more than happy for you to picnic.
What Makes it so Special?
We loved the tranquillity of Watkins Farm; the beautiful bird song, fresh air and the feeling of total relaxation. It felt like an oasis. I loved watching my daughter running and skipping through the rows of trees. She quickly got the hang of cutting the mandarins off the tree instead of just pulling. She loved the animals too. There were sheep to feed, chickens and beehives to look at and a very friendly horse.
All this amazing fruit! Now what?
Back at home, my daughter Ellie rushed into the kitchen, grabbed some mandarins to create an 'Ellie Surprise'. Why not let your child have a go too? We're also going to try Fast Ed's Rich and Tasty Mandarin Cake or what about a Sparkling Mandarin Mocktail?
Ripe for the Picking
The fruit is ripe and ready for picking with the season ending in September so don't miss out, grab your buckets and off you go!
ELLASLIST HOT TIPS
Getting there…your

GPS

may direct you down Laughtondale Gully Road. We don't recommend you go that way as it's very narrow. We suggest following Old Northern Road into Wisemans Ferry and turn into Singleton Road on the right just before the township. Follow Singleton Road until you come to Watkins Farm sign


Find the best fruit…venture a little further through the orchard to find the most heavily-laden trees and choose the fruit higher up the tree as they get the most sun and are the tastiest


Use the clippers to cut your fruit from the tree so that you do not break the peel


Build in time to enjoy a coffee, drink or snack and really enjoy the tranquillity


Take a ball or some outdoor games...there's plenty of space for the family to run about and enjoy themselves


Take some hand sanitizer or wipes as they have drop toilets!


Add in some extra fun – head to Hawkins Lookout, visit the village of Dural, or take the Wisemans Ferry across the river to the hotel where on a Sundays they offer face painting, a jumping castle and animal petting area
THE ESSENTIAL STUFF
Opening Hours: 10am -4pm, weekends only until September,
Prices - mandarins are $7.50 per small bucket and $12.50 per large bucket CASH ONLY
Telephone - 0418 233 466
Other Farms in the Area


Watkin's Orchard - 1125 Singleton Rd, Laughtondale; weekends 10am-4pm, tel: 04566 3107


Ford's Farm - 1275 Singleton Rd, Laughtondale; weekends 10am-4pm until July, tel: 04566 3127


Schofield's Orchard - 42 Yarramundi Lane, Richmond; Sundays 10am-4pm, tel: 0411 119 701
Can't get enough of Fruit Picking?
Check out our list of the Best Places for Fruit Picking throughout the year.
We are a small family originally from the UK. Dave (my husband) and I are in our 40's and moved to Sydney about 10 years ago; we can't imagine living anywhere else now.
We have one daughter, Ellie, who is 7 and into anything that we offer her. She loves craft, drama, dressing up, swimming (particularly as a mermaid), cycling and anything else you may suggest she does. We also have a gorgeous dog, Rosie who is our best friend and ball lover.
Dave is an IT architect and in his free time used to play many computer games however now we have a home, his free time is used to garden and do the
DIY
jobs that I am really hopeless at.
I'm a teacher and work with children and their families that have autism. It is a rewarding job and I love it. I also love the school holidays where Ellie and I can go off and explore Sydney.
We all love travelling and doing new things; we are often browsing the 'net for interesting things to see and do. Every school holiday we are busy doing things. My friends are always saying "you do so much with Ellie; you are always doing something different"! I wouldn't have it any other way.