First Livvi❜s Place Playground For The Shire May Not Go Ahead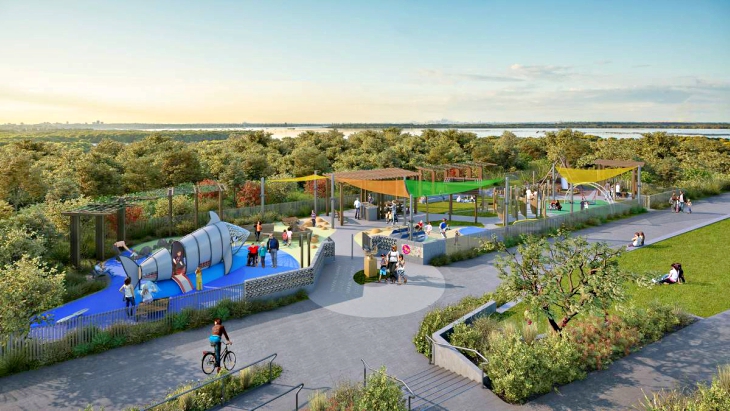 By: Alex Harmon, ellaslist
Update: It with great sadness that we announce the shark playground may not be given the green light!
According to the Leader the proposed $1 million Livvi's Place accessible playground has been rejected, largely because of high voltage power lines above the park.
Capital Bluestone have been advised to find a better site for the playground, which was proposed to be located on the edge of Woolooware Bay behind the western apartment blocks.
"The accessible children's playground is not supported in the proposed location within the riparian corridor and underneath high voltage power lines," the state government's Planning Assessment Commission said.
"The proponent shall consider alternative sites outside of the riparian corridor and the Ausgrid easement."
The commission said even though the playground site was outside the Ausgrid protection zone and met the necessary EMF (electromagnetic field) clearance, the electricity network operator was concerned about the playground being within its easement.
We will keep you posted on any developments...

Image via The Leader
Original article published in February 2018:
Two of our favourite things, playgrounds and marine life, will come together in the Shire with plans for the new "Shark Park" in Woolooware Bay getting the green light. In conjunction with playground heroes, Livvi's Place, the park will feature a large, wheelchair accessible shark structure for kids of all ages and abilities to explore. Imagine crawling through a shark's belly and emerging through a fin slide!
The new $1 million, inclusive children's playground will be built in landscaped parkland in front of the new apartments precinct and Southern Cross Group Stadium.
Ahoy There?
The playground almost included a pirate ship, but to stick to its roots, it was decided that a shark should be the pièce de résistance! Other proposed works include native plantings, mangroves rehabilitation, a 700 metre shared pedestrian-cycle pathway, fitness stations and viewing platforms.
Life's A Beach
The 800 square metre playground will have an awesome coastal theme, and you can expect state of the art equipment including a shipwrecked boat, play mounds that look like jellyfish, a surfboard balance-board (so cool!), a carousel, in-ground trampoline and a nest swing.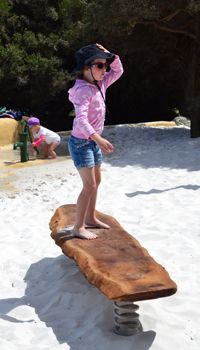 Why Parents Will Love It
Unlike a lot of new parks, this one will also include shade structures, picnic tables, barbecues and bubblers, "while a magical forest with a discovery walkway will provide the chance for nature play and sensory engagement," adds the developer's managing director, Ben Fairfax.

Picture: DA
The Livvi's Place playground, which is the first in Sutherland Shire, is a joint initiative between Capital Bluestone and the Touched by Olivia Foundation, a national charity which builds inclusive communities through play. We can't wait to check it out, watch this space!
Images via The Leader.