Featherdale Wildlife Park with Toddler in Tow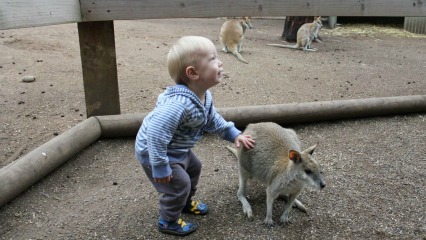 By Vanessa Mah Chut, ellaslist explorer
Having visited Featherdale Wildlife Park before I knew it was a fabulous place to view Australian animals, but on this particular day it was my first chance to road test the park with a toddler in tow.
The park opens at 9:00am and my son and I arrived soon after so we could enjoy the park before afternoon sleep time. There are a number of animal meet and greets as well as feeding sessions in the morning and I let these be the guide for where we would go first.

Rapt in Reptiles
Our first stop was
'Rapt inReptiles'
where I got to hold a Children's Python. We were the only ones there and so I had a chance to chat with the staff member about the snake and introduce my son to this slithery creature. He was still in his pram at this point and was curious but unsurprisingly a little unsure. This was a small snake and perfect for introducing toddlers to the reptile world.
Echidnas and Crocs
Our next stop was the echidna and crocodile feeding. We could get quite close to the echidnas so they were able to keep my son's attention for awhile but the crocodile feeding is safely at a distance (by toddler standards). I found watching the croc eat his breakfast quite incredible but it was difficult to get my son to look in the right direction at the right time.
There were many more presentations at the park which we didn't get to catch (pelicans and penguins in the morning and flying foxes, dingos and tassie devils in the afternoon). I would have loved to do the penguins at play presentation but by now my son was getting a bit restless and need to be set free.
Roam Free
So, I let my son out of the pram and let his interests guide our route. The compact size of the park means that there isn't too much walking and it's quite manageable with little legs. As I imagine most toddlers would be, he was interested in anything that he could get close to, and ideally touch. All of the animals seemed particularly active, which meant lots of movement and action to catch my son's attention. The wombats were scurrying around their enclosure, the penguins waddling and diving, the wallabies jumping over rocks and the multitude of birds were singing up a chorus. There was a lot of pointing and toddler gabble – he was loving it!
Up Close to the Animals
The highlight of the day was certainly patting the animals and the great thing about Featherdale Wildlife Park is that there are so many spots to do this. I counted three walkthrough kangaroo and wallaby enclosures where you could feed and pat the animals. My son loved patting the roo's, only getting a bit upset when he came face to face with one or two.
The farmyard was also a great space to get up close to animals and pat them as well. My son cuddled sheep and goats and was super excited to see the bunnies and piggies. I did notice a couple of cheeky goats on their hind legs trying to get the feed out of a visitor's hands and it was at this point that I was quite happy to have run out of feed.
Clear View for Toddlers
My son spent most of the day out of his pram. There were a few enclosures that I had to lift him to see into but for the most part there were clear viewing areas or wire fencing so he could see most of the animals from his eye level.
Tip: Watch out for Little Fingers
One thing that he wanted to do at every enclosure, and I am certain many toddlers would, is to hold onto the wire fencing. This means his little fingers would be inside the enclosures. There are a lot of bird enclosures with some large raptors and buzzards which I believe would be quite keen on little fingers, not to mention the emus and many cassowaries, so this is certainly something to watch as you move around. I did let my guard down near a type of gull at one point and my son got a nip on the finger. The positive in this was that he did stop holding onto that fencing!
Koala Cuddles
Another highlight was meeting a koala. My son had the chance to pat the koala and we took our own photos with the cuddly animal too. This encounter was free, which is not the case at many other wildlife parks.
Tip: Visit during the Week
Visiting the park during the week we found it to be lively and busy but it was never crowded and we could view the presentations easily. In the case of the koala sanctuary visit we were the only ones there. It is also very easy to navigate the entire park with a pram and I could even move through the Reptile Pavilion and Nocturnal House with ease.
Food Stop
There are two picnic areas and we chose the Back Picnic Area for our morning tea. This is right next to the wombat enclosure so we were able to watch two wombats moving about while we took a break. There were plenty of tables so this was an easy place to relax for a while. Later we decided to have lunch before heading home. By this time it was raining so we opted for the Billabong Cafe tables which are undercover. We had brought our own food but there are plenty of suitable toddler options such as hot food and sandwiches at the cafe.
Overall, we had a really fun mum and toddler morning. I recommend visiting midweek for the easy movement around the park and hands on access to so many animals. With children under three free, it's great for a special day out with your toddler.
Featherdale is located on 217-229 Kildare Road, Doonside, NSW 2767 (near Blacktown) AUSTRALIA.
Opening times: 9am – 5pm daily (closed Christmas Day).
For more information visit the Featherdale website, ring +61 2 9622 1644 and keep up to date on Facebook.
I'm excited be one of the new ellaslist explorers and am looking forward to exploring Sydney further along with my mini-explorer boys Hal, aged 1, and Madden, aged 5, and the other big explorer, my husband Brad.
I'm a primary school teacher and when I'm not working we all enjoy getting out and about. With two active boys we can often be found at Sydney parks with our current favourites being Lakes Edge Park at the Ponds and the Blaxland Riverside Park at Newington. We live in the Hills district and spend a lot of our free time at the parks (and the James Ruse Reserve Water Playground), cafes and along the river in Parramatta. We enjoy going to shows together with Madden's favourite being The Gruffalo at Glen Street Theatre. We love to travel and have enjoyed recent family trips to Warren, Wagga Wagga, Bermagui, Burleigh Heads and Kangaroo Island. We have nicknamed Madden the jock thanks to his love of all sporting events so as well as watching his Saturday soccer matches we are often cheering on teams at a variety of sporting events. I just asked Madden what we do as a family and his response was 'relax', which is what we like to do after exploring all of the above.
Reviews

Reviews get lonely too
Be awesome and write a review