Exploring Fact And Fantasy With The Museum Of Contemporary Art❜s New Kids❜ Program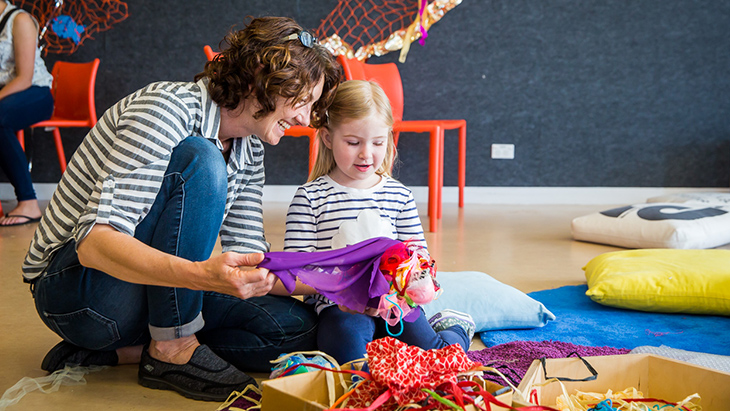 By: Alex Harmon, ellaslist
Kids have such rich imaginations. They understand more than anyone that the lines between truth and fiction can be blurred in such a beautiful way. This is the premise behind the Museum Of Contemporary Art's new school holiday program,'Contemporary Kids – Fact and Fantasy'. We go behind the scenes with Giselle Stanborough, MCA Artist Educator, who has developed the MCA's s program which follows a curious and contemporary theme where hands-on creativity is encouraged.
Can you tell us more about what you've got planned for 'Fact and Fiction' in response to Jenny Watson: The Fabric of Fantasy?
The Contemporary Kids program is all about playing with memory and imagination. Inspired by the work of Jenny Watson, we will be looking at ideas of portraiture, which is one of the oldest and most established genres of art, but our approach is going to have a very whimsical, contemporary twist. Jenny Watson has a strong sense of fun and humour in her work, and that is definitely something I have been inspired by.
What are your favourite works in the exhibition?
My favourite work is a series of etchings called Bottled Memories. The work draws on her personal history and allows the audience a glimpse into some formative moments from the artist's past. I just love the idea of distilling and preserving memories, as if they were a special perfume that could be carried around in a handbag or kept in a glove box and pulled out at moments when we need a positive recollection.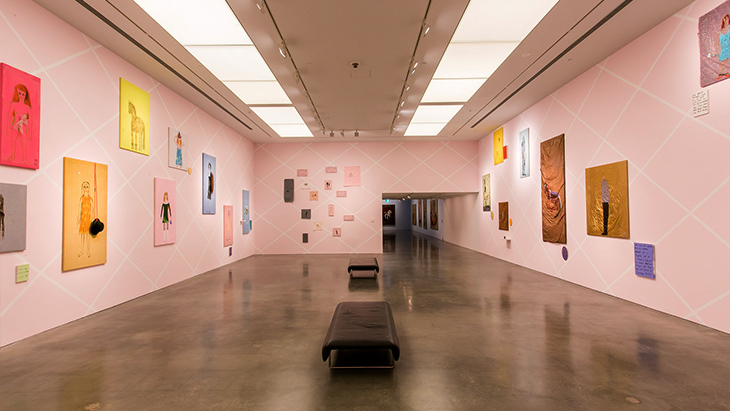 Image: Jenny Watson, installation view, Jenny Watson: The Fabric of Fantasy, Sydney, 2017, image courtesy the artist and Museum of Contemporary Art Australia © the artist, photograph: Anna Kučera
Can you take us through one of the activities on the day?
We always have a variety of approaches in our activities to suit different learning styles, whether that's visual, aural, verbal or physical. We also try to utilise every space and every part of the journey; there is creative potential everywhere. I am thinking of a particular activity that involves a physical transition down the corridor that connects our creative studio to the gallery spaces. The movement prompts are based on Jenny Watson's relationships with animals and their symbolism. It is a small part of the program but it is really important that something takes place to distinguish the artists' studio as a special making place, one that is separate from the rest of the word. Many practicing artists share a belief in the studio as a site of magical transformations and unique experiences of authorship. I think it's a great attitude to impart to young artists.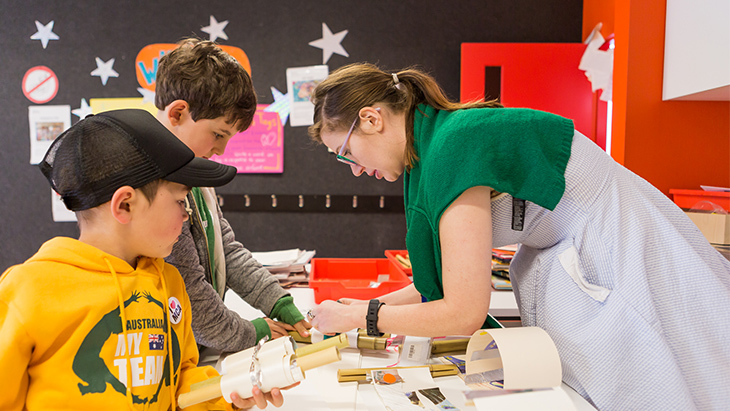 Image: MCA Artist Educator Giselle Stanborough during a Kids & Families program, photograph: Jacquie Manning
What's your favourite part of a Contemporary Kids program? We have a component called the Gallery Explorer, which structures engagement with the artworks in the gallery and it's a great tool for parents who are new to talking about art with their children. The Gallery Explorer has questions and suggestions for the children to produce creative responses to the work, and my favourite part is when kids and families come back from the gallery beaming with excitement and inspiration, and full of pride in the sketches and stories that they have made in response to the work.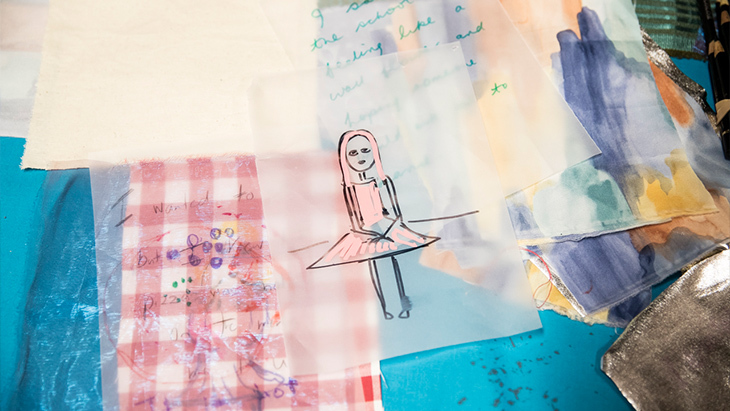 Image: MCA Creative Learning Program, photograph: Ken Leanfore
Jenny Watson brings a feminist influence to her work, will the Contemporary Kids program incorporate this and why is it so important for children to see?
The way that Jenny Watson blurs the line between private experience and public space is particularly feminist, and this idea was the starting point for the development of this Contemporary Kids program. Also, a large component of the art making activities involves working with textiles. We will be drawing on different types of material and then extending these ideas collaboratively with some basic sewing. As a female artist who works in performance and media art, I am very aware of the way in which certain practices and mediums are gendered, and ranked accordingly. Textiles are an example of a gendered medium that has sometimes be relegated to craft, rather than art. I wanted to make a program that moved away from these gendered assumptions about who should use which kinds of material to make what kind of art, in order to open up creative possibilities for people of all genders and ages.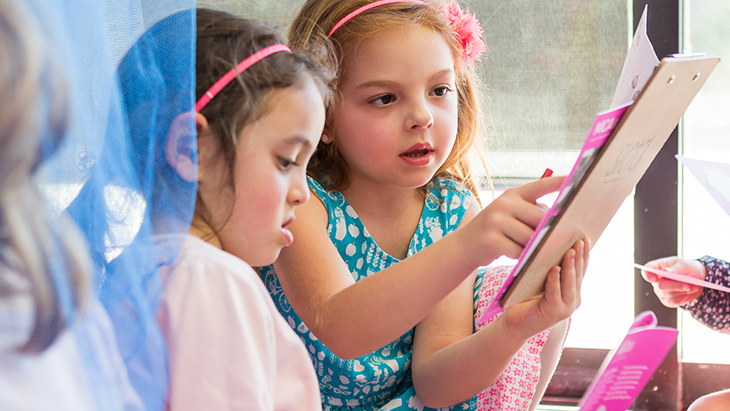 Image: MCA Kids & Families program, photograph: Jacquie Manning
Some parents are intimidated by contemporary art, any words of encouragement for them?
It is absolutely fine to be intimidated by contemporary art. This is especially so because many contemporary artists make work that is purposefully mysterious and perplexing. I think the best experiences with art happen when we shift from intimidation to curiosity. They are similar perspectives, but intimidation is inward looking, while curiosity looks outward. Embrace your uncertainty as a legitimate response to challenging artwork.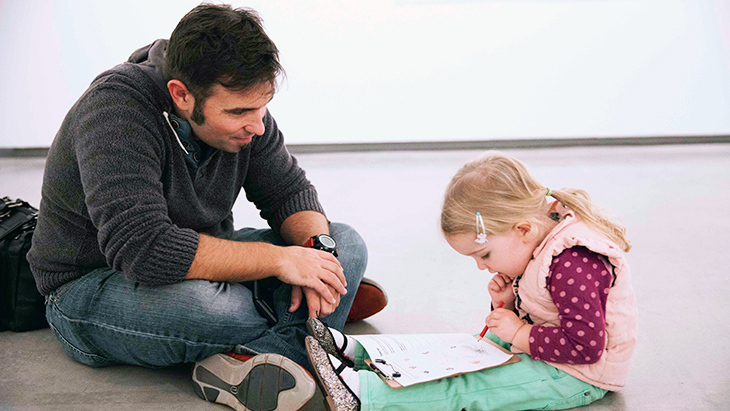 Image: MCA Kids & Families program, photograph: Michelle Mallam
We love the look of the MCA Cafe after for lunch, any pointers on what to order?
Personally, I love the roast Barramundi with wilted spinach. There's nothing like eating a delicious fish dish while you're looking over the water. The MCA Cafe also does a kids lunch box with a variety of small servings like sausage roll, apple wedges and a choc chip cookie. It is good to have a choice of yummy nibbly things for fussy little eaters.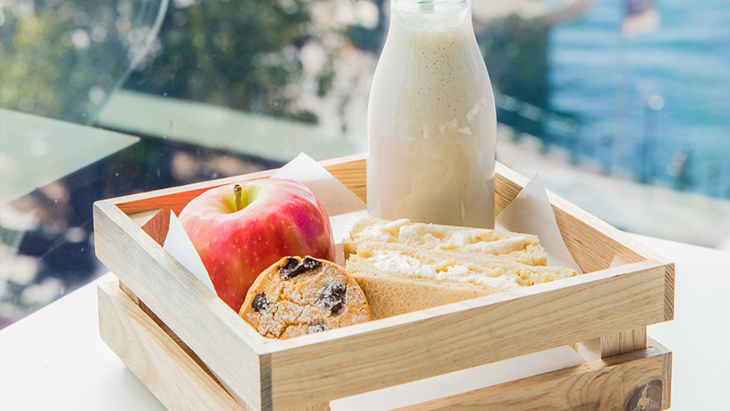 Image: MCA Cafe Kid's Lunch Box, photograph: Nikki To
For further information on Contemporary Kids, visit the MCA's website.