Exploring and Eating At The DragonFly Cafe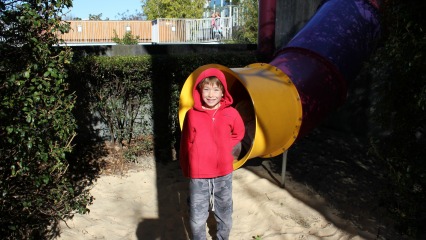 By: Vanessa Mah Chut, ellas explorer
Crossing from the carpark to the main entrance to Eden Gardens I immediately forgot that I was just metres from Lane Cove Road as I found myself amongst a plant paradise. The entrance, with its pots of violets and white tulips, gardens of colourful poppies and an old car with plants growing in various openings, all had me excited about my morning at Dragonfly Cafe where I was to have breakfast with my hubby and two sons, aged 2 and 6.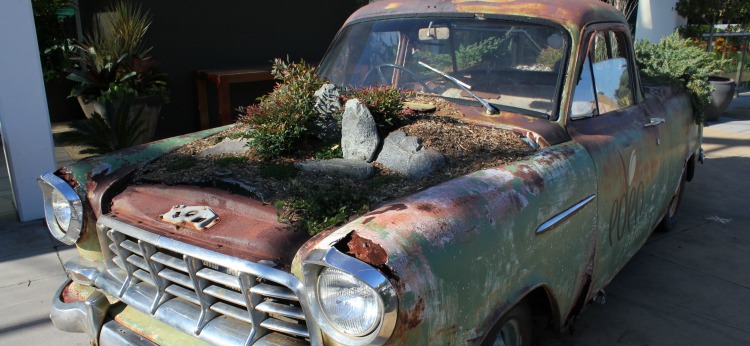 A Playground That Encourages Imagination
We decided to take a tour of the grounds first so that the kids could use up some of their endless energy. We began our walk with the nursery itself. It was filled with lots of stunning plants that would make it hard to leave without buying something. We then headed through the cafe and to the playground below. The playground has 2 gated entrances and the first highlight was the slide that the kids could use to enter the play area.
At first glance there didn't look to be much that would entertain the kids for long but there were lots of pockets within it to explore and without the usual swings and climbing frames the kids' creativity emerged as they rode toy horses, became bees searching for honey to take back to the hive, climbed on the snake and collected water for use in the sandpit. There are a couple of tables in the cafe that look down over the playground, but for the most part you will need to come down with the kids if you want to be able to supervise them.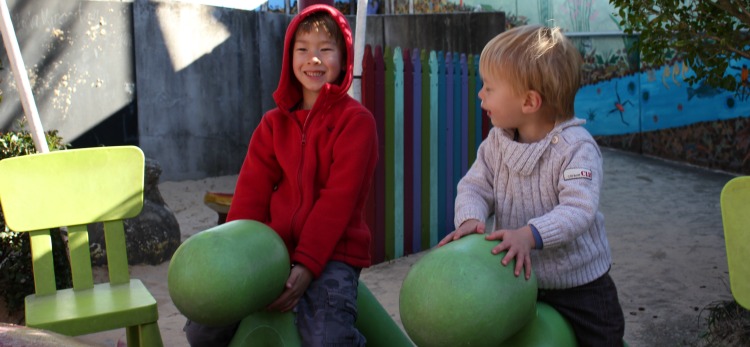 Exploring The Gardens
From here we exited the playground through the rear gate and entered the free exhibition gardens and for me this was the part that really entertained the kids and ourselves. There were paths in all directions so for the kids it felt like a maze with lots of exciting decisions about where to go next. The tulips were stunning, there was a tower to climb, poles to run through, sculptures of gnomes, a whale tail and lots more. You could spend a long time here exploring with kids and everything at the centre is pram friendly.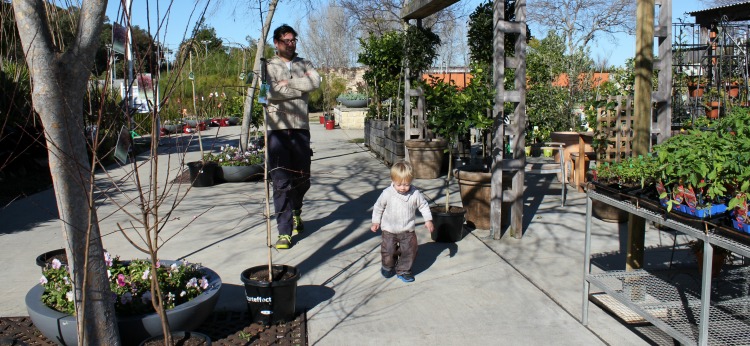 Time To Eat
Finally, we had exhausted the kids enough that it was time to eat. Dragonfly Cafe is open for breakfast and lunch as well as afternoon tea, but we opted for breakfast. As a family, we love eating out at this time of day as the kids are generally hungry and happy. Breakfast starts at 8:30am on the weekends and most tables have table service (there are a few out in the gardens where you need to order at the counter and collect your meal).
Being a Winter's morning everyone gravitated towards the sunny tables. There were plenty of them and this was clearly a place that could cater for large numbers (bookings are only required for groups of 8 or more). Despite its large size we still felt welcomed and looked after and the table service was outstanding.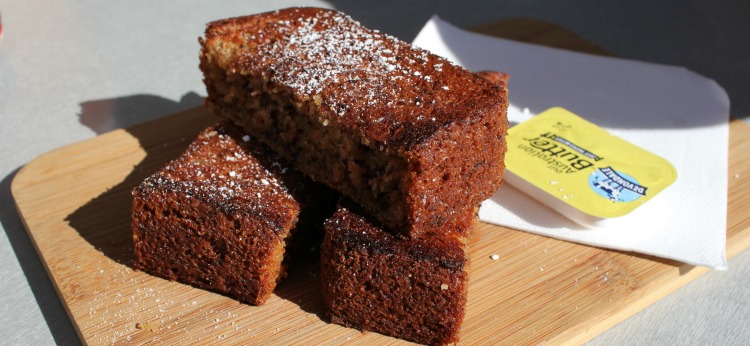 Fast Service And Helpful Ammenities
We started with coffees, juices and milkshakes and then ordered the food. Hubby selected the Big Breaky, I chose the Smoked Salmon and the kids went for Banana Bread. The service was incredibly fast which is perfect when dining with kids.
The food portions were great and everything that we ordered was delicious. If we went again we would probably order the Kids Breakfast (eggs, sausage, bacon and toast) for the kids as poor hubby didn't get much after our seagull children devoured his hash browns and bacon. The prices are reasonable and we walked away having spent $80 on drinks and food for 2 adults and 2 children. High chairs and a nappy change were also available making this an easy morning out with the kids.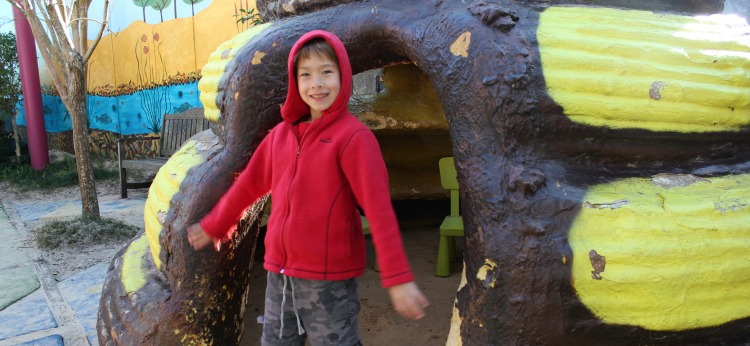 An Awesome Menu
The lunch menu also looks delicious with selections such as the Pulled Pork Burger, Potato Gnocchi and Chargrilled Hunter Valley Sirloin. There are a range of Kids Lunch Meals ($16) such as Chicken nuggets and chips, Napolitana pasta, Sausage and chips, and Fish and chips. These kids meals include a kids juice or soft drink and a scoop of ice cream. The cafe is fully licensed so there is a range of drinks including mocktails, cocktails, iced drinks, homemade soft drinks and more.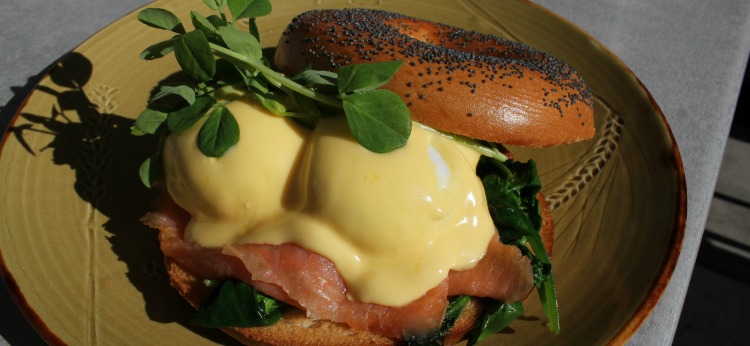 To Keep In Mind
We would definitely return here as there is plenty to occupy the whole family for a few hours. It's not the sort of place where you can eat and watch the kids play in the playground easily, but there's plenty to keep them busy either before or after a meal so that when they sit down they are hungry and happy to eat.
In a Nutshell
What makes the cafe kid-friendly- kids menus, incredibly fast and friendly service
Atmosphere- a large, busy, welcoming cafe where it doesn't matter if the kids make some noise
The Food- generous well-presented meals that are delicious
Value-for-Money- reasonable prices with a range of options for kids
Special features and Fun bits- a unique playground and extensive exhibition gardens to explore
Who is the cafe best suited for? – singles, couples, large groups and families with kids of all ages
What did we love- sitting at a table in the sun on a Winter's morning eating a fabulous brekky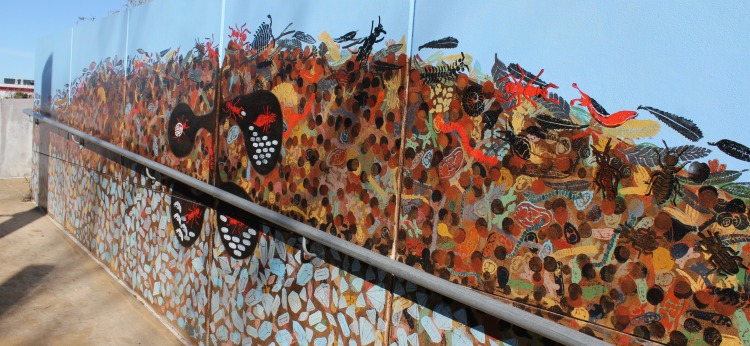 What You Need to Know
Opening Times: Open 7 days.
Monday-Friday: 7:30am – 3:30pm
Saturday and Sunday: 8:30am – 4:30pm
Phone: 02 9491 9950
Address: 307 Lane Cove Road (Cnr Fontenoy Road), Macquarie Park.
Check Out Some Tips For Eating Out With Kids On ellaslist
I'm excited be one of the new ellaslist explorers and am looking forward to exploring Sydney further along with my mini-explorer boys Hal, aged 1, and Madden, aged 5, and the other big explorer, my husband Brad.
I'm a primary school teacher and when I'm not working we all enjoy getting out and about. With two active boys we can often be found at Sydney parks with our current favourites being Lakes Edge Park at the Ponds and the Blaxland Riverside Park at Newington. We live in the Hills district and spend a lot of our free time at the parks (and the James Ruse Reserve Water Playground), cafes and along the river in Parramatta. We enjoy going to shows together with Madden's favourite being The Gruffalo at Glen Street Theatre. We love to travel and have enjoyed recent family trips to Warren, Wagga Wagga, Bermagui, Burleigh Heads and Kangaroo Island. We have nicknamed Madden the jock thanks to his love of all sporting events so as well as watching his Saturday soccer matches we are often cheering on teams at a variety of sporting events. I just asked Madden what we do as a family and his response was 'relax', which is what we like to do after exploring all of the above.