Exploring The All Accessible Bernie Mullane Reserve Kellyville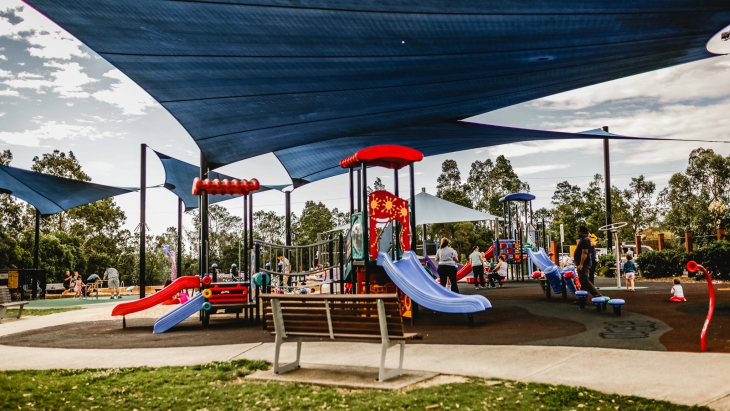 By: Kylie Purcell, ellaslist explorer
The new playground at Bernie Mullane Reserve is a great option for parents and kids as it caters to all ages & abilities and is fully fenced! It's recently been updated to include accessible play areas and is now a Livvi's Place playground (these are playgrounds that have been updated or built to specifically allow children of all abilities to play safely and have fun, in conjunction with the Touched by Olivia Foundation).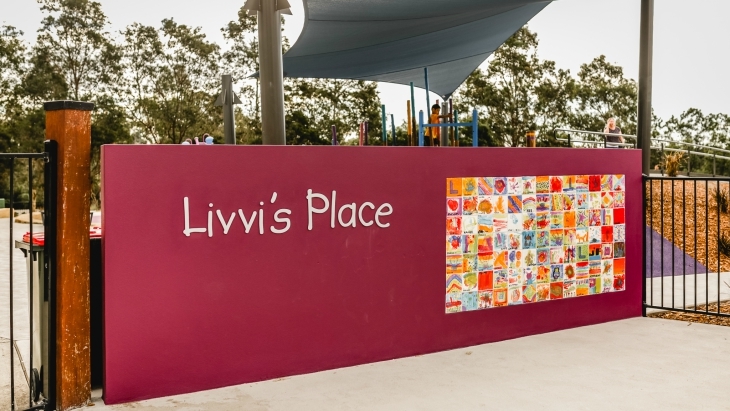 There are two main play/activity gyms that incorporate everything from climbing, rope ladders, a maze puzzle, and steps for younger kids to access the top of the gyms and 3 different slides.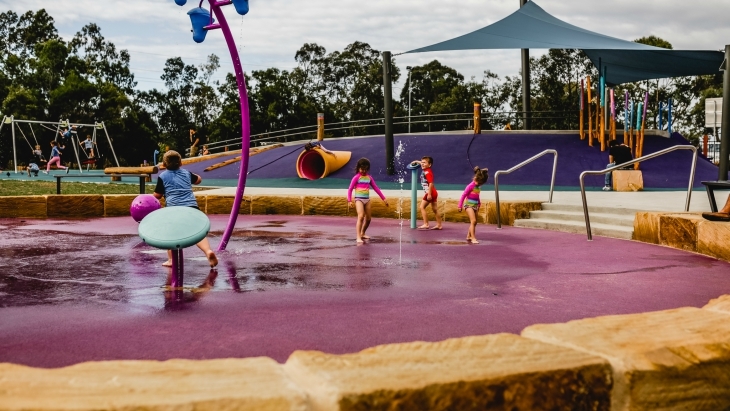 A Water Park Too
A big attraction is the small water park, which makes it a great option for warmer days. There's also a wide concrete path that can cater to scooters and small bike riders too, as well as 3 swings (including a nest-style swing).
For the adults there are plenty of seating areas, as well as an onsite BBQ. There are two open green spaces that would be great for ball games or spreading out the picnic blankets. Only half the park is covered by shade sails though, leaving the rest of the park wide open to the sun with little to no other shade so be sure to get there early to snag a spot in the shade and make sure you pack hats and sunscreen.
For the older kids there are larger climbing frames & balance logs as well as a larger slide. For the younger kids there is climbing and play equipment that will allow their smaller legs and less coordinated bodies the chance to enjoy the fun.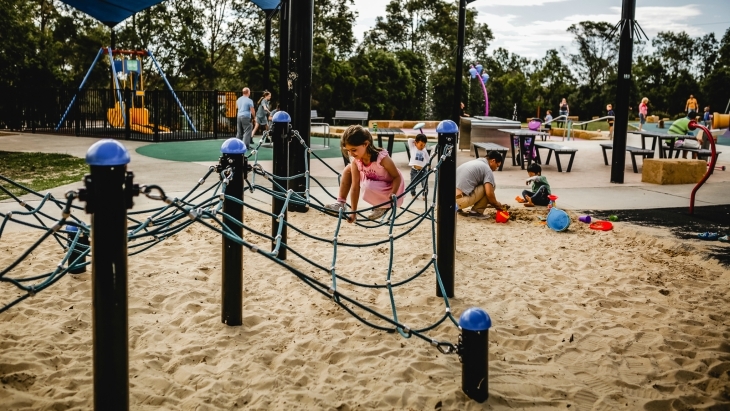 Fun In The Sand
There is a small rope climbing area surrounded by lots of sand, which is also a perfect place to sit and build sandcastles so make sure you take along the buckets and spades. Kids of any age will enjoy the splash park, which features buckets that fill with water and tip once full, as well as spray jets that shoot water across the splash area. Be aware though that there is zero shade over the splash park, so supervising parents might find themselves getting a little hot!
Toilets? The playground is located right next to the Bernie Mullane Indoor Sports Complex, where you'll find well maintained toilets, as well as a cafe that sells coffee, ice creams and other small snacks and food. The sports complex is open until 10pm on week days and 2:30pm on weekends. We didn't see any other toilets on the grounds so you may want to make sure everyone has used the bathroom if planning to visit late on the weekends.
Parking? There is plenty of parking to be found, although it does get busy on week day afternoons and weekends when the sports training and matches are happening.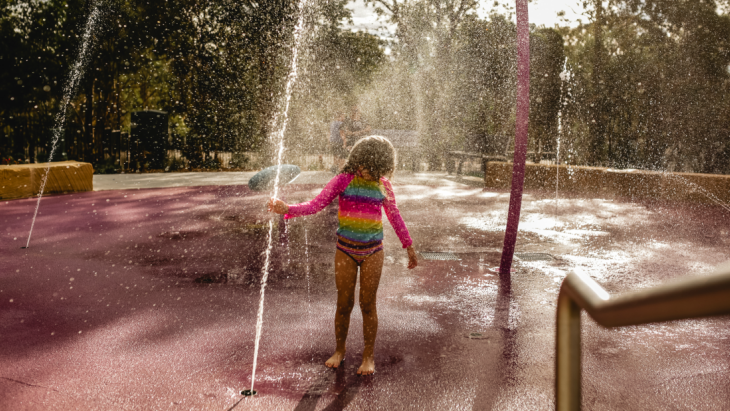 What We Loved
The girls (4 & 6) really enjoyed the variety of equipment on offer, and they loved the splashpark. As well as the play equipment there are also swings, a big long tunnel, a xylophone, lots of different climbing things and small in-ground trampolines.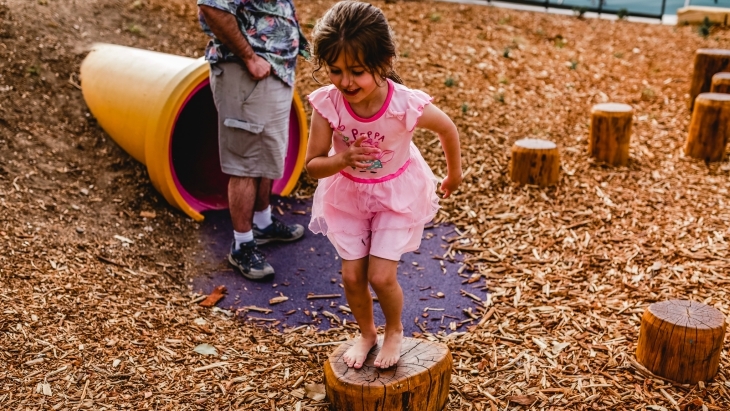 Best Moments?
The splash park was a big winner, and the girls had lots of fun running around, anticipating the bucket drops and trying to guess which jets would spray water next. The xylophone and balance board were also a favourite. There are no "big thrill" items like a flying fox or super slide, but there were heaps of older kids (10-12) having a great time running around, climbing and jumping alongside the younger ones.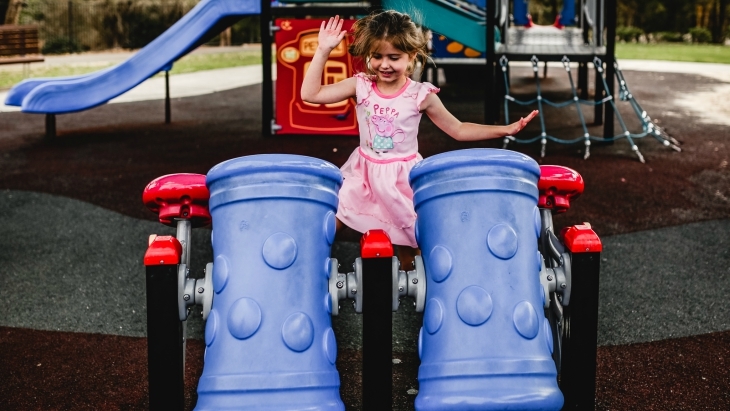 Top Tips
There's not a lot of shade, even with half of the park covered with shade sails, so the ground would get quite hot during the summer months. Be sure to pack hats & sunscreen & wear shirts that provide good coverage to the shoulders. While there is a kiosk, it doesn't't appear to be open very late on the weekends so make sure you pack your own water & drinks (there is a bubbler within the playground too) if you're planning to visit late on a weekend afternoon. Pack swimmers or a change of clothes and towels to take advantage of the splash park.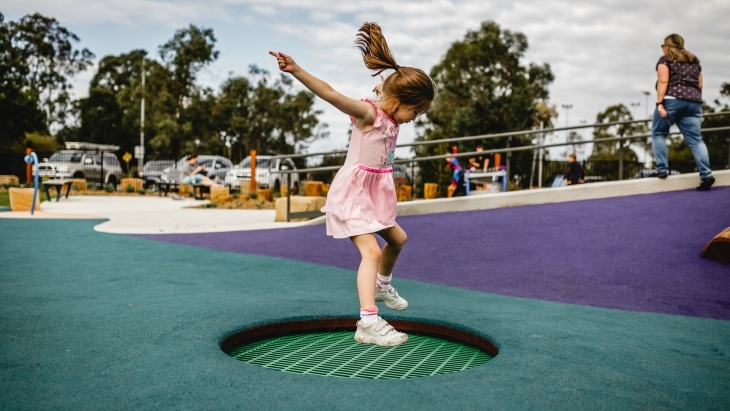 The Details
Bernie Mullane Reserve is located on Marella Ave, Kellyville NSW.