ellaslist Reviews: We Find The Best Balance Bikes And Scooters For Kids
By: Emily O'Brien, ellaslist
In this world of mobile phones, iPads and Youtube, it's sometimes impossible to tear the kids away from screens and into the great outdoors. That's where Zoomy Leisure rolls in to help. Zoomy Leisure is an online store specialising in outdoor products for kids. They offer a range of fun scooters and bikes that promote a healthy lifestyle and will have the kids begging to go out, no matter what is playing on TV!
If your kids have an eye on a scooter, Zoomy's Kids Mini Scooter with Flashing Wheels is the way to go - not only does this scooter look great with their colourful light-up wheels, they make it a breeze for toddlers aged 2 and over to learn the skills and joys of scooting. If your child has already mastered the art of scooting, the Zoomy Balance Bike will be next on their wish-list. Back when we were kids we learned how to ride bikes using pedal bikes with training wheels on them and usually had to wait until we were 5 or 6 to get one for Christmas. Now kids as young as 18 months have the chance to learn balance and coordination through the use of a balance bike. These bikes have no pedals so kids are able to develop their sense of balance without the fear of falling. Then when they're ready, they can transition to a push bike without ever having to use training wheels!
We asked a group of ellaslist mums with toddlers to get out and about with the Zoomy Balance Bikes and Scooters and to let us know what their toughest little critics thought....
Ordering And Delivery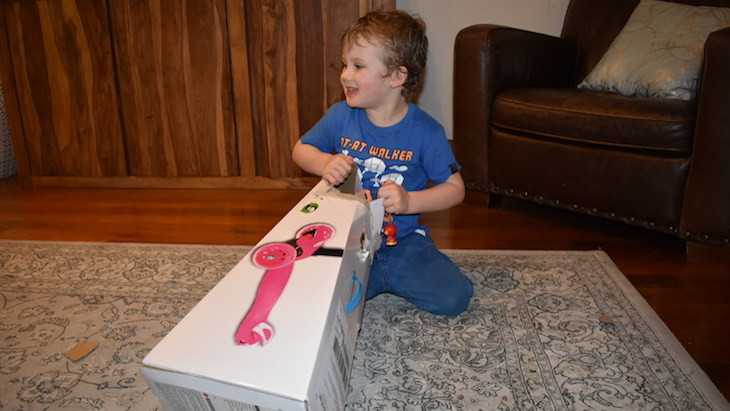 Lisa, a mum of a 5-year-old and 3-year-old twins, loved the Zoomy experience from purchase to play. "Our experience with Zoomy kicked off with the kids picking their choice of colour for their bikes and scooters. I loved how easy-to-use the website is and that delivery is FREE within Australia. The bikes and scooter arrived quickly delivered directly to our front door."
Alex, mum of a 3-year-old boy, agreed. "Choosing the bike on the website was really fun, although leaving decisions in the hands of a toddler can be time-consuming, he ummed and ahhed over the colour before eventually deciding on purple. Free shipping is an added bonus and the bike arrived really quickly in only a few days, and we all know a week in toddler years feels like a year! The bike was easy to assemble and we were up and running - or rolling - in no time. I only wish my 3-year-old had received this bike before he was given a bike with training wheels for his birthday."
The Kids Were Pros At It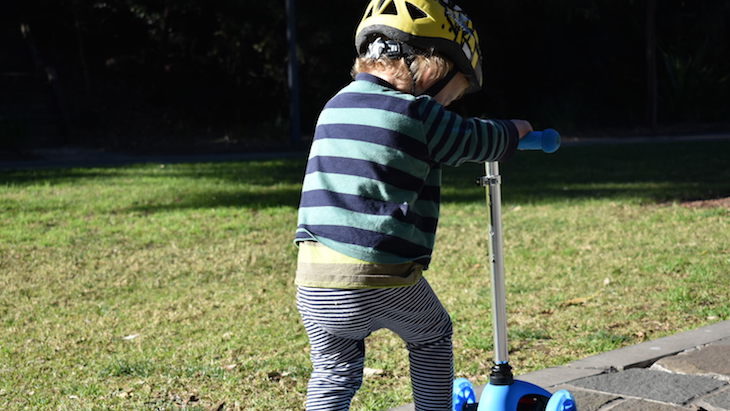 Natalie, mum of kids aged 4.5 and 18 months tested the Zoomy Kids Mini Scooter with Flashing Wheels, The Zoomy Kids Maxi Scooter with Flashing Wheels and The Zoomy Kids Balance Bike and loved all three products.
"The balance bike is brilliant, made of aluminium, light as a feather, in fact, more so than the wooden versions on the market. I could carry a clingy toddler and the bike at the same time with ease and it was easy to balance the bike on top of the pram when tired little legs won't make the ride back home from the park. The seat is really simple to adjust and the wheels are made of plastic so they can't puncture! The Kids Balance Bike is probably best suited to kids under 3, however, both boys enjoyed it. In fact, we couldn't get our 4.5-year-old off it, he loved zipping up and down the corridors of the house on it and it took seconds to adjust the seat when he wanted a go."
Lisa said, "At the bike track, I was super impressed how well the scooter fared. My daughter tried different brands of scooters before but she was much more confident on her Zoomy one. It seemed more stable yet light and very easy to steer and manoeuvre. And she was very proud of her sparkly wheels. The twins got lots of admiring glances, especially since their bikes looked so smart and shiny. After a few rounds around the track, I could see a visible improvement in their balance and their speed. Best of all, they were having so much fun."
What Mums Love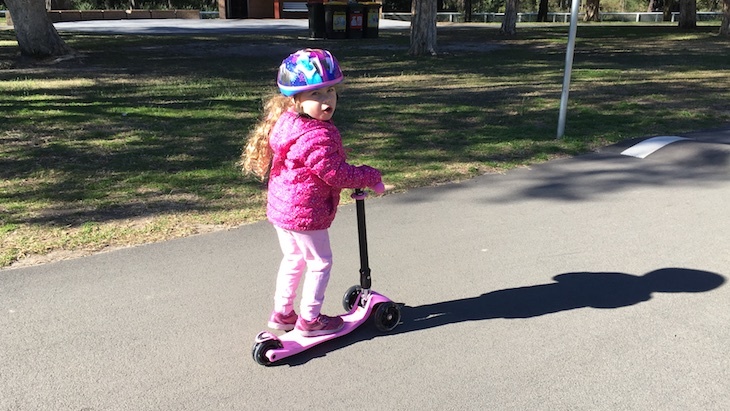 Ayesha, mum of a 22-month-old boy thought the Mini Scooter design was amazing despite having reservations due to his young age. "It's soft, flexible and extremely stable for a tiny tot still mastering his balance. We love the vibrant colour and the flashing wheels. It would certainly help spotting Tay as he zooms around in the park. The scooter offers various height settings which are great for a growing toddler. We were always hesitant in buying our son a scooter this early thinking he would not be able to maintain his balance. But Zoomy's soft base is wide and low enough to allow Tay to adjust his footings easily while riding. We bet the scooter will make Tay love the outdoors even more and will have him dragging us out for a walk very often now."
Alex had heaps of praise as well. "I love how lightweight the bike is, my son could easily pick it up—he said he was as strong as Superman! I also love the concept of the bike in that it prepares little riders for their first 'big bike' by building up their confidence, balance and motor skills. I wish we had these 'in between' bikes when we were kids."
Safe To Go
Not surprisingly safety was at the top of everyone's minds. It seems all fears were quickly eased once little ones got moving.
It was Lisa's twins' first time on a balance bike, but they caught on fast after a few rounds around the track. "As a concerned mum of three adventurous kids, I love that the Zoomy products are safe and stable."
Ayesha found the green Zoomy Mini Scooter exceeded her expectations and she'd never seen her son snap out of his post sleep grumpiness as to when he made a grab for his bright green scooter.
"I must admit I was a bit nervous about his first attempts at balancing himself on the scooter. But after only 2 clumsy stumbles, he got the hang of it real quick and was soon cruising along happily. The scooter was just the perfect size for him and the low set foot base for incredibly stable and safe for a first timer. We're amazed at how easy it was for him to familiarize himself with his pushing technique. How cool was that! We totally underestimated the power of Zoomy scooters."
Let's Do It Again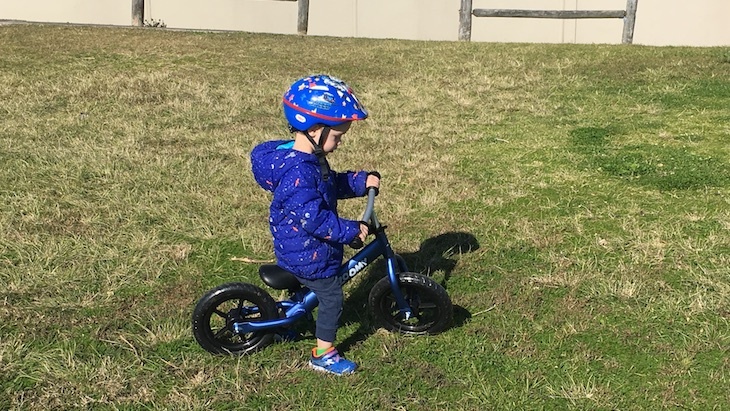 When we asked mums if they'd buy a Zoomy Leisure product again, Lisa gave an emphatic yes! "Next on my list is purchasing scooters for the twins. They already have Mini Micro scooters but after seeing my eldest zoot around so competently on the Zoomy scooter, I am definitely going to replace the Micro's with Zoomy scooters."
She also loves the range of colours available and how products are suitable for different ages.
All our ellaslist testers gave Zoomy's products Five Star ratings and would purchase this brand again. Zoomy offers a no questions asked 90-day warranty. (If customers aren't happy with their purchase, full refunds are processed for full returns.) What's even better: shipping is free across Australia with delivery to Sydney typically within 2-3 business days. A big bonus: wheels light up as the scooter moves—a big hit with the kids!
About Zoomy Leisure
Zoomy Leisure specialises in outdoor products for kids and was founded in 2015 when it started selling 3-wheel scooters for children. In late 2016 it expanded to include 2-wheel scooters for older kids and balance bikes. Current products sold now include:
Mini scooter for kids from 2-5
Maxi scooter for kids 4 onwards
2-wheel scoter for kids 5 onwards
Balance bike for kids from 18 months onwards
With a heavy focus on safety and durability, while working closely with manufacturers to continuously improve products, customer provided feedback and reviews are tantamount. Over the past two years, Zoomy Leisure has collected over 300 reviews with an average rating of 4.8 out of 5. Find them on the Zoomy website.