ellaslist Splashes Into Cook and Phillip Swimming Pool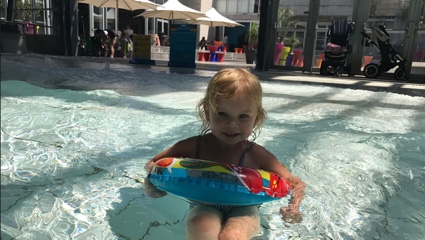 I can honestly say that I've spent more time here at Cook and Phillip Pool than at any other venue in Sydney – from our hazy baby days where our weekly half hour Mummy & Me swim classes carved away a whole day out – the travel in, swim class, lunch with the other swim mums and a stroll round Hyde Park or the Art Gallery NSW before heading home took up at least 4 glorious hours!
Those classes were a life saver back then, that was 8 years ago and we've visited as a family almost every week since. I don't think a Saturday morning goes by without the kids campaigning for a trip to Cook and Phillip over any other fancy event or new activity we'd like to try. And I'm not surprised – kids love familiarity, and swimming always garners absolute undistracted parents attention – after all you can't be checking your phone in the water!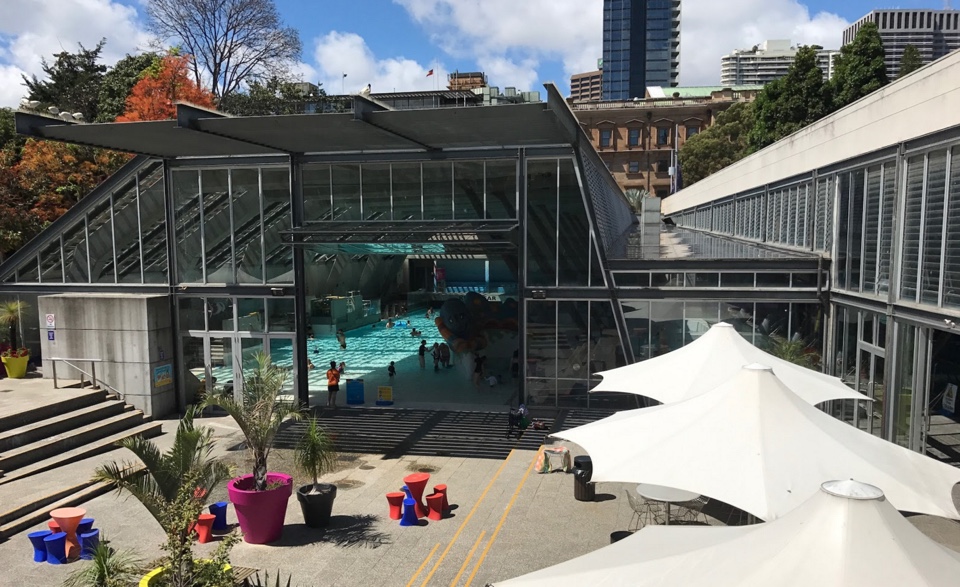 Here's why this pool has stood the test of time in our family.
The Beach Style Kids Leisure and Wave Pool
The leisure pool, heated to 30 degrees is situated off the central sunny courtyard with large open doors, the high glass ceilings speckle the pool with rippling light and has a lovely indoor/outdoor feel. The shallow graduated beach style entry makes it a big win for toddlers who just love to loll around in the shallows on the bellies, frolic in the spray bubbler fountains and shoot down the small water slide. This is a wave pool too – activated from 12 noon on weekends and goes off every 30 minutes or so.
This is a fantastic pool for simply having fun, splashing around and diving for objects. It's bustling with families and we note weekend mornings are big with dads – and it's serious father-fun territory – kids everywhere being catapulted into the watery stratosphere and excitable squeals as they're chased by daddy-sharks. Every kid in the place is having the time of their life.
Big Swims & More
There's a 50-meter heated 26.5-degree lap pool for swim squads and lane swimming. Excellent for a serious swim yourself if your kids are attending swim classes. This pool also has assisted entry via easy steps and hoist for anyone requiring special needs assistance. Cook and Phillip run the full range of swim programs from Baby Swim, Kids, Squads, Water Safety and Adult Learning. There's two single-sex swim changing rooms, and one smaller family change room – nothing swanky but do the job. Lockers are available. In the rest of the leisure complex, you'll find Courts, Gymnasium and Outdoor Fitness Classes.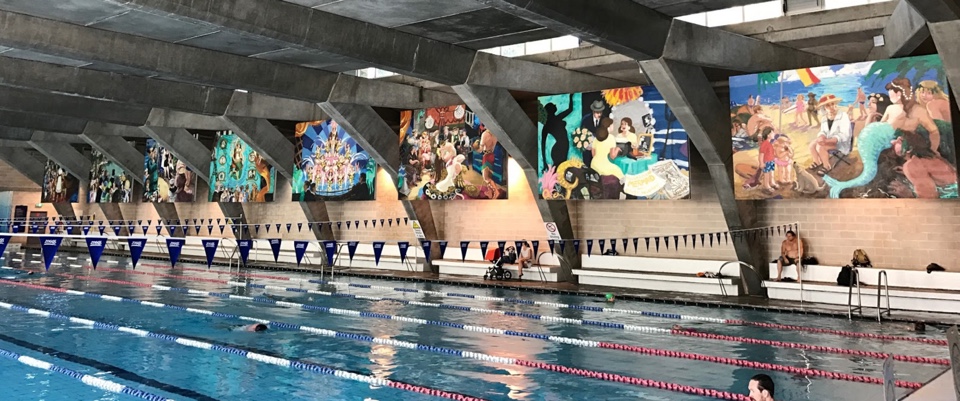 33 degree Hydrotherapy Pool
A smaller pool heated to a divine 33 degrees with a bench of spa bubbles – this is where Mummy & Me swim classes are held. Perfect for a heat-up at the end of your swim, especially for the littlies.
Fun in the sun
The central sunny open courtyard is bright and fun. It joins the cafe and leisure pool with large colourful plants and pots, plenty of shaded tables and chairs for lunch and a few loungers to catch some rays (although they could do with a few more) In the middle – the pop-up fountains will keep the kids amused. This area is great to take a break from swimming, snack up then head back into the pool.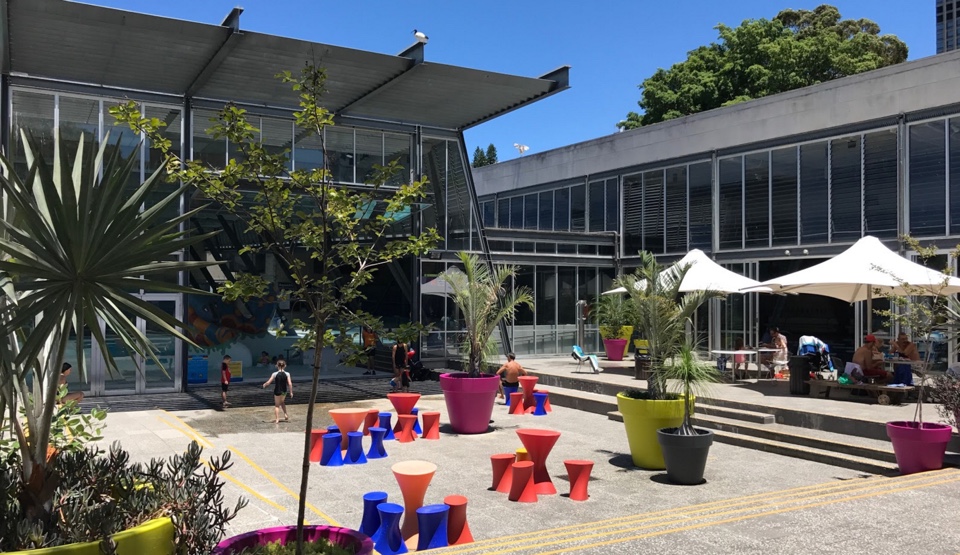 Onsite Cafe
The onsite cafe is practical – it has a small gated indoor play area with a few puzzles and toys to keep toddlers safely at bay while you order and eat. The cafe has recently upgraded the menu to offer more healthy choices – you'll find Acai Bowls and Protein Balls joining the standard cafe fare of wraps, sandwiches, toasties, fruit and yoghurt - however, it's pretty hard for us to go by hot-chips after a swim – it's become part of our thing. The coffee is fine, perhaps not for the bean connoisseurs – but will get you through. Feel free to bring your own lunch and snacks – there are no restrictions here.
Extraordinary Location – Making a day of it
The best part about this pool is the location - it's slap bang in the middle of everything! The Australian Museum (free for all kids under 16) with its wonderful dinosaur collection is a mere 200 meters away, St Mary's Cathedral is right above the pool (which our kids are always quite fascinated with if we take them inside). Hyde Park with its magnificent fountain and tree lined avenue is across the road, Hyde Park Barracks, The Royal Botanic Gardens and Art Gallery NSW is a 10-minute stroll plus you have easy access to the City Malls and Stores. Take advantage of the cheap all day parking rates at weekends and it's easy to make a whole day out. More often than not after a Saturday swim, you'll find us at the top of Westfield Mall snaffling way too many of the extraordinarily delicious broth infused pork dumplings at Din Tai Fung.
More info, Getting there and Parking
Cook and Phillip is well connected to city public transport – Check transport info line. The Domain Carpark is 5 minutes away (and you'll get to ride the giant travellator). We park at Encon Parking underneath St Mary's Cathedral, it's right next door to the pool. Flat weekend Rates apply which allows you plenty of time to explore the surrounds.
Top Tips
Park underneath St Mary's Cathedral for closest access to the pool.
Swim Lessons are held in the leisure pool on weekend mornings which means half of it is roped off – so to make full use of the leisure and wave pool, arrive after 12 noon. The crowds will be gone by then too.
Take a moment to view the eight large acrylic paintings that line the western of the lap pool by award winning artist Wendy Sharpe – they detail the life story of Australian champion swimmer, aquatic performer and actress, Annette Kellermann. This artwork is hoped to be an inspiration as an example of human struggle and achievement. Kellerman started swimming at a young age to overcome rickets and strengthen her legs and went on to become one of Australia's earliest sporting champions – a wonderful inspirational story for all kids.
Take advantage of the location and try one other activity after to make the most of your trip to the city. Make a wish at the fountain in Hyde Park, a stroll through the Botanic Gardens or Art Gallery

NSW

, get historical at the Hyde Park Barracks – all a stone's throw away – or get your dino-fix at The Australian Museum right next door (free for kids under 16)