ellaslist Rocks A Boat At Maribyrnong Park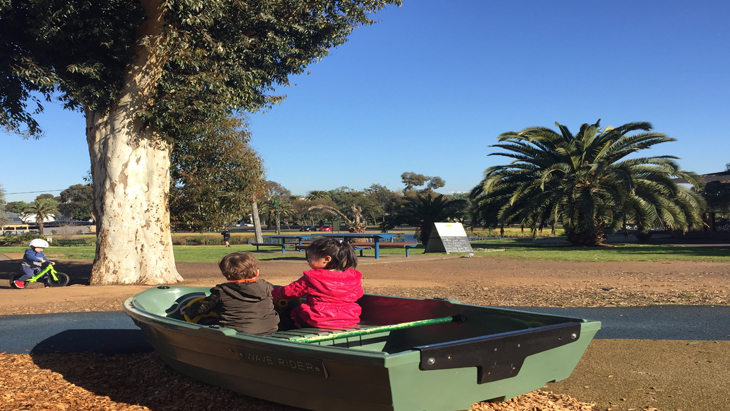 By: Natalie Roach, ellaslist
Any time of year a walk around the Maribyrnong River is beautiful and there is nothing better than stopping at Maribyrnong Park otherwise known as the Boathouse Park with the kids for a play and a coffee. You don't need to be going for a walk to enjoy this park which is situated on The Boulevard less than 30 minutes from Melbourne City Centre.
The Playground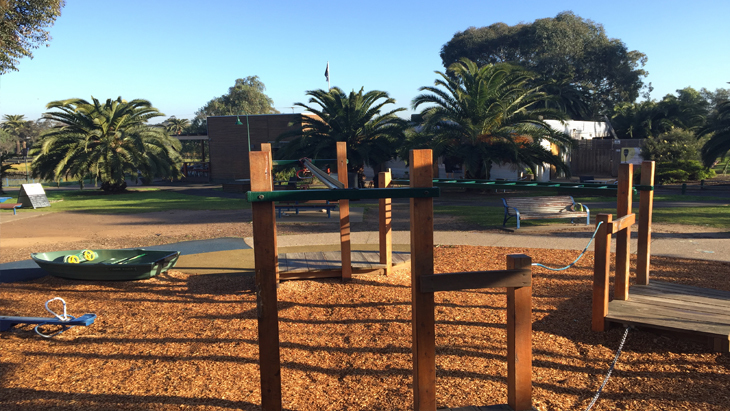 The park has lots of fun things to play on including multiple slides, a small rock climbing area, swings (two with added back support for those with special needs) net activity, seesaw and rope walking activity. There are a wobble bridge and cubby area underneath which my kids love to play 'shops' in. Maribyrnong Park has a short flying fox and monkey bars for those who like hanging around. It also has ramp access to the top of the play area.
Maribyrnong Park has a small, hilly paved area which is great for scooting or riding bikes on. It's not too adventurous but great for those wanting to do a little more than straight scooting. Interactive sculptures are in this area too allowing kids to have some fun making noises along with some other sound making activities scattered around the park.
The cute little rocking boat is always a favourite and kids love to pretend to have a drive. My kids always have a ride in the boat before we go home.
There is a lot of room for kids to run around and burn some energy but be aware that the river isn't fenced off. If you want to venture further over in the park there is a small rotunda and wetland area.
The Surroundings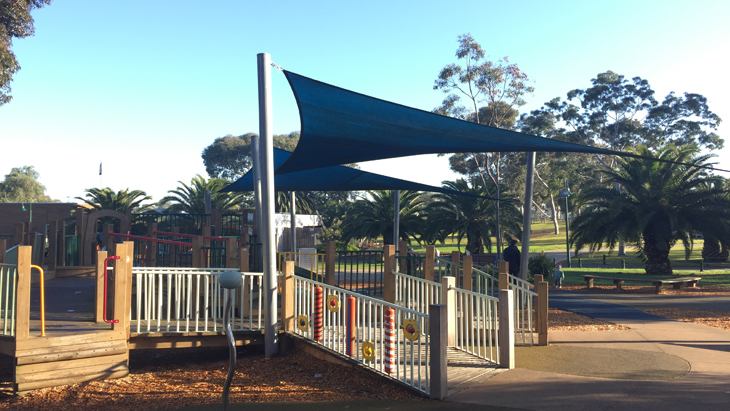 Set along the Maribyrnong River this can be a busy area with lots of parents, runners and walkers. There are plenty of tables and bench seats scattered around. There is a grassed area to play around on or bring a rug and have a picnic. There are plenty of rubbish bins scattered around too. The best part of the location of the park is its closeness to good coffee!
The Boathouse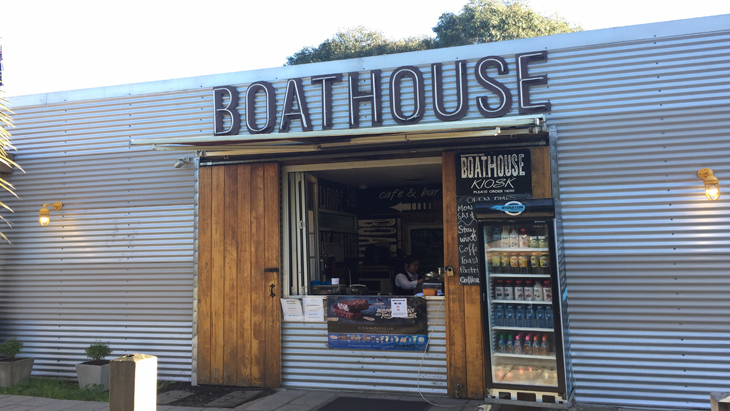 The Boathouse is a relaxed restaurant situated next to the park which serves breakfast, lunch and dinner. It is co-owned by Master Chef judge Gary Mehigan and is fantastic for those wanting to sit down and eat, it also offers a wonderful view. For those of us who are more concerned about entertaining our kids the outdoor kiosk is perfect. The kiosk serves great coffee and tea and most importantly the takeaway babycino's come with marshmallows! Also on the menu are cookies, icy poles, snacks and even options for your dogs… yes, there is a pooch menu.
For a few hours in the park this is a great spot to watch your kids play, enjoy the views and have a coffee.
In a Nutshell
Nearest cafe: The Boathouse located at 7 The Boulevard, Moonee Ponds
Timings: 7 Days - 9am-10pm
Toilets: Located to the side of The Boathouse with a disabled toilet and baby change table.
Shade: Most of the playground has shade sails cover the play equipment and there are a lot of trees around providing shade.
Parking: Street parking is available for free on The Boulevard.
Public transport: The nearest train station is Moonee Ponds and you can also take bus numbers 123, 234, 345, 456 from the tram stop it's only a short walk along the river path to the park.
Best feature: The location is fantastic especially if you want to be active and go for a long walk or run this is a great stop/reward for the kids afterwards.
What You Need to Know:
You can't always see your kids from one spot so be prepared to move around
It's close to the river but there is some distance between the park area and the river so just beware if you have a child who loves to run off
This park can get very busy on a sunny day so be prepared and bring a picnic rug if you go during peak times.
Location: The Boulevard, Moonee Ponds, 3038 Victoria, Australia