ellaslist Reviews the Scrumptious Kid-Friendly Cafe: The Hanging Ladder
Preschoolers
Family
Kids
Mums & Bubs
Parents Only
Teens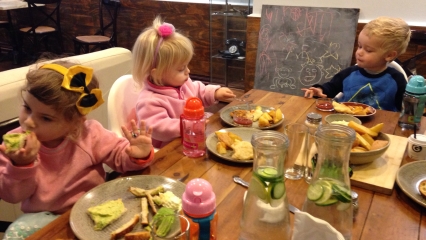 By: Lisa Wolff, ellaslist
I've found it! One of those mythical kid-friendly cafes that actually ticks all the boxes. Most of them turn out to be ordinary cafés with a pot of pencils or a box of grimy toys in the corner. But this place is different.
A Cut Above the Rest
It's called The Hanging Ladder and it is nestled in the buzz of Balmain just past the busy section of Darling Street. It's a new kid on the block and my prediction is that it is here to stay! It's one of those places that you would keep coming back for more – because of its warm welcoming atmosphere, because of the dedicated area for the kids and because of the food. Oh, the food – it's the calibre of hatted cuisine without the pretension or price tag. Let's just say if we could have licked our platters clean, we would of.
The Hanging Ladder is the foodie baby of experienced chef, Andrew McNamara. He has worked in a variety of upper-class restaurants, including the French bistro, which occupied the same space before Andrew transformed it into a contemporary café. So he knows the locals and welcomes them by name and kept them in mind when he re-designed the café into different zones.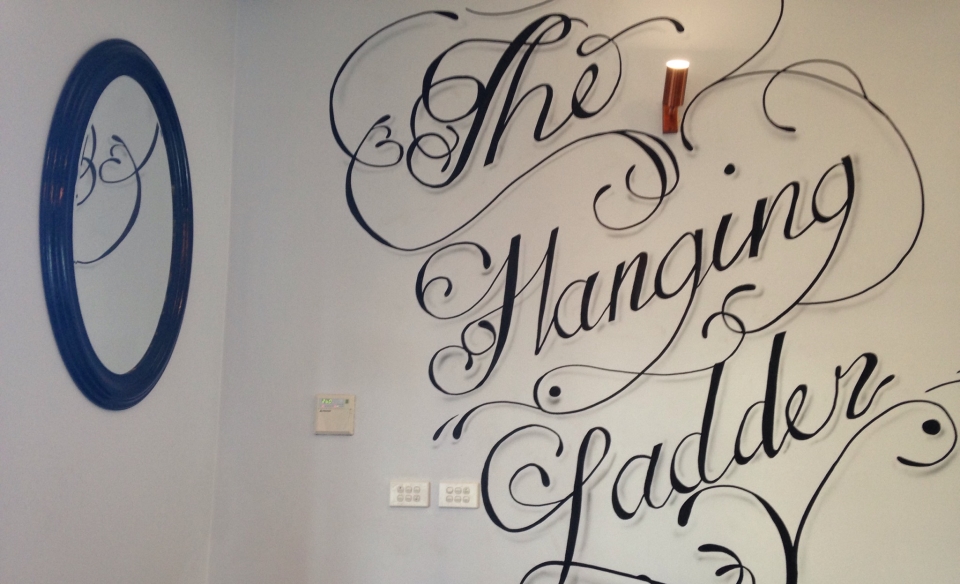 A Tour of the Zones
There's the main café floor which is bustling and was packed with couples and families munching on brunch. There was a friendly barrista spinning out the coffee and a glass display counter filled with the most scrumptious looking treats (the majority made in house by Andrew and his team).
Down a few stairs there's the bar/lounge area with comfortable couches. A family with two young kids had settled there and were enjoying their mid-morning meal.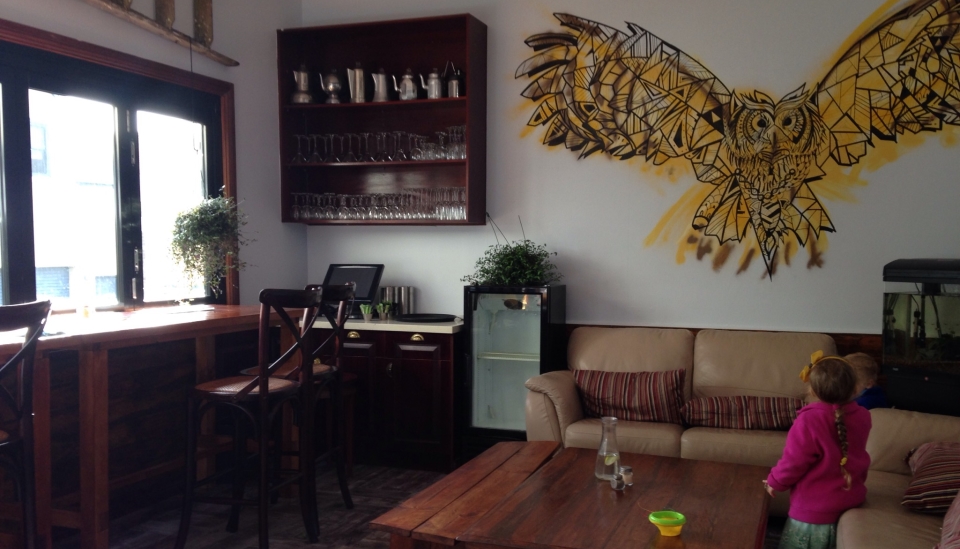 My favourite zone was the gorgeous outdoor courtyard with the impressive wall garden. Andrew told us proudly that every plant in the garden (except the succulents at the very top) are edible. It made us appreciate the micro-herbs scattered over our food, knowing that they were freshly picked.
This area is dog friendly and it even has a separate entrance so dog owners can walk straight into the courtyard and enjoy The Hanging Ladder hospitality with their pooch in tow.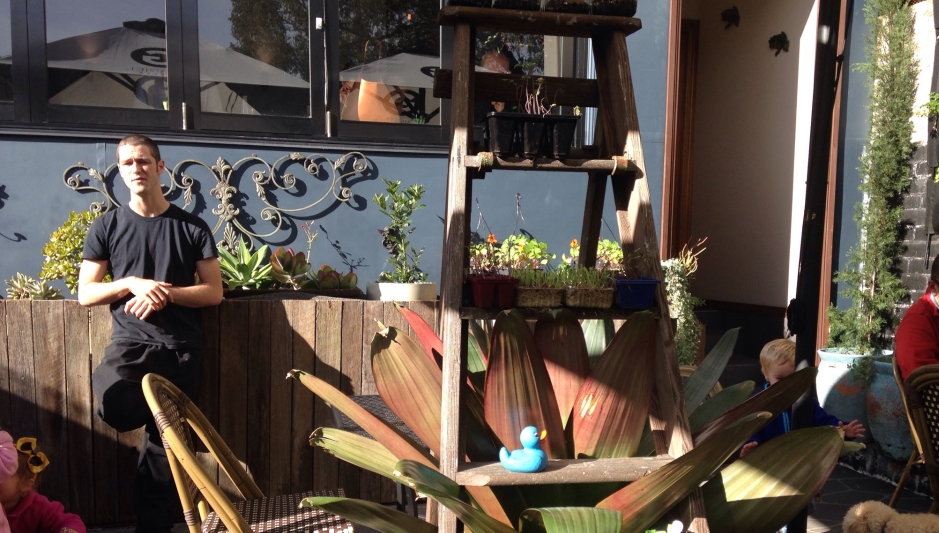 The final area is the one that makes going to a café with young kids not only bearable, but actually enjoyable. It's a stylish large room with two large tables, plush leather couches, a chalkboard and a cabinet packed with kid's toys. It's a kids play area where adults are also welcome and offers plenty of space for the kids to roam free and make a noise without disturbing the other patrons.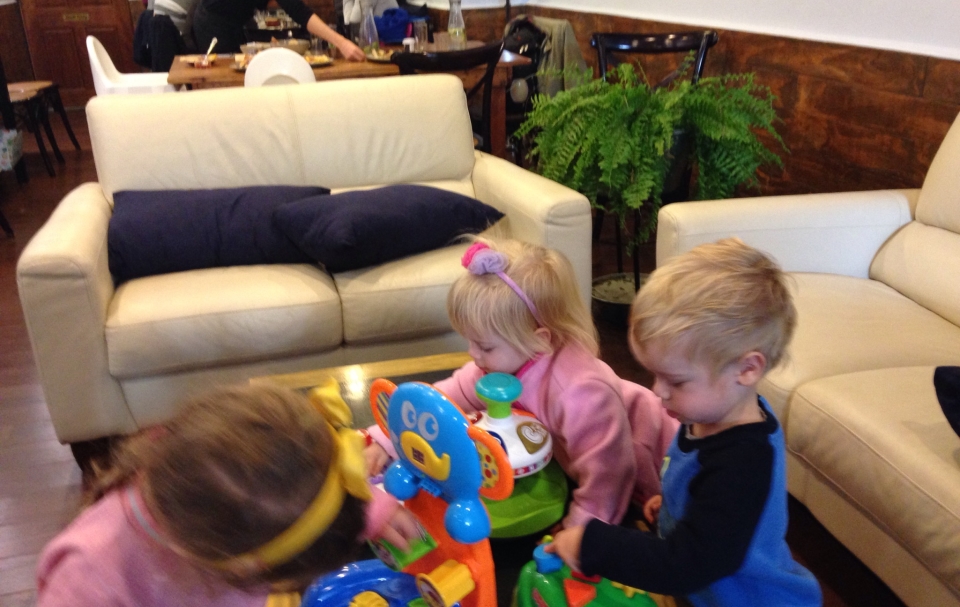 Popular with Mother's Groups & Families
Andrew tells us that it's really popular with mother's groups during the week and that the mums spread out their rugs and let the babies do their thing while they enjoy some gourmet grub. I could also imagine that this would be a perfect spot for a friends or family catch-up, where the kids can play safely and the grown-ups can actually sit down for a chat and a meal.
Our kids were thrilled to try out all the toys and puzzles on offer and when they were tired of that, they clambered up and down the couch (not sure if that was allowed, but it certainly kept them entertained for a bit while we sipped on our coffees).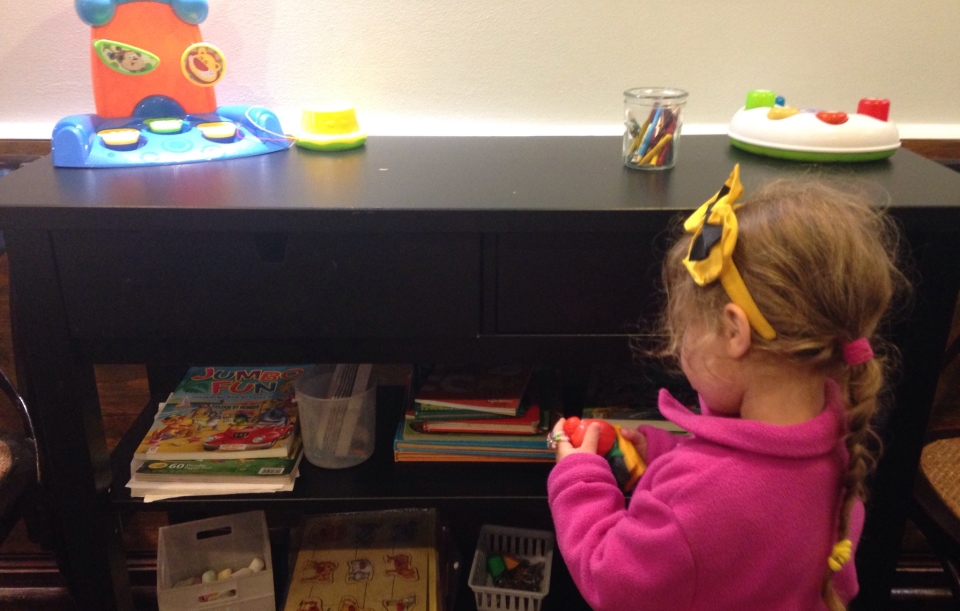 What's On the Menu
There are separate breakfast and lunch menus (as well as dedicated kids options) and let me tell you, it's hard to pick. For brekkie, the focus is on eggs, prepared in many ways (poached, in a roll, on toast, benedict, omelette and more). There is also house made banana bread and granola with fresh fruit and yoghurt.
Lunch is all about wholesome, hearty sandwiches (think slow braised lamb with eggplant, roast capsicum, rocket and tzatziki), salads, big burgers or eye fillet and salmon for bigger appetites.
The kids get to pick from toasties and eggs for breakfast and a variety of chicken, fish and burgers for lunch.
What We Picked to Eat
After much deliberation, we chose salsa eggs (poached eggs, caramelised haloumi with fresh tomato and basil salsa) for $15.50 and a steak sandwich with avo, tomato, salsa, aioli and salad ($12.50)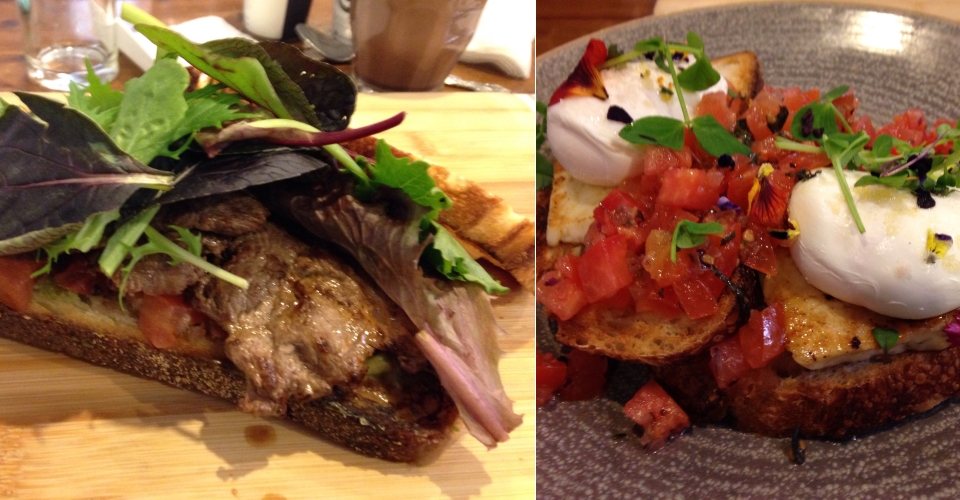 The kids went for chicken breast nuggets and fish and chips ($8.50 each).
After the excitement of play-time, the kids were really happy to sit at the table sipping on their babycinno's with the obligatory marshmallows and munching through their food. Both the chicken and fish dishes got double thumbs up from all of them.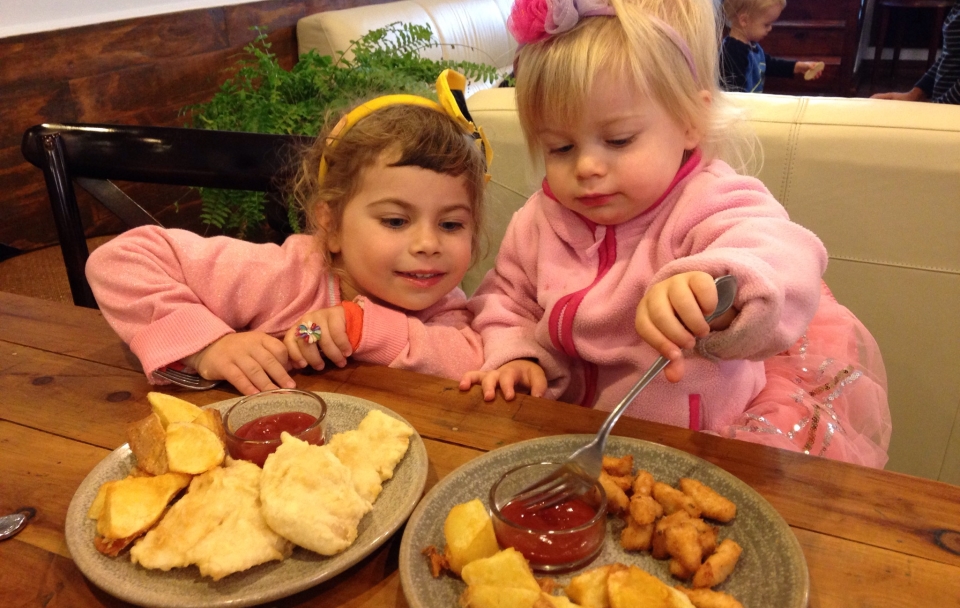 Hubby and I relished the few moments to savour our food and boy, was it delicious. With most of our meals out with the kids being hurried trips to the food court or Mickey D's (shock, horror!), this was a true treat. The steak was juicy and soft and the bread was a perfectly crunchy accompaniment. Hubby raved about the salsa eggs and we all tucked into the thick cut potato wedge-chips until there was not a crispy crumb in sight.
While the grown-ups lounged lazily at the table, the kids played happily in the room until it was time to go. As we walked out of the cafe, my hubbie and I looked at eachother in surprise – we had actually managed to have a meal out with the kids and enjoy ourselves – Hallelujah! The Hanging Ladder – will be definitely be back!
In a Nutshell
What makes the cafe kid-friendly - Private Kid's play area with tables for the grown-ups, edible garden courtyard, dedicated kids menu, friendly, welcoming staff
Atmosphere – Relaxed, easy going and welcoming
The Food – FIVE STARS! This is the quality of hatted food served casually
Value-for-Money – Excellent – portions are generous and prices are very reasonable
Special features and Fun bits – Lovely space for kids to play in, fun toys, the house made chips are addictive – don't forget to get a bowl or three
Who is the cafe best suited for? - Singles, couples and families with kids of all ages
What did you love – The FOOD, the edible garden, the love that the chef puts into everything about this place.
What You Need to Know
Opening Times – Monday, Wednesday, Thursday, Friday: 6am-4pm
Saturday, Sunday: 7am-4pm
Phone: 02 9810 5255
Address: 485A Darling Street, Balmain, opposite the Cat and Fiddle Hotel
More Info: www.thehangingladder.com.au or The Hanging Ladder on Facebook
ellaslist was a guest of The Hanging Ladder