ellaslist Reviews The Octonauts at Manly SEA LIFE Sanctuary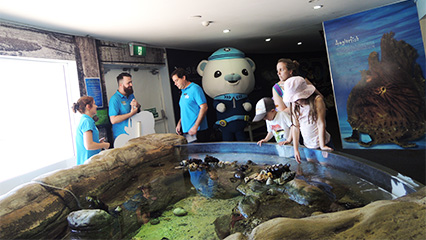 ellaslist COVID-19 update: Please note that all the information on the website is correct at the time of publication. Please check the relevant website before visiting a venue or destination for the latest COVID-19 information. ellaslist is not responsible for any cancellations or closures.
By: Marie Ashworth, ellaslist
My son loves The Octonauts. During the week, you'll find him glued to the screen at the end of the day, watching their daily exploration beneath the ocean. He also helps to keep Octonauts merchandisers in business with his collection of plastic-fantastic characters and accessories.
I have to be honest, apart from gleaming the fact that they're an underwater crew on a never-ending adventure, I am not that up-to-speed on these quirky, aquatic characters. Other things take priority at the end of the day like preparing his dinner!
So, when I heard we were off on our own underwater adventure to join The Octonauts Training Academy at the Manly SEA LIFE Sanctuary, I realised I needed to swat up on some key Octonauts facts. Who's Kwasi again?

Incredible Location
I've been to Manly before but never on such a spectacular Summer's day. The sun was shining and Manly was buzzing.
Manly

SEA

LIFE

Sanctuary
really does enjoy the most incredible location on the beach, just a short walk from Manly Wharf. We couldn't take the ferry the day of our visit because of family logistics but we promised ourselves that on our next trip we would arrive by water.
Getting Past The Gift Shop
As we organised our tickets and got briefed on the Octonauts Training Academy Quiz Trail, my son spotted a huge display of Octonauts gifts and got very excited. Of course, he was keen to take a few away with him but since he already had many of them at home, it wasn't too hard to prise him away and start our adventure!
Meeting Captain Barnacles
We whizzed past the first room of tanks as my son had spotted a life-size Captain Barnacles next to Kwazi's Rockpool. He bounded straight in then froze. Turns out meeting the Captain was a little overwhelming and there was no way he was going to have a photo with him, let alone shake his hand.
Kwazi's Rockpool Was A Big Hit
He soon forgot he was scared of Captain Barnacles when he saw Kwazi's Rockpool and really enjoyed the hands-on exploring of life on and beneath the rocks. The shark eggs were amazing - I had never seen these so was just as excited as my son.
Exploring The Deep
One of the highlights was the delving downstairs into the Underwater Viewing Tunnels. It was teeming with marine life including sharks, sting rays, a turtle and hundreds of fish. My son absolutely loved it and ran backwards and forwards pointing out everything that swam past and over his head.
He never strayed too far though, I think the beady eye of the rather intimidating-looking shark kept him close-by. We got his photo next to a shark; one of the Octonauts Training Academy assignments and one which he was very proud of!
Surfacing in Penguin Cove
Then it was onwards and upwards to Penguin Cove where we spent ages watching these quirky characters swimming and diving off the rocks. My son loved wandering around the pool on his own (the barrier is high enough for little ones to do this safely) and feeding the fish (you can buy little balls of fish food from a machine in Penguin Cove).
Our Octo-Adventure Ends With An Octopus
After Penguin Cove we'd promised my son some play time in the Shipwreck Shores play zone; a soft play area with climbing equipment, a boat and a fun water-play area where he spent ages opening and closing the trap doors. After 20 minutes I thought it was going to take a lot of persuading but as soon as we mentioned we'd spotted an octopus he was putting on his shoes and racing to press his face up against the tanks. The jellyfish and octopus tanks were illuminated with UV light which made the displays super-impressive. We spent a while just watching their graceful movements around the tanks.
A Fantastic Experience For Young Kids
We had a fabulous time at Manly
SEA
LIFE
Sanctuary. The Octonauts Training Academy was an added bonus to what is already a great attraction for families.
ellaslist Top Tips


If you drive, there is parking around the streets surrounding the

SEA

LIFE

sanctuary but make sure you check the limit. We had a 2 hour parking limit so needed to exit and re-enter to check the car. Entry is valid for the whole day – you can enter and exit as many times as you need to.


Make sure you are there between 12pm and 2pm if you are keen to meet Captain Barnacles or Peso.


Plan your day! Coincide your Octonauts adventure with Manly

SEA

LIFE

Sanctuary's Show and Tell Times which start with a Discovery Rockpool talk at 10.30am and finish with a Shark Harbour Tour at 3.30pm. We didn't and arrived around midday and managed to miss all the tours and talks – we were too busy following the Octonauts Trail.


Make a day of it. Manly is such a great day out. We were really keen to explore Shelly Beach, to the south of Manly Beach and recommended by friends as being family-friendly. It's also part of a protected marine reserve which makes it great for snorkelling. Unfortunately, my son had burnt out due to a packed weekend and bad night's sleep so we promised ourselves to do it another day.
Find out more information on The Octonauts Training Academy event or visit the Manly SEA LIFE Sanctuary website for more information or ring 1-800-199-742 (9am-5pm, 7 days a week).