ellaslist Reviews The Museum of Fire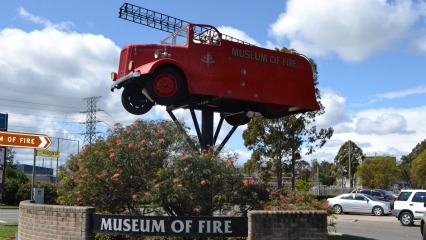 Perfect for the budding firefighter, the Museum of Fire allows your child to heroically play out their fire fighting dream in a safe and informative environment. Adults too can immerse themselves in the compelling world of fire and fire fighting and perhaps even learn a thing or two! Located 1 hour west of Sydney's CBD, The Museum of Fire is a fitting tribute to the courage and sacrifice of the men and women who risk their lives to protect the wider community. Housed in the heritage-listed Penrith Power Station building, the entrance is on Museum Drive and can't be missed as it is easily identified by a stoically displayed 1942 Dennis Fire Engine mounted atop a 4-metre pole.
Charity Run Community Museum
The Museum of Fire is a not-for-profit, charity-run museum. Many staff members are Firefighters, either serving or retired, and all profits raised go towards further educating families on the dangers of fire and preventative measures. The museum houses one of the world's largest and most unique fire collections comprised of fire fighting equipment, vehicles, uniforms and communication systems, and featuring a world-class collection of vintage fire engines – hand-drawn, horse-drawn and motorised dating back to the late 18th century.
Flaming Marvellous Family Day
A day trip out to Penrith is not complete without a visit to this iconic museum. During the holidays I had the pleasure of treating my family to a great day out in Penrith with a trip to the Museum of Fire as a top priority. Suitable for kids of all ages, it is very easily accessible with a pram. There is no café on-site, however, there are picnic tables available for a BYO lunch in the sun. We thoroughly enjoyed taking our time exploring the museum. Here is a list of the five features that were really 'smoking'!
Our Five Fab Fire Museum Features:
1. Junior Fire Fighters Play Area – A dedicated area of the museum just for the kids. My two-year-old daughter Audrey loved sitting and colouring in pictures of animals dressed as firefighters and the older boys were engrossed in interactive computer games and fire safety activities. The younger kids will enjoy 'Fireman Sam' playing on the TV.
2. Fire Engine Simulator/Dress Ups – The kids enjoyed dressing up and climbing aboard a child-sized fire engine as a computer screen took them through what it would be like to be behind the wheel of a real fire engine.
3. Educating the Kids on the Dangers of Fire – Toby and Lucas watched with intrigue as a simulation of a house fire played out. They particularly enjoyed pointing out all the possible ignition sources for the fire and how it could have been prevented.
4. Fire Engine Ride – Book in for a Fire Engine Ride for just $3 per person and be escorted around the grounds on a genuine 1960's fire engine.
5. Impressive Engine Display – a spectacular collection of fire engines dating back to the 18th century, everything from hand-drawn, horse-drawn and motorised engines with detailed historical notes on their origins and uses.
Open 7 days a week
9:30am – 4:30pm
1 Museum Dr, Penrith NSW 2750
Ph:(02) 4731 3000
www.museumoffire.com.au
Admission:
Adult: $12.00
Child (2yrs to 13yrs): $6.00
Family (2 adults + 2 children): $28.00
Visit Penrith
For more information on fabulous things to see and do in Penrith check out the Best Family-Friendly Attractions in Penrith and Visit Penrith.