ellaslist Reviews Kid-Friendly Cafe The Merri Table, Brunswick East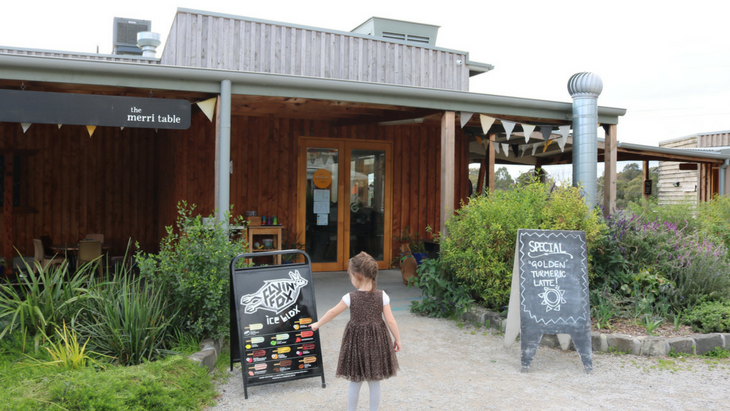 If you're in the mood for good food, reasonably-priced, and created (and disposed of) with the environment and sustainability in mind, it's time to head to The Merri Table at the Ceres Community Environment Park in Brunswick East, a true favourite for locals.
The Merri Table is a social enterprise of Ceres, and built to appeal to folk who are concerned about the environment but not entirely full-blown hippie (as the rest of Ceres can be). They focus on supporting small, ethical producers and sourcing local food, often from the farmlands of Ceres themselves. The Merri Table also aims to reduce waste so they purchase in bulk and eschew cling wrap and as many other single-use plastics as they can.
With this much attentiont to detail it's almost a no-brainer that this is a great place to come, with great food and a great attitude.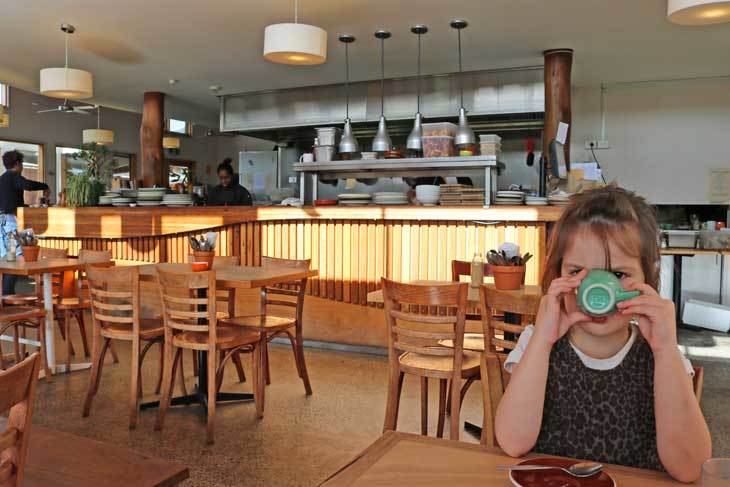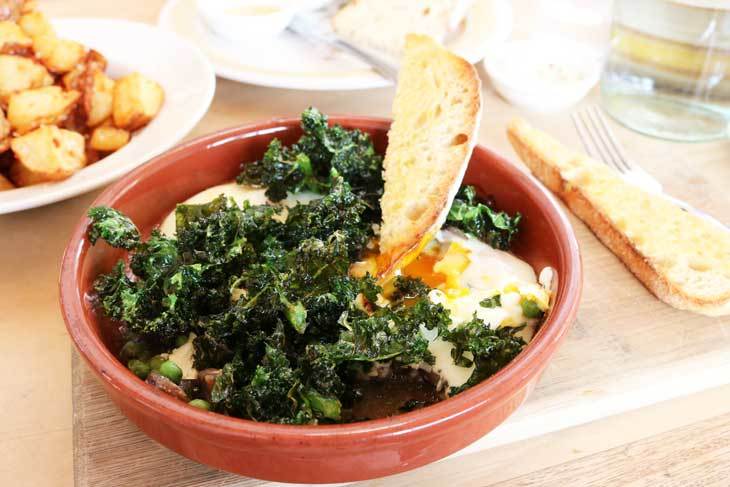 The Menu
I found it difficult to choose a breakfast option or a burger, considering I was there at about 11.15. I evenutally chose the Swiss baked eggs with Swiss brown mushrooms and pea ragu, goat's cheese and crispy, crispy kale, which came with a slice of sourdough (I thought one slice would never be enough but I was wrong!) for $15.50. We also ordered The Merri Potatoes with chilli salt ($7), and Smalls had the sourdough with honey ($7).
The menu has a good range of sweet and savoury breakfast options (or both, with the Marty's Crumpets topped with avocado cream, quinoa tabbouleh, and poached eggs, $16.50), and lunch includes curry, pilaf, vegan pho, chickpea burger, and Korean fried chicken burger.
For littles, the kids' menu consists of semolina pudding, toasties, soft boiled egg, egg on toast, fried chicken slider, or a cute lunch box with toastie, fruit, and cookie.
Grownup drink-wise, you'll find a focus on biodynamic, organic, preservative-free Victorian wines, ciders and beers.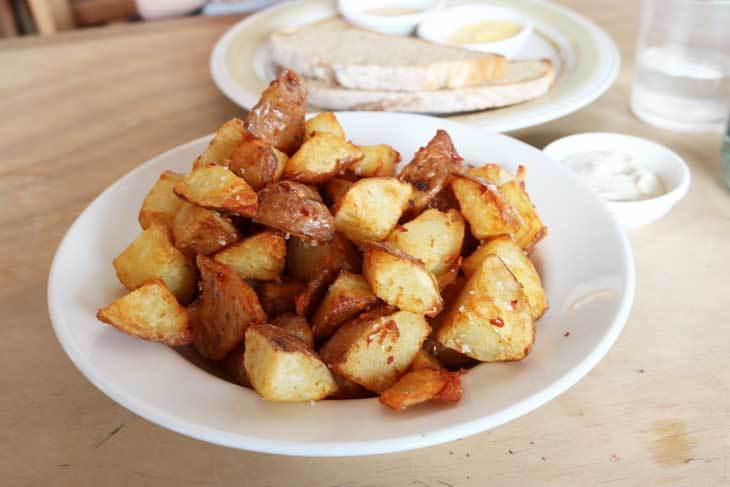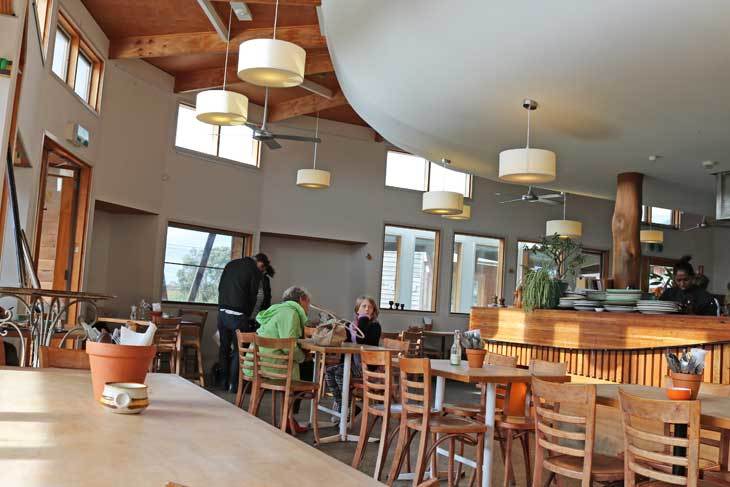 The Service
Super-prompt - we hardly had to wait for anything.
Kid-friendly - water was automatically brought with a plastic cup for the kids, the kids where spoken to and joked around with, and their food was served first.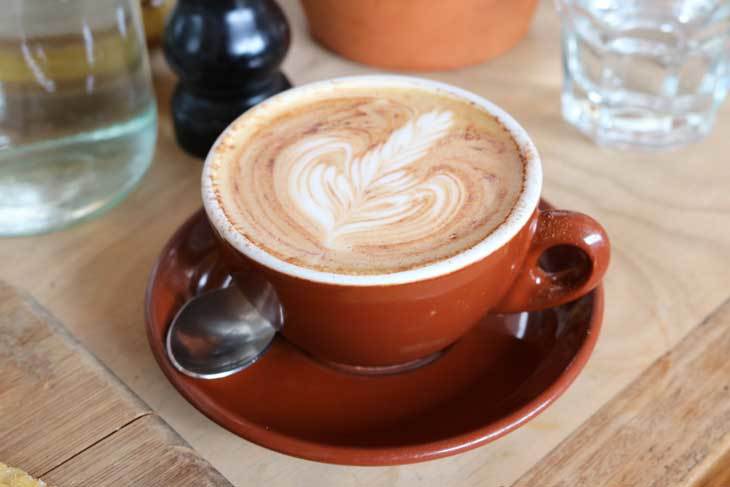 In a Nutshell
What makes the cafe kid-friendly? The staff take the time to chat to the kids and make an effort to get their food first. The kids' menu is considered and varied, and there is plenty of room for prams, bags, high chairs, etc.
Atmosphere: Really laid-back, friendly, and with a environmentalist vibe.
The Food: Great breakast options, curries, burgers and meals with a healthy bent. Great vegan/veg options, including the specials.
Value-for-Money? Portions are good sizes and filling for both adults and kids
Special features & Fun bits : Within the grounds of urban farm Ceres, with chickens, gardens, an eco-friendly store, organic fruit and veg for sale, a lake, nursery, and plenty of space for the kids to run around in a happy, friendly, farm-inspired area.
Who is the cafe best suited for? Everyone.
What we loved: The environmental perspective (waste is divided into compost and recycling), their no takeaway coffee-cup stance, the bright light, kindness to kids, and proximity to Ceres farm.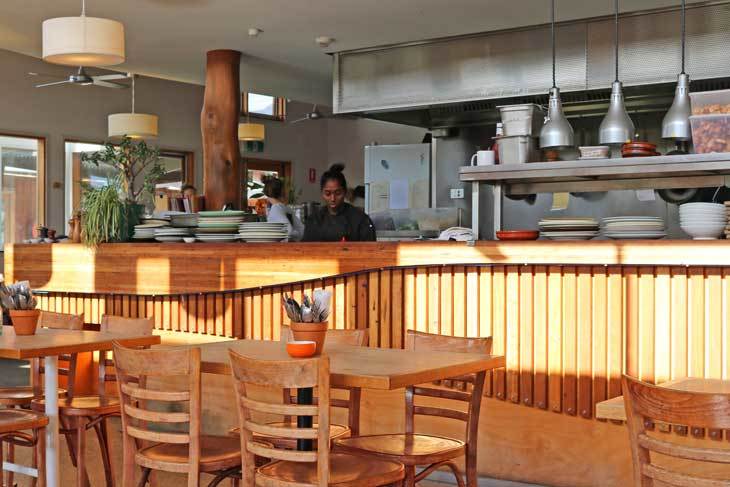 What You Need to Know
Opening Times 9am - 5pm every day.
Phone: (03) 9389 0100
Address: Corner Roberts and Stewart Streets, East Brunswick.
More Info: Visit the website