ellaslist Reviews Spur Steakhouse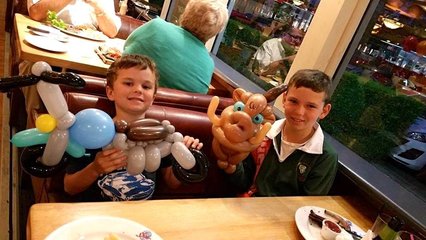 By: Lenore Pearson, ellaslist explorer
Isn't it every parent's dream to be able to enjoy a meal out with the kids without someone having a melt down? I do believe I have discovered the place where this dream becomes a reality. On a recent day trip to Penrith with my family, we had the pleasure of dining at Spur, located in the Penrith Panthers World of Entertainment complex.
South African Sensation

Spur has been operating since 1967 and it's not hard to see why it continues to be South Africa's leading family sit down restaurant, with a warm and friendly dining experience and extremely family friendly atmosphere. My husband recently returned from a conference in Cape Town, South Africa and happened to dine at Spur. He can vouch for the top notch menu and commented on the fact that Spur in South Africa was a lot smaller and didn't have a dedicated play area for the kids like the one in Penrith.
Kids Catered For

THE PLAY AREA OH MY – From the moment we walked in we let the kids loose in there and they only emerged when their meals and drinks were served. Needless to say my husband and I actually had a proper conversation over lunch! The dedicated play area was remarkable and to quote our 9 year old son Toby, 'The best restaurant we have ever been to!' There is a soft play area for little kids, a movie room for the older kids and an iPad room, which was where we had trouble removing our 6 year old son Lucas because he was having so much fun.
The kids menu offers combo meals – Any meal, soft drink or juice and dessert for $10.95. All the 'good stuff' is available – burgers, nuggets, pizza, ribs, fish, milkshakes and my kids' personal favourite, soda spiders.
Mouth Watering Menu

Adults have a plentiful menu to choose from with burgers, steaks and ribs as the specialty. My husband and I needed extra time to decide as everything looked so appealing. In the end we settled for a Chicken Burger with added cheese and a Boerewors Platter (a South African specialty!) – and we were not disappointed. The side of Spur's crispy onion rings was fabulous! The kids opted for Cheeseburgers and Nuggets but dessert was by far the highlight. We left feeling very satisfied and just when the kids couldn't be more impressed, they were given a balloon on the way out!
Why We Love Spur


Dedicated kids menu


Sensational Play Area


Every Monday and Tuesday kids eat for

FREE



Activities and colouring on the back of the menu


Spur Secret Tribe – Kids club where they are issued a voucher booklet that can be redeemed throughout the year plus a

FREE

Combo Meal during their birthday month.


Booster Seats for toddlers


Vegetarian Options
More Information

Open 7 days a week
11:00am – late
Public Holidays: 12:00pm – 9:00pm
Lenore Pearson:
Hello! My name is Lenore, proud mumma to three gorgeous kids, amazingly awesome wife to one cool dude and self-professed travel addict! I started out my career as a primary school teacher for five years, which, second to having my own kids, was extremely rewarding for me.
While I was pregnant with baby number 3, and slowly going insane pacing (waddling) up and down the house, I felt I needed to keep my mind active and decided to take up a Diploma in Travel and Tourism, because I clearly wasn't going to have my hands full enough with three kids!
I am all about exploring. For me, living a full life is about collecting amazing experiences from as many incredible places as possible. Travel and adventures fuel my imagination and I love sharing them in the hopes of inspiring the explorer in each of us! Along with my family, I have been fortunate enough to have discovered lots of places already.
I am super excited to be an ellaslist Explorer, aiming to provide very real and practical information for families looking to create their own adventures and experiences. I am forever researching new and exciting things to do with the kids and I look forward to sharing them with you.
I have also just launched my own travel blog 'Little Miss Piggy' a treasure trove of travel inspiration and unique experiences in and around Sydney and abroad.