ellaslist Reviews Nouk; A Kids❜ Book Delivery Service
Kids
Preschoolers
Toddlers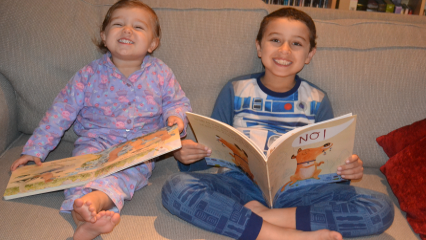 By: Lenore Pearson, ellaslist Explorer
"The more that you read, the more things you will know. The more that you learn, the more places you'll go" – Dr. Seuss

One of my earliest memories of books was going to a book fair held at Sydney Town Hall in 1989 and eagerly thumbing through all the beautiful new books. My dad bought me my very first cookbook that day. It was the day I discovered how delicious reading can be! Loving literature grew with me and I discovered a passion for the classics as I trained to be a teacher. My passion grew into helping my students discover books.
The same was true with my own children as I rushed out to find a suitable bookshelf for their room and stories of dragons, robots, princesses and heroes to populate its shelves. I read to my kids from the moment they were born, my eldest son Toby (10) reads a chapter of a book every night now and Lucas (6) and Audrey (2) still enjoy having a story read to them religiously before bedtime.
Books Delivered To Your Door

Today's technology brings a new dimension to books. The convenience of downloading the next title on your wish list in an instant is hard to beat. Unfortunately, staring into the white glow of a screen is a poor imitation of reading. For what can compare to snuggling up with your child, reading through their well-loved, dog-eared favourite book and savouring the words running across the page for the millionth time?
Walking into my kids' bedroom and seeing the hundreds of beautifully illustrated books on their shelf is a delight. Their collection has been a labour of love and money well spent. Technology has its place though, and an online bookseller called Nouk seems to have captured the convenience and accessibility of the internet and married it with the tactile experience of real paper and ink books.

About Nouk

Nouk is a subscription service that sends two specially chosen books home to little readers every month. It is a simple way to expand your child's library and reignite their love of books. It also offers a convenient and cost-effective way for busy parents to bring the joy of story time to their children. The age-appropriate Nouk book range includes board books, picture books and paperbacks, with a focus on Australian authors, new authors and new releases that have just hit the market.
How To Order Online

Step 1 – Select one of three membership plans, 2 books are delivered each time – One month ($30 per month), six months ($27 per month) or one year ($25 per month).
Step 2 – Fill out your details – Tell them about the lucky boy or girl who will be receiving the books.
Step 3 – The Nouk team select the best books on the market, based on the child's age and gender.
Step 4 – Every month, two new books get delivered to the address provided. Too easy!

Our Experience with Nouk

After submitting my order, within a few days a personally addressed package addressed to Lucas and Audrey appeared on the doorstep all tied up in brown paper and ribbon. Lucas received a book called 'No!' by Marta Altes and Audrey received a book called 'Five Little Platypuses' by Karen Erasmus. Both books were age appropriate and the kids loved having their own special package to unwrap. When it came time for stories before bed both kids happily took their book off to the lounge and sat happily showing each other the pictures while Lucas read to his little sister.
A book subscription is a wonderful way to ensure regular exposure to the magic found within the pages of a book. It is a special way for families to spend quality time together while laying the foundations for language development and beautiful imaginations. Consider a Nouk membership as a gift for birthdays, baby showers or Christmas or simply as a special bonding activity to share with your child while nurturing a lifelong love of books.

*
About Nouk
Nouk
is a subscription kids' book delivery service that sends two specially chosen books home to little readers every month. Their age-appropriate book range includes board books, picture books and paperbacks, with a focus on Australian authors, new authors and new releases. A Nouk membership makes a great gift for birthdays, baby showers or Christmas.
Sign up now online for as little as $25 p/month!
Reviews
Nouk - thank you for making reading fun again!
Recently bought a subscription for a first birthday. Only wanted 3 months so emailed them for automatic cancellation and the lady was so helpful she even sent me a personalised gift voucher to provide at the party. Such a great idea. Highly recommended.
Nouk knows books and takes the hassle out of taking the kids to the bookstore where they want EVERYTHING! Plus they get mail, which they love!