ellaslist Reviews Newington Armoury Wharf Cafe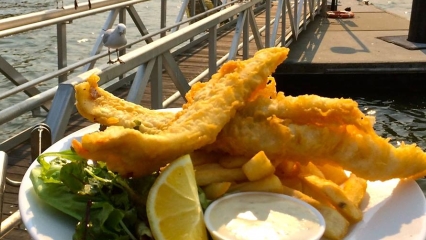 By Stephanie Boyle, ellaslist explorer
Newington Armoury is without question one of Sydney's best family destinations. Tucked away on a discrete stretch of Parramatta River, accessed down a very understated road running adjacent to Silverwater Correctional Centre, the former Royal Australian Naval Armament Depot is a truly remarkable site.
There are over 100 heritage buildings to explore, a Willy-Wonkaesque playground (Blaxland Riverside Park – consistently rated one of Sydney's best), bikes to hire, a miniature train to ride, bird spotting, art exhibitions and a number of walking tracks.
Awesome Military Theme
Given its links to Australia's armed forces, it's unsurprising that the cafe at Newington Armoury, the Armoury Wharf Cafe, has a military feel. Patrons sitting outside, dine under a shady canopy made of camouflage and the menu is littered with military references.
The food on the menu (or 'rations requisition' and 'inventory') can best be described as modern Australian and it's both fresh and seasonal. It's a touch more sophisticated than your average cafe with dishes like beetroot cured Atlantic salmon with Nicoise salad or salt and pepper squid with lychee and cucumber salad for lunch and sweet potato and coriander cakes with poached eggs or avocado smash with Persian fetta for breakfast. The menu caters extremely well to all adult tastes, appetites and dietary preferences and would be the perfect spot for a meet up with friends and family since everyone would be bound to find something to please them and the relaxed atmosphere on the water is conducive to wonderful conversation.
Fun And Themed Kid's Menu
Of course, it's not all about what's on offer for the adults! The children's menu is very well conceived and received also. As the mother of a fussy eater, I've often resorted to giving everyday foods creative and fun names and this menu is spot on in this regard. A cheese melt becomes a 'Little Lieutenant's soft sub roll', cadets are actually a dish of Calamari, chips and tomato sauce and chicken and chips with rainbow slaw is excitingly renamed the 'Captain's crispy chicken torpedo'!
The food is elegantly plated and attention is given to colour on the children's plates which is wonderful because as we all know, colour can engage children in their meals in addition to providing them with a greater range of vitamins. It's unfortunate that many children's meals these days tend to settle for shades of beige and white but this is certainly not the case here. If this well designed children's menu doesn't excite your little one's taste buds then I don't know what will! Staff are very accommodating of prams and the need for high chairs and have a lovely manner with their smallest patrons.
Helpful Hints
With its exceptional location and wonderful menu, this cafe gets extremely full at breakfast and lunchtime on weekends and during school holidays. It is therefore extremely advisable to make a booking at these times so as to avoid disappointment.
It should also be noted that the car parking spaces at the armoury are limited. While there are no buses or trains servicing the park and cafe, another transport option is the ferry from Parramatta to Olympic Park Wharf which takes about half an hour followed by a 20 minute leisurely and picturesque walk to the Armoury. This is a very pleasant way to get there and the stroll back to the ferry after breakfast or lunch is extremely enjoyable.
Whatever way you get there, make sure you make a point of bringing your 'crew' down to the Armoury Wharf Cafe 'mess' for some fabulous food as soon as possible!
In a Nutshell
What makes the cafe kid-friendly - Creative kids' menu and delicious food for littlies. Situated near one of the best playgrounds in Sydney
Atmosphere – Relaxed, friendly and scenic
The Food – Excellent!
Value-for-Money – Food is on the more expensive side but the taste makes it all worth it
Special features and Fun bits – Fabulous over-the-top milkshakes, fun kid's menu
Who is the cafe best suited for? - Singles, couples and families with kids of all ages
What did you love – The beautiful scenic location right on the river, being so close to the playground, great food for adults and kids
What You Need to Know
Opening Times – Monday-Friday 9am to 3.30pm ; Sat. & Sun. 7.30am to 5.00pm ; Public Holidays – 9am – 4pm
Phone: 0423 884 801
Address: Blaxland Riverside Park, Jamieson Street, Newington
More Info: Armory Wharf Cafe or on Facebook
Stephanie Boyle is currently a stay at home mother with two gorgeous children.
Prior to becoming a mum she trained as a lawyer and worked in various Government positions. She is currently completing a Masters of Teaching. Stephanie and her Algerian husband Kamel have two sons, Ayman (3 years old) and Younes (3 months) and they are doing their best to raise their sons as tri-lingual global citizens. When Ayman arrived three years ago, it became immediately apparent to Stephanie that neither of them were homebodies and so they set off on what would become three glorious years (and counting!) of adventure and excitement throughout Sydney and its surrounds. Stephanie believes that childhood should be pure magic and she is on a continual mission to make this the case for her sons. She loves discovering new places and activities, throwing amazing parties and running a bookclub for her boys and their little friends. In addition to her reports for ellaslist, you can also follow Stephanie and her boys on
Instagram @moukinina
.