ellaslist reviews Miss Kays Mitchelton
Mums & Bubs
Toddlers
Preschoolers
Kids
Teens
Family
All Ages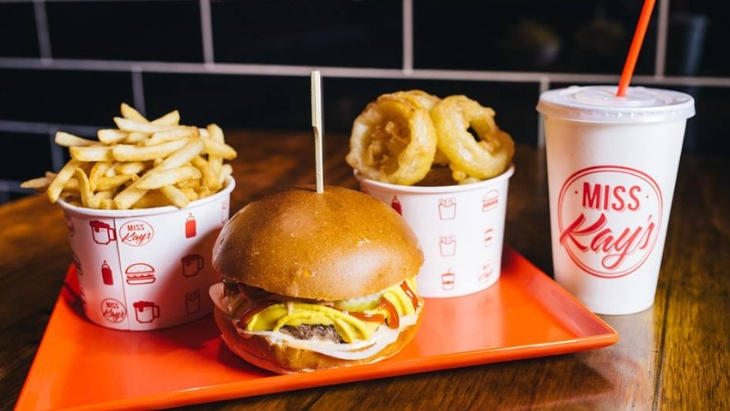 Blackwood Street, MItchelton is a quiet suburban precinct in Brisbane's north-west side, popular with families but not particularly well-serviced by trendy eating or drinking establishments. When Miss Kay's arrived it brought with it a neon explosion of happiness in the heart of the suburb and delivered a family-family venue perfect for work-weary parents looking for a fun and easy place to take the kids for a burger and a shake.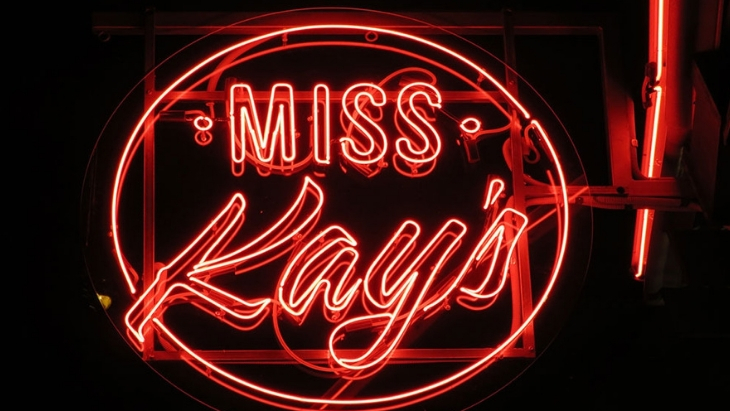 I have friends in the local area who raves about Miss Kay's and visits there often with her neighbourhood gang, so I thought I'd take the kidlets along and give it a shot.
We visited Miss Kay's Mitchelton on a Friday night and it was absolutely heaving with groups of all ages. I can see why the locals love it as it definitely shines some urban sparkle into an otherwise quiet neighbourhood. Miss Kay's claims to cater for old and young and on the night we visited we saw lots of families with young kids, quite a few older couples on date nights or out with friends, bigger family groups and a few tables of youngsters getting into the jugs of cocktails, obviously kicking off their evening.
Although it was packed, the waitstaff were super-helpful and organised us a table for 4 adults and 6 kids in a matter of minutes. I reckon next time we will book to alleviate any FOMO, we noticed there were a few tables reserved for large groups and found on their website they take bookings for 10 or more.
As well as the friendly service, the atmosphere was something that hits you when you walk in. The vibe was really lively with and old school American diner feel – think subway tiles and neon lights – but with wooden outdoor tables and fake turf providing a distinctly Brisbane beergarden touch.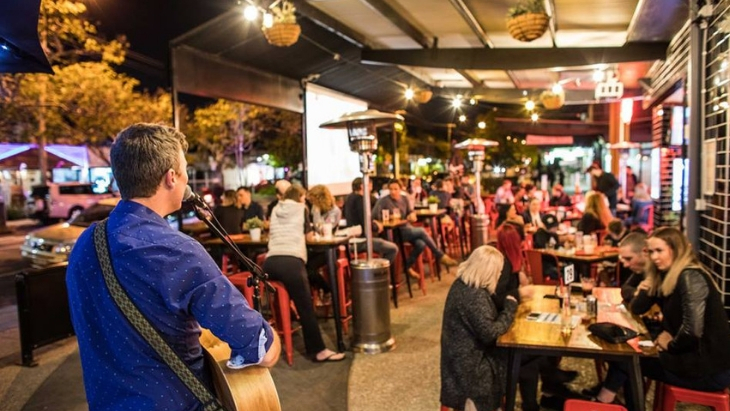 On Friday nights Miss Kay's hosts local entertainers and the night we were there there was a cute young guy on guitar playing some fun singalong tracks. Plus they have a table setup for the kids to play vintage computer games like Mario Kart. With all that going on, the kids were totally entertained meaning us parents were happy as Larry.
Fab food
The Miss Kay's menu is awesome and the names of the burgers gave me a giggle. There the Mac Daddy, Ludacrisp and Get Clucked, to name a few. The kids in our group lost their shizzle when they saw the milkshakes which are piled sky-high with cream and other sugary accoutrements. They couldn't go past the James Brownie and Milli Vanilli. There isn't a kids menu as such, so not a huge selection of kid specific meals but mine were more than happy to go for standard Cheeseburgers.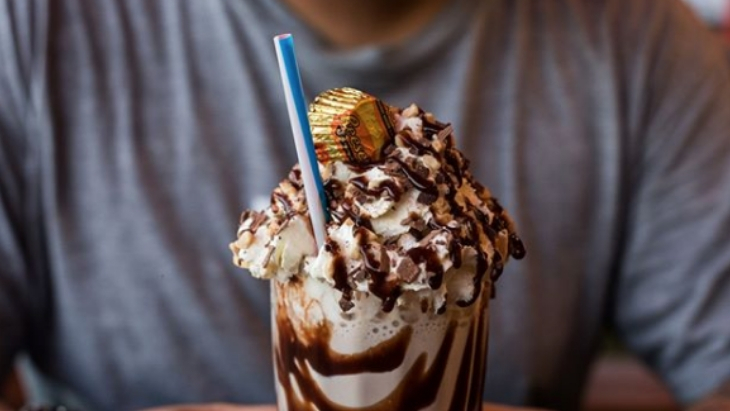 You order up at the counter which is handy if you are going with a bigger group of people as everyone looks after themselves. We had a bit of a wait in line but everyone that works there is so pleasant that the whole process wasn't too much of a punish at all.
Our meals arrived pretty quickly and the burgers definitely lived up to expectation. The buns were fresh, the meat was juicy, everything was well-cooked and tasty-as. A highlight for me were the loaded Fire Fries which were a to-die-for combo of sriarcha and cheese sauce – what the hell is not to love about that!
My friend is coeliac and she discovered they have a great offering of gluten free options as well, they even asked if she was coeliac in a non-judgy way, which she enjoyed. And they offer a vegan burger (not for me but I love that it's an option).
The booze
OK so did I mention there is a BAR at Miss Kay's? No? Well, hold your horses it get's better, they also have HAPPY HOUR every afternoon from 4.30pm to 6.30pm which means specials of all kinds of mummy's littler helpers including jugs of cocktails and 3 litre beer towers.
My friend and I enjoyed a few glasses of lady petrol (rosé) which was nothing special, but very quaffable. Next time I might try one of their cocktails which look pretty fun.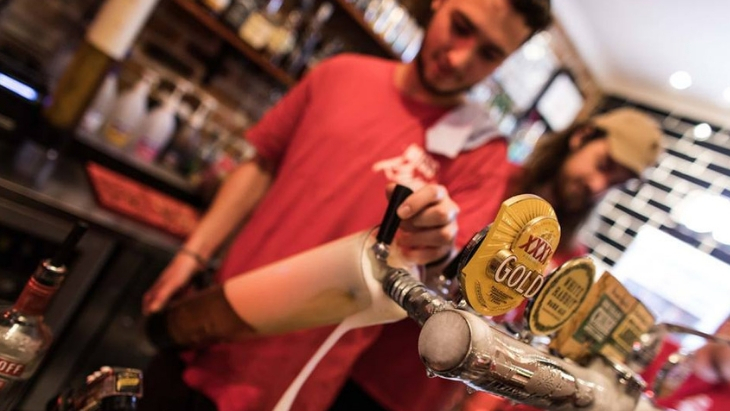 The verdict
If you're looking for a very convenient, family-friendly experience with a great vibe then you won't be disappointed in Miss Kay's.
In terms of budget, it wasn't a cheap cheap night but considering we went for all the trappings and did burgers and fries AND shakes, and then the kids finished off their meals with soft serves, I felt it was pretty good value for money.
What we love: Absolutely cracking burgers, excellent value-for-money, friendly staff, fun for kids, cheap booze and decadent milkshakes. It's also dog-friendly and food allergy-friendly.
Who will love it: Definitely a winner for families! Great for groups - think mums groups or school family get togethers - but also perfect for a night out for couples or for the young ones.
ellaslist opinion: Head down on a Friday night when it's really pumping and definitely book ahead if you have a group.
Look, Miss Kay's is obvioulsy not a Michelin-starred venue by any stretch, so if fine dining is your thing then give it a swerve. But they do what they do well and they know their market and for that we love them. So give them a go, because as they say on their website "you deserve a burger".
Where to find Miss Kay's
Address:
Miss Kay's Burgers
40 Blackwood Street
Mitchelton, QLD, 4053
Phone: (07) 3855 2516
Opening hours: Check out the website here
Website: https://www.misskaysburgers.com
Other locations: Brisbane City, Springwood & Birkdale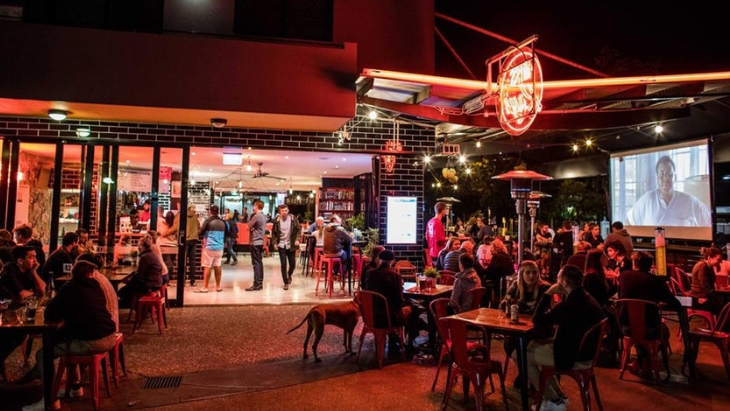 More great local eating:
Have you signed up to our newsletter? Join ellaslist to get the best family and kid-friendly events, venues, classes and things to do NEAR YOU!
Image Credits: Miss Kay's Mitchelton Facebook Page