ellaslist Review: All-You-Can-Eat Dumplings At WILD LIFE Sydney Zoo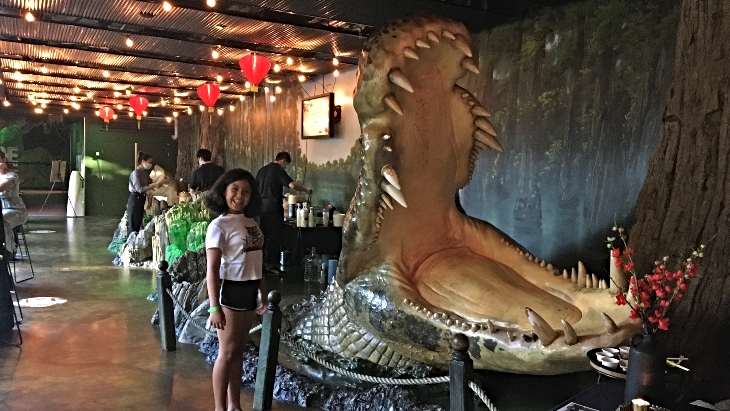 WILDLIFE Sydney Zoo is a quintessentially Australian experience, showcasing all of our cutest and most iconic native animals in the centre of the harbour city. However, they would not miss the opportunity to celebrate one of the most vibrant events on our multicultural calendar, and nothing says 'Happy Chinese New Year' like all-you-can-eat dumplings.
The whole event had us feeling like VIPs from the outset. While the zoo had officially closed for its day-to-day activity, it reopened for exclusive after-hour access, with Chris Hemsworth ushering us through the foyer (in all his wax-work glory thanks to the neighbouring Madame Tussauds).
We started our self-guided journey meandering through the zoo, seeking out a host of diverse reptiles, a woodland of content koalas and some adorable endangered species like a Tasmanian Devil, a Quokka, a Numbat and the hugest wombat I have ever seen.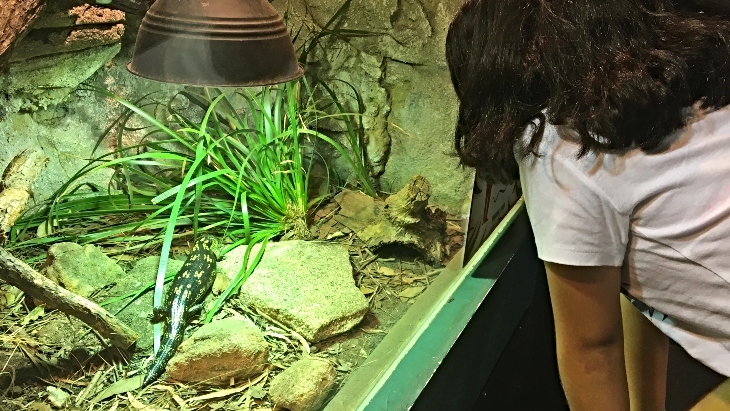 Perhaps, it was because of the limited number of guests allowed for each experience, or the calming influence of the Year Of The Ox, but WILDLIFE Sydney Zoo had such a serene ambience, with peaceful, lush outdoor spaces and a rare intimacy with the animals not found at other zoos.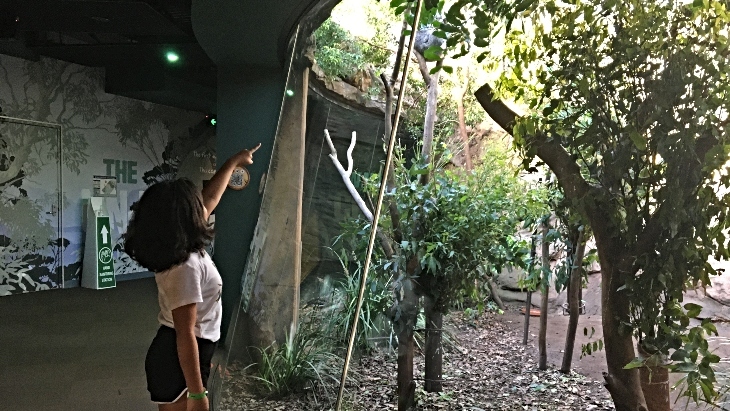 My biggest tip? Do not miss the Kangaroo Walkabout sign! We were so excited just to get a glimpse of these amazing creatures through the myriad sneak-peak windows, we ran straight past the doorway! Thankfully, we were soon told we could actually go out into the open and meet them. This was such a beautiful experience for my 10-year-old.

With the sun still shining in, exotic birds flying overhead and ample space for the kangaroos (and giant emu) to roam freely, the brilliant Zookeeper, Holly, introduced my little animal-lover to the family of jolly jumpers, guiding her to pat their backs. As we roamed through the sanctuary, it wasn't long before Kirby the kangaroo came looking for my besotted daughter, nuzzling his nose into her hand, sweetly demanding her attention. It was amazing!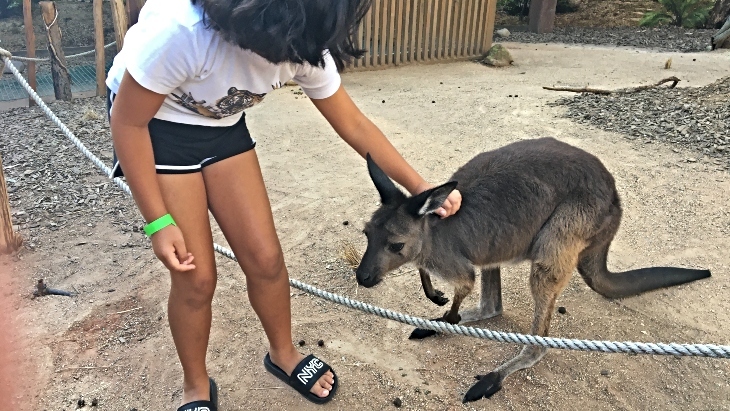 We stayed in the Kangaroo Walkabout, engaging with and learning about its residents, as long as we possibly could until our 7 pm dinner reservation. But, alas, dumplings were calling!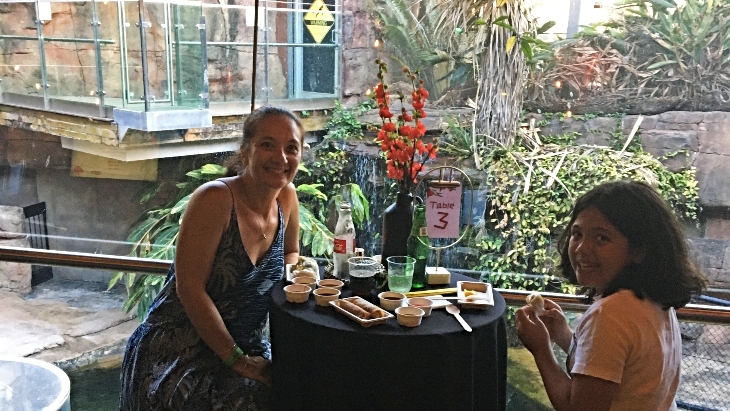 Perched on our table, overlocking Rocky, the famous 365kg saltwater crocodile resting in his giant enclosure, we were offered an endless selection of drinks and invited to indulge on all-you-can-eat dumplings. With the Upper Croc Deck transformed into a Chinese wonderland, we were served up spring rolls and prawn & pork wontons plus Shanghai Pork, vegetarian and spinach & rice noodle dumplings.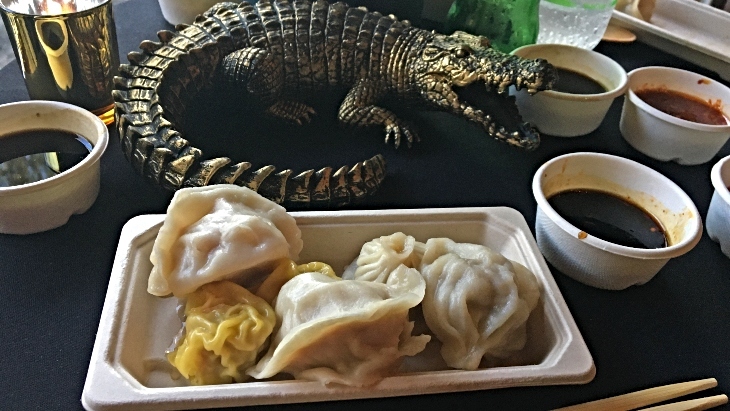 The delicious and decadent feast lasted half an hour - plenty of time to get completely full on the authentic New Shanghai delicacies - and it's such a unique treat to have dinner included as part of a zoo visit!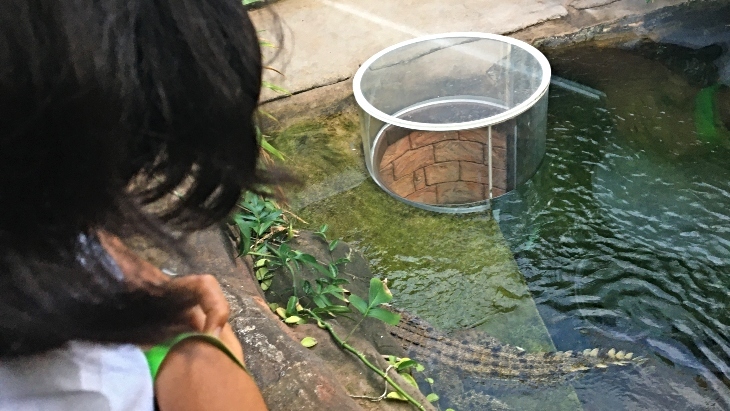 After dinner, Holly escorted us up to the Koala Rooftop, where we got up close to three generations of cuddly creatures, including matriarch Faith, the 16-year-old great-grandma. We watched the koalas frolic through the gumtrees, as the vibrant birdlife soared the rooftop aviary. Being so close to these beloved marsupials was yet another highlight for my enraptured tween. In fact, it was heartwarming to see her so captivated by the gorgeous animals - an experience we haven't shared in years.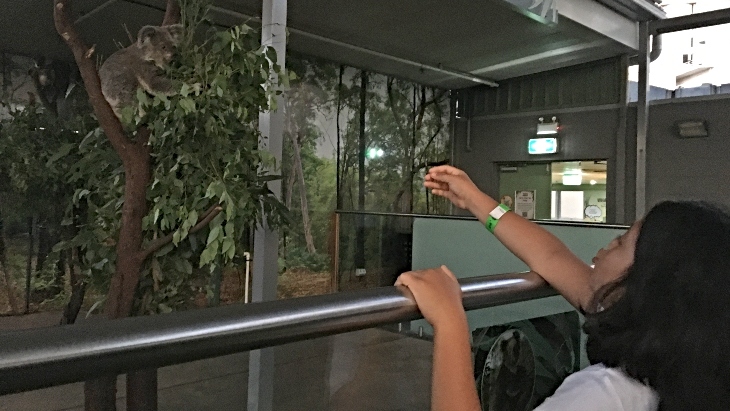 Thankfully, we had access to the zoo until it closed at 9 pm, because my daughter did not want to leave, and she talked about for days afterwards. The WILDLIFE Sydney Zoo Unlimited Dumpling experience was a fun, memorable experience for both of us.
All-you-can-eat dumplings are only on for a short time and spots are limited, so book now for this special Lunar New Year experience.
WILD LIFE Sydney Zoo Dumpling Experience – Essentials
Where: WILD LIFE Sydney Zoo, Darling Harbour
When: 11 - 13 February, First session 5.30pm, last session 8.00pm
18 - 20 February - First session 6pm, last session 8pm
The zoo will close at 9pm
Cost: $80 includes all-you-can-eat dumplings, bottomless drinks and after-hours access to the zoo
Find out more and book at WILD LIFE Sydney Zoo.

More Fun Family Nights Out
Nights At The Australian Museum: Family Fun For All
Best Spots To Catch The Sunset In Sydney
Best Chinese Lunar New Year Activities for Kids
Have you signed up to our newsletter? Join ellaslist to get the best family and kid-friendly events, venues, classes and things to do NEAR YOU!