ellaslist Has A Super Fun, Super Simple Kids' Party At Sky Zone
Family
Kids
Mums & Bubs
Parents Only
Teens
Preschoolers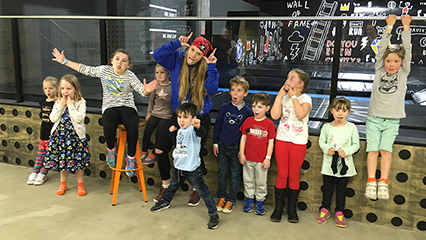 By: Megan Gibson, ellaslist Explorer
Are you looking for a unique, high-energy, hassle-free birthday party your child will not forget? ellaslist explorer Megan bounces a troop of 5 & 6 year olds along to Sky Zone Miranda for a fun-packed party. Find out how it went…
Sky Zone Miranda is billed as Sydney's newest and best trampoline park – it features over 100 interconnected trampolines, a climbing gym and an obstacle course. Located in the lower ground floor of Westfield Miranda, it's easy to get to, is clean and offers loads of fun for kids.
Dedicated Party Check-In

Sky Zone features a dedicated party check-in area where the children are briefed on jumping, given Sky Zone grip socks, and a locker in which to store shoes. Our party host was engaging, remembered all the kids' names and was very good at keeping an eye on the action and moving the kids on when their energy was lagging.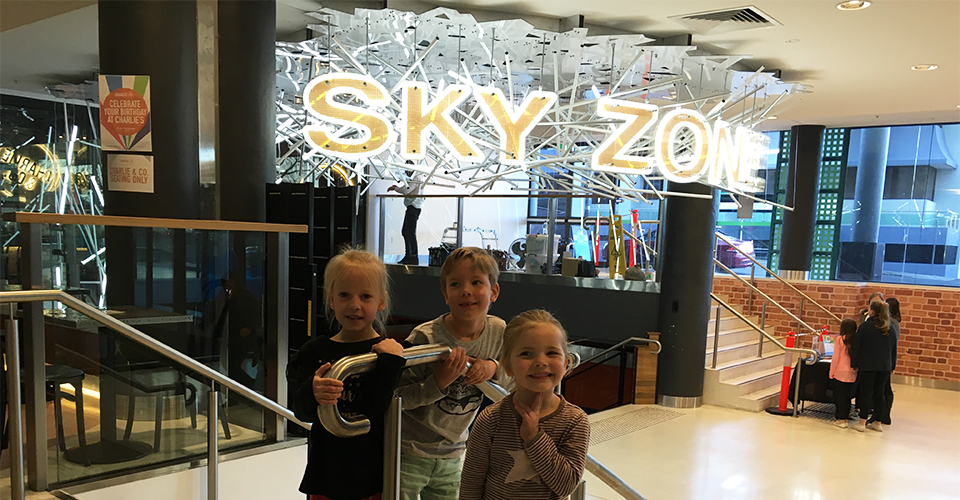 Ready To Jump

We had a 9.45am booking and our team of 10 intrepid jumpers (mostly aged 5 and 6) had the venue nearly to themselves for their hour long jump session. The centre does fill up as the day progresses so early morning bookings are best. Each jump session is 1 hour long.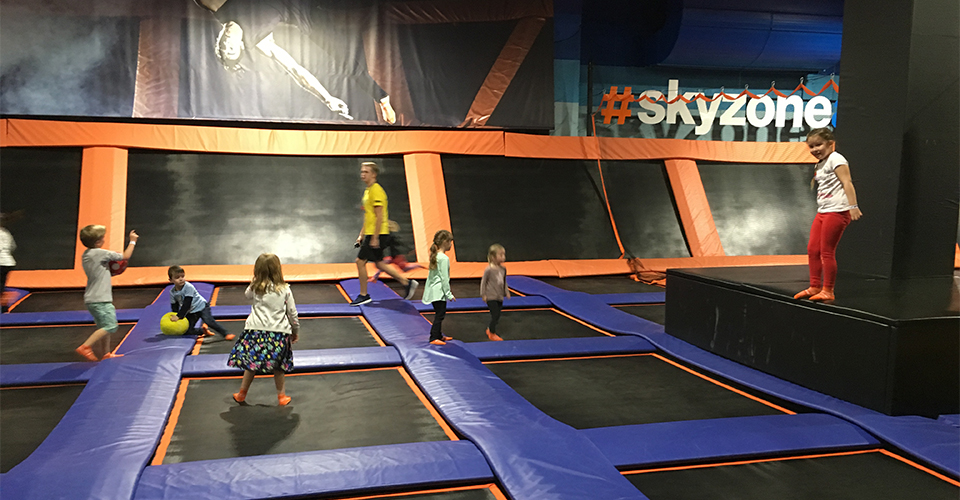 Bouncing & Obstacles

We began in the open trampoline area, where the kids were given free range to jump as they pleased and throw around foam balls. After 20 minutes, we were taken (via the drink bubblers) for a run through the obstacle course. The course is designed for older children and features monkey-bar style obstacles, tunnel crawls and flying foxes. The children might not have made full use of the course, but the staff were excellent at encouraging them to try the different obstacles and modifying them for the children that needed assistance.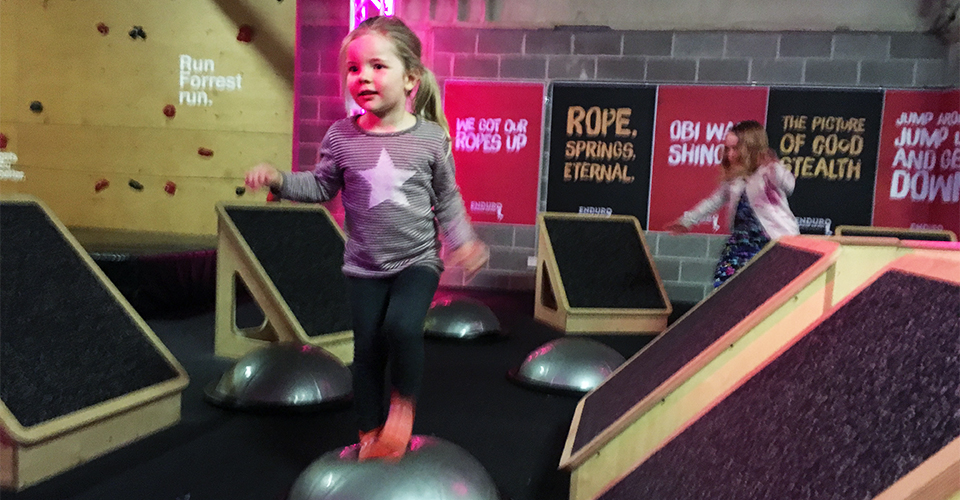 Inflatable Pillow

Then it was onwards again to a giant inflatable pillow accessed by trampoline runways. Unfortunately the kids were not tall enough to make the leap. Still they had fun trying, and the host was quick to notice that it wasn't working for this group and move them onwards.
Giant Foam Pit

Then it was 'The Pit', a giant pool full of foam squares. There are beams to walk on, ladders to climb, balls to bounce on and other fun ways of jumping. Then we tried some slam dunks with the basketball hoops. There were three hoops set at varying heights allowing the jumpers to challenge their skills. Good fun and lots of laughs. We finished off our jumping experience back on the main floor as the kids threw themselves around with abandon. One hour is definitely long enough to jump. By the end, the kids were starting to flag and were tired and thirsty.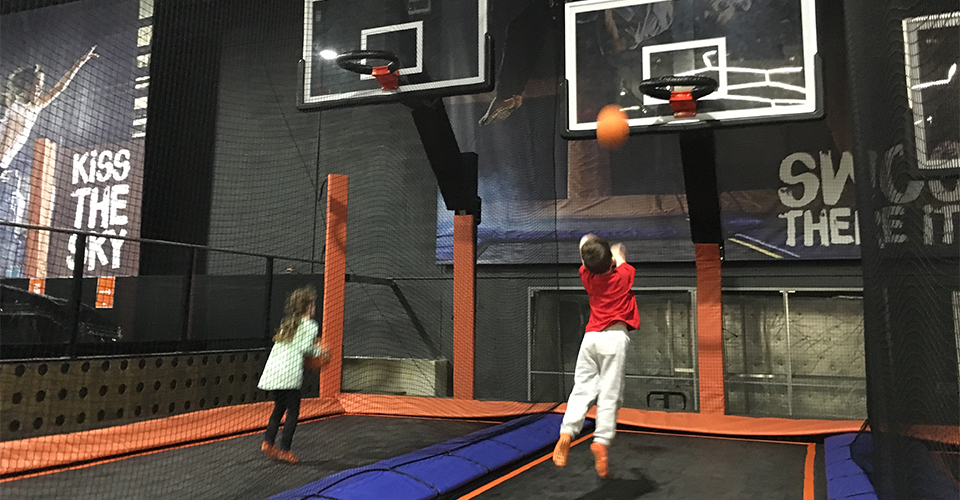 Now For Sky Climb

Time to put the shoes back on and head to Sky Climb. Each child was fitted with a harness and instructions given. Given the age of our climbers, slightly more instructions could have been beneficial. Climbers were then able to choose one of the 20 climbing walls, clip themselves to the rope and climb. Once they were done climbing it was a matter of simply leaning back and the automatic belay system lowered them to the ground.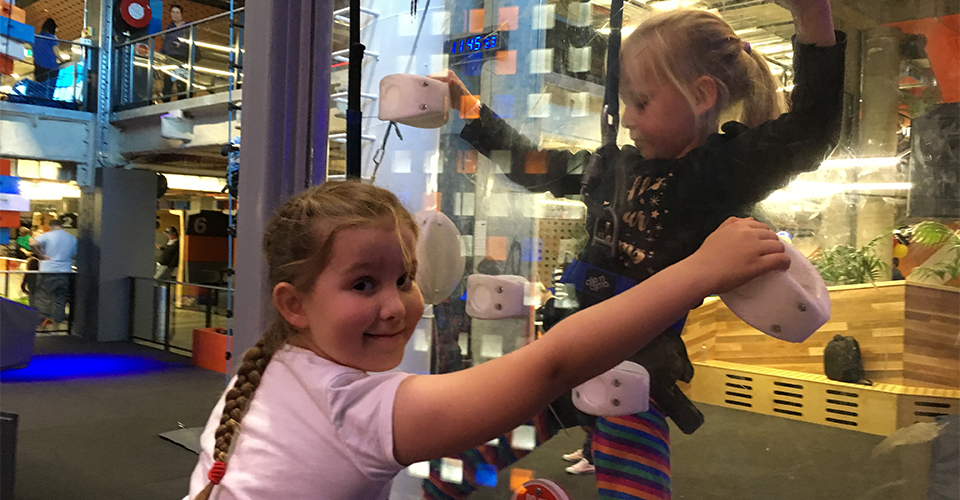 Perfect For 7yrs+

Kids need to be at least 5 years old to climb, however children aged 7+ would be more suited to SkyClimb. We had varying levels of interest and ability among our climbers. While the staff wander and assist, extra parent assistance was beneficial to help the children clip on and encourage them as they climbed.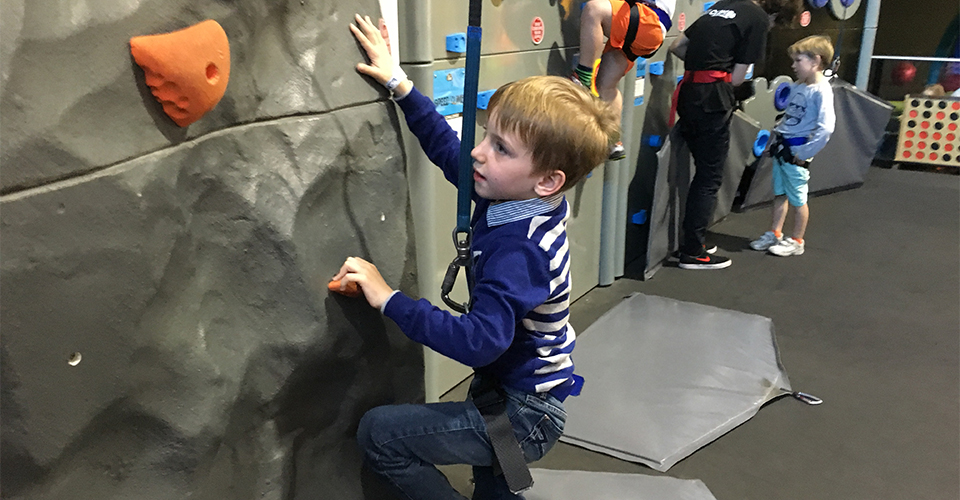 Exhausted

As with jumping, Sky Climb is a 1 hour session, however within 30 minutes all but 2 of our participants had had enough. Luckily our party host recognised this and was able to move our lunch booking up by 15 minutes.
Time For Lunch

Finally, it was time for a well-deserved lunch. When booking a party you can choose sandwiches and fruit or pizza and chips. Party lunches are held in a large enclosed booth. There was plenty of delicious hot pizza and chips to go around and we topped lunch off with an ice cream cake and a round of Happy Birthday. The birthday boy was given a Sky Climb shirt and two free return passes to come and jump again.
A Thumbs Up From The Kids & The Parents

A party at Sky Zone is an excellent adventure. The children enjoyed themselves, wore themselves out and learned some new skills. As a parent, a Sky Zone party was super simple. Invitations were supplied by Sky Climb, all communications and payments were handled easily by email and phone, so we had nothing to prepare. It was simple, managed well and entertaining. Definitely recommended as a great party venue.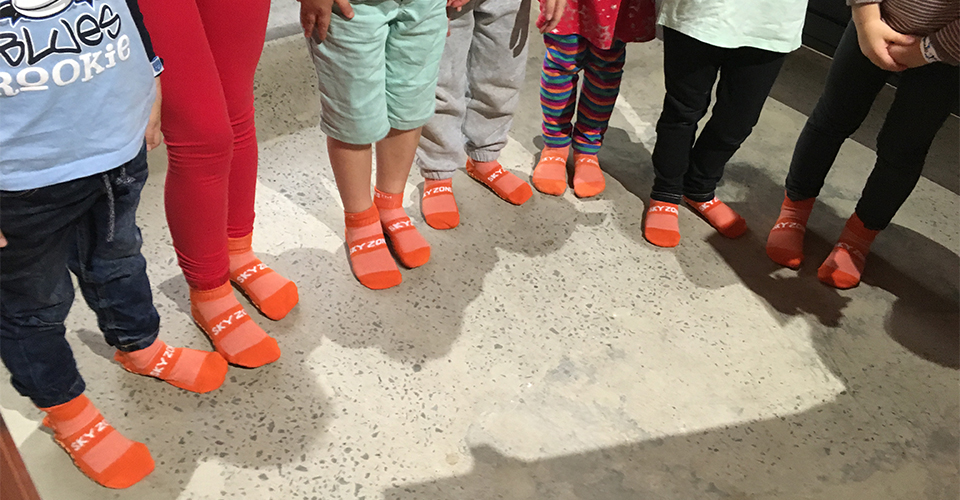 ellaslist Top Tips


Wear comfortable clothes; leggings/loose shorts and a long t-shirt is ideal


Grip socks are provided for jumping, however small lightweight athletic shoes are the best for Sky Climb sessions


No outside food is allowed. There is a glass-walled café available on the mezzanine level for coffee and other treats


Adult supervision is not necessarily required, but with smaller children it is definitely recommended


We had several siblings join us – they we able to buy passes to the same jump and climb sessions and join the fun. Remember to pre-book these sessions, as they fill quickly


There is a toddler play area suitable for under 5's – great for younger siblings


Parking at Westfield Miranda is free for the first three hours and then charges apply (however if you leave for more than 30 minutes your three hours free starts again).


Parking is easiest early in the morning but fills up quickly, leave plenty of time to park and walk to the venue as jump/climb time's start strictly on the hour


Party / Lolly bags are not provided as part of the package – you can purchase them yourself or have them supplied.


Ice Cream cake is available from the venue, or you can supply your own cake
Find out more about Sky Zone Miranda and Sky Zone Alexandria birthday parties or visit their website.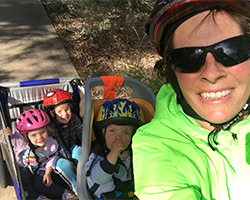 I am a Sydney-sider born and bred, but spent 12 years living in Wagga, Canberra and London. I am married to an Englishman and we have three children, Eli age 6, Allegra nearly 4 and 16 month old Cooper.
I am a work-from-home-Mum and keep myself sane by getting out and about and exploring all that Sydney has to offer. The kids and I enjoy parks, museums, picnics, playgroup, gardening, walking, cycling and road-tripping. I am the typical "crafty" mum and love getting my hands dirty, taking photos, and running (sort of).
You can read my blog here.