ellaslist Has A Family Adventure From Up-High At Trees Adventure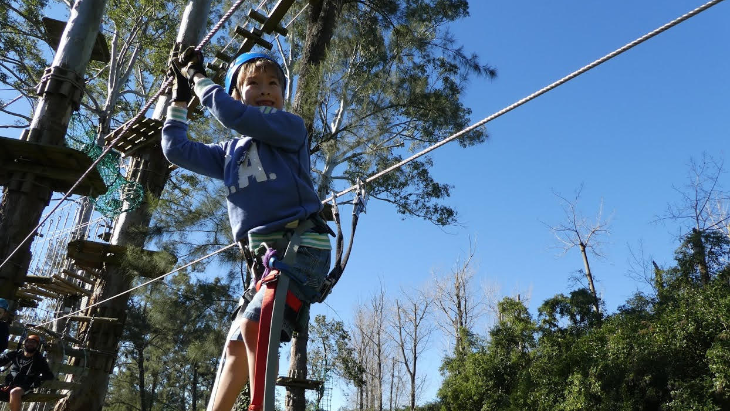 By: Vanessa Mah Chut, ellaslist explorer
After spending the day at Trees Adventure at Grose River Park, Yarramundi there were two words that came to mind - 'slick operation'. I could also use adventure, fun, challenges and lots more, but the smooth organisation of this park was second to none.
The staff were friendly, young, knowledgeable and well-trained and this was evident from the beginning of our experience at the check-in desk, right through to our departure. Check in is half an hour before your 2-hour adventure time. This allows time to place anything you don't need in a locker, go to the toilet (you're going to be in a harness and up in high trees for two hours!), get your gear on and complete the training exercises.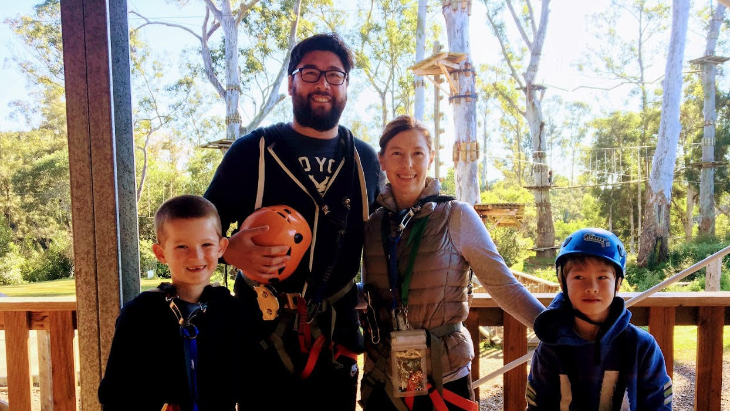 Getting Ready For The Adventure Of A Lifetime
Prior to this, I had had no tree adventure experience so this was all new. At this stage, there was a feeling of 'what have I got myself into?'. The gear looked complicated and the initial instructions might as well have been in another language. But, the good news is that, after you listen to and watch the instructor, you get to practise under their guidance, and this is where it all started to make sense. By the time we finished the training my husband and I felt confident, and my son and his friend had enough to get them started (but were going to need some help).
The courses are all graded and we set off for the easier of the green courses. At this level, you need to be at least 8 years to participate and have 1 adult for every 4 kids. Our wise instructor advised us to have an adult at the front and one at the back with the kids in between. This meant that either my husband or I could always be there to help with clipping on or off.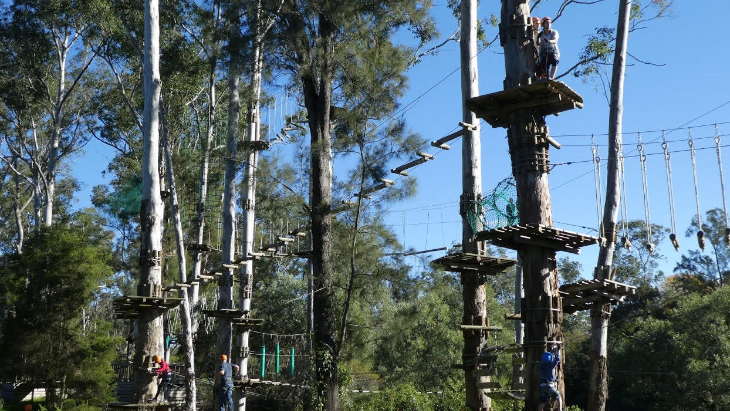 Get Ready For Some Nerves!
The green course absolutely challenged us and it took us an hour to complete the first one. It was pretty nerve-wracking as we adjusted to rope climbs, treetop obstacles, flying foxes and what I would describe as tightrope walking. The good news is that it is completely safe as one of your two clips is always locked onto the cable.
The main building is right next to the courses so having completed our first course, this was the perfect time for a snack, drink and toilet break for us. I imagine that most people keep going for their entire 2-hour experience. For us though, with 2 young kids and a mother exhausted from concentrating, a mini-break was perfect. The cafe had a range of delicious and affordable options for snacks or lunch, and we were soon sharing stories over ice creams and cold drinks.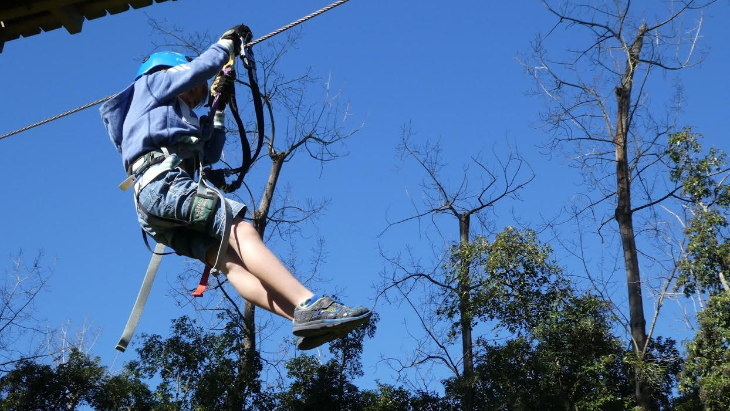 You'll Feel At Home In The Treetops In No Time
When we returned to the course it was amazing how much better we were. We completed the second green course in just half an hour (with only one disaster where I didn't get my legs up onto a seat and had to fly from tree to tree clutching the rope and screaming). We decided to have one more go at the first green course again and moved through it in 15 minutes. It was amazing how fast we had become at clipping on and off and moving along the ropes and cables. And it was sensational fun!
The courses are set amongst towering gum trees and the whole area is quite picturesque. There is a large area for 4-7-year-olds and it is in this section that adults supervise the kids from the ground. Then there are Green (8+ years), Blue (8+ years), Red (10+ years), Black (13+ years), and Extreme Black (16+ years) courses. The views from the Extreme Black course must be incredible.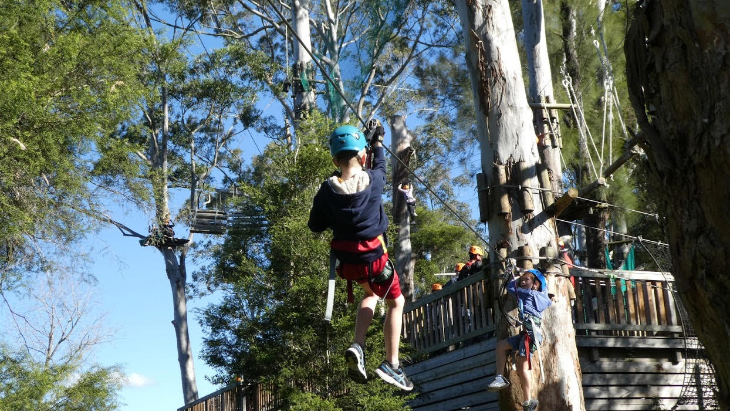 The ellaslist Verdict
What I particularly enjoyed about this adventure was that while we had lots of fun, the kids really worked as a team as they helped and encouraged each other through tricky parts. They also had to show great persistence and keep trying despite the challenges. It was also an activity that the whole family could take part in and all experience the thrill that comes with tackling difficult situations and succeeding.
Whether you're looking for a family day out, holiday fun, or a party venue, this is certainly a wonderful adventure that you won't forget in a hurry.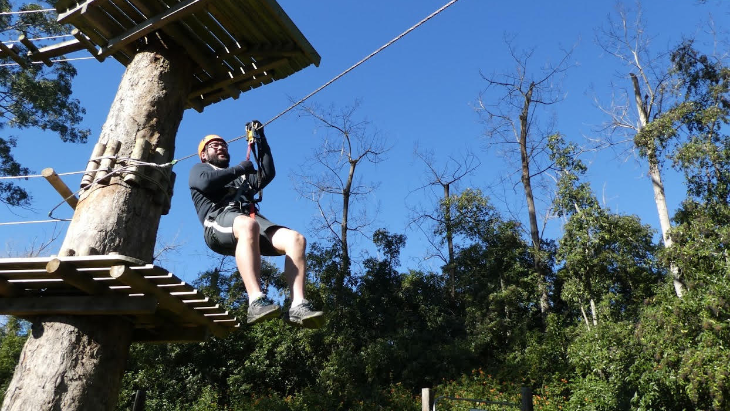 What You Need To Know
When: Monday to Sunday 9am to 5pm (last session 2.30pm all week)
Location: 200 Springwood Rd Yarramundi
Getting there: Follow the M2 and M7 from much of Sydney to get there. 5 mins from Richmond. 15 mins from Penrith. 40 mins from Katoomba.
Prices: $48 Adults, $43 Concession, $38 Kids (8-17), $25 Kids (4-7).