ellaslist Has A Blast At The Woodlea Estate Playground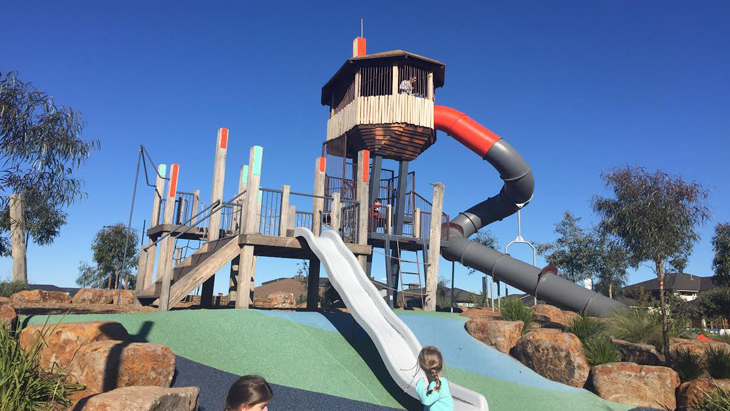 By: Natalie Roach, ellaslist
Woodlea Estate is a new estate being developed 30 minutes west of the Melbourne CBD. Situated near Rockbank, the developers have made playgrounds a priority. On our visit, there seemed to be more people in the playgrounds than the houses, which shows the effort put in to encourage families into the area. There were two playgrounds open, and another was still under construction. The two parks that were open were Frontier Park and Woodlea Estate Playground, both worth a trip out west and only a short 500m walk from each other.
We decided to tackle one playground at a time making our way to Woodlea Estate Playground first. Here's what we loved about it.
Twisty Slide Fun
Woodlea Estate Playground has lots of fun for all. In the top corner is the tall dual twisty slide which is fun even for adults to go down, I must admit I had a smile on my face as I zoomed down. There is enough room up the top for the kids to walk around and use as a lookout. There are moving rope bridges and ladders that allow you to make the climb up.
Kiddie Thrills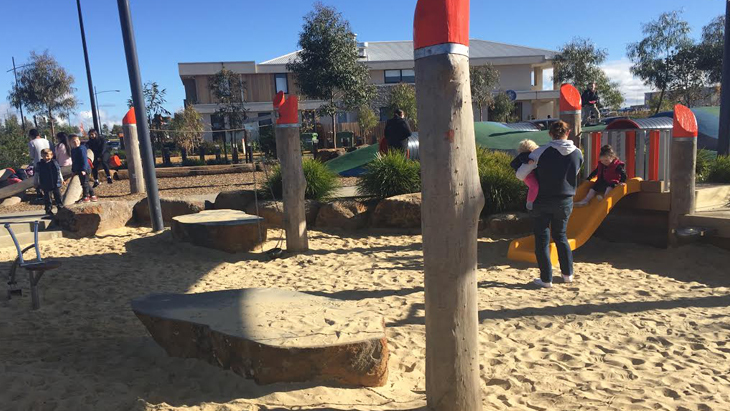 This park isn't just for the thrill seekers but also has 2 small inbuilt trampolines which babies loved sitting on while we were there and the big kids loved them too. The mounds and tunnels that are near the trampolines make good spots for some old fashioned hide-n-seek. Right next to this area my kids loved running and bounding along the logs and in the foliage for some extra adventure. To add to this area is a large sandpit and little slide for the younger children.
There are swings with normal and baby seats, table tennis (BYO bat and balls) and a basketball ring which is perfect for practicing your 3 point shot. I also can't forget the thrilling flying foxes which are always a highlight for every kid and even for the few adults we saw having a go.
Just For Kicks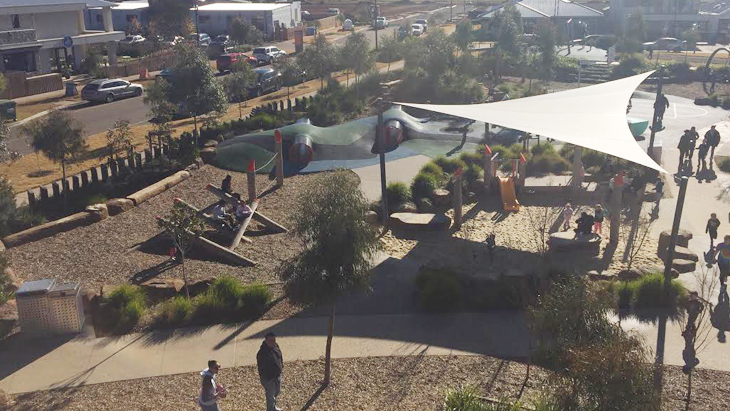 The best play area in this park was the AFL goal posts in a grassed area big enough so that kids can run around and have a good game of footy. I loved watching the dad and his kids taking shots for goal on a beautiful sunny winters day.
Workout Buddies
For those active parents there is some gym equipment if you want to work out while the kids play. There is also BBQ's and undercover areas where you can sit and chat.
Break Time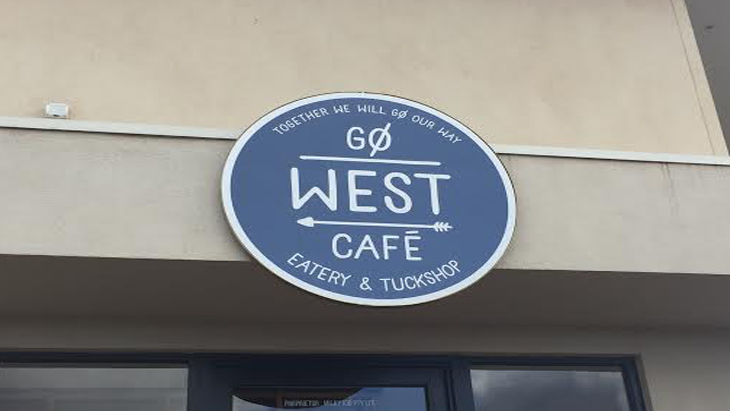 This playground was my favourite, probably because the café was directly across the road and provided a good takeaway cup of tea. There is plenty to do for kids of all ages at this park too, and yet Woodlea developers have made the facilities of each park different.
The only downside to this park is it doesn't have toilets, however I understand that you are able to use those attached to the café.
What you need to know
Location: Cnr Woodlea Boulevard and Quarry Road, Rockbank 3335, Victoria, Australia.
Nearest Cafe: Go West Eatery, 27 Woodlea Boulevard, Rockbank,
Mon- Fri 8am - 4 pm, Sat- Sun 9am - 5pm
Shade: Woodlea Estate Park has shade sails and undercover eating and BBQ areas
Parking: Street parking is available for free around both parks.
Public transport: Not available at the moment.