ellaslist has a blast at ❝Australia❜s Best Playground❝, Nature Play at Royal Park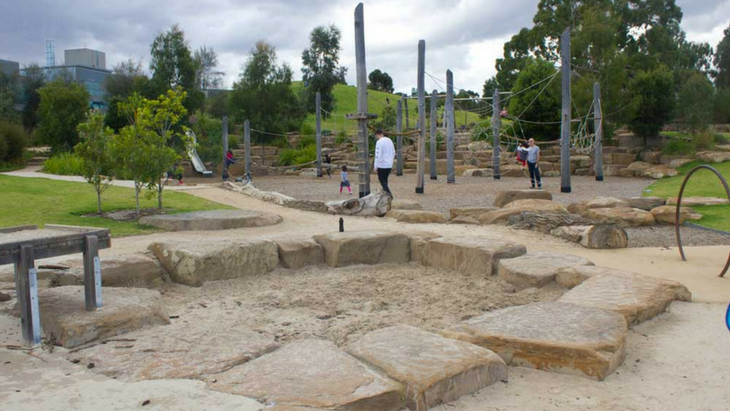 Sure the Australian Institute for Landscape Architects awarded Nature Play at Royal Park the nation's best playground, but we don't need that to know this is one seriously awesome play space.
Built adjacent to the Royal Children's Hospital, the area was lauded for being sensitive to "the local heritage of place by focusing on the seven seasons of the Wurundjeri as well as respecting the highly valued character of Royal Park"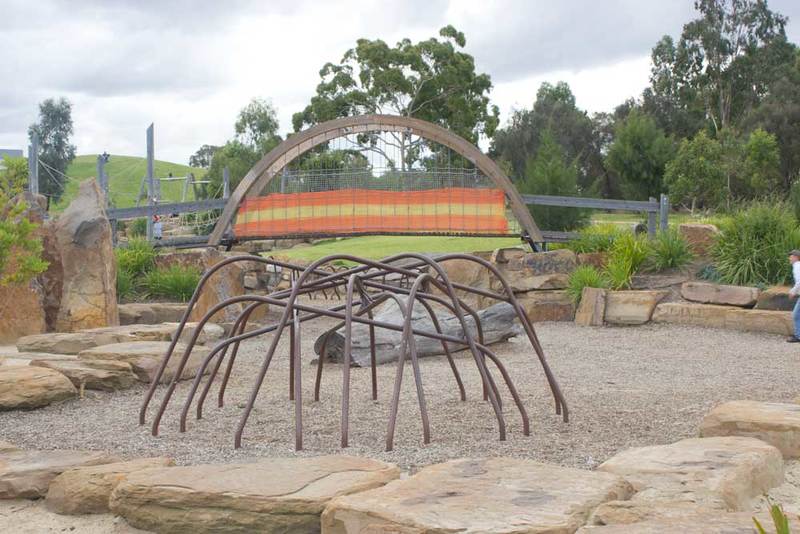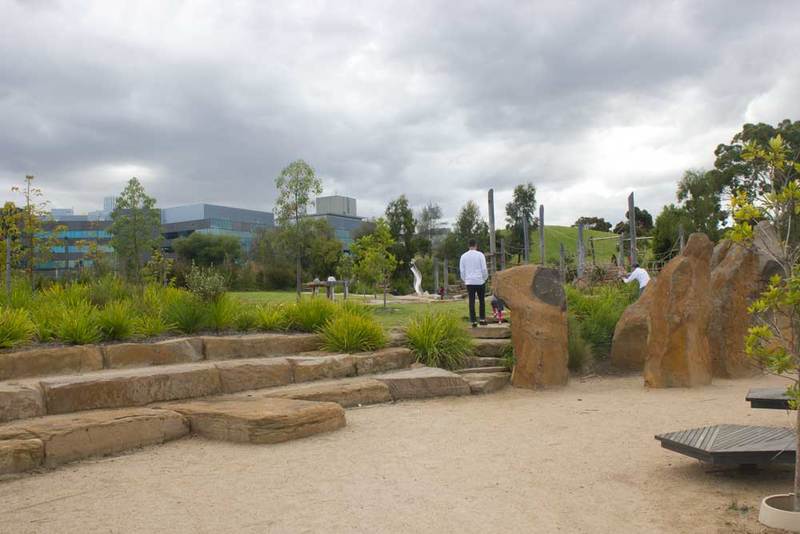 Whatever the weather
The park itself is "designed to invite users to look deeper to witness the layers and seasonal change in the playspace", and having played in the park during all of Melbourne's significant and different seasons, it rings true. No matter the weather, there is guaranteed enjoyment at this diverse playground.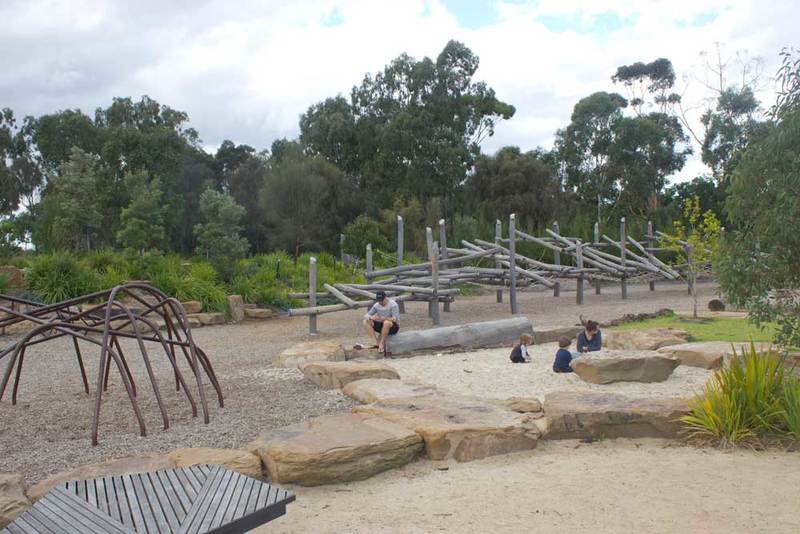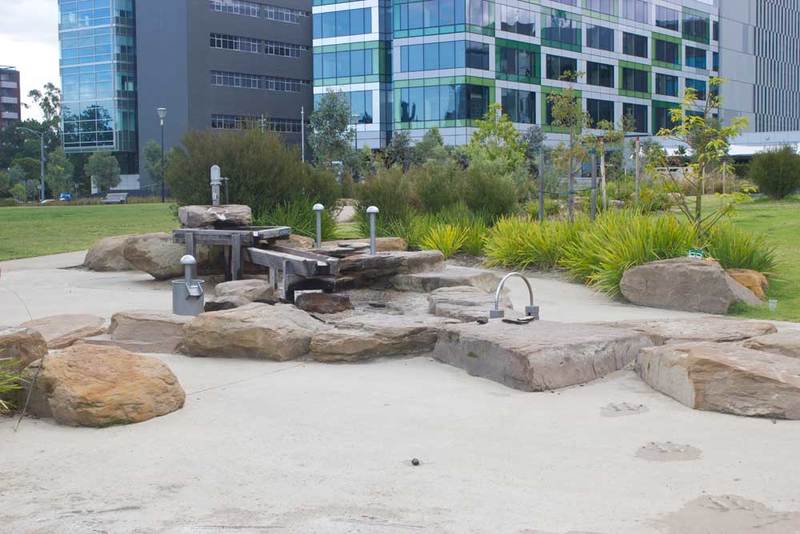 What will you find?
The equipment at Royal Park was built to be inclusive for children and adults of all abilities, but also to encourage climbing, building, running, jumping, and taking physical risks, experiences in which city children can often be lacking.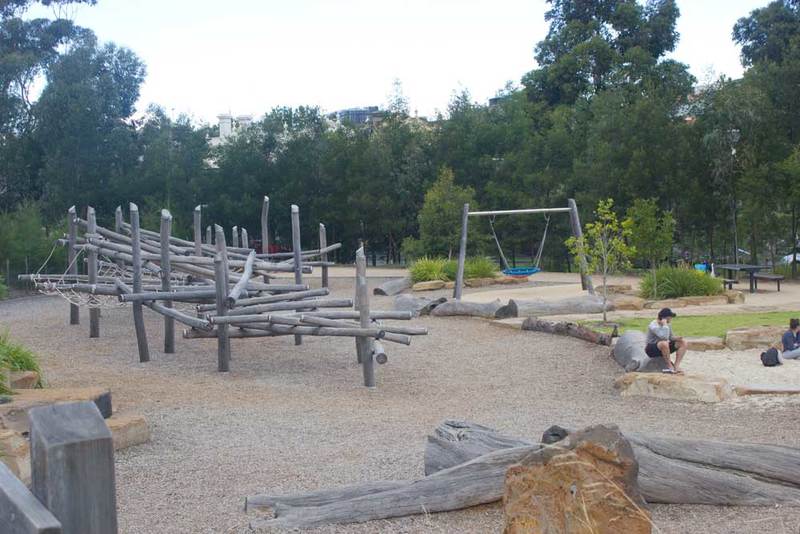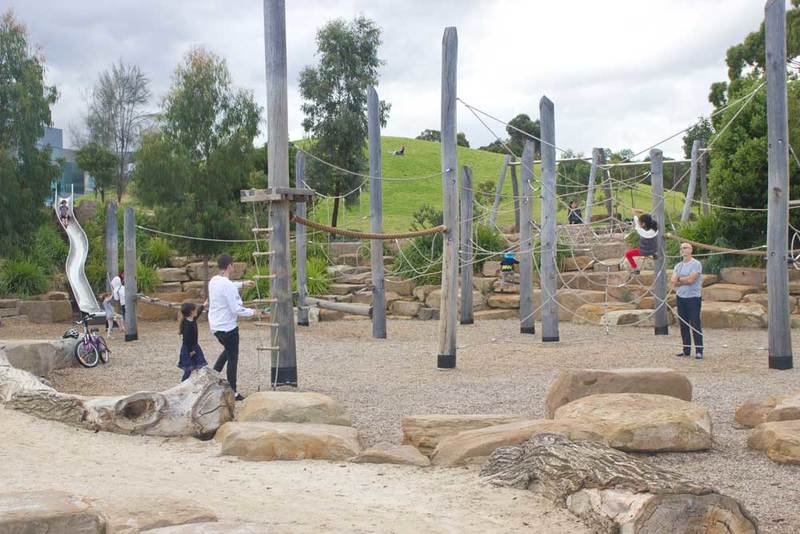 Features and Equipment
No plastic or bright colours here, instead you'll find climbing frames, water play, bridges, slides and swings made from wood, steel and rope - all materials that are in keeping with the natural, bush-like environment.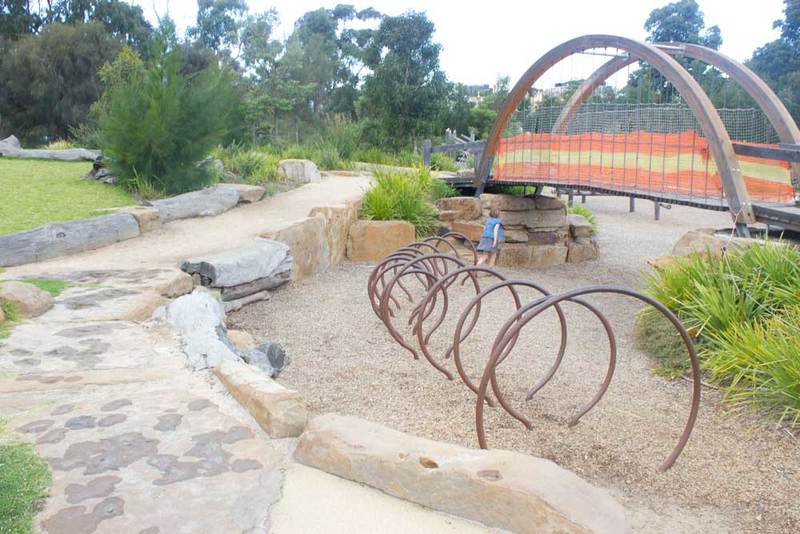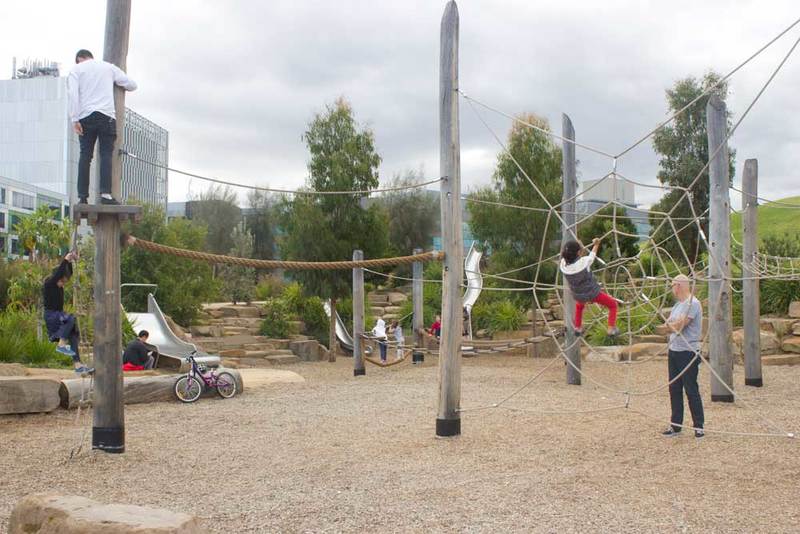 Equipment includes:
rope bridges
climbing structures
3 slides of differing heights/speeds
6 swings, two with safety chains and a birds nest swing
water play area with troughs, pump and tunnels
metal dinosaur bones
mini high ropes course (some are really high!)
sandpit
natural elements - large rocks to climb over, grassy knolls, sandy areas, smaller rocks, branches etc to build cubbies
grassland to kick a footy on or have a picnic
Indigenous plants and grasses in a landscaped area with walking paths
and of course the giant hill, perfect for city viewing or rolling down!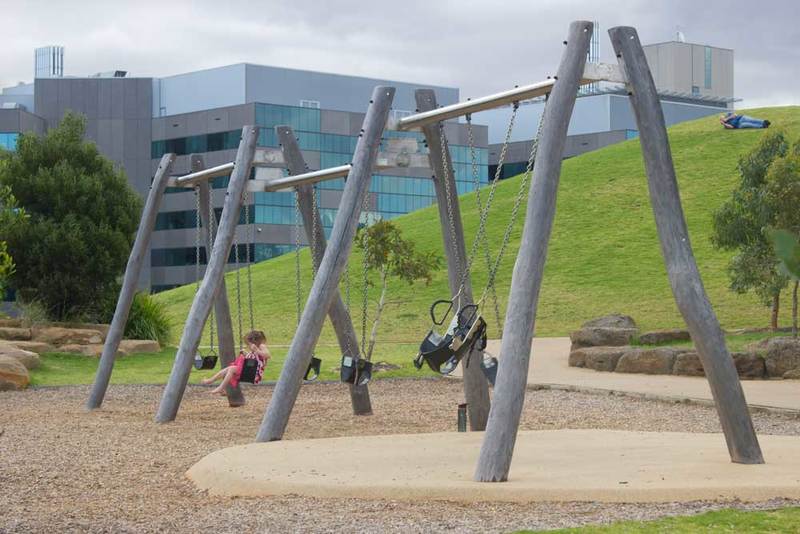 The park itself is clean, well-maintained and fun for the whole family - I even find it difficult to stay off the equipment when I'm there, and am known to frequent the twisty slide, the swings with amazing views of the city skyline, and be serving up tea in the branch cubby.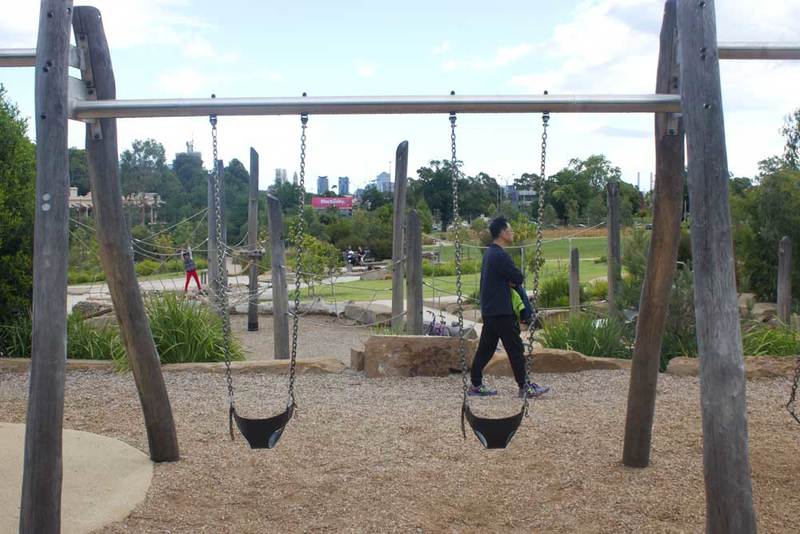 The kids, of course, immediately run in opposite directions in their haste to try every single thing every single time we go there, but the water play area is a favourite in summer. You absolutely cannot go without bathers or a change of clothes, and remember sun protection as the lack of shade can make it pretty hardcore on those days Melbourne's mercury heads towards 40.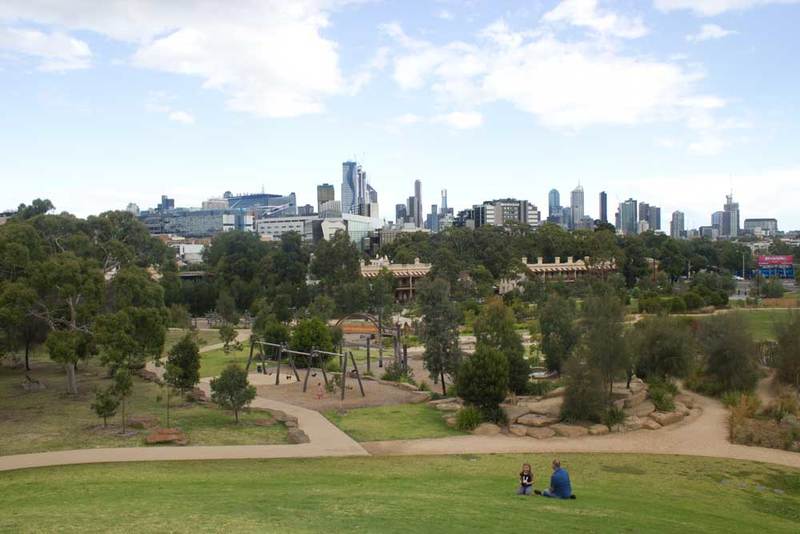 In a Nutshell
Nearest cafe: Plenty of eateries a short stroll around, but the closest are the ones near the Royal Children's Hospital.
Toilets: There is one toilet available, but more within the Royal Children's Hospital, including baby change area.
Shade: Unfortunately very little, which is the only downside to this amazing park.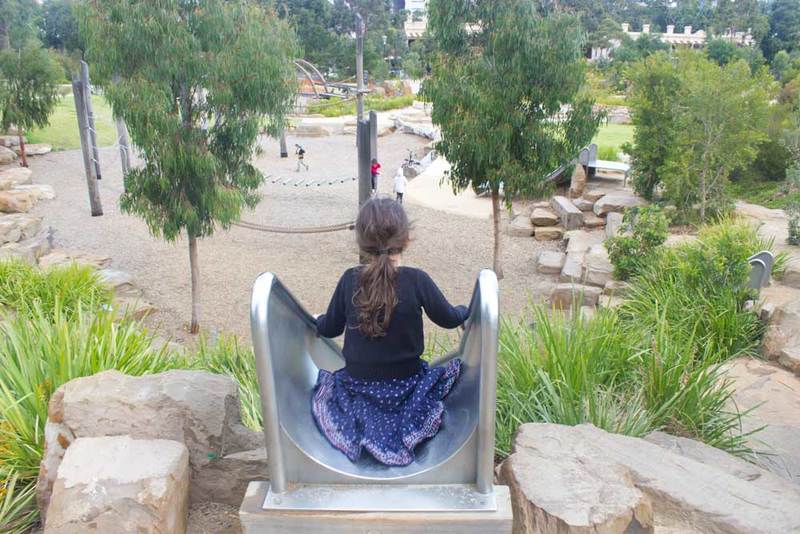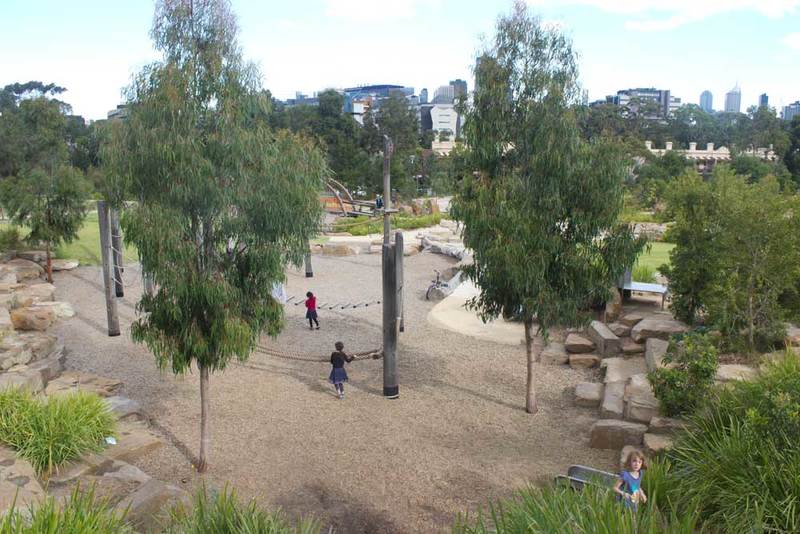 Enclosed: The park is designed to have no boundaries to more integrate the playground with the larger Royal Park and encourage exploration, so if you have a wanderer or a runner, beware.
Parking: The free parking nearby can be a bit hairy on weekdays (there are also a few 1 or 2 hour parks in the surrounding streets but they're popular), but weekends are usually easier.
Public transport: There are a number of trams that stop directly out the front.
Best feature: The water play, the cubby, and the rope work climbing frames.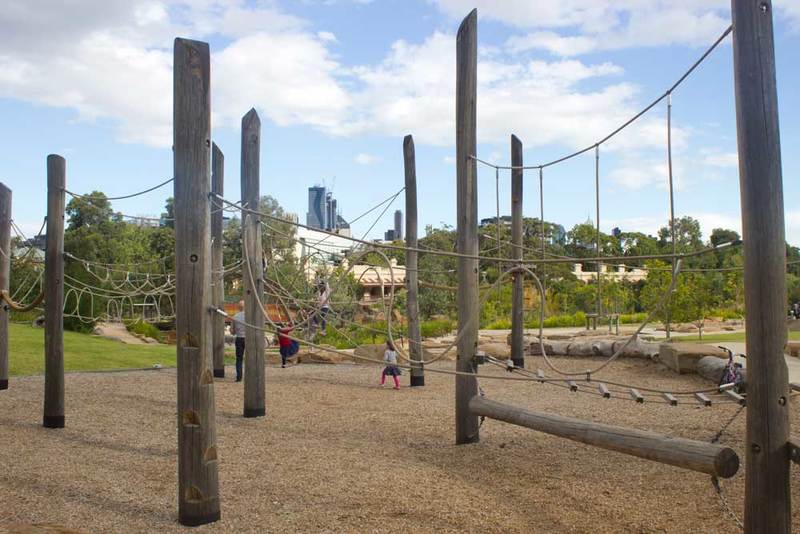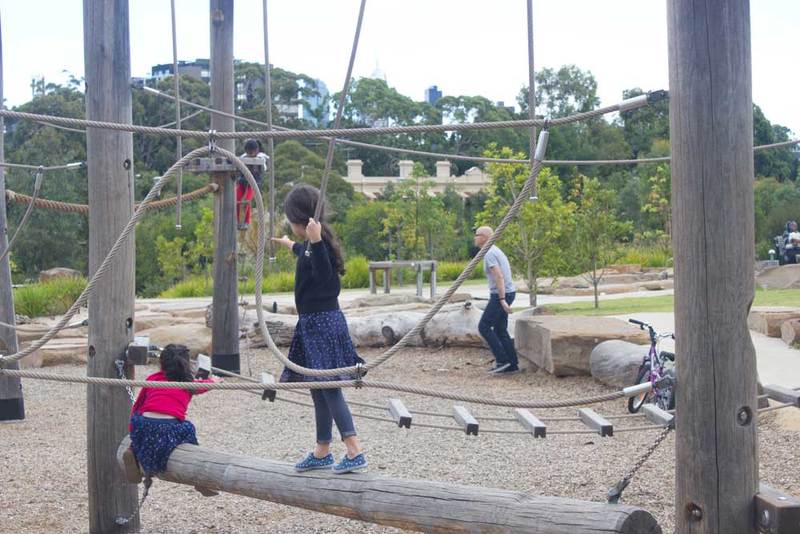 What You Need to Know
Address: Cnr Gatehouse Street and Story Street, Parkville
More Info: At the Active in Parks website here.