ellaslist Had Some BIG Fun at BIG4 North Star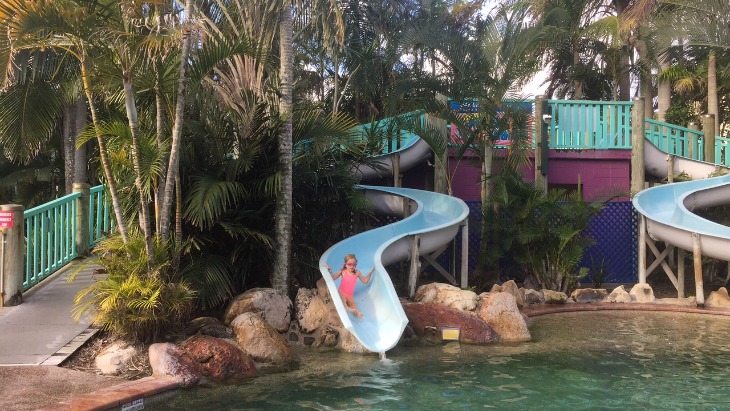 By: Alana Whitting, ellaslist explorer
We've just returned from a fabulous family stay at the BIG4 North Star located on the Tweed Coast, in Far North NSW. If you're after a holiday destination that will ensure your little ones fall sound asleep each and every night, then this is the place. Located just a few minutes walk from a surf beach and tidal estuary, there are endless things to see and do in and around BIG4 North Star to wear the kids out.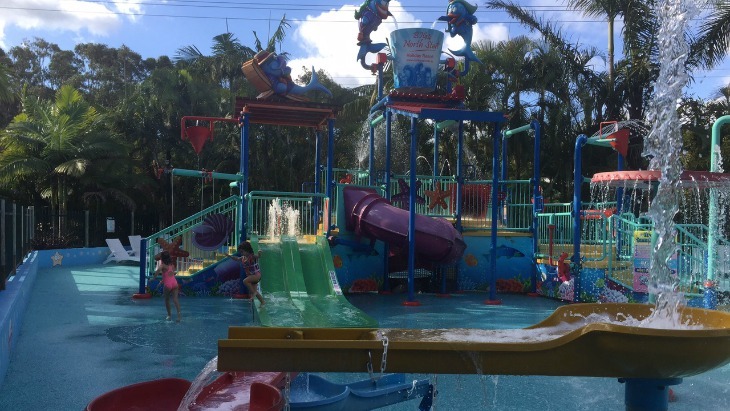 Kid's Paradise
Where to start and when to stop will be the toughest decisions your kids face during their stay. Activities and attractions for kids within the resort include:
BIG4 North Star's famous waterpark – Sammy's Adventure Lagoon: with 4 waterslides and interactive water play features. This was a favourite for our two girls.
Heated slide pool and wading pool: the water was beautifully heated during our stay allowing our girls to spend hours sliding and swimming without worrying about the cooler weather.
Huge outdoor adventure playground: so many activities in this awesome playground with something for all ages.
Neptune's Castle indoor play area: a great play space for all weather conditions that can be accessed at any time under adult supervision (grab the key from reception).
Free Kids Club (designed for kids aged 3-12): with activities scheduled on weekends and every day during school holidays, the kid's club gives parents some free time while kids are fully supervised and enjoy activities in age groups 3-6 years and 7-12 years including discos, arts and crafts.
Games room: with pool tables, air hockey and arcade games this is another great space for families to enjoy together.
Free tennis: book a game at reception with all equipment supplied.
Family movie nights: enjoy a family movie together in the Loft or outdoors on the lawn in warmer weather. Movies show on Saturday nights.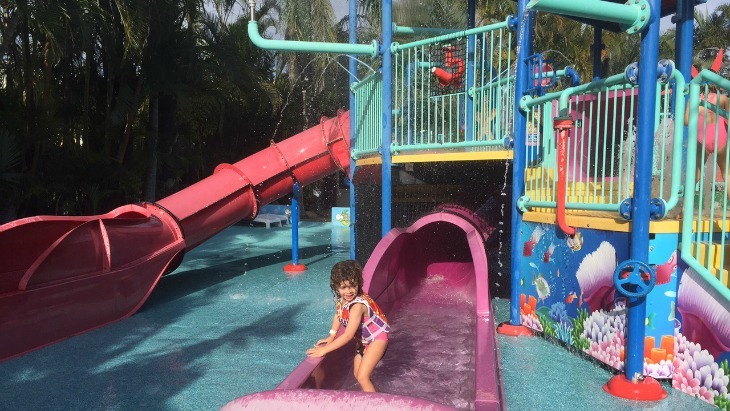 Little Littlies
Little Treasures is a dedicated indoor play area for little ones aged up to 3 years.
The pool area features a heated wading pool perfect for toddlers.
Our accommodation featured baby gates to keep stairs safe and porta-cots, high chairs and baby baths can be arranged free of charge from reception.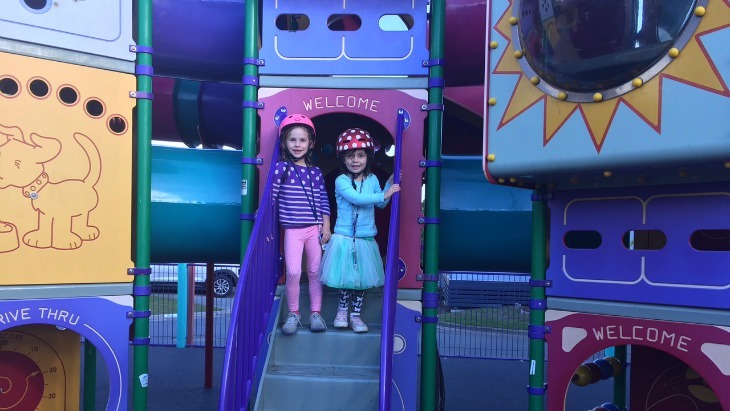 Location, Location – Holiday Highlights
BIG4 North Star has such a central location allowing you access to so many exciting family holiday activities. During our stay we travelled from the resort to enjoy the following adventures which are all located an hour or less from the holiday park:
Tweed Endeavour Cruises (30 minutes away) – we spent the morning on a yabbie and crab catching tour of the idyllic Tweed River, which was a hit with my husband and girls. They loved pulling up on a tidal mud flat to pump for yabbies and then helped pull up crab pots that were placed earlier that day. Everyone tried their hand at some fishing from the boat followed by a very fresh seafood lunch with just cooked mud crab on the menu. We finished up the cruise by feeding the beautiful pelicans as we returned. Our girls had a great time getting involved with all of the hands-on activities. The team on board are great at getting everyone in on the action - it's certainly something different that kids (and adults) loved that I wouldn't have thought to do, so I'm super glad the team at BIG4 North Star suggested this activity to us. Visit the website.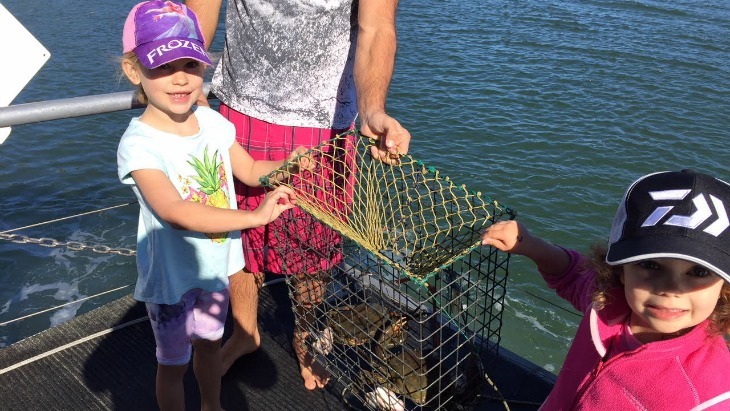 Tropical Fruit World (20 minutes away) – home to the largest selection of tropical fruits grown in one location, Tropical Fruit World was hours of fun. Starting with a tropical fruit tasting experience with lots of yummy fruits, jams and spreads to sample, we then jumped aboard the tractor tour of the plantation. The tractor takes you through the expansive orchard, stopping along the way to sample some freshly-picked produce – we enjoyed bananas and macadamias. It's then onto the fauna park where you can feed a number of native and farm animals, which is always fun for little ones. We then cruised to the island recreation area, literally a kid's playground with a miniature train ride, playgrounds, mini golf, sporting equipment, games and picnic facilities. You're welcome to stay as long as you like on the island (and it might be hard to tear the kids away) before heading back up through the plantation on the tractor. Visit the website.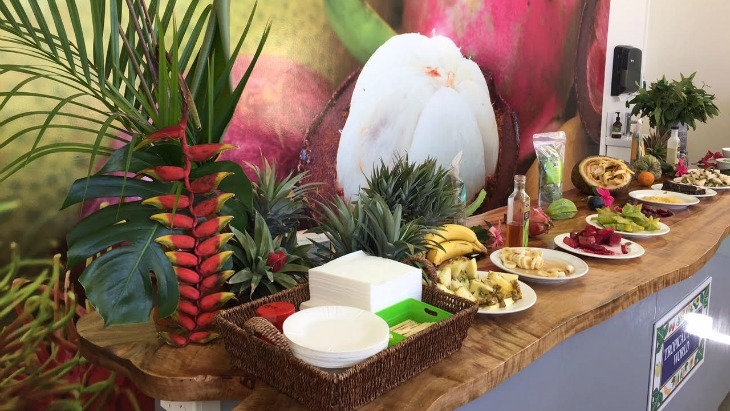 Byron Bay (30 minutes away) – we took a trip to Byron Bay during our stay and visited The Farm where they promote a 'grow, feed, educate, give back' philosophy and during a farm tour we met the cuddliest cow ever – Braveheart. The girls loved seeing all of the farm animals and touring the vegetable patches – it's a great destination giving kids a real idea about where our food comes from. Visit the website.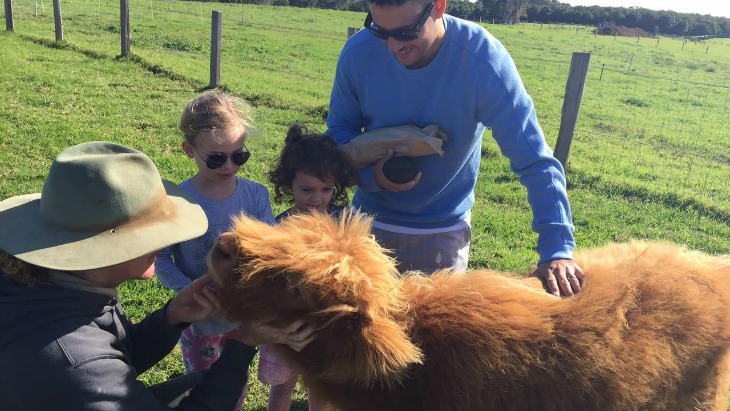 Movie World (and other Gold Coast theme parks are about 1 hour away) – we couldn't get away without a theme park visit during our stay and had a great day out at Movie World which was an easy drive of about one hour from the resort. Visit the website.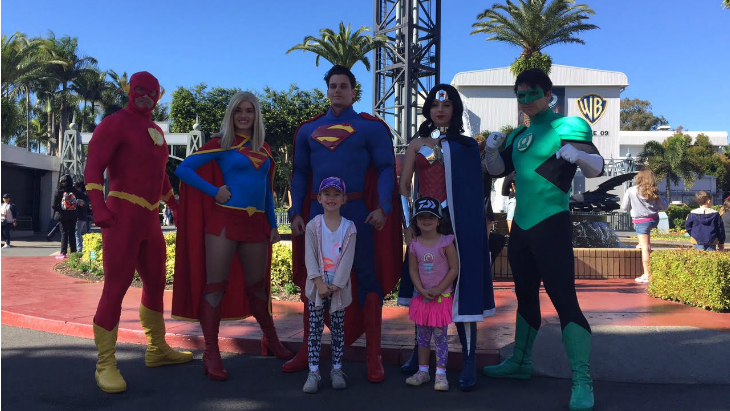 Closer to the resort we spent time at the beach and estuary where my husband enjoyed some great fishing and surfing. Kayaking in the estuary also looked like great fun for families. Just watch the currents in the estuary and at the beach during unpatrolled periods. The highlight for me was a day spent whale watching on Hastings Point headland where we were lucky enough to see numerous whales making their way north along with a large pod of dolphins. May to November is peak whale watching time and I'd definitely recommend grabbing a picnic lunch (Ripples were wonderful enough to organise one for us) and taking the short walk up to the headland to enjoy the winter sunshine and watch the wonderful whales play as they pass by.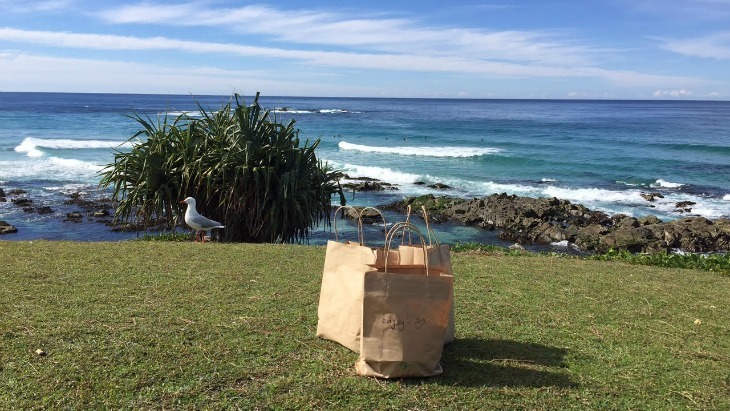 Refuel at Ripples
Located right next to Sammy's Adventure Lagoon, with indoor and outdoor dining spaces, Ripples licensed café offers breakfast, lunch and dinner plus all day dining and take away options. With café favourites and a sundae bar plus coffee cards and the Little Rippa Card offering deals on kid's ice creams and slushie, the café formed an important part of our stay for our very food focused four-year-old! She especially loved her pancakes at the breakfast buffet each day. They also have Sunday roast night and a themed Asian buffet night on Mondays too. Another great option for eating at the resort is your very own built-in balcony BBQ (if staying in the villas) or make use of the free BBQs located on Central Avenue or within the Camp Kitchen area. The nearby towns of Pottsville and Cabarita also have a range of dining options and supermarkets to stock up on supplies. If you need to grab something quickly there is a convenience store onsite with all the essentials.
Accommodation Options
A range of accommodation options to suit all budgets are available at the resort, from two-level tropical luxury villas (with prime positioning adjacent to Sammy's Adventure Lagoon) through to powered camp sites. All accommodation options allow you access to the resorts great facilities and free kids club.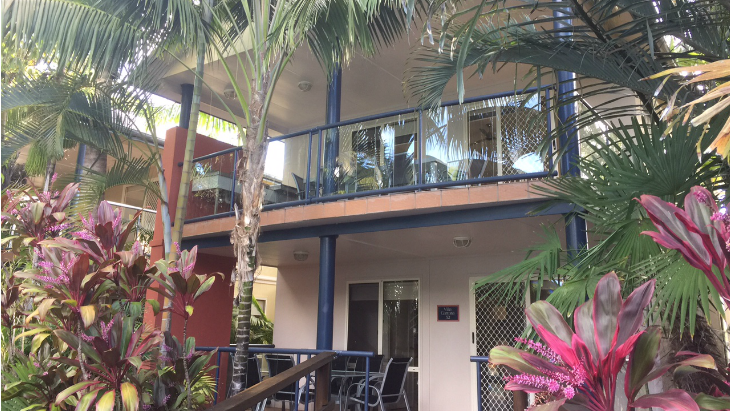 Adult's Escape
Adults and children over 16 can escape to the Seascape Leisure Centre. An adults-only retreat with a heated lap pool, three spas, sauna and gym. Seascape is also the location of the onsite beautician, hair stylist and massage room. This is a lovely area to enjoy when the kids are burning energy at kid's club! Another unique experience at BIG4 North Star is the Marine Centre. Open Saturdays from 1.30pm and aimed at adults and children over 7 years, this is a great education and teaching facility showcasing marine life and the local ocean and estuary areas.
The ellaslist Verdict
Our girls had an amazing stay, they didn't want to leave and there were tears before heading home – certainly a sign of a wonderful time away. We loved the resort's great location, which is so close to so much as well as being a great destination in itself. Be warned – you might need to extend your stay!
Top Tips
Remember to wear your wristbands to access all park facilities.
Free WiFi is available throughout the resort.
Bring along your kid's bikes or scooters plus helmets so they can zip around the resort.
The resort is smoke-free which is great for families.
Super friendly reception staff can assist with activities and suggestions.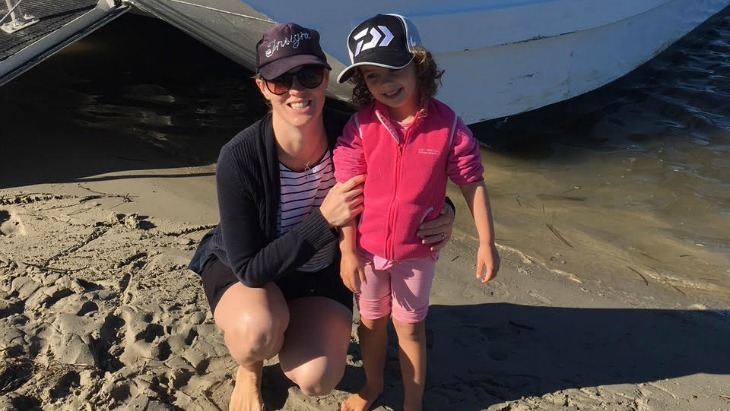 In a nutshell
What makes the resort kid-friendly – kids take centre stage at BIG4 North Star. It's all about families and fun with so many facilities and activities as well as the resort's great location. This is the ultimate family holiday destination!
Atmosphere – relaxed and laid back, Hastings Point is a true coastal holiday town and the resort reflects this summer holiday vibe all year round.
Accommodation – a huge selection of accommodation options are available to suit all budget levels and accommodate all family sizes.
The food – you can comfortably cook for your family with fully equipped kitchens in the majority of accommodation options, or take a well-deserved break and enjoy a meal at Ripples.
Value-for-Money – with a selection of accommodation options, great value for money meals at Ripples and free kid's club and activities throughout the resort BIG4 North Star offers a great value for money family holiday.
Special features and fun bits – the entire resort is amazing so it's hard to single out just one element that makes it so special and so much fun for families. There really is something for everyone to enjoy.
Who is the resort best suited for? – Families who love to holiday together and get out and enjoy a range of activities and adventures. You can have time with the kids and adults only time to relax and enjoy your holiday too.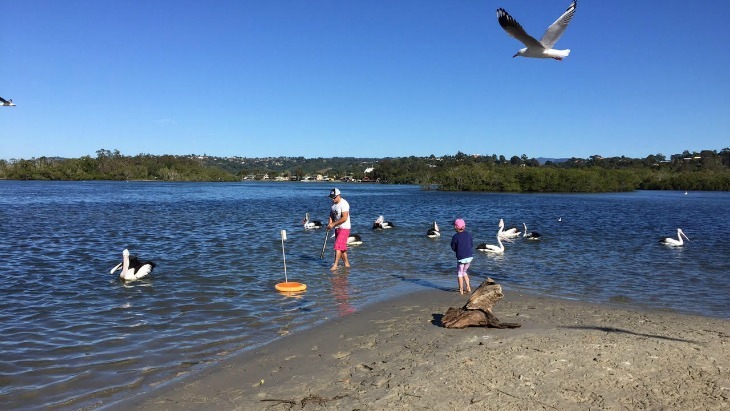 What You Need To Know
Phone: 1800 645 790
Address: 1 Tweed Coast Road, Hastings Point NSW 2489
Getting there: We drove with a stop in Coffs Harbour at the Big Banana – it is about an 8 ½ hour drive from Sydney. You can also fly to Coolangatta Airport on the Gold Coast which is about a half an hour drive from the resort. North Star provides free transfers to and from the Coolangatta/Gold Coast Airport (just arrange with one of the friendly team when making your booking).
More info: http://www.northstar.com.au