ellaslist Explores the NEW Birriwa Reserve Outdoor Youth Space at Mount Annan
Preschoolers
Family
Kids
Mums & Bubs
Teens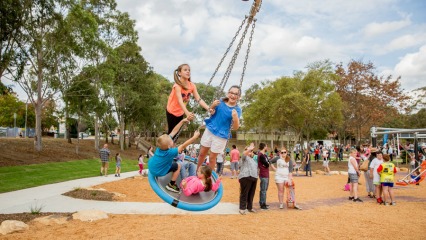 By Postcards From, ellaslist explorer
Parents of tweens and teens in south west Sydney, I have some exciting news for you. There is a new outdoor recreation space for your children to enjoy. It is called Birriwa Reserve Outdoor Youth Space and it has now officially opened in Mount Annan.
As a response to the demographic needs of the area this new park and recreation space has been created specifically for youth between 12 – 17 years of age. As such it features adventure play equipment designed with older children and young adults in mind. I'm not talking about run of the mill, traditional playground equipment here. These structures are exciting and dynamic, and take their inspiration from extreme sports. What teen wouldn't love that?
The park features a wide range of play equipment including:
Twin Cable Ride

You can race your friends on this 30 metre long twin cable ride. Make sure you hold on tight for the spring-loaded, adrenaline-filled ending This ride is recommended for those aged over 6 years old.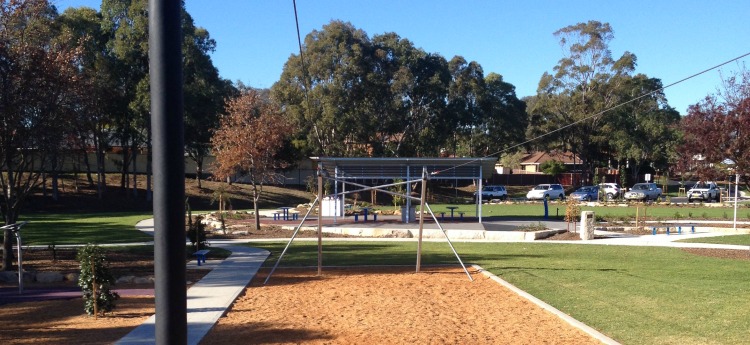 Skysurf

Skysurf requires two riders and rotates horizontally while pivoting in the middle giving you a similar sensation to windsurfing. It is recommended for those over 12 years of age.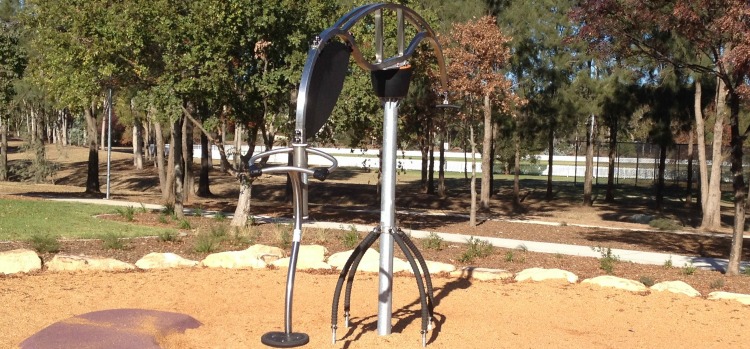 Rodeoboard

The rodeoboard can be used by two to four people simultaneously. It spins and bounces in a similar way to a bucking bronco in a rodeo. Recommended for those aged 8 years and over.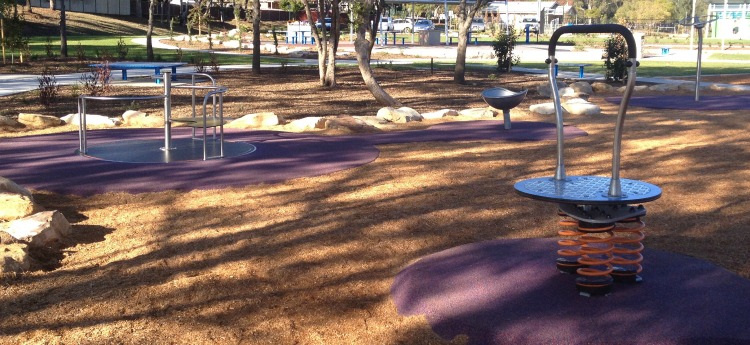 Board Rider

Hold on to the handle and test your awesome skateboarding skills as the board rolls from side to side around the curved frame. Who can reach the highest point? Recommended for children over the age of 10.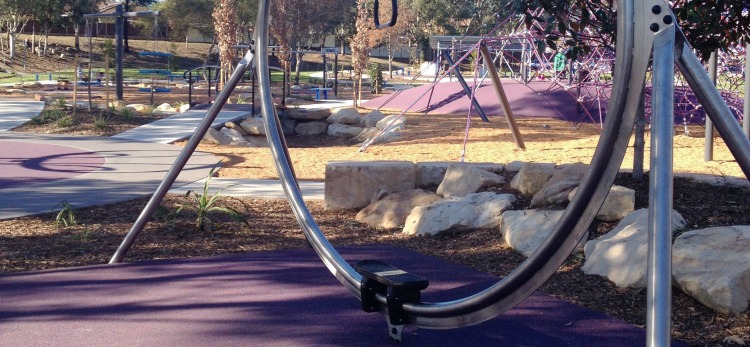 Air Glider

If you would love to be able to fly then the Air Glider is the ride for you. It is an aerial ride where you glide and spin in a circular motion around the frame. This ride has an exciting bouncing and rocking motion and is recommended for children over the age of 10.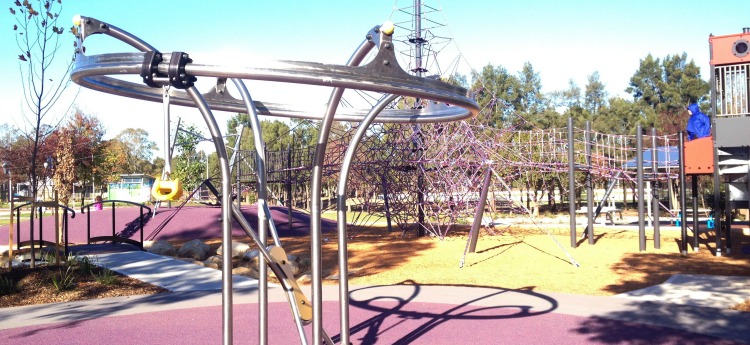 Six Way Swings

In this hexagonal design there are six swings which can be used simultaneously, a perfect activity for when you have lots of friends with you.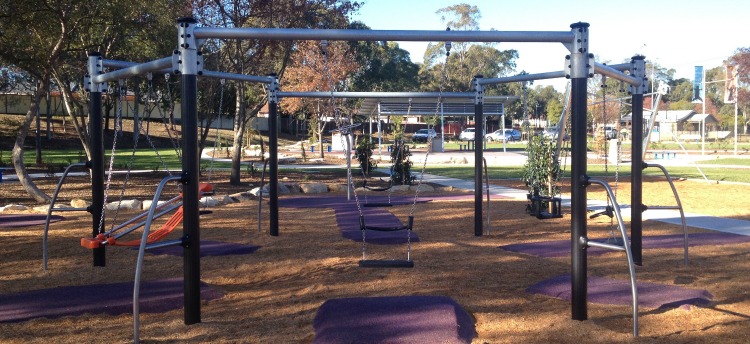 Leave the Screens At Home

It is hoped this exciting and dynamic equipment will encourage teenagers to put away their screens, go outdoors, challenge themselves physically and have fun with their friends.
For the Younger Kids

In addition to the equipment specifically for teens there are also plenty of activities that younger children can enjoy. There is a large climbing rope structure, a three metre slide, swings, and plenty of rotating equipment such as a roundabout which is accessible for children in wheelchairs.
On the sunny, yet brisk, weekday morning I went to check out the park it was being very well used by parents and pre-schoolers.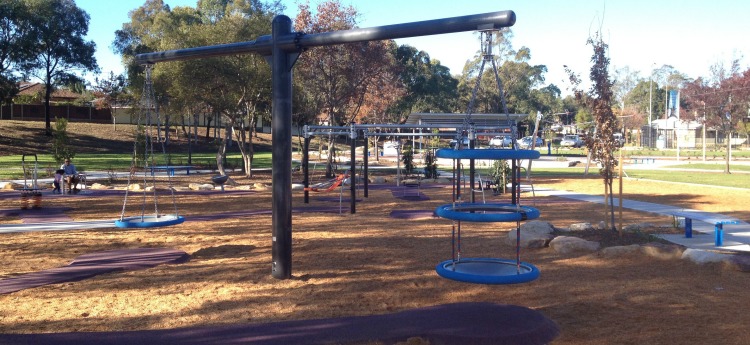 Bring your Bikes

The reserve feels open, spacious and well laid out. There are landscaped gardens as well as grassed areas where you could kick a ball or have a picnic. Throughout the park there are concrete footpaths making it possible for children to ride their bikes or scooters and making if accessible for parents with prams and wheelchairs.
Other facilities at the reserve include outdoor fitness equipment, an outdoor table tennis table (BYO rackets and balls) , tables and chairs with covered shelters and BBQ facilities. It's fantastic to see that toilets have also been provided in the reserve. There are also plenty of benches and seats scattered around the play equipment where parents with younger children can sit and watch.

Ball Sports

Adjacent to the new Outdoor Youth Space there are two fenced multi-purpose hard courts which have been upgraded. They can be used for basketball, hockey or soccer.
Protected but Not Fenced

Although the reserve is not fully fenced it is below street level making it feel more protected from the traffic in the surrounding streets. While there is no cafe on site, the Mount Annan Shopping Centre is within walking distance.
Birriwa Reserve Outdoor Youth Space is located at Mount Annan, directly across the road from the Mount Annan Leisure Centre. There is off-street parking available in the Birriwa Reserve car park which you access off Fitzpatrick Street. The car park is locked daily at sunset.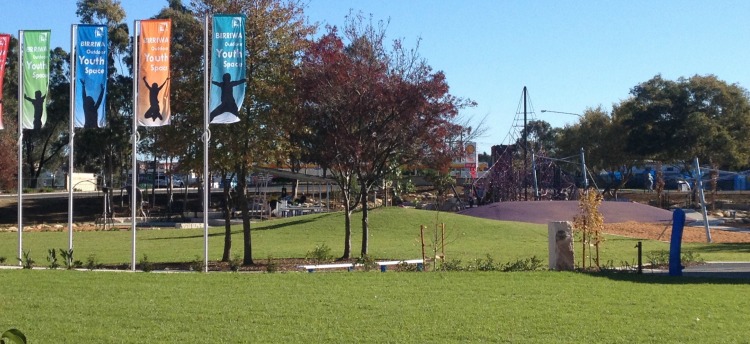 Birriwa Reserve Outdoor Youth Space has been provided by Camden Council at a cost of $1.5 million. It is a fantastic new recreation space for the community to enjoy and I think it is money well spent.
Hi!
I'm Shayne and I write under the name Postcards From. I am from Sydney and I love discovering unique, interesting and fun destinations and activities in my own back yard and beyond.
I also enjoy sharing my experiences with family, friends and strangers by writing about them. I have a primary school aged son and daughter who often get dragged along on adventures with me.
I love reading, learning about history, watching a good movie and going on holidays with my family. If you would like to read more of my "postcards" you can follow my adventures on Facebook.
Reviews
We travelled a long way, excited to try out a park for older kids. My boys are 8 and 10 and were the oldest in the whole place!! It was very crowded with most kids around 6 years of age and younger. It was fine and the boys had fun, more so my 8 yr old and really only on the sky surf which was awesome, but to say that kids 12 and over are suited to this park is ridiculous. We were there for quite a while on a busy Saturday and my 10 yr old was definitely the eldest in the park. He found most things much too young for him and mostly played in the basketball court, which we could have stayed in our area for. In summary a fun place for the under 10's much like most other parks!
awesome playground... I love it! my kids love it :)