ellaslist enters the ❛The Snake Pit❜ at La Perouse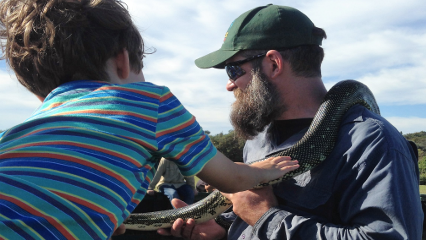 By: Amanda Lieber, ellaslist explorer
Who would have thought that the longest running snake show is right here under our noses at the end of Anzac Parade, La Perouse?
Every Sunday afternoon from 1.30 pm at 'The Snake Pit', you will find The Snake Expert ; a volunteer from the Hawkesbury Herpetological Society, presenting a show about what he know best…SNAKES!! During the week he is on call and can be found visiting various homes rescuing snakes.

The History

La Perouse has always been a popular picnic spot offering not only fantastic views of the ocean but, more recently, it's been known for its great diving.
From the 1800's till 1961, there used to be a tram line in operation. Every weekend crowds would flock to this area to be entertained by the Carnival Shows, which were a trend in the early 1900's.
The only show that has remained is the 'Snake Show'. The original snake man was Professor Frederick Fox, who performed from the 1800's (unfortunately he was bitten by a snake whilst demonstrating his antidote in Calcutta in 1914. He did not survive the bite.)
The show was then taken over by George Cann from 1919-1965, he had a fascination for snakes and would hunt for them around the La Perouse area. He built up a substantial collection which he would take to various show grounds for performances. The show was passed from George Cann to his son John Cann until 2010 when he retired. From then on, passionate volunteers took centre stage.

A Scaly and Entertaining Show for Everyone!

Rob stood in the middle of a fenced off area with several sealed bags in a row. From each bag he produced a snake complete with a fascinating story that banished many myths about snake tales. He holds each snake by its tale and walks around the fence showing off these venomous creatures to the delight and fright of the crowd or onlookers.
You get to meet the friendliest snake from Sydney Harbour a 'Diamond Python' which he brings around for everyone to pat!! YES, you can all get a chance to stroke this rather magnificent creature (I have been converted…well only when it's behind a fenced off area and held by a professional!) It's surprisingly smooth and cool.
Introductions are made to the Red Bellied Black Snake with its crimson sides, a Highland Copper Head (this snake is blamed for the most deaths). Meet a historical snake, the Venomous Death Adder and find out the truth about this little snake and how it got its name.
This show is fantastic and a definite must for all snake enthusiasts and those that have a love/hate relationship with these creatures. It brings you closer to snakes (literally!) and opens up a world of snake knowledge. Rob as a presenter is very passionate, informative with a dry sense of humour and is very entertaining for the adults. He is more than happy to answer any questions one might have after the show.

What to Listen Out For

When you go to the show listen out for the answers to these questions:


Which was the first species of snake the Europeans encountered when they landed at Botany Bay?


Which Australian snake was the first to have its picture published?


In 1913, the unluckiest snake handler was killed by which snake?


Which snake bit old George in the 1950s?


Which snake has killed the most snake handlers at snake shows?

What You Need To Know


This show has been going on for over 100 years and is now run on donations only, do take some change to drop into the hat which is passed around at the end of the show.


The show is on

ONLY

on Sundays and Public Holidays from 1.30pm onwards.


The fence is about 100cm high; for younger/shorter children they can sit on the edge of the fence with their feet dangling into the Snake Pit (which is pretty safe) or you can hold them the whole show (about 30 min)


There is no cover, remember to take your hats and sunblock if it's a sunny day.


Parking: We got there 12.30pm, there was loads of parking however it was becoming more popular and less spots close by were available.


I would recommend getting their earlier, having a picnic, exploring the rocks near the water and then going to watch the show.


There is a van (or 2) there selling soft-serve ice-creams, I would recommend taking your own food/snacks.

Helpful Info

Via the La Perouse Museum and Visitors Centre you can purchase tickets to explore Bare Island by guided tours only. Tours are Sunday: 1.30pm, 2.30pm, 3.30pm, call 9247 5033 for more information (this is to be our next adventure).
'Kamay Botany Bay National Park is located at Kurnell and La Perouse in Sydney. Explore the historic Captain Cook's landing place and learn about the rich Aboriginal history and cultural significance of the area.