ellaslist Dines at the Family-Friendly Cafe, Grandma's at McEvoy, Alexandria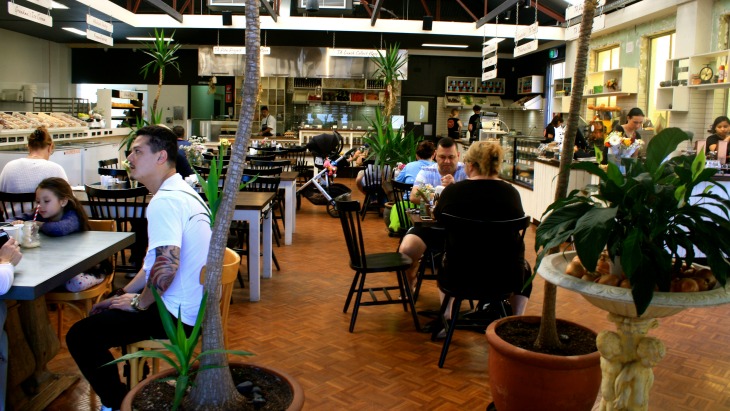 By: Alex Harmon, ellaslist
If you are looking for happy, healthy, home-style cooking, "just like Grandma would make it," look no further. I recently checked out the flagship cafe on McEvoy Street Alexandria and tested out this theory armed with a hungry toddler and a grandmother in tow.
Walking into the beautifully restored 70's style building with high ceilings on a Saturday morning, we were met with something that most inner-city cafes lack - wide open space. There's room to manoeuver a pram, (even double pram) with ease and the big wooden tables mean you can spread out, share dishes and hide cutlery from grabbing hands. Like any good Grandma, this place has children's interests at heart, with a playroom filled with toys, books and chalk boards. They even equip little ones with crayons and let them draw on the walls. Typical Nanna!
The Menu
The concept here is grandma's cooking, as co-owner and founder Dana Kvatinsky explains, "our dishes influence from loved Grandmas recipes from all over the world, from the Mediterranean, north Africa, east Europe, Middle East and more."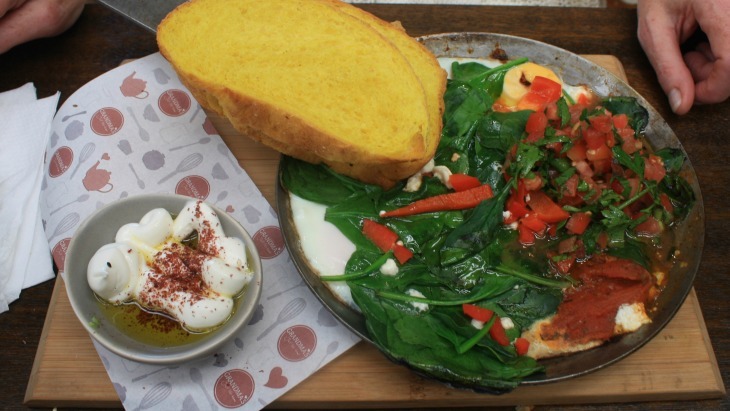 However, if you go for brunch like we did, you'd be crazy not to get the Shakshuka which is a Middle Eastern dish consisting of poached eggs, tomatoes and spices. They have many variations and twists on the dish including the Beef Bolognese Shakshuka ($16.50) and the Spinach Shakshuka ($15.50) which is cooked with spinach, feta cheese and topped with fresh tomatoes and capsicum. They come served in the pan, in huge portions, with the ultra healthy (and on trend) turmeric bread.
The championed Australian breakfast is, naturally, the Avocado on Toast ($12) and here it's made fancy with labneh, dukkah, Grandma's extra virgin olive oil and sliced tomato on turmeric bread - baked fresh on the premises. In fact, everything is made from scratch here, from the bread to the pastries to the cookies to the handmade chocolate. Grandma's strives to teach kids about the importance of cooking and regularly hold free kids baking classes at their flagship store.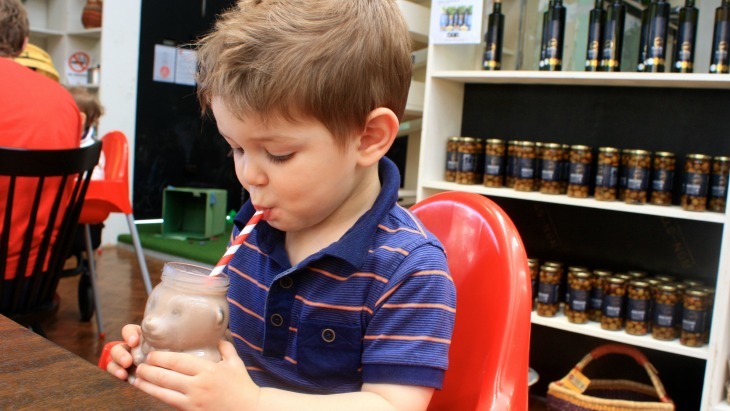 Just For Kids
As I said, kids are treated like royalty here and I like the way the kid's menu doesn't belittle our mini foodies. They can choose from a menu that looks like mum and dad's, with options such as casseroles, soups and pastas that are served in kid-friendly portions. I thought it was time Master Two tried his first Shakshuka and ordered him the Beef Bolognese version which he devoured, dipping his "lellow bread" into the sauce and egg.
It wouldn't be brunch without a milkshake and the teddy bear shaped glass impressed him thoroughly. As did the flaky pastry cheese Boreka which was meant to be shared with the table - but was too much of a crowd favourite, between a grandma and a toddler, I barely got a look in.
More Than Just a Cafe
You can get more than just a tasty cafe meal here, you can stock your fridges and pantry too. There are ready-made meals, pasta sauces, gelato and unbaked pastries to pop in the oven. Basically, as Dana says, "you can impress your guests with home-cooked meals," which is perfect for lazy cooks like myself. "But make sure you tell them that Grandma cooked them," she laughs.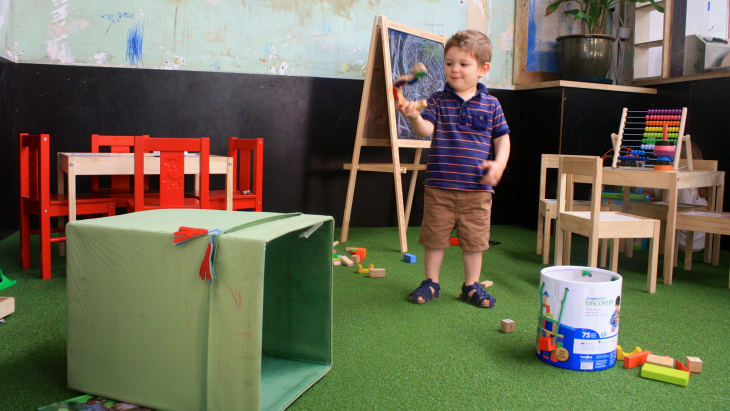 In a Nutshell
What makes the cafe kid-friendly? Spacious, kids menu, play area.
Atmosphere: Very child friendly, casual but homely.
The Food: Fresh, guilt-free, tasty and a little different from your usual cafe menu.
Value-for-Money: Portions are huge which makes it great value.
Special features and Fun bits: Playroom where you can draw on the walls! Plans for a rooftop herb garden and function room.
Who is the cafe best suited for? Families with kids of all ages. Great venue for Mother's groups.
What did we love? The super fresh food and all the preservative-free treats you can buy to take home.
What You Need to Know
Open every day: 7am - 4pm
Address: 140-142 McEvoy Street, Alexandria
Parking: On a busy road so hard to find a park out front, but easy enough to find a park on the side streets nearby.
Amenities: Toilets in the cafe, but no change table.