Easter Crafts for Kids
It's not all about hot cross buns and crazy amounts of chocolate! Easter is one of the best times of the year for little hands to get crafty.
With a long weekend to fill with family fun and so many colourful, creative Easter craft for kids, you can get into the spirit with some easy DIY projects and a healthy dose of imagination - no sugar added.
So settle in for some quality family time with this go-to guide to our favourite Easter crafts for kids. There's a basket load of adorable handmade masterpieces, including Easter bunny and Easter egg crafts, and some super simple printable Easter crafts that will keep the kids hoppy for yours. Better get cracking!
Easter Crafts for Kids
Easter Bunny Crafts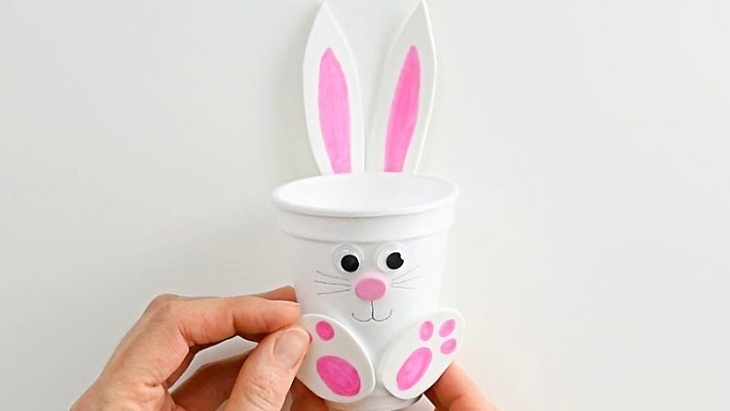 For children, Easter is all about the Easter bunny (and his sneaky chocolate gifts), so they will jump at the chance to create these namesake Easter crafts for kids! For the best DIY Easter bunnies, you'd be hopping mad not to try these playful projects.
1. How to Make Foam Cup Bunnies
These DIY Foam Cup Bunnies from One Little Project are so cute, super easy to make and an excellent way to upcycle old party cups. You could also use plastic or paper cups if that's what you have, and you can swap out foam for cardboard if that's easier too. With kids' crafts, it's whatever works! Decorate your Easter lunch table or use them to collect eggs on your Easter hunt.
2. Paper Handprint Bunny Craft
Another simple paper Easter craft for kids from One Little Project that your mini-maker will love, this Handprint Bunny Craft can be personalised with your child's unique handprint and customised with different bunny expressions and a rainbow of colours. They will have a blast creating their Handprint Bunny family!
3. Easter Bunny Paper Plate Craft
The humble paper plate is always good for an arty makeover, and this Easter Bunny Paper Plate Craft by Laughing Kids Learn is one of its most charming incarnations. We love this pastel pink hue, but kids can go wild embellishing their own bunny design with textas, paint, glitter and stickers. Anything goes!
4. How to Make Paper Roll Bunnies
These colourful Paper Roll Bunnies by One Little Project are a fun project for crafty kids who will appreciate the finer details. The little cotton ball tails, raffia whiskers and amusing googly eyes bring these rabbits to life! For a rustic, eco-friendly version, you could recycle the cardboard rolls from toilet paper or paper towel.
5. Paper Bag Bunny Craft
Little ones will love showing off this Paper Bag Bunny by Messy Little Monster. This is an ideal Easter craft for kids who can create their bunny bag and proudly use it afterwards. They are perfect for gathering the loot from Easter egg hunts or keeping little treasures safe under the watchful eyes of the Easter Bunny.
DIY Easter Cards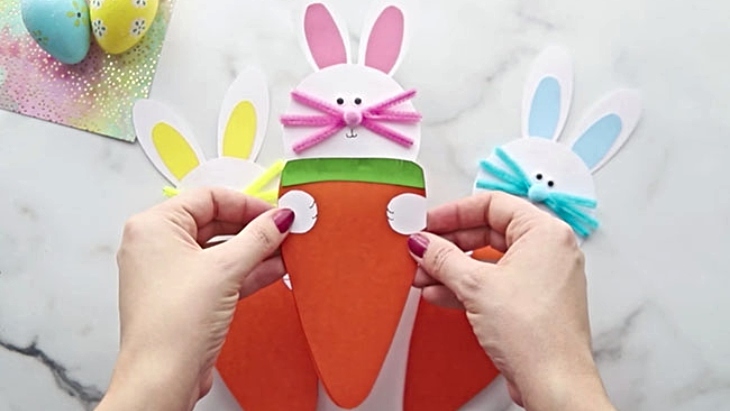 Save yourself a pretty penny and make your own DIY Easter cards.
6. Easter Carrot Card
You only need to get your paws on a few basic art supplies to create this impressive flip-up Easter Carrot Card by The Best Ideas for Kids! Your little ones can wish your family and friends a very Hoppy Easter with their own crafty creation and personalised message inscribed inside!
7. Pop Up Chick Card
Little ones love pop-up books, and this inspired Pop Up Chick Card by Red Ted Art uses the same masterful technique to create a whimsical DIY card. The card is designed for toddlers to make, so it's super easy to hatch this chirpy chick.
Easter Crafts With Paper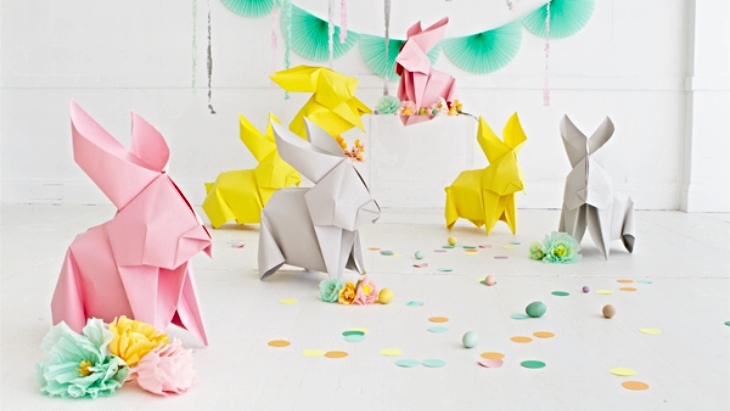 From the easy to the extraordinary, you can get crafty this Easter with these entertaining DIY paper projects.
8. DIY Giant Origami Bunnies
For Easter crafts for kids that really stand out from the crowd, try these supersized DIY Giant Origami Bunnies by Oh Happy Day. This one is a bit more challenging, so perhaps best suited to older kids, but take a look at the incredible results. These are next-level DIY Easter decorations!
9. Newspaper Bunny Easter Craft
Get crafty with the kids and stay on top of your current affairs! Budding wordsmiths will love this quirky Newspaper Bunny Collage by I Heart Crafty Things - perfect for giving your weekend newspapers or magazine a new life.
10. Tissue Paper Baby Chicks
These Tissue Paper Baby Chicks created by Simple as That will add a little bit of sunshine to your Easter weekend. Using feathers and brightly coloured pipe cleaners, this simple paper-mache style Easter craft for kids is worth tweeting about!
Easter Eggs Craft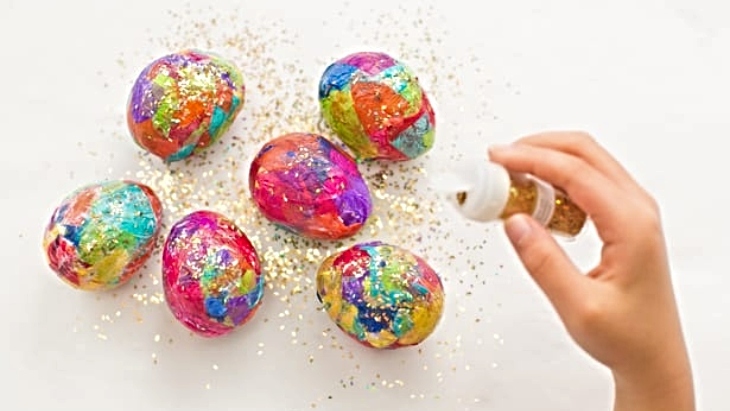 Eggs have always been versatile, and never more so than at Easter! There are loads of ways to celebrate and embellish this iconic symbol.
11. Sparkly DIY Glitter and Tissue Paper Easter Eggs
If you like your Easter eggs a little bit extra and don't shy away from messy, sparkly fun, these DIY Glitter and Tissue Paper Easter Eggs by Hello, Wonderful are for you. We love these vibrant creations!
12. Watercolor Letter Easter Eggs
These gorgeous Watercolor Letter Easter Eggs by Oh Happy Day are made all the more special with the added touch of lettering so that kids can personalise them with their name or special Easter messages!
13. Tie Dye Easter Eggs Using Paper Towels
Kids love tie-dying, and these Tie Dye Easter Eggs courtesy of One Little Project use a genius hack to get the bright, ombre effect - paper towels.
14. Tin Foil Easter Egg Art
It's amazing what a difference some aluminium foil can make! This Tin Foil Easter Egg Art from I Heart Crafty Things uses the metallic material as a unique base for endless imagination. Kids and adults can go wild creating their own Easter egg designs.
15. Paint Your Eggs Kit
If you want to make your life really easy, stake out your nearest Big W store for their handy Paint Your Eggs kit for just $5.
DIY Easter Baskets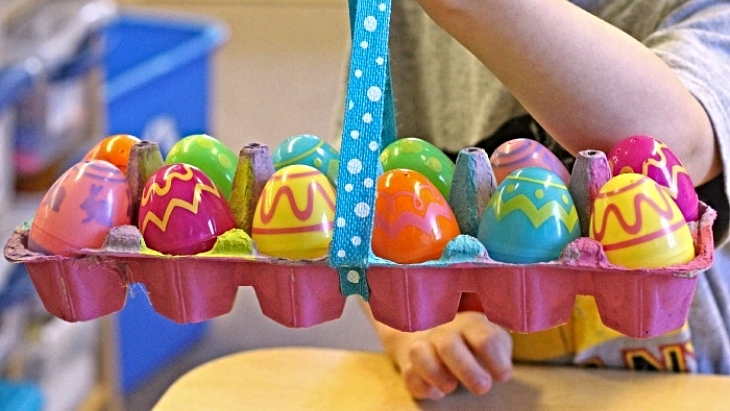 Kids will love flaunting their own DIY baskets at their annual Easter egg hunts! These Easter crafts for kids put the fun in functional.
16. Egg Carton Easter Basket
Get ready to raid the recycling bin! These homemade Egg Carton Easter Baskets by Fun A Day are a nifty and somewhat easier art project for little hands and look amazing stocked up with Easter goodies!
17. DIY Easter Basket
For some more eco-friendly Easter crafts for kids, here's another variation on the DIY Easter Basket made from egg cartons that you can decorate rather than paint! This one by Green Kid Crafts uses shredded paper, pom poms, craft chics and Easter stickers.
18. How to Make a DIY Paper Easter Basket
These delightful Good Housekeeping DIY Paper Easter Baskets are perfect for collecting Easter hunt treats! Teach your kids the age-old art of paper-weaving and decorate your baskets however you like.
DIY Easter Hat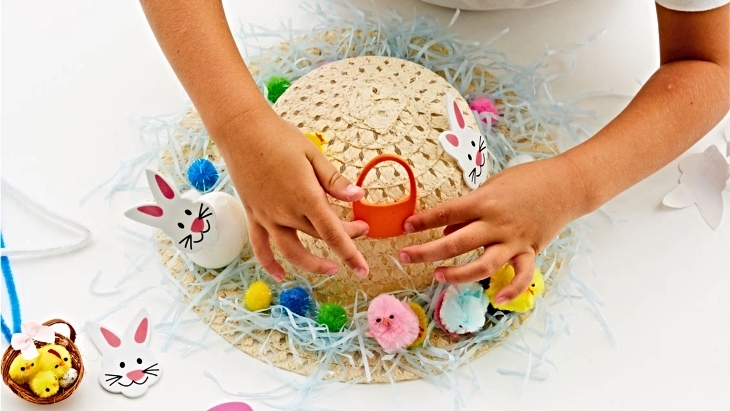 Most parents are familiar with the annual school Easter hat parade and the pressure of creating the best bonnet in show! Here are some Easter crafts for kids that also offer some of the best stress-free Easter bonnet solutions.
19. Make Your Own Bonnet Kit
BIG W has a range of easy-peasy products to help take the stress out of Easter hat-making, including the Make Your Own Bonnet Kit, plus an Easter Bonnet and Craft Kits for Decorating.
Check out the Big W online tutorial on How to make an Easter Hat.
20. DIY Bunny Party Hats
Get festive this Easter with this super cute DIY Bunny Party Hat courtesy of The House That Lars Built. They are easy to make, and there is no end to the creative magic you can apply to your creation.
Printable Easter Crafts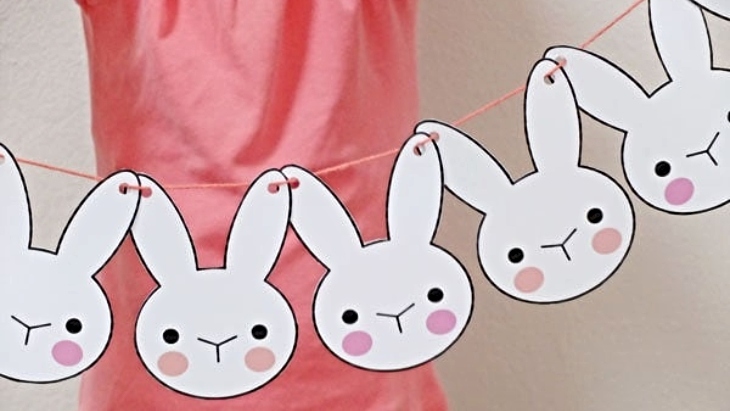 These Printable Easter crafts for kids ensure half the work is already done for you! A little imagination will turn these paper templates into stunning works of art.
21. Easy Bunny Bunting
For DIY Easter decorations, My Poppet has created an original printable template to string together this gorgeous Bunny Bunting garland. Just print off the rabbit faces, cut them out, punch a few holes and thread them onto some colourful rope or ribbon for cool Miffy vibes this Easter.
22. Rabbit Mask Free Printable
Get this free Rabbit Mask Printable from Milly & Tilly, and little ones will love customising their own Easter look.
23. Printable Easter Suncatcher
It might be autumn, but you can still let the sunshine in with these Printable Easter Suncatchers from Everyday Dishes. With four different cutouts - bunnies, flowers, Easter eggs and chicks - you just print off the templates, cut out lots of brightly-coloured tissue triangles and stick it all together with some clear adhesive plastic for some colourful window art.
Printable Easter Colouring Pages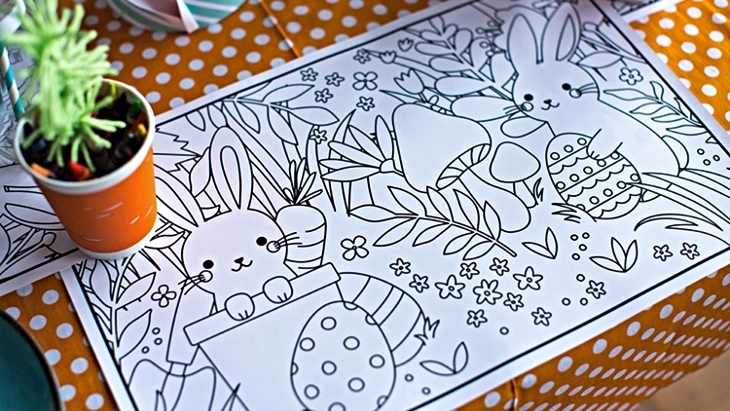 There is a whole world of free Printable Easter Colouring-in sheets to explore online. Here are some of our favourite printable Easter craft colouring projects for kids.
24. Easter Colouring Placemats
These intricate Easter Colouring Placemat designs by artist Lia Griffith will keep kids entertained for hours! Once they're done, you can laminate their masterpieces to create keepsake Easter placemats.
25. Giant Easter Egg Printable
We love this Giant Easter Egg printable from Mr. Printables. It is actually a 6-page project, so it's perfect for an Easter art colouring collaboration.
Five Quick and Easy Easter Craft Hacks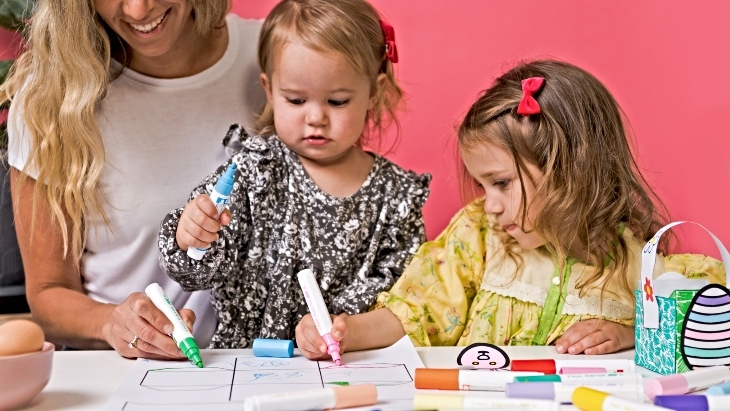 From Easter bonnets to baskets, cute bunnies, sweet chicks and colourful eggs, the creative possibilities of Easter are endless, but if crafting a creative masterpiece fills you with dread, then you are not alone.
"So many parents tell me that they often avoid arts and crafts because it means more work and more mess. The good news is you don't need a PhD in glitter technology to spend time crafting with the kids this Easter and have some fun along the way", says Shannon Wong-Nizic, craft expert and owner of Oh Creative Day.
Here are Shannon's Top Five Hacks for Quick and Easy Easter Craft for Kids
1. Keep it contained - have a storage option for paper, scissors, glue etc. Keeping pens contained in a caddy or container prevents them from rolling away and frustrating young artists. Using a plastic tray is also a helpful way to create - the tray gives your child a defined space to work within, and it's easy to remove from the workspace when things need to be cleaned up.
2. Keep it low-mess - the key to creating low-mess craft activities is choosing to offer low-mess materials. Look for ways to substitute materials that might create a mess or stress you out. For example, craft glue can be messy. Perhaps use Sellotape sticky dots instead? Lots of fine-motor practice is involved in peeling the sticky dots off the backing sheet!
3. Keep it simple - there is no point in setting up Easter crafts for kids if they will stress you out and create more work for you. Don't over-complicate matters - just use simple materials. Frixion stamps are a great option. They each have a little emoji-style motif and come in lots of colours. They're a simple way to add vibrant details to craft projects and are a perfect gripping size for little hands.
4. Keep it colourful - I hear many parents lament about how their little artists will often turn artworks into brown or khaki green masterpieces. One way to avoid this is to discuss colour options with your mini-creative first. Sometimes it can help to limit a colour palette to three complementary colours.
5. Keep it fun - introducing new material and inviting your child to create with it can lead to all kinds of wonderful possibilities. There is no right or wrong way to create! If they have a novelty factor, then even better – paint markers such as Pintor are a perfect way for children to have mess-free fun with paints that don't involve much prep beforehand or clean up afterwards. Compasses are a great way for children to explore mathematical concepts whilst creating in a fun and open-ended way.
Download Shannon's free Easter craft templates.
More Ways To Celebrate Easter
Where to Shop for Personalised Easter Baskets
The Best Easter Events in Sydney
Top Easter Egg Hunts for Kids in Sydney

Have you signed up to our newsletter? Join ellaslist to get the best family and kid-friendly events, venues, classes and things to do NEAR YOU!