Desperate Parents Bid Sky-High For Discontinued Dummies
By: Phoebe Ackland, ellaslist
It appears that for many desperate parents, you just can't put a price on a calm, soothed, quiet baby.
Parents have been in uproar since the popular Tommee Tippee and Happy Baby Latex Cherry Super Soft Comforters were unceremoniously discontinued, with some of the last stock selling at sky-high prices to desperate parents on eBay. Once available for just $5 at your local supermarket or chemist, some of these pacifiers are going for upwards of $100 plus postage!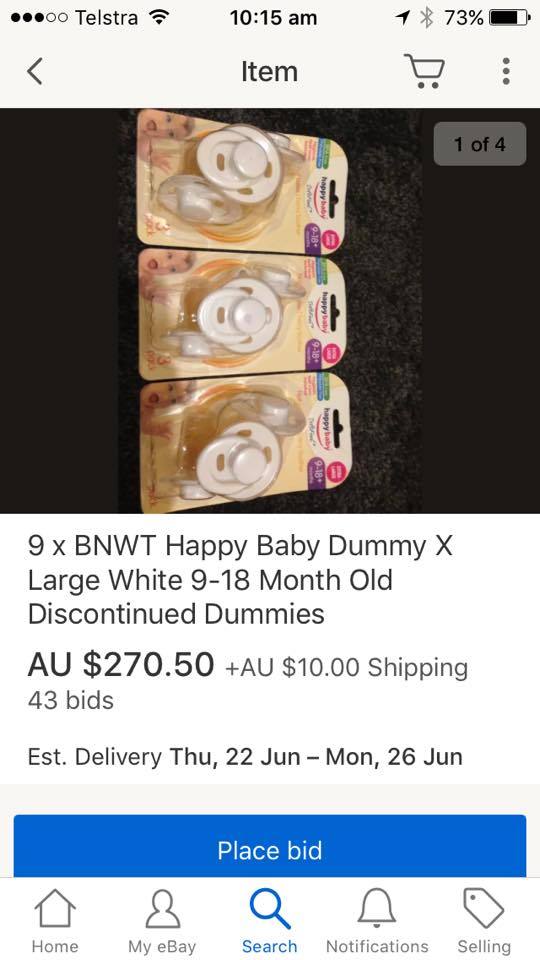 Pacifier Extortion
It seems that these were some truly adored dummies, with many of the pacifiers actually selling to mums who utterly ran out of options. There's even a Facebook Group calling for the re-manufacturing of cherry soothers, with many mums commenting how disappointed they are that so many people are actually profiting from this unfortunate situation, but claiming they have had to bite the bullet and cough up the dough for the sakes of their young children. One mother commented: "I have paid $80 for two packs, that's $160 not including postage!!! I have two girls and now I'm down to my last one as my 18 month old is teething and is deflating them by chewing on them! So upset!!!!!"
Another said: "I've had to pay upwards of $40 per packet for happy baby dummies, It's sad that people are trying to make money selling each packet for as much as they can possibly get when we have babies who are in desperate need of them."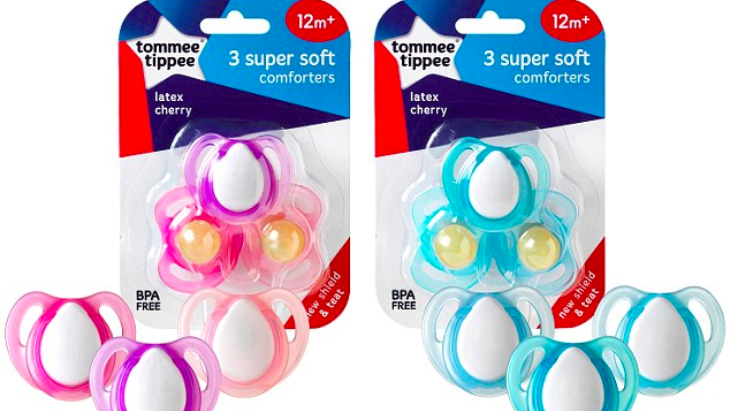 Bring Them Back, Already!
The manufacturer Tommee Tippee has certainly been made aware of the kerfuffle that their discontinuation has caused, but unfortunately, it doesn't look like they'll be bringing them back or making the new design more like the popular old one. They said in a statement:
"We at Tommee Tippee realise that at the moment some of our valued mums are quite upset by the redesign of our trusted comforters, including the Tommee Tippee and Happy Baby Latex Cherry Super Soft Comforters. We want it to be clear that this has not gone unnoticed and that we are genuinely saddened to know that mums and babies are upset with the change."
They then say that the discontinuation and redesign was due to a move from one manufacturing facility to another.
"We truly understand the attachment a little one can have to a soother and the frustration parents feel when their little one rejects a change in design. We sincerely apologise for the upset these changes have caused. Whilst we appreciate that knowing we are not able to reproduce the design will be upsetting for some, we hope that this communication now gives an understanding as to why this is not possible."
If you're willing, your best bet is probably scouring eBay or the like to try to find some of the last of these dummies in circulation.
Have you paid inflated prices to get your hands on these near-extinct dummies? We want to know! Comment on Facebook.