Defying Gravity and Exceeding Expectations At A Sky Zone Birthday Party
Toddlers
Preschoolers
Kids
Teens
Family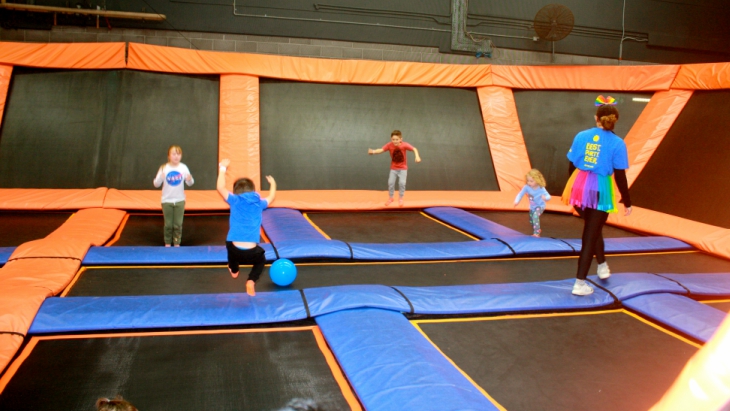 I cannot remember a time when Billy sat still. He burst into the world practically doing cartwheels out of the womb and hasn't slowed down since. As such his fifth birthday approached faster than a bullet train, and to mark the momentous occasion we wanted to do something he would remember forever, even as his life zooms full speed ahead.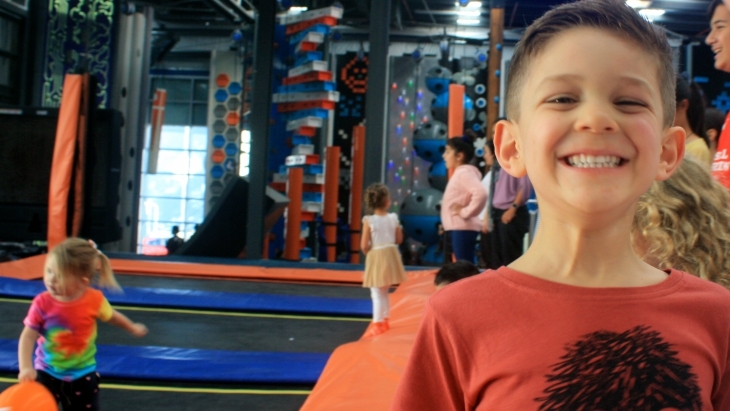 Because he's a winter baby we knew it had to be indoors but he's now at the age where he tells me he is too old for "soft play centres". Okay tough guy, challenge accepted. Say hello to Sky Zone. It's literally the place to take kids who bounce off the walls at home. It is loaded with action for those 'big kids' but is housed in a safe environment so boundaries can be pushed while parents can relax with a coffee in the sidelines.
All Aboard The Party Train
From the moment we checked in for the party at Sky Zone Alexandria Billy was made to feel like a VIP. We were whisked away by our fabulous party host into a holding area, kind of like a boarding gate, and given a trolley stacked with orange socks. As guests arrived they were asked to take off their shoes, slip into their grip socks, whack on their wristbands, and leave their gifts and shoes on the trolley.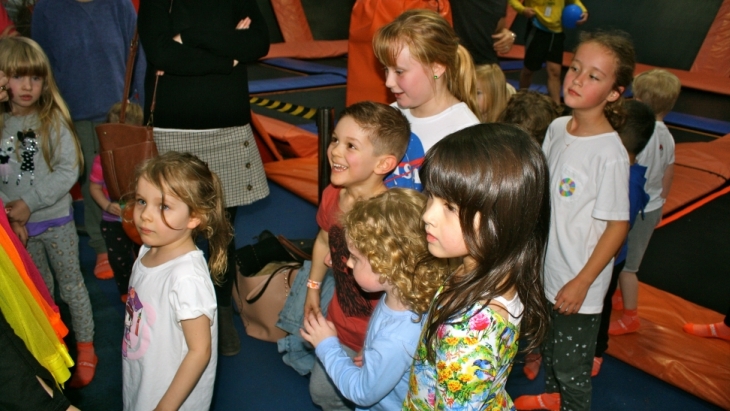 Once everyone arrived the brightly dressed host took the kids to their first station - a private trampoline area. I had expected the jumping to take place with the rest of the Sky Zone crowd so this was a wonderful surprise. Billy took off in a flash, his little face beaming with joy as he jumped with his best friends. Next it was off to the foam pit for attempted front flips and one-upmanship... you have to love their confidence.
Our host effotlessly rounded up 13 kids and shuffled them off - while us parents sat back in awe of her command over them!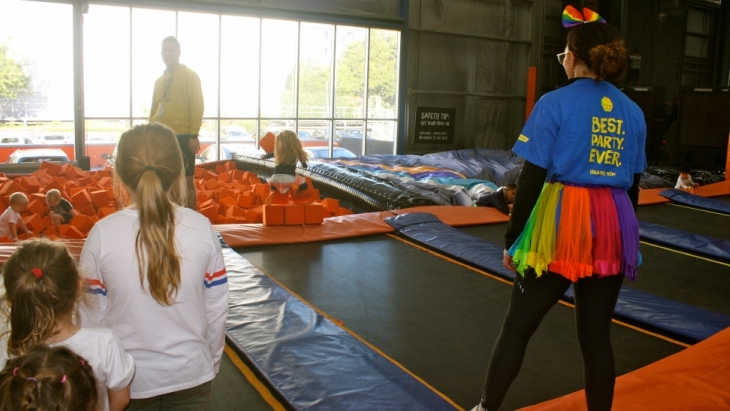 My Private Sky Zone
After the foam pit we were back in our private trampoline area, Billy looking as spoiled as the kid from Richie Rich with his own bowling alley. Balls and balloons were thrown around as the kids jumped, while the adults were actually given a chance to mingle. We had a couple of older siblings in the group who lured into the Enduro Warrior Course which meant that they were able to ramp up the action too.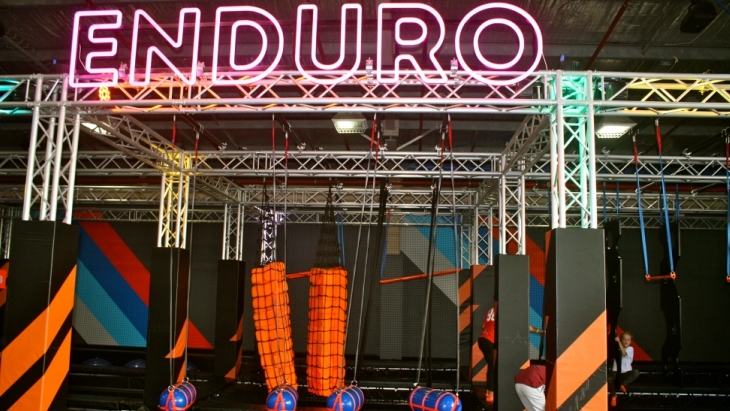 Then, as energy levels began to decline, we were led into our private party room to refuel. Everything had been taken care of, from brightly coloured decorations and balloons down to the plates and cutlery. The kids sat around the table and were served gluten-free stone-baked pizzas (much to the parents envy) and platters of fruit - Sky Zone only offer sugar-free options which I think is a nice touch, and let's face it the kids don't even notice.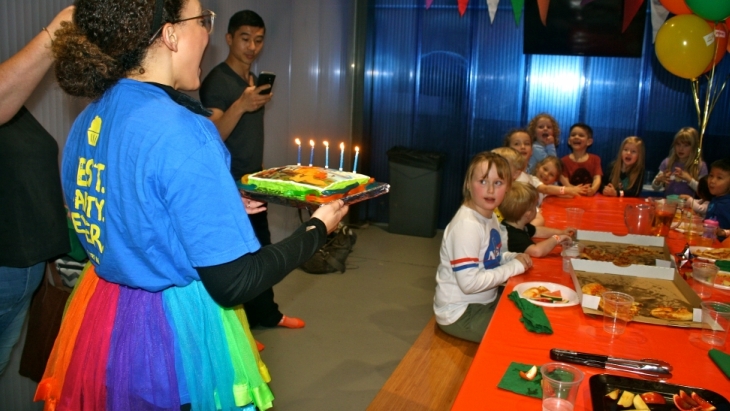 Then it's time for cake, Sky Zone allow you to supply your own if you'd prefer, and lots of hip hip hooraying for the 5 year old. And while the kids gorged on cake, the adults swooped in for a slice of that tasty pizza.
Smiles Were Sky High
Overall I cannot fault the Sky Zone party package. Billy could not wipe the smile off his face (just like the green icing from his cake), the adults were relaxed and the host was energetic and helpful, even down to cutting the cake and offering every child a second slice.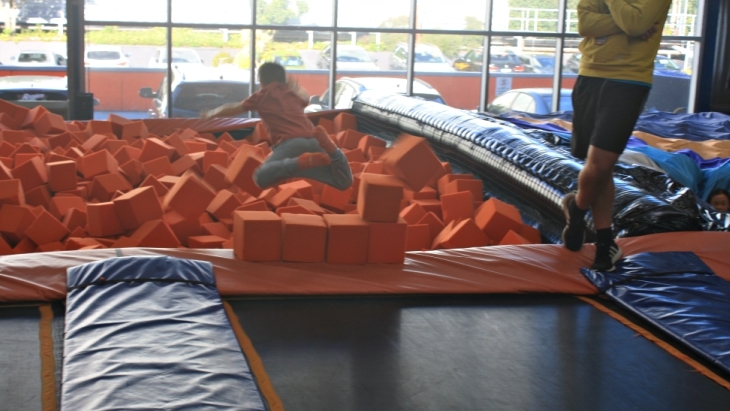 Everything has been thought off, from the meticulously timing of the jumping to the two free coffees for mum and dad (because let's face it we've been up since 5am opening presents!).
The whole event felt seamless, which for an outing with Mr Energy, is rare. For a couple of hours things slowed down and my partner and I could witness our little man in action, socialising with his friends, jumping for joy, and growing up way too fast.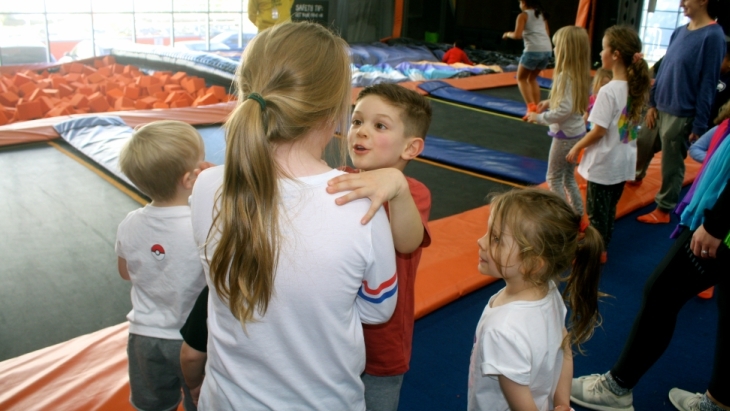 The Details
Kids party packages start at $32pp (you only pay for kids) which includes:
1 hour of jumping
Grip socks and invitations
30 mins in Private Party Room with Party Host
Free Sky Zone t-shirt
2 free return passes
Food & Beverages
Two free coffees for the parents
Find out more about Sky Zone's birthday party packages here.