Coogee Pavilion - the ultimate family-friendly cafe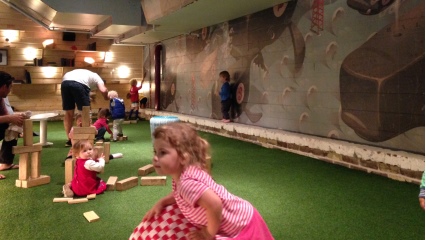 By: Lisa Wolff, ellaslist
Is there really such a thing as a kid-friendly café? It's the Holy Grail for any mum wanting to enjoy a cuppa and a chat while the kids are playing nearby. There are certainly a few places that give it their best shot but on a rainy day, those that only offer an outdoor area, are out of the running.
I wasn't expecting to find a child-loving paradise at the Coogee Pavilion. It's run by the same team who manage the uber-stylish Ivy in the city. So I couldn't imagine my grimy double pram, packed with my twins and toddler would get much of a welcome. But as I entered through the doors, I was transformed into another world; one where kids and adults seemed to co-exist in harmony. I'm still a little dazed from it all.
Pick a Zone to suit your mood
The room is huge with a variety of zones, of which you can take your pick depending on your mood. There are wooden country-cottage tables in the centre where families were munching on the delicious wood fired pizzas. There are spacious booths along one side where party guests were singing happy birthday to an excited toddler. There are tall bar tables and stools near the windows for a perfect view of the ocean. This was the spot for a festive get-together of some trendy new parents and their newborns.
Laid-back fun & games


But I made a beeline for the back. The games area is spacious giving kids ample room to exert a bit of energy. There is the giant scrabble board with a ladder, two table tennis tables, and a game called petanque (which became more like dodge-ball when a few exuberant toddlers starting throwing the hard ball at the skittles). There is a round table for little colouring-in artists and a large fake-lawn with baskets of blocks and dominoes. Surrounding the play area are comfy couches and arm chairs, giving parents a perfect view of all the antics while still being able to enjoy lunch.
Fun play – tick ; Fabulous food – tick!


And that brings me to the food. Yum! Kids play areas aren't usually synonymous with gourmet grub. But Coogee Pavilion is a different breed altogether offering a full menu of all kinds of delicious things. There's an oyster bar for a bit of indulgence, scrumptious salads and three different kinds of burgers. We ordered a pizza (Margherita – $20) and the kids loved watching the pizza chef roll out the dough, add toppings and slip it into the wood-fired oven. The result was a crispy crust and ooey-gooey cheese – just how we like it.
Kids get their own menu
The youngies can get to pick from the dedicated kids menu. Most of the items are $12.50 and include fish 'n chips, a burger, pasta, steak, chicken, toasties and pizza. There is also a fresh juice and smoothie bar.
When we arrived at the Coogee Pavilion, we were all grumpy from the rain. Leaving was a different story. We practically had to drag the kids out of there and they only agreed to leave on promises that we would be back for more. I have a feeling we're going to become locals here.
WHAT YOU NEED TO KNOW
Coogee Pavilion is open Monday – Sunday 7.30am – late. There is a paid parking area right nearby. And if you happen to be coming without the kids, check out the new rooftop which boasts four bars and Mediterranean food.