Constance Hall: The One Simple Secret To Be A Happy Mum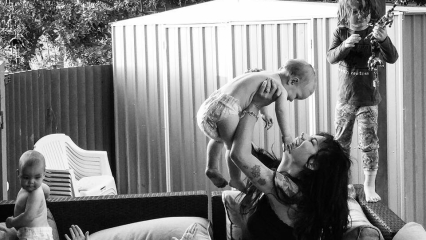 By: Phoebe Ackland, ellaslist
From Big Brother house to social media "Queen", Constance Hall is giving mums everywhere a raw and realistic look at parenting, her personal struggles with anxiety and postnatal depression – and how to start being happy again.
The One Simple Secret
"Having had 4 babies, 2 psychologists, 1 marriage counsellor, severe anxiety, four break-ups and makes ups…I am in the position to offer this advice," she writes online. So what is this simple piece of advice she has to share that began her road to recovery and joy? The answer: socialising.
Hall urges mums to make inviting people over or getting out of the house as much as possible their number 1 priority. She says "…face-to-face contact is free therapy, a laugh and a coffee or walk saved me, even on days that I did not want to, I followed my psychologist's advice and forced myself to."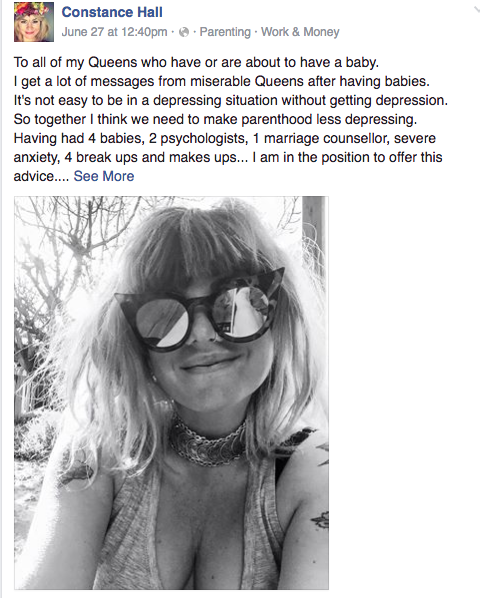 Source: Constance Hall Facebook
House-Bound Horror
Constance has shared many of her personal experiences on her much-loved social media pages, and explains how becoming parents put such a strain on the relationship between herself and her partner. She explains how the working parent gets to get out there, socialise, take their mind off family life and achieve new things. "Whereas the at-home parent is left to dwell on the argument and maximise everything that was said so by the time the worker comes home he is normal and wifey is a crazed lunatic who has packed her bags and is selling the house," she says.
Constance believes that socialising should be every mums mental health plan, and that along with keeping your baby safe, nothing else is as important.
Like a Queen
Hall has recently announced that she will be releasing a book called "Like a Queen" that is currently available for pre order. She will trace some of her own struggles, as well as offering some inspiring advice that encourages mums to look after themselves, because they sure do deserve it! Oh, and it's said to be pretty damn funny too.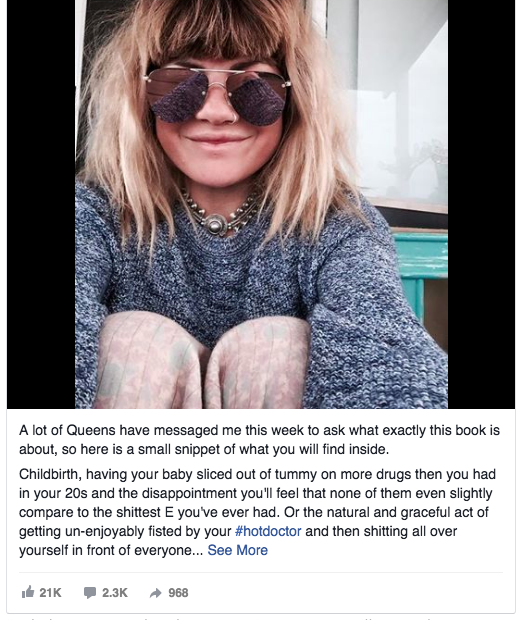 Source: Constance Hall Facebook