Chocolate Croissants & Mandala-Making At Kids Circle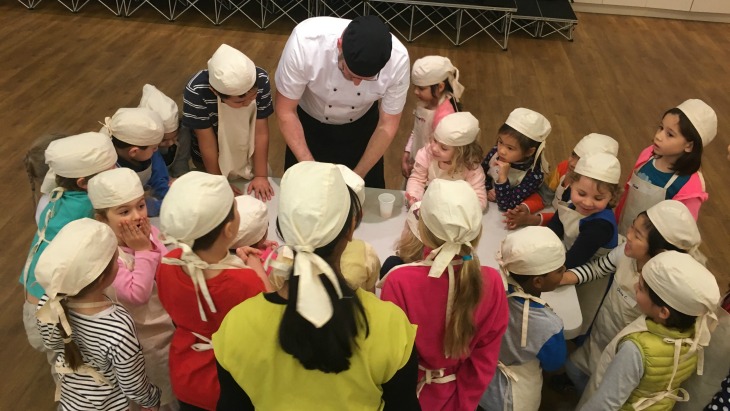 By: Megan Gibson, ellaslist explorer
Kids Circle run an after school and holiday program with a difference. The two owners were disappointed that traditional After School Care left most kids just filling time until their parents arrived. They also felt that ferrying kids to various extracurricular activities was eating into precious family time on weekends. So, Kids Circle offers courses in specific learning areas, allowing children to develop new skills and explore talents, during those key after school hours and this has been extended into a holiday program.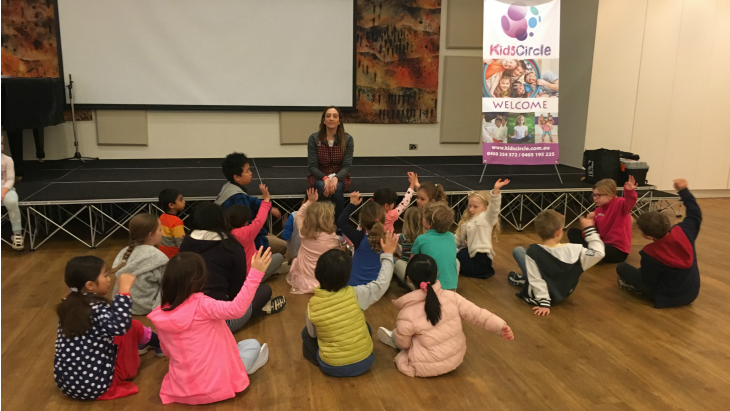 Here's How It Works
The classes are held at the North Shore Temple Emmanuel in Chatswood. The venue offers ample parking for easy drop off and lovely gardens for the children to use during their breaks.
My nearly 7-year-old son attended two days of the Kids Circle Holiday Program. Each day of the holidays a different selection of classes are offered. Options include cooking, science, art, and dancing. There is also an occasional mindfulness component including yoga, meditation and breathing exercises which help children develop concentration and self-awareness. The holiday program operates either mornings (9am-12.30pm) or afternoons (1pm-4pm) and sessions with extended hours are available from 8am-6pm most days.
Your Kids Will Feel At Home With This Awesome Staff
The owners and teachers, Grace, and Carolina, could not have been more welcoming. They readily explained to us the running of the day and made sure we had no questions before the fun began. You could tell that all the regular kids knew and adored these ladies, they were calm and knew exactly how to work with the children to reach the desired outcome.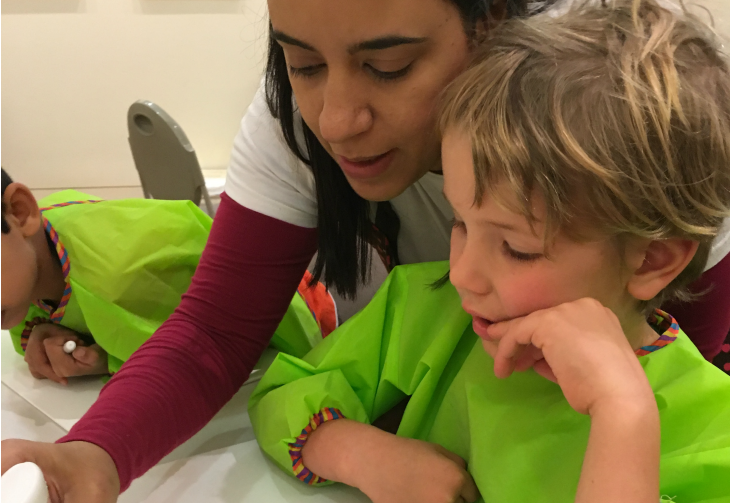 Le Cordon Bleu-Quality Cooking Classes
First up on the agenda was an Italian cooking class with Le Cordon Bleu Qualified Chef, Gene. The children were all given their own apron and hat and set to work cracking eggs and mixing their own pasta dough. Then it was time to get their hands dirty as they kneaded the dough to the right consistency. The children were encouraged to perform all the tasks themselves but staff were there with a no-nonsense approach should they need help. According to the report, rolling the dough through the pasta machine was a big hit. The children also made a Neapolitan sauce to go along with their handmade pasta and then a Chocolate Tiramisu for dessert.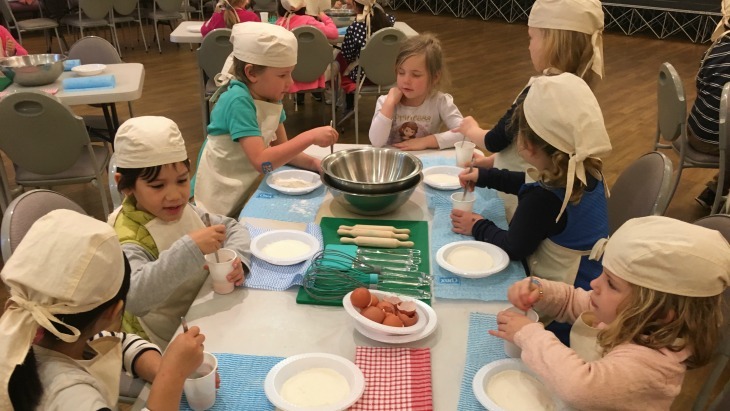 All That Fun Will Make Kids Hungry
There are around 25 kids in each session, broken down into groups 5-8years and 8-10years if it was necessary. Healthy morning and afternoon tea is provided but children needed to bring their own lunch. However, if the morning session was a cooking class, the children were eating the results at lunch time. Bear in mind that while the program has no religious affiliation, North Shore Temple Emanuel does not allow the consumption of meats within its premises (however, eggs, cheese and fish are allowed).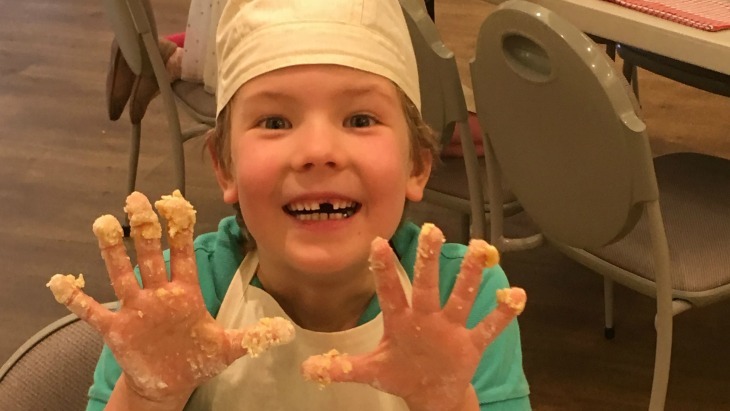 Let's Get Arty
Following a nice long lunch break outside in the sun, the children participated in a mixed media art class. Firstly, they made a floral picture using acrylic paint and a fun bubble blowing technique and this was followed by an abstract masterpiece drawn out with PVA glue. It was great to see that a method was presented to the children but they were then encouraged to put their own creative spin on it, my son returned home with several works of art of which he is most proud.
Inspiring Talks, Chocolate Croissants & Mandala Making
The extended drop off hours are great for commuting parents and children can draw and colour-in quietly before classes begin. Our second day began with an interesting session with one of the team from OzHarvest. He had some great videos and games for the children and talked about food wastage and what we could do to prevent it.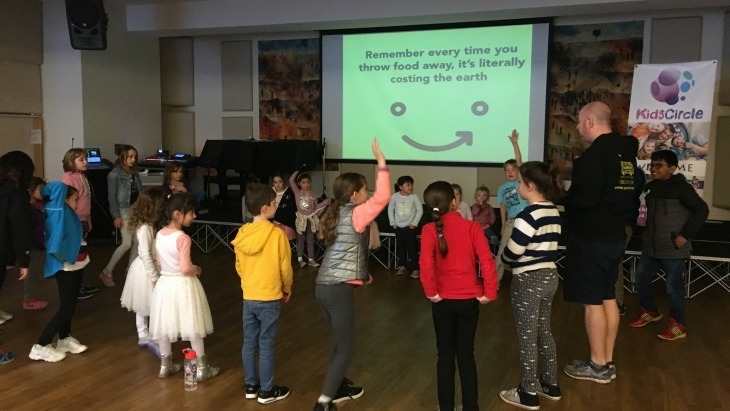 Then they moved straight into a French Cooking class.The highlight for my son was the chocolate croissant, but they also made banana crepes and macaroons. We were sent home with a packet containing all the recipes and my son is keen to attempt some of them again at home. The final afternoon session revolved around Mandala art. While the older children designed their own mandalas from scratch (after being instructed on the use of a compass), the younger children explored colour and shape with various mediums, markers, crayon, and watercolours.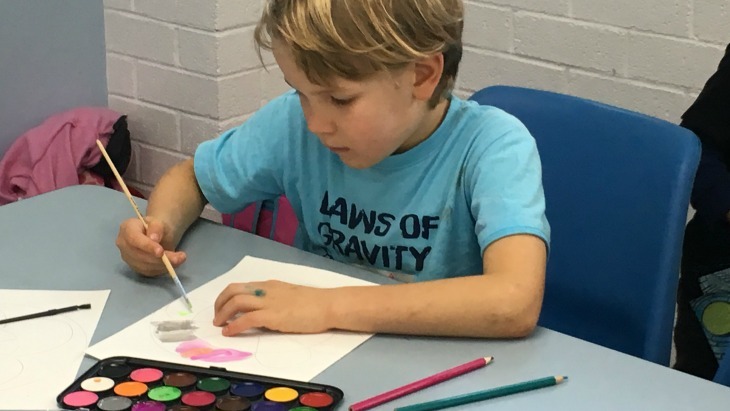 The Kids Circle team run a great program- it's well planned, the high-quality materials are all provided and children get the chance to try so many new things. The service offers a lovely calm atmosphere with children focused on independent experimentation, learning while having fun.
Spring Schools Holidays
Kids Circle Spring school holiday workshops are taking place in Chatswood this September/October for kdis aged 5-10-years-old. Morning ($55), afternoon ($50) and full day ($99) options available. For more information and to BOOK NOW, click here.