Children❜s Book Uses The Word Vagina - And Not Everyone❜s Happy About It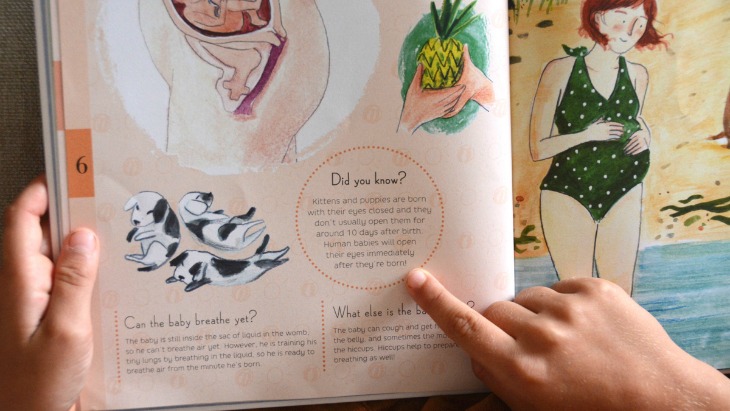 By: Phoebe Ackland, ellaslist, feature image courtesy of BABYCCINO
Byron Bay blogger and mum of 5 Courtney Adamo, and her friend and business partners Esther van de Paal's new book has just been released, and its lack of "euphemisms" and "silly talk" has apparently freaked out publishers and booksellers.
Their new book, 9 Months, is a beautifully illustrated children's book suitable for toddlers through to 12-year-olds aimed at teaching children about pregnancy. Adamo told Smallish Magazine: "Esther and I have been pregnant four times before, five for me now. We wanted to create the kind of book we would have loved to read to our children during those pregnancies to explain what was happening and get them excited about the new baby."
Controversial By Mistake
The book's use of real words to explain the beauty and science of pregnancy was, according to Adamo, not so well-received. She told SBS: "The publisher asked booksellers whether it looked like a book they would sell, and the feedback that came back was negative. They did not want the words 'sperm' or 'vagina' used, or the word 'placenta'."
Adamo and Van de Paal were initially told that should that language remain, the book would have to be sold in the parenting, rather than children's book section of the store. "It really shocked me," Adamo told SBS. "They didn't want kids to read about vaginas and placentas. They thought it was too grown-up information for a child. We fought hard to keep them. We didn't set out to write a controversial book, but it turns out it is controversial."
The book begins like this: When that minuscule egg in Mummy's belly meets an even tinier seed - called a sperm - from Daddy, they join together and a new life is made: the beginning of a new person! The book doesn't explain reproductive acts, but that is something Adamo plans to write about in her next venture. She told Smallish Magazine: "The publishers felt the conception story was enough for this book, but we'd love to do a book about sexual reproduction for slightly older children. Anything that helps to open up a dialogue between parents and their children can only be a positive thing."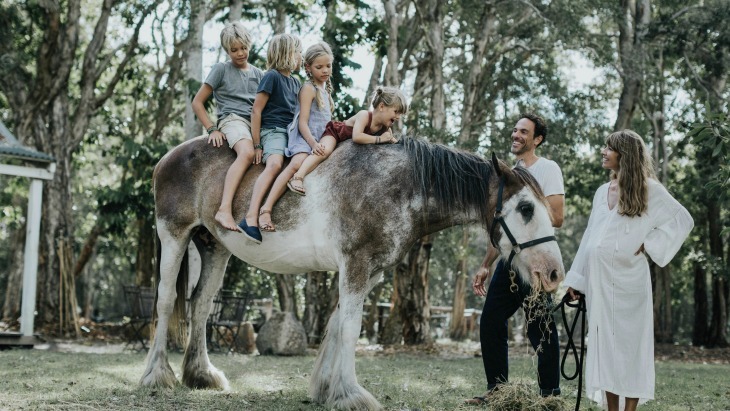 Adamo Family via Smallish Magazine
Buy It Now
In the Adamo household, topics like pregnancy and reproduction are never off limits, and she aims to speak about them openly, honestly and freely with heir children, should they query. If you're looking for a means to open up the conversation with your little ones about pregnancy, or even if you have one on the way, 9 Months could just be right for you. Shop for it online from Murdoch Books where it's retailing for AUD $24.99.
Adamo and van de Paal are the brains behind BABYCCINO.