Cavernous Domes, Tunnels and Pods; ARBORIA Comes To Melbourne❜s FedSquare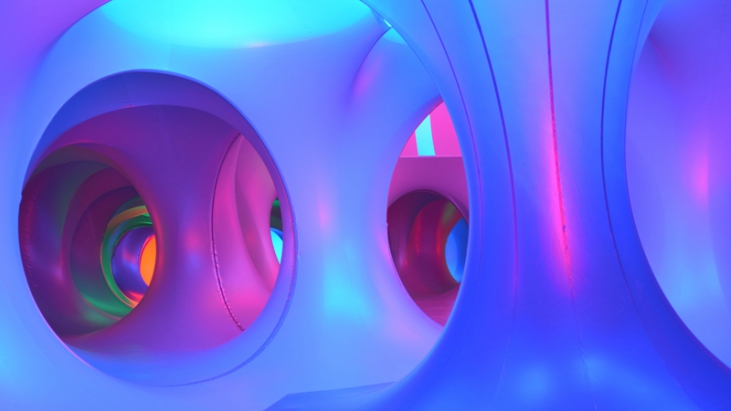 By Hayley Dean, ellaslist
I don't know about you but I love it when things pop up, or blow up in this instance, that are life size versions of your childhood dreams.
ARBORIA is such an installation.
Dedicated to the theme of trees, a giant, blow-up labyrinth (half the size of a football field) of winding tunnels and soaring-high domes, ARBORIA is a massive inflatable sculpture with a 10-metre-high dome that invites you to walk in and immerse yourself into the sensory experience of colours, the lights and the sounds of the Ecuadorian Cloud Forest
It's easy to feel like you have been transported to another world, image yourself walking through a magical forest of trees. Lay down and gaze at the stylised leaf motifs, unique to each dome. The colours create a sense of wonder. A really cool part, is that during the day time, there is no artificial lighting. The natural daylight filters through to create the effects inside.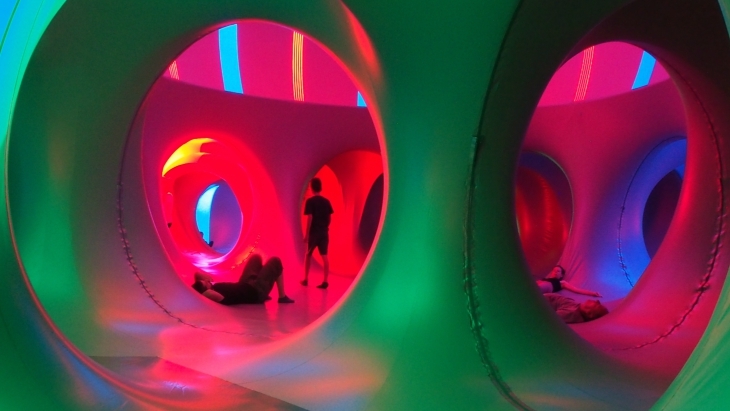 Image: ARBORIA Photo Alan Parkinson, supplied by AOA
Touring Australia in association with Insite Arts, ARBORIA is on now in Melbourne's Federation Square until January 28th. Created by Alan Parkinson, Designer and Founder of Architects of Air (UK), it is part of the 'Luminaria' series (remember Sydney 2014?), which are inflatable structures designed to generate a sense of wonder and enchantment; "I design to bring about an encounter with light – an encounter beautiful in its simplicity that can be profound in its effect".
Please remember to take your shoes off before entering but once inside, you are invited wander, to lie down, to sit down and enjoy the ambience and the space. The journey is yours to take.
Mado Ehrenborg from Achitects of the Air writes "The installation awakens all the senses, creating a sense of wonder and enchantment for all ages. Visitors are transported and immersed into an amazing world of light and subtle and saturated hues, for a unique sensory experience, and brings visual art in places where you wouldn't expect it. It is a paradox that such a stimulating environment can simultaneously be so calming and comforting. Many people find it a place for rest or meditation".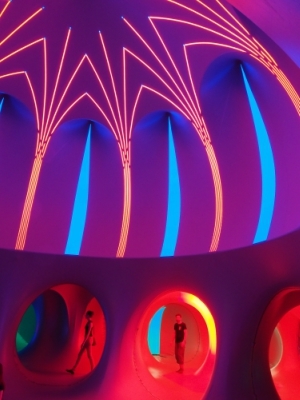 Image: ARBORIA Photo Alan Parkinson supplied by AOA
ARBORIA is open to all ages and is wheelchair accessible. Children absolutely love it. Those under 16 must be accompanied by an adult (max 4 children per adult).
Tickets are available online via the FedSquare website.
Where: Federation Square, Melbourne
When: 6-28 January 2018. Open Daily from 10am to 8pm
Prices: Adult: $18.00
Concession: $16.00
Child (3-15 years): $15.00
Family (2 children + 2 adults): $56.00
Child (under 3 years): Free
Certainly not to be missed.
If you do visit ARBORIA, take a selfie and add the hashtags #ellaslist #fedSquareSummer #aoa