Cahill Park Playground In Wolli Creek Is A Natural Oasis Of Fun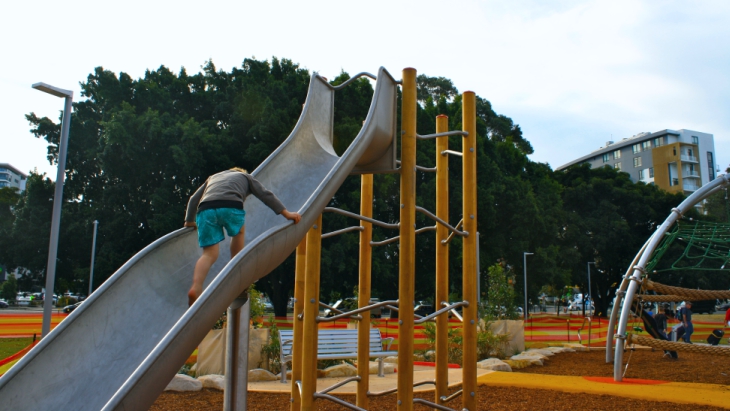 By: Alex Harmon, ellaslist
This new playground popped up in the inner south-west suburbs of Sydney last year but we still love it. Cahill Park Playground In Wolli Creek officially opened in 2017 but expect lots more to come. The Cahill Park Masterplan is being progressively rolled out over the coming months and we hear a cafe, picnic area and dog park is on its way!
So, what did we find? Well, have you noticed the trend in new playgrounds, where the equipment seems to blend into its environment? Gone are the garish, plastic-fantastic look playgrounds of our childhoods. These days parks look less like McDonalds and more like bushland jungle gyms! Right now Cahill Park looks like a half-opened Christmas present with its brightly coloured temporary fences, but take away the packaging and this playground is a oil painting of timber, ropes and earthy colour schemes. Perfect for backyard-less, apartment living kids like mine!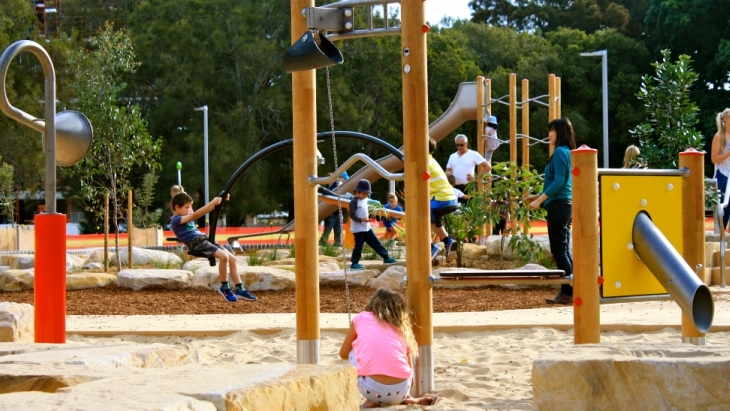 Unstructured And Un-Plastic Play
At Cahill Park Playground the fun stuff blends into nature, with surfaces made of sand, woodchips and sandstone rocks. Structures are challenging, for instance the slide doesn't have stairs or a ladder, but a big climbing frame (much to Mr 3's dismay). Things have to be worked out, so while older kids can climb the structure, younger kids must do their best to climb up the slide itself (which can cause major traffic jams as you'd imagine). But this is the beauty of the park, it forces kids to use their imaginations and have some free-play in an unstructured environment.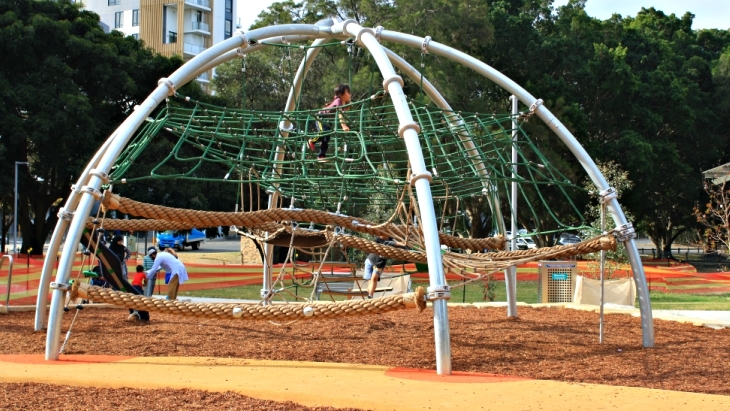 It caters to kids of all ages - I even saw some teenagers excercising on the balance beams - and there are lots of shaded areas for grown-ups to sit. Kids can play on the netted climbing dome, swings, monkey bars, a spinning dish and one of those nouveau see-saws that spin around and look like mobile cranes.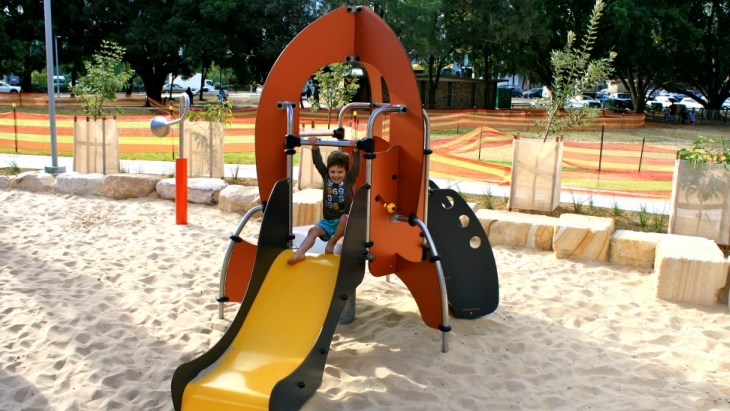 Toddlers will love the sandy area dedicated just to them with rocket ship slide and tipping buckets for scooping sand. Overlooking the Cooks River, it's a beautiful spot to have a picnic with lots of tree shade by the water and ample picnic tables.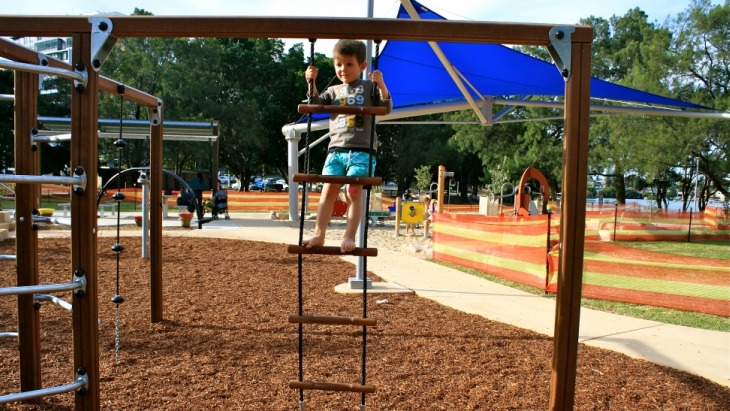 The Masterplan
Wolli Creek is a rapidly developing area and if you look at the skyrise apartments across the street you can see why the locals were in need of a natural oasis amongst the urban development.

An artist's impression of the new cafe
According to Bayside Council, the playground is just one little part of a $7m grand masterplan which includes new pathways and improved circulation, an environmentally friendly foreshore and channel rehabilitation, a cafe/restaurant with public amenities, picnic and BBQs, playground, partial enclosure of channel to connect the parklands, improved sporting facilities, fitness zones, improved parking and a fenced off-leash dog exercise area.
Top Tips
There is no cafe (yet). At the moment your only option is to head to the shopping centre across the road - which does mean crossing the Princes Highway.
Pack a picnic and sit by the water to watch the boats - and the planes landing overhead!
There are toilets nearby but at the time of visit they were unfortunately closed.
The shopping centre across the road has some great places to eat including the famous Concept Burger and a great little dumpling place, Shanghai Fried Dumpling.
There's lots of shade at the playground, but also lots of sunny bits, so bring the sunscreen.
It's not fenced, unless you count the construction fencing they have up right now...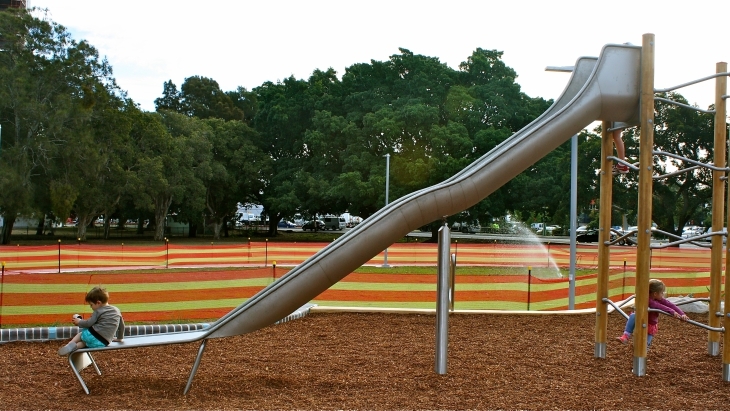 If you like this park, you'll love the new Carss Bush Playground in the nearby St George area!