Breakfast With Koalas At Featherdale Wildlife Park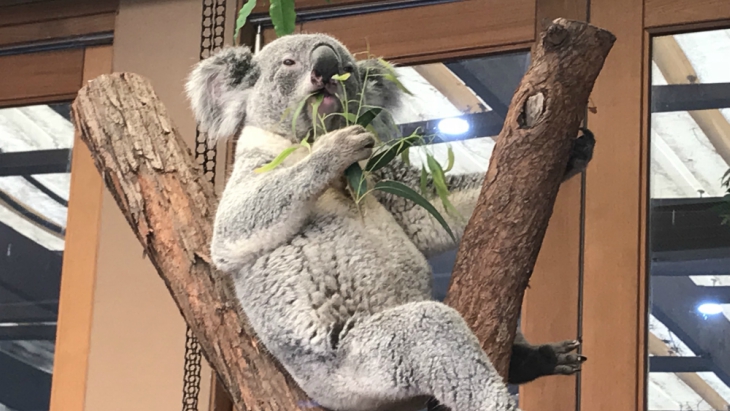 By Hayley Dean, ellaslist
Yesterday was my birthday (yay, happy birthday to me!) and I was fortunate enough to spend it at Featherdale Wildlife Park with my family. Wow. What a day!.
I have lived in Sydney all my life and I honestly thought I knew about most of the special experiences this town has to offer but I was so wrong. I'm not sure I can put into words just how truly special Featherdale Wildlife Park is, but I think this photo of my 4 year-old son holding "Winston" (a baby Roo) sums it up!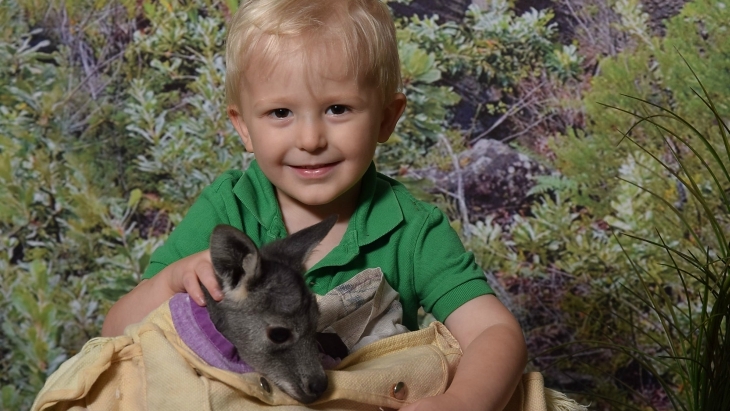 Our day started early as we had arranged to have a private encounter breakfast with a Koala, which starts at 8:15. We arrived to find our table set with juices, a fresh fruit platter, pastries and water. Our coffee orders were quickly taken and we each talked about what animals we were most looking forward to seeing. At around 8:30, the delightful Monty (a juvenile Koala who was born at the park) and his keeper joined us and we got to talk all about Koalas for the next half-an hour. Monty's keeper was very knowledgeable about Koalas and she was fantastic in engaging with our boys – she had answers to the many, many, important questions like "Do Koala's wee and poo up in the tree or do they have to climb down to do it?".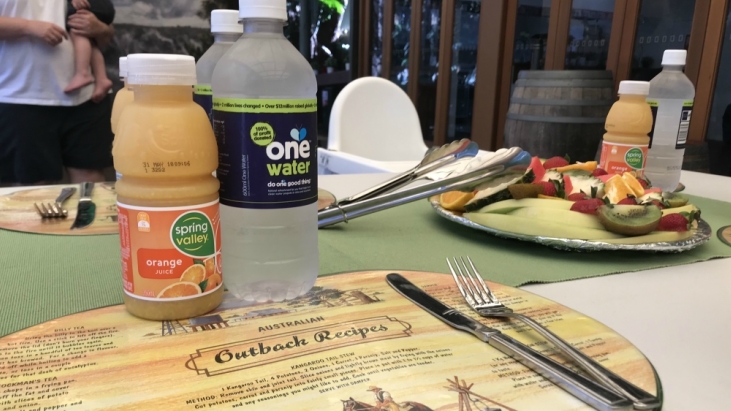 After we finished our breakfast with Monty we simply had to see more Koalas. And pat them. And have a family photo. So we made our way over to Koala area where we got to do all these things. We all loved it.
After our Koala family photo, we spent some time exploring Featherdale Wildlife Park. We purchased some animal feed ($2 per cup) and we set off to find some wallabies and kangaroos. The animal feeding was a huge success. Our boys were uncharacteristically brave enough to take some feed animals.
Whilst my partner and eldest had a bathroom break, I stayed put with our youngest who will be 2 in March next year. A lovely couple who were leaving the park had a spare cup of animal feed and they stopped to ask me if we would like the spare cup of animal feed. My son was stoked. For those of you with 2 or more kids you will understand this: he had "that" look in his eyes – the look of "YES – I have something my big brother doesn't have". He was so happy that he started running / sideways crab walking all over the place until…he fell over. The cup of animal feed went EVERYWHERE and my baby boy was crying hysterically (not because he hurt himself but because he spilled the cup of animal feed).
Out of nowhere, a Featherdale Wildlife Park keeper appeared, took note of what had happened and RAN off, returning shortly after with not 1 but 2 cups of animal feed. Not all heroes wear capes, as they say.
What the keeper did here sums up Featherdale – it is very family friendly and genuinely strives to make sure you have a fantastic experience. We have been to many a zoo and wildlife park and I can't think of many that would go out of their way to help us the way this zookeeper did.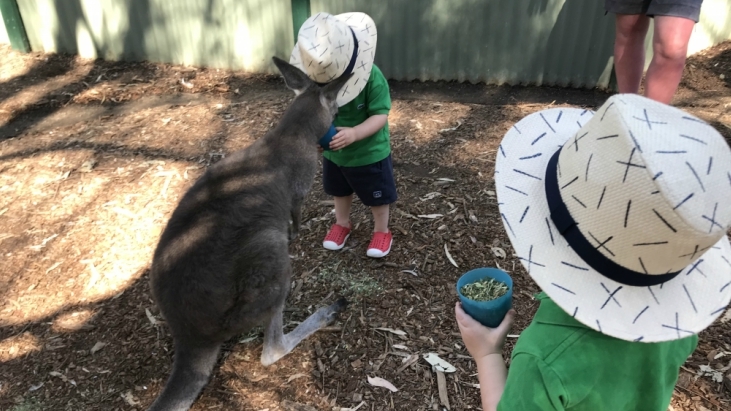 A short while later we did the "Mammals" private encounter. This encounter is in a private cabana (nice for privacy, and also for containing kids). A zookeeper by the name of Patty introduced us to Winston (a baby roo), Bubble (a sugar glider) and a ring-tail possum whose name I can't remember. Patty was great with our boys – she was able to answer all the usual wee and poo questions and she tried really hard to make sure everyone had plenty of opportunities to hold and / or pat each of the animals. There was a photographer in the cabana and she took some lovely photos of all of us patting and / or holding each of the mammals (2 complimentary photos are included in the price of the private encounter, more photos can be purchased for an additional charge).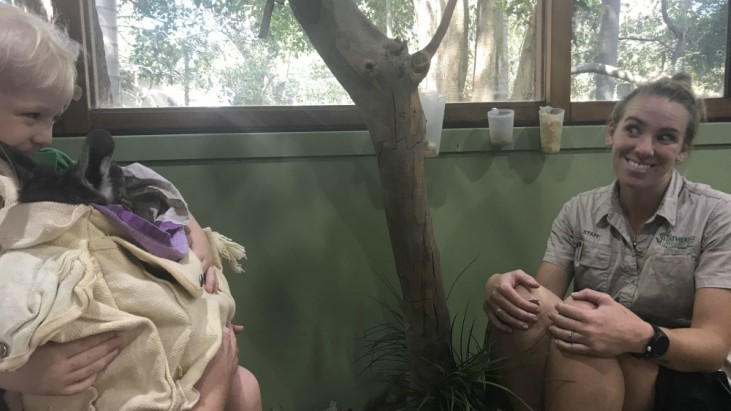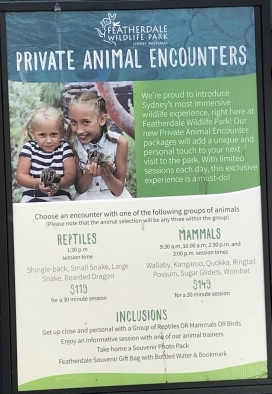 As we explored the park we also saw dingoes, wombats, penguins, a cassowary, pelicans, farm animals, snakes, lizards and birds. We finished off our day at the crocodile feeding show, which the boys LOVED. The Crocodile keeper was very informative and our boys were mesmerised for the duration of the feeding show.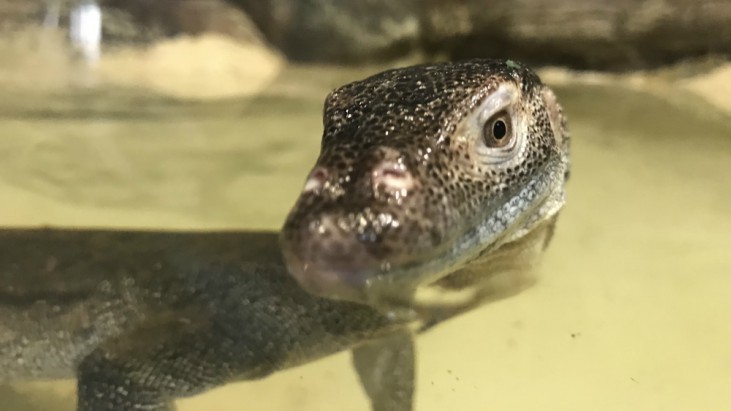 To sum up – we really loved our day at Featherdale Wildlife Park. We definitely look forward to returning one day soon. It's a great wildlife park for interacting with animals as there are plenty of opportunities to feed and pat Australian animals and it is very family friendly. The Park's keepers are all very informative, bubbly and great with kids. They go out of their way to make sure you have a great experience. For this reason, I would strongly recommend Featherdale Wildlife Park as a fantastic day out for families and / or visitors to Australia looking to get up close with some of our wildlife.
The Details
Admission: See website for latest admission costs
Getting there: Featherdale lies just 40mins from Sydney's CBD, at the junction of Sydney's key link motorways – M2, M4 & M7. It can be easily reached by car or public transport.
Reviews

Reviews get lonely too
Be awesome and write a review