Where to go Bowling in Blacktown
Where to go Bowling in Blacktown
Toddlers
Preschoolers
Kids
Teens
Family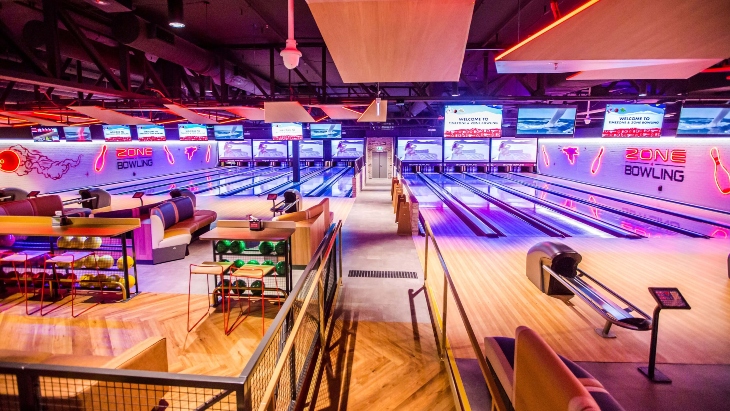 Calling all tenpin bowling aficionados! Bowling in Blacktown is a tenpin bowling paradise, offering a diverse range of venues where players of all ages and skill levels can indulge in this beloved sport, where strikes and spares await your skilful throws.
Whether you're a seasoned pro or a beginner looking to have a blast, bowling in Blacktown offers a plethora of amazing venues for tenpin bowling, kids' birthday parties, laser tag, arcade games and plenty more. So gather your friends, put on your bowling shoes, and embark on a strike-tastic adventure through the vibrant alleys of Blacktown!
Where to go Bowling in Blacktown
1. Zone Bowling, Blacktown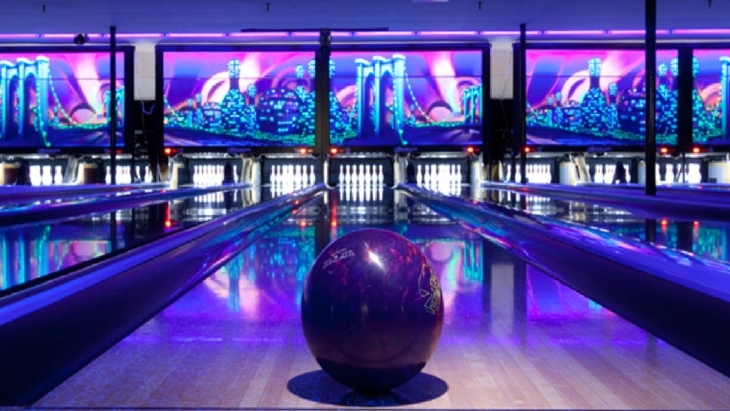 Nestled in the heart of Blacktown, Zone Bowling offers a fantastic blend of classic bowling and modern entertainment.
Immerse yourself in a world of black lights, thumping music, and cosmic bowling, as you aim for those elusive strikes. With a range of interactive games and tempting snacks, Zone Bowling ensures an unforgettable experience.
If you're looking for bowling in Blacktown as part of your birthday party entertainment, you can't go wrong at this popular venue. Zone Bowling's kids' birthday party packages put you in touch with your own party planner, who will handle all details for you, from the guest list to the food, party extras, and more.
Location: Shop 4011/17 Patrick St, Blacktown
RELATED:
Where to Find Sydney's Coolest Arcades
2. Zone Bowling, Rooty Hill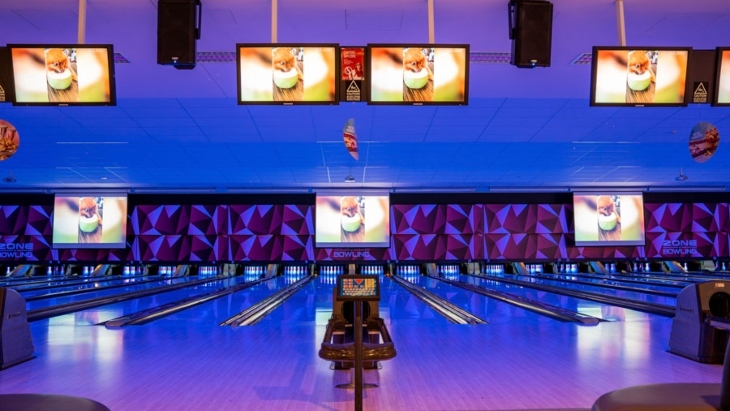 Prepare for another amazing bowling adventure at Zone Bowling in Rooty Hill.
Whether you're a seasoned pro or a casual player, Zone Bowling in Rooty Hill promises laughter, friendly competition, and unforgettable memories. Feel the rhythm of the music pulsating through your veins as you unleash your inner bowling superstar. Between frames, explore the thrilling arcade games that beckon you with their flashing lights and enticing prizes. Take a break to refuel at the vibrant cafe, savouring delicious snacks and refreshing beverages.
Location: West HQ, 33 Railway St, Rooty Hill

3. Timezone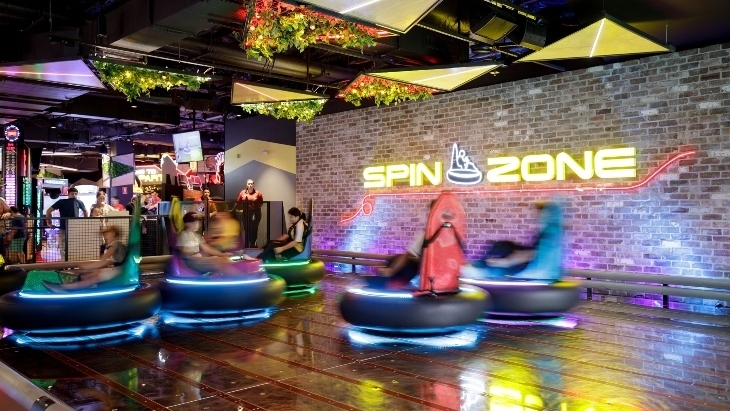 Bowling in Blacktown comes easy at Timezone, aka the ultimate fusion of bowling and arcade excitement, taking your tenpin experience to a whole new level of fun and thrills.
Step into this wonderland of entertainment where flashing lights, the sound of crashing pins, and the buzz of arcade games fill the air. The cosmic bowling experience amplifies the excitement, immersing you in a mesmerizing neon-lit atmosphere.
Between frames, take a break to challenge your friends to an intense arcade battle or indulge in a game of air hockey. With an array of delicious snacks and refreshing beverages available, you can refuel and recharge for the next round of strikes. Timezone Bowling is the perfect destination for a laughter-filled night out with friends, where memories are made and strikes are celebrated with high-fives and victory dances. Get ready to unleash your inner bowling champion and create unforgettable moments at Timezone Bowling!
Location: Westfield, Cnr Carlisle Ave & Luxford Rd, Mount Druitt
4. Kicks Tenpin & Arcade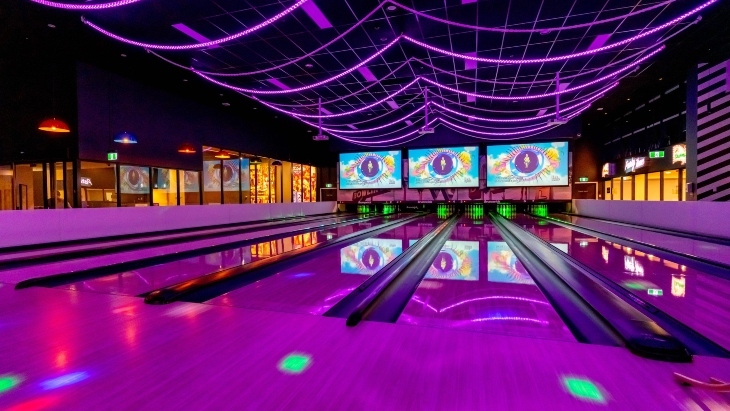 Get ready to kick up the excitement at Kicks Tenpin & Arcade, where bowling meets arcade gaming for an unforgettable experience.
Kicks Tenpin & Arcade is located within Parramatta Leagues Club and offers thrills for the whole family with seven lanes of bowling, Western Sydney's only XD Dark Ride, and a full arcade with prize games.
The lanes are sleek and inviting, beckoning you to unleash your bowling skills and aim for that coveted strike. But that's not all – when you're not perfecting your bowling technique, dive into the world of arcade gaming that awaits you. Embark on thrilling adventures, conquer racing challenges, and show off your skills at the retro classics that line the arcade.
Take a break between games to refuel with tasty snacks and quench your thirst with refreshing drinks. With the perfect blend of tenpin bowling and arcade fun, Kicks Tenpin & Arcade guarantees an action-packed experience that will leave you craving for more strikes and high scores.
Location: 3/1 Eels Pl, Parramatta
5. 710 Split Bowling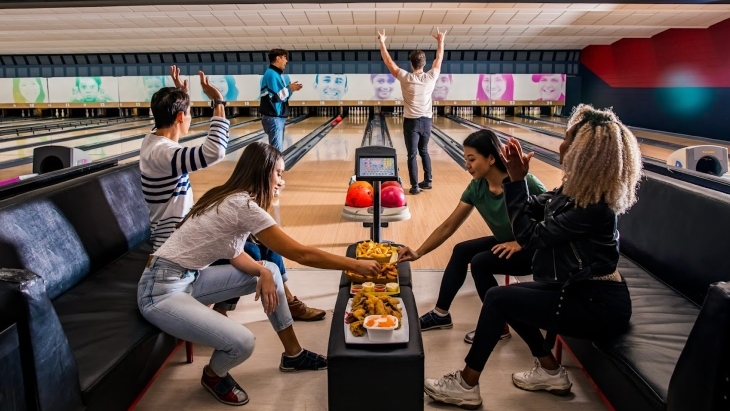 710 Split Bowling in Fairfield is a hidden gem for bowling enthusiasts seeking a unique and memorable experience bowling near Blacktown.
This bowling alley is not your average venue; it combines the thrill of bowling with an immersive and futuristic atmosphere. Step into a world of vibrant colours, dazzling lights, and cutting-edge technology that elevates your bowling game to a whole new level. The lanes are impeccably maintained, ensuring optimal performance for every roll of the ball.
Whether you're a seasoned pro or a casual player, 710 Split Bowling offers a welcoming environment for all skill levels. With friendly staff, delicious food and drinks, and a lively ambience, this sweet spot for bowling in Blacktown guarantees an unforgettable adventure.
Location: 22 Railway Pde, Fairfield
6. Bowlarama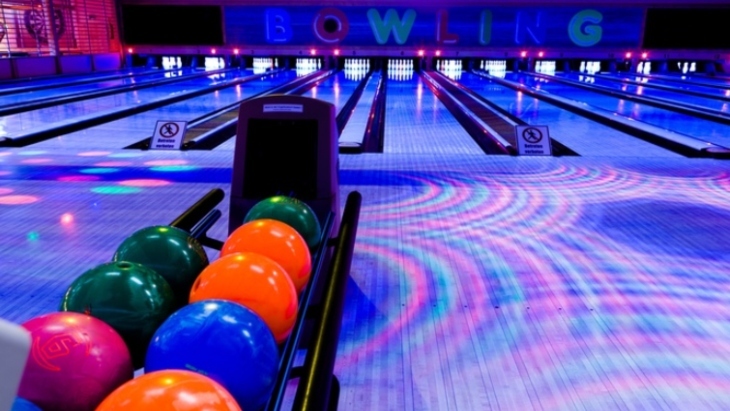 For more bowling in Blacktown, step into Bowlarama, where classic bowling meets a touch of nostalgia.
This beloved venue offers a retro-inspired atmosphere, complete with neon lights and vintage vibes. Bowl your way through their lanes, relishing the old-school charm and friendly competition. And once you're finished with bowling, head over to Bowlarama's new and exciting amusement zone with arcade games, rides and more.
Location: 1024 The Horsley Dr, Wetherill Park
More Activities in Western Sydney
20 of the Best Things to do in Parramatta
Top Restaurants in Blacktown
Thrilling Escape Rooms in Parramatta