Black Star Pastry Sprinkles Some Sugar Into Sydney❜s Entertainment Quarter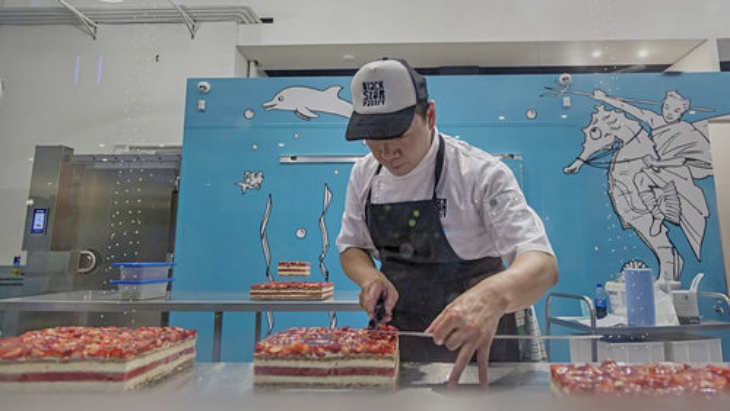 By: Alex Harmon, ellaslist
If you haven't heard of (or seen on Instagram) Black Star Pastry's famous strawberry watermelon cake then you must be living under a rock. Whether you're a fan of the summery sponge cake or you think it's just wrong, Black Star Pastry has been the talk of Sydney for several years. Now the cosy Newtown bakery have rolled out a new and super-sized venue at Sydney's Entertainment Quarter to make our lives just a little bit sweeter.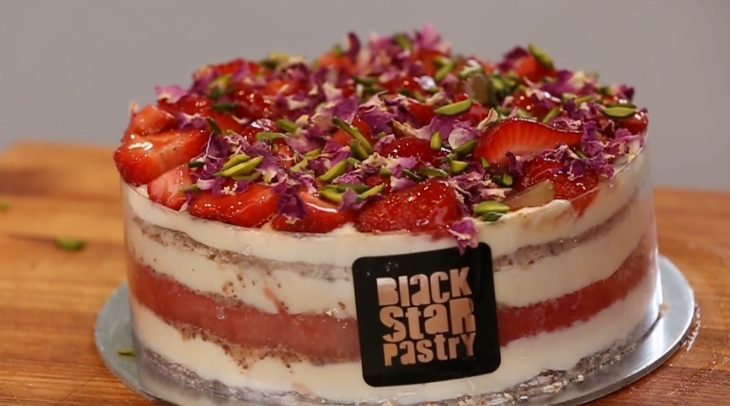 So Much Magic
Chef and owner, Christopher Thé told Good Food that there is an element of food wizardry at this new location. "We have an [$18,000] egg-cracking machine on the way from Japan. It hasn't landed yet but it cracks eggs and separates yolks from whites. I'm told it'll do a week's worth of work in 40 minutes. Most of the eggs will be used in our strawberry and watermelon cake".
The open plan kitchen allows diners to see all the tricks the chefs have up their sleeves including the use of high tech meat smokers.
"There's an ultrasonic cake cutter, and we're also using those high-vis jackets the traffic people wear in Japan with the flashing lights," added Christopher.
What's On The Menu
If you don't like watermelon in your cake, perhaps you would prefer the Mango Cake built on a foundation of gingerbread sponge under a fragrant sago pudding of lavender and coconut, topped with whipped cointreau cream, slices of fresh mango, blueberries and garnished with crystallised violets and baby coriander. Wow. More of a savoury person? The Red Wine Lamb Shank Pie is repeatedly named Sydney's best pie, filled with organic, free-range lamb shank that has been braised overnight with red wine jus and herbs. Or for the vegetarians, you can't go past the Eggplant Katsu Sando with eggplant braised in a soy-enriched dashi, crumbed in Japanese panko and fried, served in a milk bun with shaved cabbage and red miso aioli.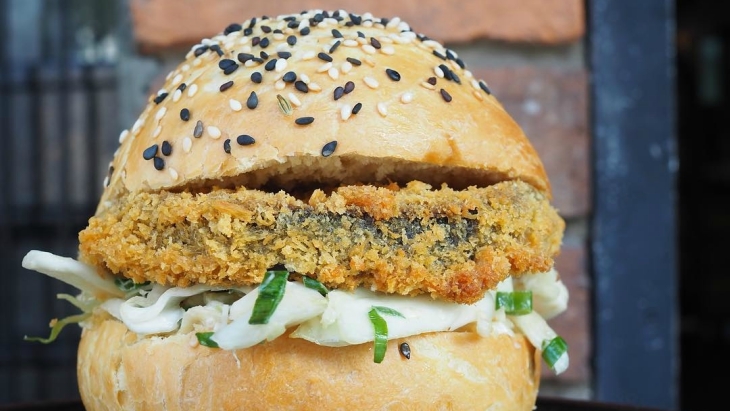 The Future Is Tasty
Thé has also revealed some of his plans for the cafe which he says is inspired by hotel buffet-style dining including huge salad bowls, a make-your-own toast station and bento boxes with ploughman lunches in them. There's also a pie cart that will be wheeled out for football games. There's nothing humble about these pies!
For more see the website.