Best Tram Trips for Kids in Melbourne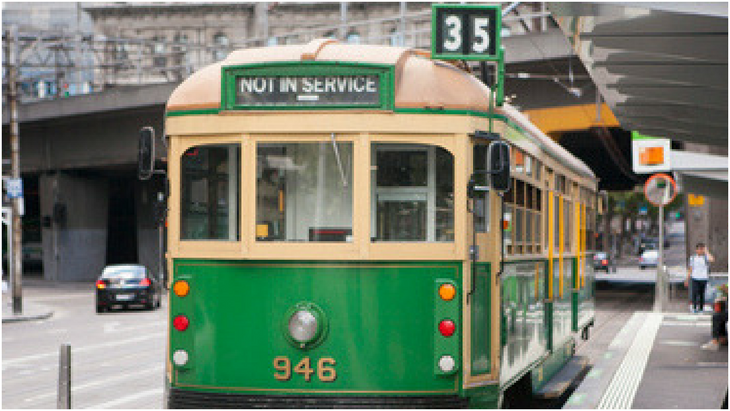 Charge up your Myki Cards and grab a window seat, we're going on a fabulous adventure through the suburbs of Melbourne as only one can from a tram.
We are well known for our incredible public transport, and a tram ride just for fun can be a fantastic way of keeping the little ones occupied as there's plenty to see whether you go from east to west or north to south or even back again.
These are our top picks for a leisurely roll through Melbourne:
Route 96 Carlton to St Kilda
Is this the most interesting tram trip Melbourne has to offer? It's highly likely, given the landmarks it passes and the spectacle of St Kilda as the ride comes to an end.
Jump on (earlier in the day is best) anywhere from East Brunswick and watch the magic of Melbourne unfold as you wind through its diverse streets on a journey National Geographic has named one of its top tram trips worldwide.
After you pass through the Victorian splendour of Carlton and its museums and gardens, you'll swing by Exhibition Gardens, Parliament Gardens, Parliament House, through the Bourke Street Mall, past the law courts, past Southern Cross Station and Etihad Stadium, across Flinders Street, past Crown Casino, Melbourne Convention and Exhibition Centre, South Melbourne Market, Melbourne Sports and Aquatic Centre, Albert Park, St Kilda Station, Fitzroy St and along the Esplanade at St Kilda, the St Kilda Baths, the Palais Theater and Luna Park before coming to a stop at Acland Street where you might like to stop for a sweet treat before exploring this diverse seaside stop.
Route 35 City Circle
Round and round she goes, the free City Circle tram will take you everywhere in the CBD you need to go and even to places you didn't know you did!
Trams run in both directions approximately every twelve minutes between 10am and 6pm Sunday to Wednesday and extended hours, 10am - 9pm Thursday, Friday and Saturday. The clockwise service runs: Flinders Street > Harbour Esplanade > Docklands Drive > La Trobe Street > Victoria Street > Nicholson Street > Spring Street > Flinders Street, so you won't miss a single thing.
Jump off the burgundy-and-gold heritage W class tram for further exploration of the multitude of shopping precincts, cafes, restaurants, bars, parks, museums and waterfront fun you pass, and jump back on again at any time as you like. The tram also connects with other trams heading out of the city.
A particularly great activity for when you want to get out of the house and see the sights but still say warm and dry while doing so!
109 Port Melbourne
From Box Hill to Port Melbourne, you will wind through the beautiful residential suburbs of Surry Hills, Balwyn, Kew, Hawthorn, Richmond, East Melbourne, the city and Southbank before it tips you out at the sandy, palm-tree-filled Port Melbourne stop.
Have a play at the nearby Plum Garden Memorial Playground, check out the staion pier, watch the bustling seaside port in action, check out the incredible Spirit of Tasmania Ferry, and then head back for the trip home - maybe sit on the other side of the tram this time, and see the route with fresh eyes.
What's your favourite tram journey?