Best Things To Do When it's Hot in Melbourne
by Claire Halliday, ellas list
Four seasons in one day? Sure. But when one of them is summer, Melbourne can get very HOT.
To help you beat the heat – or make the most of it, if that's your style – we've got some great suggestions for some of the best things to do on hot days in Melbourne.
1. Hit The Beach
We've got plenty of them to choose from and some are more kid-friendly than others. If you're looking for a spot in the inner-Bayside region, Elwood is a lovely location, with only a handy stroll to shops if you need to stock up on supplies. But be aware that Melbourne's busy city style means that, sometimes, our beaches aren't the cleanest.
Hampton is a lovely spot that is clean and family-friendly and if you're over in the west, Altona beach is another great choice, with a nearby playground and a friendly fish and chip shop all within easy reach.
Back in the south, heading down as far as Seaford or Frankston is another way to find a beach that is clean and safe for kids. Just remember to slip, slop and slap to really beat the heat.
What You Need To Know
All of Melbourne's councils know how much we love to visit the beach – so they make money from our visitations. It's rare to find a bayside beach that doesn't have parking restrictions and fees for meters so if you have one near you, enjoy it. For everyone else, factor parking meter money into your budget for the outing – and ice-cream. Never forget the ice-cream for the way home…
More information: visit the website: www.visitmelbourne.com/Regions/Melbourne/Things-to-do/Nature-and-wildlife/Beaches-and-coastlines
2. Go To A Movie
Cinemas make great places to beat the heat. In fact, usually, you'll need a jumper to beat the air-conditioning that is invariably pumped up way too high.
Luckily, in Melbourne, we have lots to choose from. It all depends on your personality. If you like a small, cosy experience and some atmosphere, choose a local independent, like the Cameo in Belgrave, the Classic in Elsternwick, the Nova in Carlton, or even The Astor in St Kilda. Your friendly neighbourhood shopping centre will no doubt be home to a Village or Hoyts chain multiplex experience – on a hot day, it really doesn't matter, as long as it's cooler than outside.
What You Need To Know
Pack your own snacks to save some serious money (although a classic choc-top at the movies is hard to beat – especially when it's hot).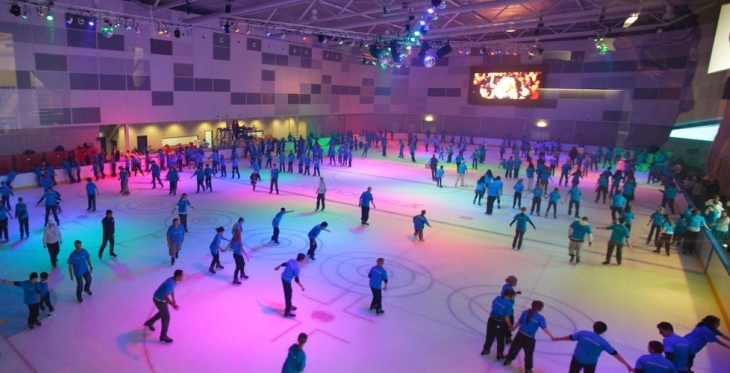 3. Go Ice-Skating in the
CBD
Ah, corporate naming rights can be SO confusing. What was once Medibank Icehouse is now the evocatively titled O'Brien Group Arena, which simply rolls off the tongue.
What hasn't changed is the cool oasis of this ice-skating centre that will have your temperature dropping as soon as you walk in the door with the kids. They'll even love slipping over – just to keep their skin cool.
If your kids are beginner skaters, there is special equipment the centre can give you to help them balance as they glide around in the lovely respite from the heat. Staff also skate around regularly to keep an eye on inexperienced skaters and help out where needed.
What You Need To Know
Phone: 1300 756 699
Address: 105 Pearl River Road, Docklands
Prices:
Pricing here depends on a range of factors, such as whether you have your own skates or not. Check out the price guide to make sense of it all: www.obriengrouparena.com.au/tickets-pricing
More information: visit the website: www.obriengrouparena.com.au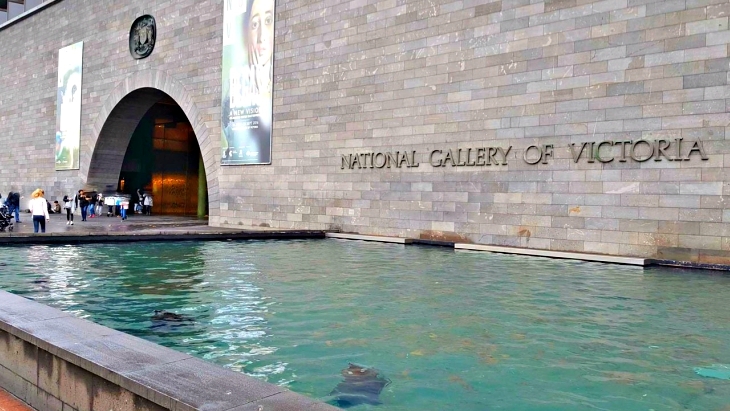 4. Visit an Art Gallery
We do have some lovely ones to choose from…
If you've already taken the kids to the main NGV on St Kilda Road, try visiting the Ian Potter Centre at NGV Australia in Federation Square.
There is a definite cool and calm feeling to this gallery and when it's hot outside, the kids will appreciate it too.
If your kids are very little, focus on colour and shapes and talk to them about what they like and what they don't. Let them be honest. Art is about self-expression, after all…
What You Need To Know
It's the world's first major gallery dedicated to Australian art – something that is worth educating your kids about.
School holiday programs demystify the artistic process by adding some child-friendly fun.
Phone: 8620 2222
Address: Federation Square, Melbourne
Prices: General entry is free
Opening hours:
Daily 10am-5pm (closed Good Friday)
More information: visit the website – www.ngv.vic.gov.au
5. Hit The Pool
Haven't got one in your own backyard? You can always become friends with someone in your street who has…
If that seems too difficult, most suburbs have great council-run swimming pools not too far away and whether they are inside or outside, once you're in the water, you will have some cool relief.
Get there early to grab some shade, if you can…(and don't forget the sunscreen).
What You Need To Know
Membership to local pools always saves you money but be realistic about how often you and your kids are going to visit to see if it's a worthwhile investment for your family. Make sure the kids bring thongs to wear into change-rooms and toilets.
Some suggestions?
Try these:
MSAC – www.melbournesportshub.com.au/msac
GESAC – www.gesac.com.au
PARC – www.parcfrankston.com.au
NARC – www.northcote.ymca.org.au
Aquarena – www.aquarena.ymca.org.au