Best Of Sydney Good Food Month 2018 For Families, Boozy Brunches & Date Night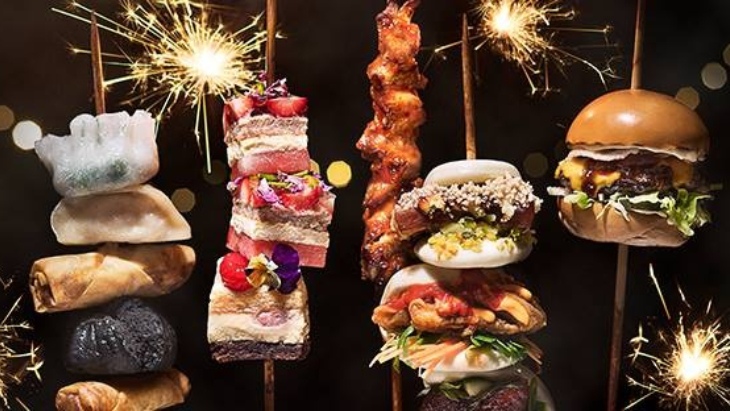 By: Melissa Fine, ellaslist
Sydney Good Food Month is celebrating its twentieth birthday this October, and what better way to celebrate than with fabulous food?
Running from 4-21 October in Hyde Park and at the uber-cool Hyde Park Palms pop-up restaurant (pictured above), this year's Good Food Month pays homage to the awe-inspiring chefs and restaurants that have shaped and will continue to influence Australia's fine and fun food culture.
...So, what's for lunch/dinner in Sydney Good Food Month? Whether you're with the kids, planning a boozy brunch with the girls, or keen for a date night, here are our top picks.

Sydney Night Noodle Markets
Your family-friendly event (dog-friendly too), for over three weeks the Night Noodle Markets will light up Hyde Park each eve, with 20+ sizzling Asian food stalls and around 40 food stalls all-up - so you're sure to find something for every taste in the thick of all the dumplings and noodles, even the fussiest of eaters (read: hot chips for the kids).
Stalls worth the wait in the queue: super fluffy Mr Bao Buns, Hoi Pinoy, Chur Burger, Donut Papi, and mandatory Gelato Messina (who knows what they'll come up with this year...last year it was a deep-fried gelato katsu sandwich). The good thing about coming here with the kids is that you'll get in early and hopefully beat the queues.
Where: Hyde Park, Elizabeth St, Sydney
When: Thursday 4 October - Sunday 21 October 2018; Opening hours: Monday-Tuesday 5-9 pm, Wednesday-Thursday 5-10 pm, Friday 5-11 pm, Saturday 4-10 pm, Sunday 4-9 pm
Cost: FREE entry; this is a cash-free event so that the lines move faster, and all major cards are accepted

Date Night With Ume Burger & The Cow And The Moon
Head to the Hyde Park Palms restaurant pop-up for the ultimate date night or girls night: here you'll sit back to the 90s classic film 10 Things I Hate About You feat. Heath Ledger, while being treated to a drool-worthy Ume Burger (created by hatted chef Kerby Craig) with a side of fries...followed by an artisanal Mandorla Affogato from Newtown's The Cow and the Moon (the best ice cream joint in Sydney, we reckon). Wash it all down with a Brand's Laira wine or James Squire beer, included in the reasonably priced ticket fee. Enough said.
Where: Hyde Park Palms, Hyde Park North (St James Station), Elizabeth St, Sydney
When: Friday 5 October, 6.30 pm - 9.30 pm
Cost: $65/head (plus booking fee)

Noughties Long Lunch With Mitch Orr And Kate Reid
Millennial master chefs, Kate Reid of Melbourne's melt-in-your-mouth Lune Croissanterie, and ACME's Mitch Orr (winner of the Young Chef of the Year Award and known for working wonders with Jatz) will take you on a culinary throwback journey of life-changing dishes from the noughties. Prepare to step or should we say say sit back in time at this leisurely lunch that pays homage to old-school 90s treats, washed down with Brand's Laira wines.

Where: Hyde Park Palms, Hyde Park North (St James Station), Elizabeth St, Sydney
When: Sunday 14 October, 12.30 pm - 3 pm
Cost: $99/head (plus booking fee)

The Master Series With Bill Granger
Thanks to his signature breakfast dishes (fluffy ricotta and honeycomb pancakes, perfectly scrambled eggs), Granger is largely responsible for transforming Sydney's brekkie culture, moving us away from the margarine and rubbery eggs. For anyone whose go-to breakkie spot is one of the Bills cafes peppered around Sydney, this night of conversation with the chef himself on the dishes that have influenced him over the last 20 years - is a must, complete with a three-course stylish sit-down dinner with Brand's Laira wines and James Squire and Talisker 10-year-old beers.
Where: Hyde Park Palms, Hyde Park North (St James Station), Elizabeth St, Sydney
When: Monday 15 October, 6.30 pm - 9.30 pm
Cost: $150/head (plus booking fee)

Vegan Italiano
Brought to you by cult vegan restuarant Melbourne's Smith & Daughters, this three-course sit-down dinner will be heaven on a plate for vegan or lactose intolerant foodies. Head Chef Shannon Martinez will provide proof that you can be vegan/dairy free and eat your Italian food too, creamy pasta included - even avid meat eaters will be more than happy with the plant-based magic on their plates. Vegan also doesn't equal alcohol free; there'll be matched wines and beer provided by James Squire.
Where: Hyde Park Palms, Hyde Park North (St James Station), Elizabeth St, Sydney
When: Saturday 20 October, 6.30 pm - 10.00 pm
Cost: $99/head (plus booking fee)
Getting Hungry?
For more information and to book tickets, visit the Sydney Good Food month website.
Have you signed up to our newsletter? Join ellaslist to get the best family and kid-friendly events, venues, classes and things to do NEAR YOU!