Make Your Own Playdough: The BEST Recipe Ever!
Preschoolers
Family
Kids
Toddlers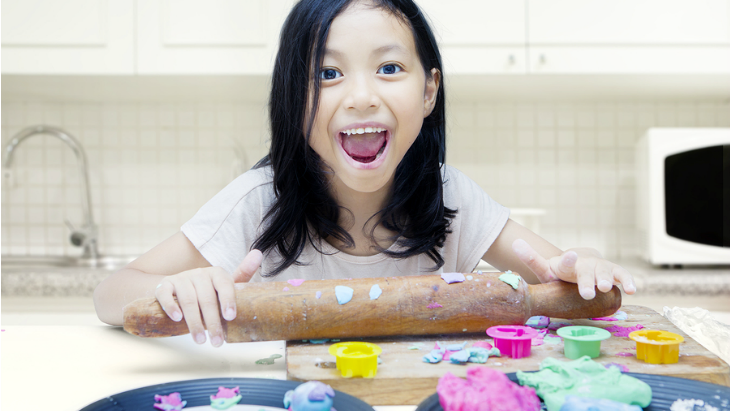 No need to buy play dough ever! – it's SOOO easy to make your own, you'll get heaps, it'll stay soft – and when it gets all hairy and eurghhh, simply chuck it out and start over. It's a brilliant toddler activity from about 18 months right through to preschoolers. It's also a great activity to bring out at a young toddler's birthday party to keep them all amused.
What You'll Need
2 cups plain flour
2 tablespoons vegetable oil (not olive oil)
1/2 cup salt (the cheapest home brand stuff is fine – this helps to stop them eating it)
2 tablespoons cream of tartar (available from any supermarket)
Up to 1.5 cups boiling water (adding in small amounts until it feels likes it's going to turn into dough)
A few drops of food colouring
Few drops glycerine (this is optional)
Best tip – to make it smell much better, replace the vegetable oil with baby oil. Or simply add a few drops of peppermint or lemon flavouring.
What To Do
Mix all the dry ingredients in a bowl, no need to sift the flour (flour, salt, cream of tartar)
Add the oil (vegetable or baby oil)
Add your food colouring to the hot water then pour into the dry ingredients.
Stir until it's one big lump in the bowl.
Leave the dough to cool for 5 minutes – then give it a jolly good knead until it's not sticky anymore, you can add more flour if it's still a little sticky. You can add the optional glycerine at this point.
Dahh, Dahhhhh!
To store: keep in cling wrap in the fridge for up to 3 weeks or until you can't look at the hairy bits anymore!