Best Halloween Events For Kids In Melbourne
By: Ayesha Khan, ellaslist
Suit up in your favourite witches and skeleton costumes, grab the garlic to ward off vampires and head off these frightening fun events for the entire family. Halloween is here to bring you mounts of lollies, scares and a few panic attacks as well.
1) Friday Night Spooktacular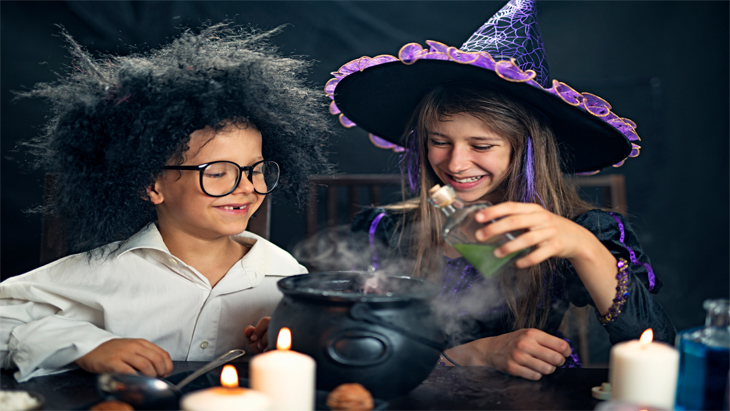 There's so much of spooktacular fun to go around. Take a wander down Spook Street for trick and treating, hop aboard the Ghost Train for a thrilling ride with ghastly goblins, be mesmerized by fire twirling devils and amazed at mysterious magicians at the CarnEvil Circus. You can even test your own juggling, plate-spinning and acro skills by joining into the circus workshop to become a true ringleader.
Hold on to your seats and skulls as the Hell Raising Hoopist swirls her electric hoops and The Mad Scientist conducts crazy experiments in his toxic laboratory. Get into the "spirit" of Halloween with Ruby Ra and Dr Jazz and dance along to
the swinging sounds of the Dead Gangsters Band.
Need a rest from all the chills? Bring your picnic blanket, grab a ghoulish bite from a Freaky Food Van and relax at the outdoor cinema Scream Screen for a festive family friendly flick.
Plus there's plenty of face painting, gory storytelling, Alchemist's Potions lab, glow zone, showbags and rides for all ages. It's Frighteningly Fun For The Whole Family!
What you need to know
Where: Cranbourne Racecourse, Grant St., Cranbourne
When: Saturday 28 October 5pm – 11pm
Adults: $31.50
Child: $29.50
2) Luna Dark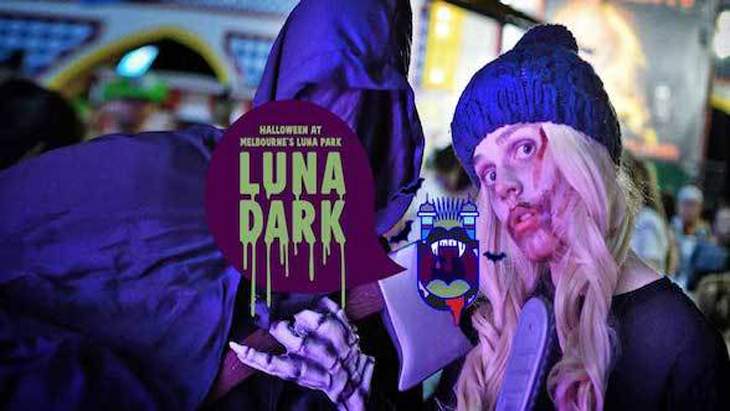 Get set to scream this Halloween as Melbourne's Luna Park transforms into Luna Dark, a spook-tacular Halloween weekend full of Carn-Evil delights! You must beware, throughout the Park, a wide range of spooks are waiting to frighten you. You never know what will be around the next turn
The Park will be crawling with creepy cadavers, terrifying ghosts and strange creatures, waiting to frighten those who dare to enter the grounds - prepare to be spooked!
What you need to know
Where: 18 Lower Esplanade St Kilda VIC 3182
When: 27 Oct (6 pm - 11 pm), 28th Oct (11am - 5pm , 6 pm - 12 am), 29th Oct (11am - 5pm , 6 pm - 11 pm) and 31st Oct (6pm - 11 pm)
Cost: $39.95
3) Spooktober Halloween Festival 2017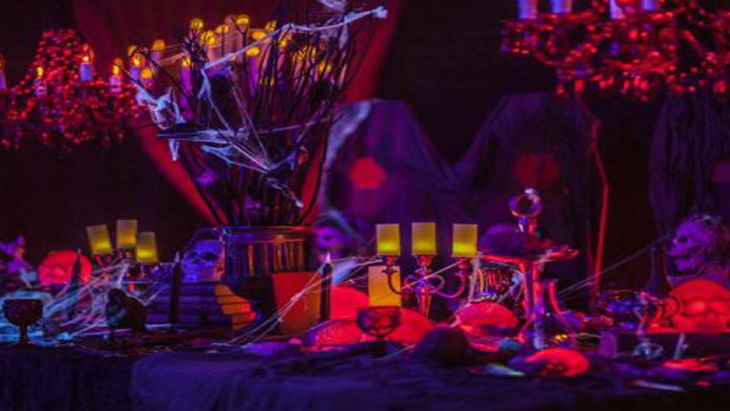 Melbourne's most exciting, fully immersive haunt experience is back this Halloween and it's bigger than ever with three haunted house experiences to choose from; Trick or Treat Manor, The Doll Factory and Blood Manor!
Taking place on the grounds of St Kilda Town Hall over five terrifyingly fun-filled days (27th -31st October 2017), embark on Wizz Fizz Trick or Treat Trail, take a shot at cackle-worthy games and activities, enjoy delicious food courtesy of the Cluster Truck Food Truck Park and Drunken Pumpkin Bar or brave the soul and hit the three Haunted House experiences with the Trick or Treat Manor specially designed for young children.
What you need to know
Where: St. Kilda Town Hall
When: 27th Oct - 31st Oct
Cost: Free entry to Festival Grounds. Haunts from $16.50
4) Fright Night at Hedgend Maze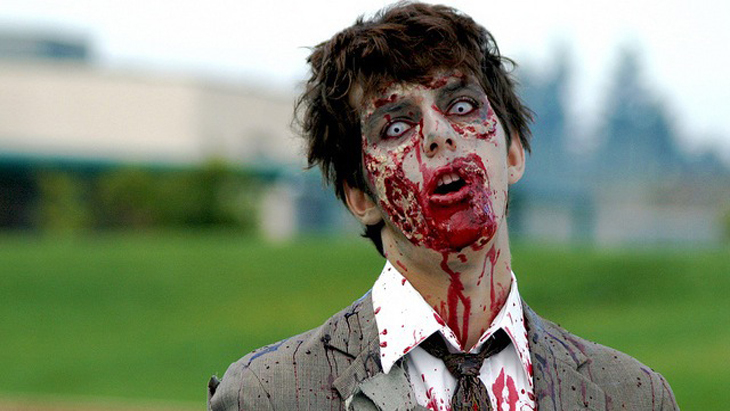 Hedgend Maze's Annual Fright Night is a living nightmare. get ready to encounter your worst fears. The folks at Hedgend Maze have perverted everything imaginable and turned it into evil. They will make you wish you never visited!
This year, the theme is Hollywood Horrors, based on the best of the best Hollywood cult horror movies. You will commence your journey carrying a candlelit lantern and lead your group down a darkened pathway. That's all you have to do. The pathway will lead you to some pretty disturbing scenes across the 20-acre park, including the giant 1.2k hedge maze, filled with your worst fears, nightmares and horror characters hidden behind unsuspecting turns, terrifying and tormenting you. Make your way through our gloomy bushland and try not to scream. Death comes to the dear little town. Enter at your own risk
What you need to know
Where: 163 Albert Road, Healesville, VIC
When: 15 Oct - 31 Oct (Weekends and Monday 30th October and Tuesday 31st Oct)
Cost: $20 - $43
5) Boo In The Zoo
Are you brave enough to celebrate Halloween at the Zoo? Come dressed in costume, enjoy kids' activities, themed music and food in the spookiest event of the year.
It's a spooky time of year to be at the zoo... come along and Trick or Treat throughout the Pula Trail and experience a transformed Werribee Open Range Zoo.
The Zoo will be home to Halloween-themed family entertainment suitable for all ages. There will be crafts and games, Halloween family-friendly characters and entertainment, trick or treating with themed doors located throughout the Zoo, and lolly giveaways for all guests.
What you need to know
Where: Werribee Open Range Zoo
When: 27th - 28th October (5:30pm - 8:30pm)
Cost: $30
6) Halloween at Old Cheese Factory
Dress in your favourite costume or as your favourite character and bring the kids to explore Halloween at the Old Cheese Factory. Pre-school to primary aged children will enjoy a range of activities including treat making, haunted inflatable maze, giant inflatable slide, Halloween themed children's disco, mask making, face painting and various Halloween themed areas to explore and participate in trick or treating.
Food and Drink will be available for purchase.
What you need know
Where: 34 Homestead Road, Berwick 3806
When: 31 October (3 pm - 8 pm)
Reviews

Reviews get lonely too
Be awesome and write a review