Best FREE Activities For Dad On Father❜s Day In Melbourne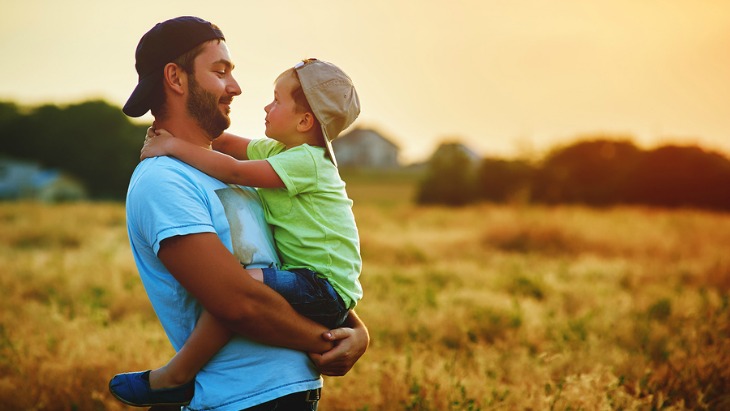 By: Ayesha Khan, ellaslist
Looking for some last minute Father's Day ideas? How about taking dad on an adventure and that too a FREE one. Not all celebrations have to be heavy on the pocket. We've found some amazing places for FREE fun for dad. From thrills and spills for the entire family to a family picnic by the water falls, here are the top seven free activities to do this Father's Day.
1) Dad's go free at Luna Park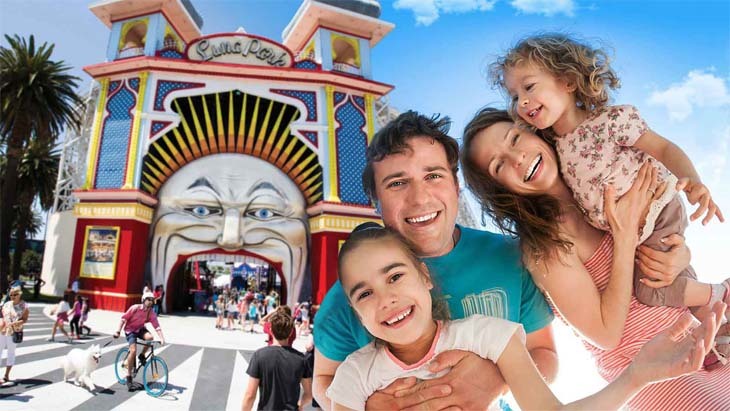 Catch some thrills and spills with dad this Father's Day at Luna Park!
We think there's no better way to spend this Father's Day with dad than bringing him down to Melbourne's Luna Park for a day of fun, laughs and thrills with the whole family. Luna Park will welcome all dads on this special day (Sunday 3rd September) with a free sausage sizzle and free rides for dad all day long! How COOL!
Hold on tight to dad's hand as you ride the iconic Scenic Railway together, scream your lungs out on The Power Surge, and hold on to your tummies on the Twin Dragon. All dads will receive a FREE unlimited ride ticket when accompanied by one full paying child.
So if you're looking for some serious fun for dad and the kids this Father's Day, look no further than Melbourne's Luna Park. It's the perfect way to treat the big boy of the house for all the fun and games. Happy Father's Day Dad!
Big thank yous and high fives all round to the dads who raised us!
What you need to know
Where: 18 Lower Esplanade St Kilda VIC 3182
When: 3 September (11am - 6pm)
For more information: see website
2) Father's Day Car And Bike Show 2017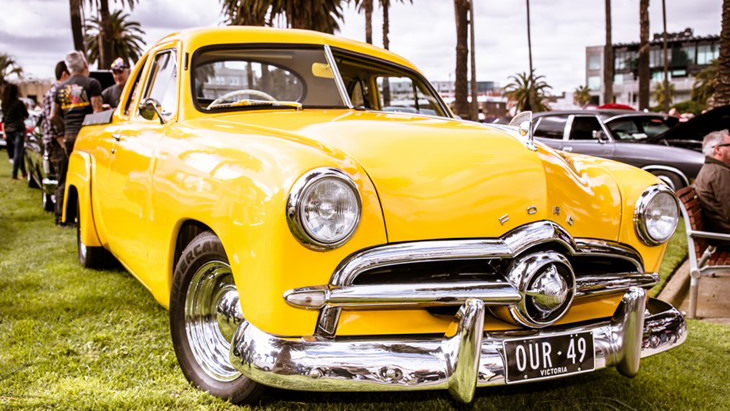 Rev up the engines, Baby!
Catch Melbourne's best show cars at the annual Car and Bike Show at St. Kilda this Father's Day. This is a fantastic show for the entire family and the best part is, it's completely FREE.Celebrate father's day this year with dad in Acland Village and let him enjoy Melbourne's best show cars such as street machines, hot rods, elite cars, muscle cars, custom bikes, original rides and American classics. All on display.
This is an annual event and has been a massive success over the years.
There's raffles and countless prizes, as well as a huge kids play area, trade stands and loads of live entertainment.
Make this father's day one to remember and head on down to Acland Street.
What you need to know
Where: Acland st St Kilda 2017
When: 3rd September (10 am - 5 pm)
This is a FREE event
For more information: see website
3) Route 35 City Circle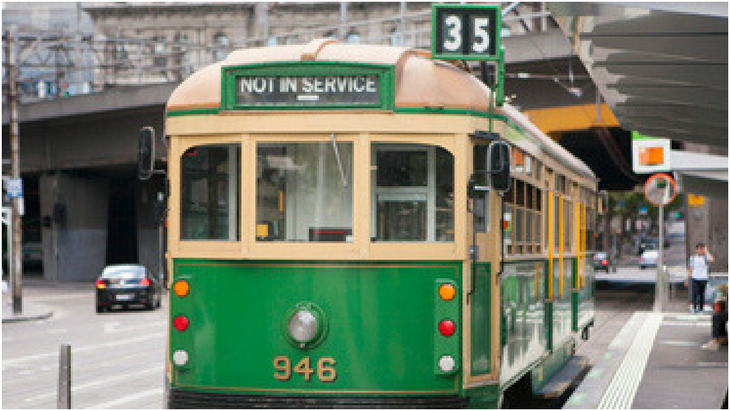 Round and round she goes, the FREE City Circle tram will take you everywhere in the CBD you need to go and even to places you didn't know you did!
Trams run in both directions approximately every twelve minutes between 10am and 6pm Sunday to Wednesday and extended hours, 10am - 9pm Thursday, Friday and Saturday. The clockwise service runs: Flinders Street > Harbour Esplanade > Docklands Drive > La Trobe Street > Victoria Street > Nicholson Street > Spring Street > Flinders Street, so you won't miss a single thing.
Jump off the burgundy-and-gold heritage W class tram for further exploration of the multitude of shopping precincts, cafes, restaurants, bars, parks, museums and waterfront fun you pass, and jump back on again at any time as you like. The tram also connects with other trams heading out of the city.
A particularly great activity for when you want to get out of the house and see the sights but still say warm and dry while doing so!
4) Jells Park
On a perfect weekend day, the trails here can get packed with happy families keen to traverse the scenic paths. The goods news is that parking is still usually easy and there are a number of playgrounds – plus a kiosk and even a restaurant (when you need some food-based rewards or ice-cream bribery after a long day of two-wheeling).
The tracks wind their way through the park and there are some gentle slopes – make sure your little ones know how to use their brakes safely to minimise the danger factor.
With a few unfenced ponds, and one large unfenced lake, it's worth ensuring the kids are good riders – although the paths are far enough from the water that it shouldn't be too much of a worry.
Don't let the kids feed the ducks (it is bad for those feathered friends unless you've got proper duck-friendly food and not just white bread)! The happy sight of the wildlife paddling in the cool water is still a good way to help you cool down – a nice way to rest before finishing your ride. The park is large enough that a ride around all it has to offer will be tiring for little legs – perfect for a
Sunday activity to wear out back-to-school students for an early night.
Just be aware that all paths are multi-use so train the kids to watch out for walkers – as well as other cyclists. In addition to those hungry ducks, native birdlife to keep an eye out for includes the Purple Swamphen and the pelican.
What You Need To Know
Phone: 13 1963
Address: Waverley Road, Wheelers Hill
More information: visit the website
5) The Pool at NGV
Would dad be up for a FREE dip at a gallery? It can happen right here at NGV.
The NGV, spread over two iconic buildings, has always been a host to a wide range of international and local artists, exhibitions, programs and events; from contemporary art to major international historic exhibitions, fashion and design, architecture, sound and dance.
This week an exhibition of a different kind opens in the hallowed halls.
The Pool: Architecture, Culture and Identity is an exhibition that celebrates and explores one of Australia's greatest cultural symbols, and star of the show is an 11-metre long pool.
The exhibition, consisting of a functioning pool, invites visitors to 'take a dip' inside the gallery. Complemented by multimedia and audio content the Pool is an interactive space that plays with all of the senses with water, light, scent and sound. There's plenty of opportunities to interact with the exhibition, get wet, stroll on the wooden decking and relax the day away in the lounge chairs.
The best news? Entry to the pool exhibition is FREE
What you need to know
Where: NGV Australia, Federation Square, Ground Level, NGV Design Studio
Opening Hours: Open 10am–5pm daily
When: Friday 18 August 2017 – February 2018
For more information: see website
6) Trentham Falls
Hit the outdoors with dad this Father's Day! One hour from Melbourne lies the five-million-year-old Trentham Falls, Victoria's single hightest drop, surrounded by the thick vegetation of the Wombat State Forest. In winter you will find the falls absolutely roaring, but summer doesn't often have enough rain for it to be at its spectacular best. So Father's day being on the edge of winter and spring would be the best time to visit the falls.
Picnic facilities are plenty, with tables and toilets, barbecues, and shady spots to lay a blanket. Pack dad's favourite meals along for a grand feast.
Take a stroll through the native bush along any of the scenic walking tracks in the forest and in the Lederderg State Park - the waterfall's viewing platform is a short 70m walk (unfortunately you can't get to the bottom of the falls any more), or take a bike if you're so inclined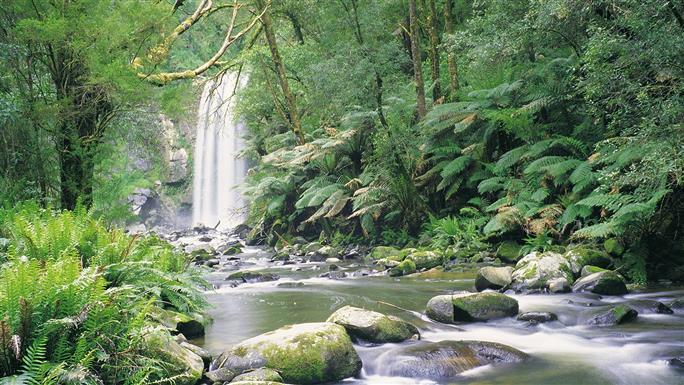 What you need to know
Where: Trentham Scenic Reserve Rd, Trentham VIC 3458
7) Family Sundays At ACMI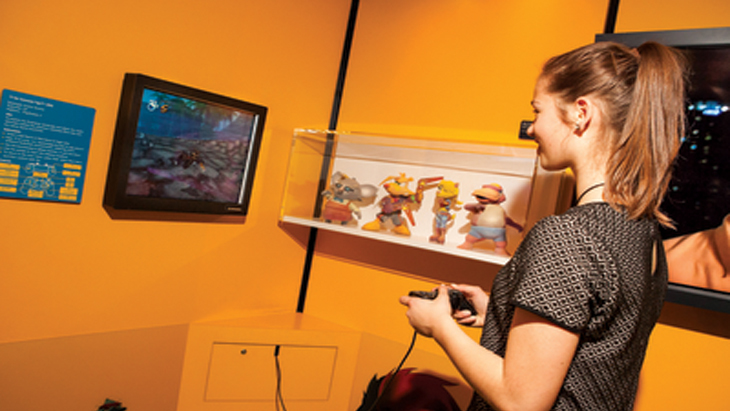 Looking for fun and free family activities? ACMI has you covered on the first Sunday of every month. How about creating a comic book featuring dad this Father's Day?
From wielding a lightsaber to perfecting YouTube videos, ACMI's Family Sundays program is a unique interactive experience you can't get anywhere else.
The Family Sunday program at ACMI has activities that suit children aged 3 right through to teens. ACMI opens up its amazing spaces to enable visitors to see, touch, create and engage with the films and pull the curtain away to provide a real insight and learning experience into how timeless film classics are made. ACMI's Family Sundays are all about taking children of all ages through the magic and power of the moving image and fuel the imaginations of future storytellers and creators to experience film, gaming and animation.
ACMI's Family Sundays are held on the first Sunday of every month and are a fun and entirely free experience for families. This Sunday, get hooked on some smart story telling. Let the power of your imagination take you on a journey to a world of wonder through storytelling
What you need to know
- The Family Sundays are busy! They run from 11 – 4, so aim to time your visit early, especially if you have little ones and a pram.
- Aside from food and drink and merchandise, the Family Sundays are FREE!
- Allow plenty of time to work through all the experiences. The lines can get long, so make sure you allow time to really enjoy the activities.
Where: Federation Square, Swanston St & Flinders St, Melbourne VIC 3000, Australia