Aussie Comedian Mum Impersonates Other Celeb Mums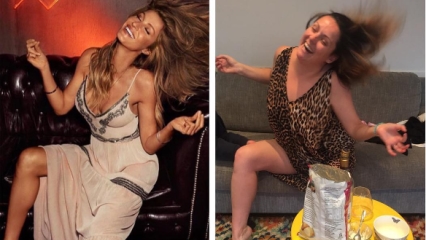 By: Phoebe Ackland, ellaslist
Hilarious Aussie comedian mum, Celeste Barber takes a crack at re-creating celebrities' famous Instagram shots and photo shoots- and we're cracking up.
We were just waiting for someone to point out the ridiculousness of new mothers in Tinsel Town posting post-baby shots of rock hard abs under midriff tops, milk showers and sultry selfies- and Celeste came through for us in side splitting fashion.
The reality is- we just don't know how those celebs do it. Not all of us can bounce back so fashionably (and in super human speed) to our pre-baby bods, and we're refreshed now that Celeste has shown us that that is perfectly okay….and kind of funny.
Here are some of Celeste's hilarious comparison photos that have seen her gain a whopping 1.2 million Instagram followers!
1. We don't blame new mothers for not always feeling like sex kittens…
2. Not all families are photo-shoot ready
3. Now that's our kind of pressed juice…
4. How we really feel waking up in the morning
5. Real life just isn't that glamorous
6. How do all those celeb hubbies put up with it?!
7. What we really look like on holiday
8. Close Enough
9. Our all time favourite: re-creating Fergie's "
MILF

Money" video clip
10. "When waist trainers are the least of your problems" – We hear you, Celeste!