Anzac Day Craft
Preschoolers
Family
Kids
Teens
In the lead up to Anzac Day on 25 April, bring out the craft box and keep the kids busy with these poppy making activities courtesy of ourlittlefoxes.
1. Red Poppies made with Paper Plates
WHAT YOU NEED
Paper plates, paint brush, black paper, pencil, craft glue, scissors
HOW TO MAKE IT
STEP 1: Use your pencil to roughly design the petals on your poppy and cut it out as shown above. Of course, if your child is capable of drawing and cutting with some accuracy then they could do this step themselves.
STEP 2: Setting up your painting station is easy. It's a good idea to have everything you need before introducing it to your child, as it makes wondering hands easier to control and you can be ready to begin with some degree of organisation. Let them experimenting with the brush and paint, moving it around in circles and making swirls, dots and dashes! Once poppies are painted, set them aside to dry.
STEP 3: The next step is to prepare the black paper for the centre of the flower! You can both buy it or just colour a white one with black marker. After that you can ask your child to tear them up. After an hour or two our poppies are dry and ready for the next step.
STEP 4: Now you can squeeze the craft glue into the poppy and start pasting the black papers on it! And the flower will be ready.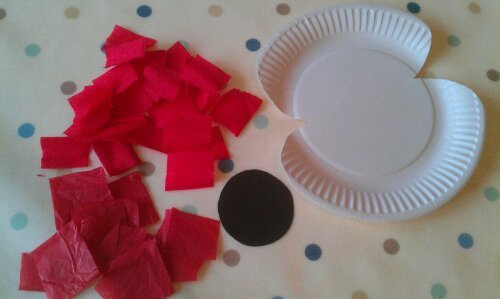 2. Make your own crepe paper Poppy Flower
WHAT YOU NEED
Red crepe paper, red crepe paper, green pipe cleaner, black paper, scissors, pencil, glue
HOW TO MAKE IT
STEP 1: The petals – cut out the poppy shape as shown in figure 1, place this shape on red crepe paper and trace around it with a pencil, cut out the red poppy shape and set aside.
STEP 2: The stalk - Take a pipe cleaner and bend the end over twice at 1cm lengths so that it looks like figure 2. Push the straight end of the pipe cleaner through the middle of the red poppy and continue to thread it through until the bent end sits against the middle of the poppy. Set aside.
STEP 3: The centre – Cut a small circle out of the black paper and glue onto the centre of the poppy. It should secure the pipe cleaner to the crepe paper. Bend and shape pipe cleaner and poppy petals as you like. Your red poppy is ready!