Alice In Wonderland: A Truly Magical Theatre Experience
Kids
Family
Preschoolers
Teens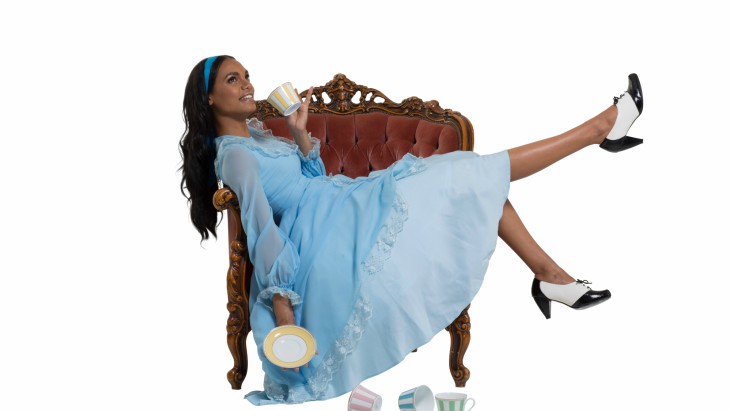 By: Jodi Byrne, ellaslist explorer
The classic story of Lewis Carroll's Alice In Wonderland came to life on stage at Riverside Theatres in a non-stop, high-energy theatrical adventure as part of Sydney Festival 2018. Everyone knows the story of Alice, the girl who falls down the rabbit hole and embarks on a crazy adventure in an unknown mysterious world of Wonderland. My three daughters and I followed her adventures on the stage as she chases the White Rabbit down the rabbit hole that leads us all into a magical fantasy land that has a distinctly Australian twist.
An Aussie Adaption
Dubs Yunupingu is a rising young Indigenous actor who plays Alice so well, you can't help but hang on to her every word and feel like you are right there with her on her adventures. Her character resonates with kids as she sets the scene by explaining a little about herself and her perfect hair and dress with "ribbons too ribbony and clothes too tight". She lets you into her life and explains that she feels so small - doesn't want to tidy her room or eat her dinner. She had my kids intrigued - someone just like them!
We follow her adventures around Wonderland as she meets the wacky and wonderful characters Dodo Bird, Tweedle Dee and Tweedle Dum and the bubble blowing Caterpillar and more, along the way. Watch on as Alice beats the Queen of Hearts at her own game!
Cheeky Characters
The Cheshire cat is one of the highlights. We see its grinning head, dismembered into panels of eyes, whiskers and claws and floating around in the hands of puppeteers before being re-attached.
The Lennox theatre at Parramatta's Riverside Theatres is a small and intimate space where every seat is a great seat. This is a fast-paced take on the classic tale using simple, yet clever props that are easy for kids to follow and understand. The props were used so cleverly to show Alice shrinking, then growing, then shrinking again. The clever styling and realistic sound effects take you on the water in the flood - you feel like you're rolling on the waves with the cast.
What You Should Know
Getting there was easy - Parramatta has major roads into it and there are many parking options but we opted for the easiest and most convenient - The Novotel - directly opposite the theatre. The candy bar has lots of snack options and drinks and just try to get past the little pop-up shop of Alice in Wonderland goodies such as books, headbands and book-marks. The theatre is small and intimate and not too dark so kids will feel quite comfortable.
This show is a joyous event bringing delightful and unexpected twists and turns that both kids and adults will love. It's a really uplifting adaptation with some heartfelt messages that you'll take home with you. My kids (aged 7, 8 and 11 years) were sitting on the edge of their seats, eyes glued to the stage and captivated by the performance for the entire hour.
The Details
When: 5 - 27 January 2018
Where: Lennox Theatre, Riverside Theatres, Corner Church and Market Streets, Parramatta
Parking: Parking is just a hop skip and a jump away from the front doors at Riverside Theatres. They have an arrangement with Eat Street Erby Place car park and can offer you a discount. The closest parking to Riverside is across the road at Novotel.
To book tickets: Click here