A World Of Play At Darling Quarter Playground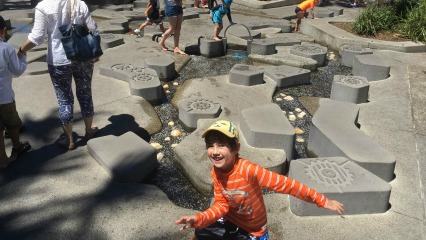 By: Amanda Lieber, ellaslist explorer
There is no better way than to cool down on a hot summer's day in Sydney than to splash about in some water. The Darling Quarter Water Park and Playground offers ample opportunity to keep wet and cool.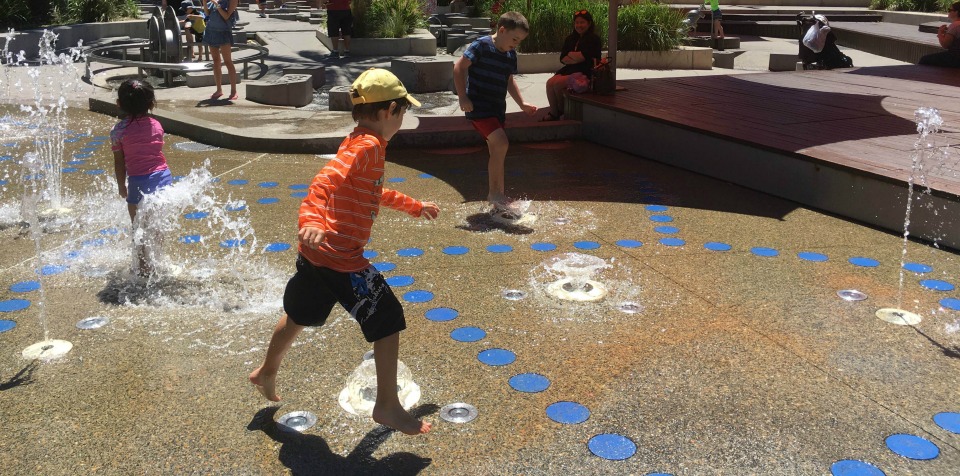 The Water Play


We went on a Friday so it was very quiet. The water only started to work from 11am and the fountains from 11.15am which was fine for us as we only got there at 11am


There are a variety of areas to explore and it encourages children of all ages to play together


The pathways for the water are set up are like stepping stones, great for gross motor skills and balancing


There are metal and rubber attachments in the streams to block off the water flow creating an opportunity to watch things float down the stream e.g. leaves or floating toys brought from home. My son giggled with a new friend as they raced leaves down the stream


There is a pump to pump water and a giant turning screw machine which can be turned either clockwise or anti clock wise, watching the water travel up or downwards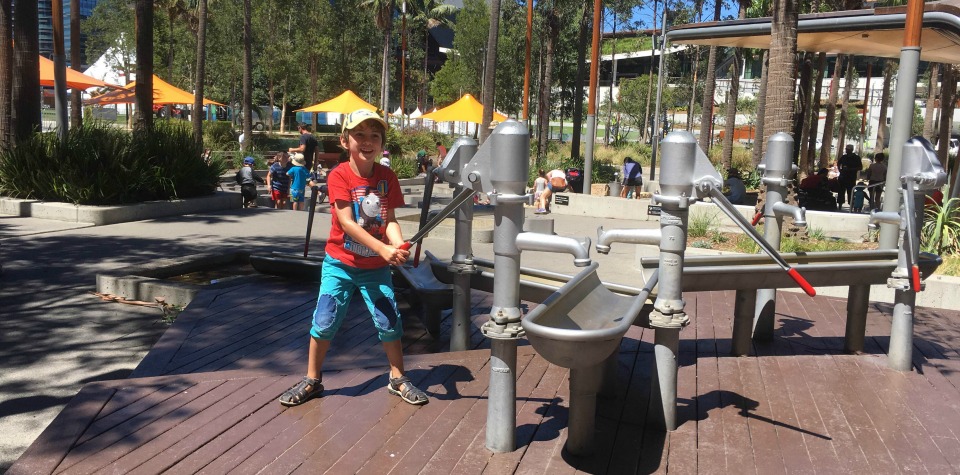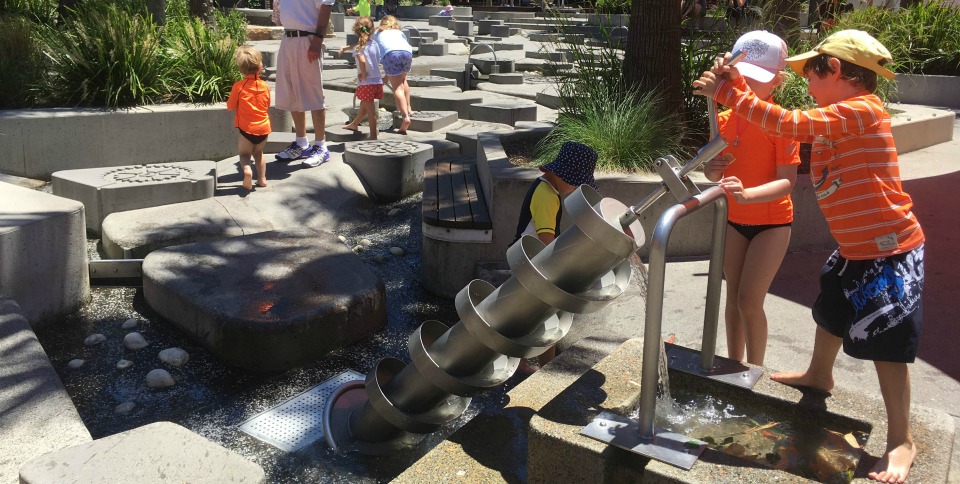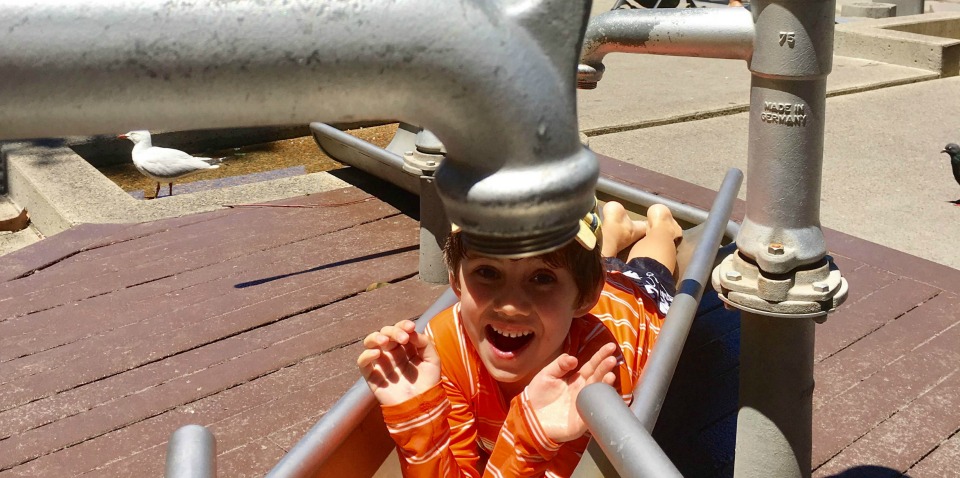 Incredible Playground


Right near the water play area is a sand pit and couple of small slides which land in the sandpit


There are two diggers to scoop up sand (a child will learn life skills: turn taking and patience)


You can practice climbing skills on the suspended ropes 'The Octanet' (spider web climbing structure)


There is a flying fox, a Viking swing and some smaller swings for younger children


A larger metal slide (unfortunately this was closed off the day we were there) with tunnels underneath for crawling in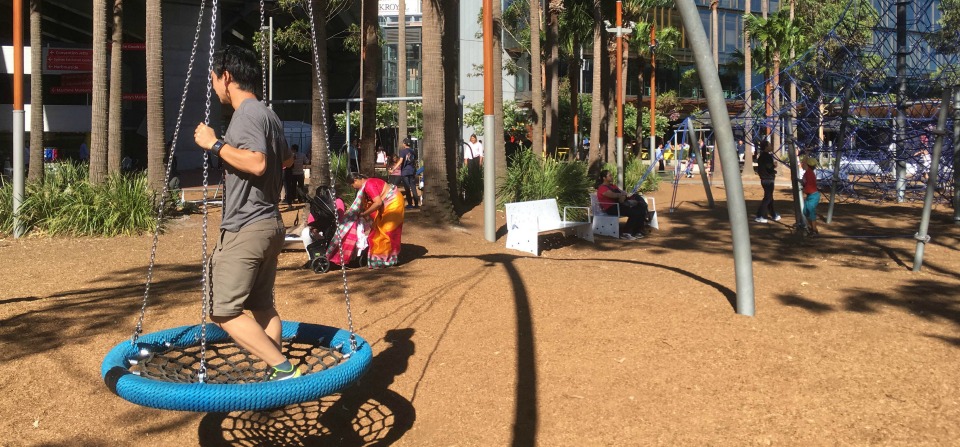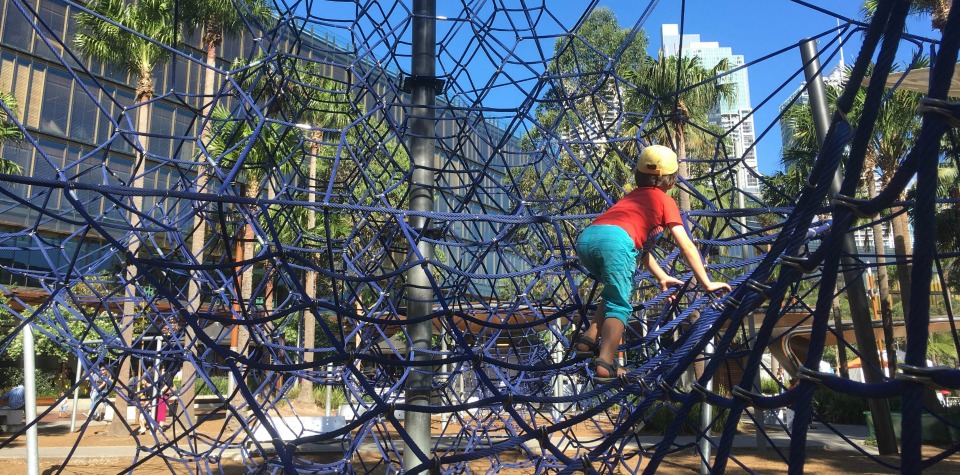 Kiosk

There is a small kiosk which sells delicious coffee, babycinos ($1 with accessories: marshmallows and chocolate) they also sell toast with various toppings, burritos, toasties, hotdogs, corn on the cob, smoothies, muffins and banana bread ranging from $3.90-$8.90.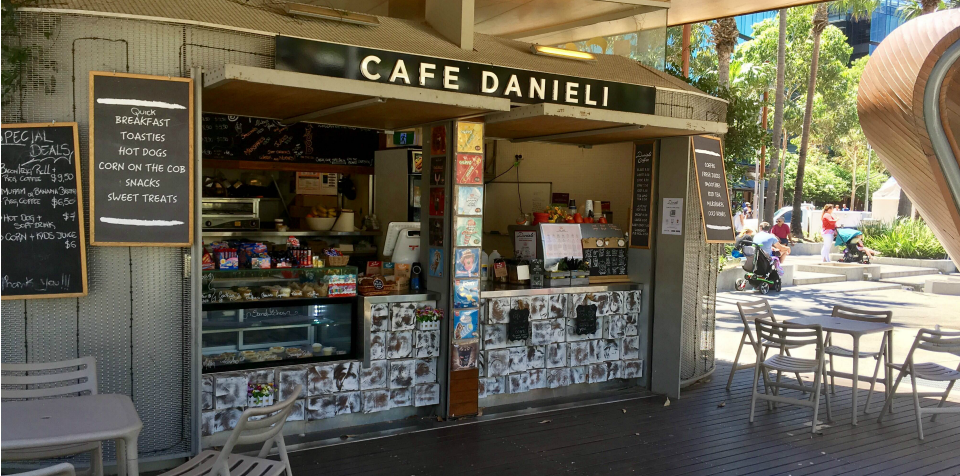 Facilities

There is a toilet right behind the kiosk, and one in the Monkey Baa Theatre (30 meters away) these are really clean and have a baby change facility.
Child's Favourite: The fountain spurting up water and the pumps
Mum's Favourite: The kiosk with delicious coffee so close to the play area.
Most Funny Moment: Lying on the fountains when they start to spurt water.
Practicality: There is a lot of shade over the seating area and near the sand pit.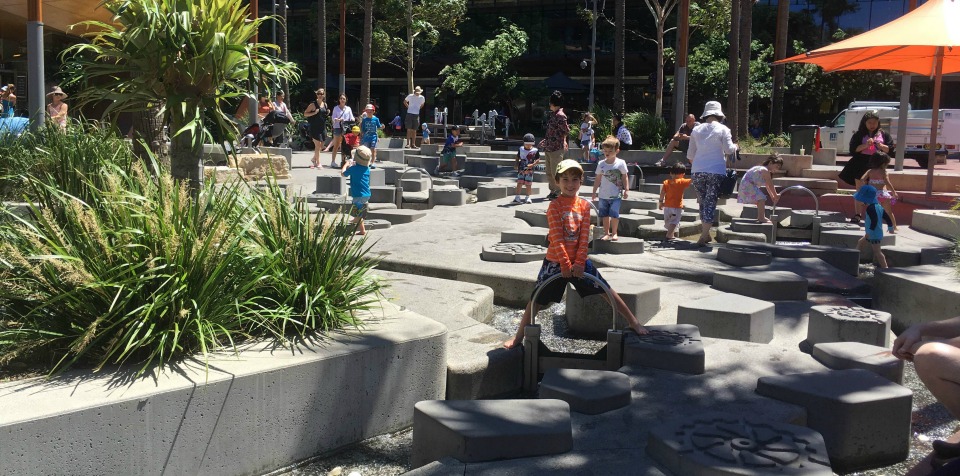 Top Tips


Over the water are there is no shade, take hats, rashies and sunblock


There are water stations to refill your water bottles


There area is not fenced off, keep a close eye on you little ones, especially as it gets quite busy on the weekend and holidays
Places To Go Close-By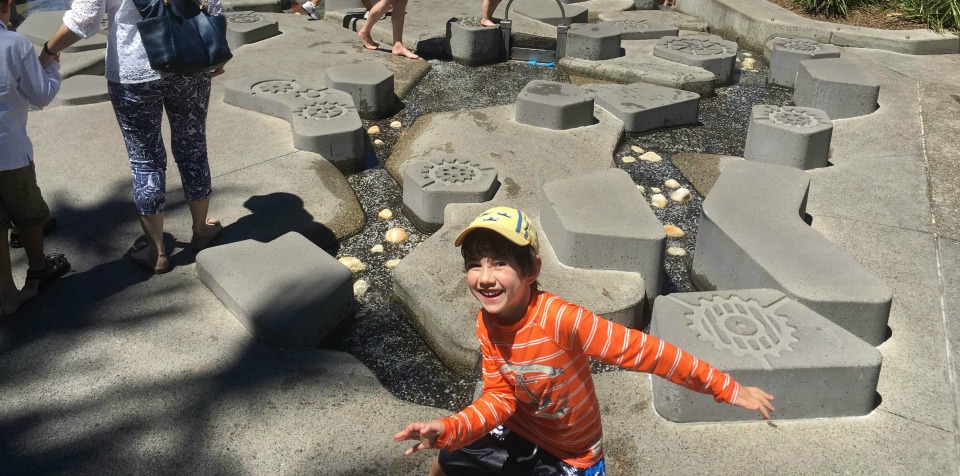 Parking

There are several Wilson car parks in the area, or get a bus to Elizabeth Street and walk down or a train to Central station and just walk through China Town/ Paddy's Market. TIP: If you visit one of the main attractions eg Aquarium, Wildlife Park you can get a discount on your parking. If you 'Book a Bay' with Wilson Car Park before you go on a weekend they offer an all day deal.