A Wet❜n❜Wild Party Is The Coolest Birthday Ever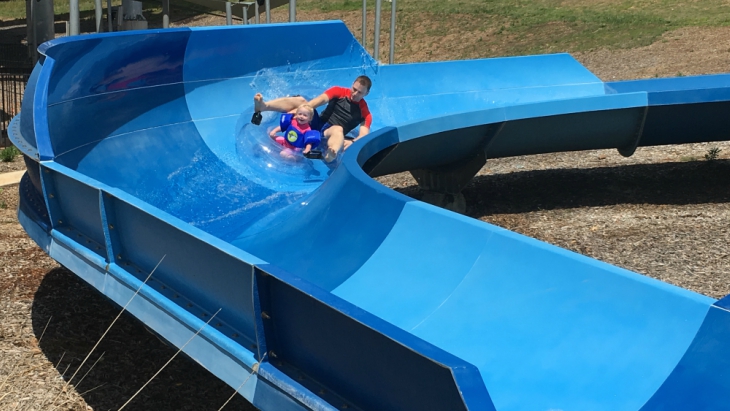 By: Megan Gibson, ellaslist explorer
There are so many things to love about a birthday party at Wet'n'Wild Sydney. All the details were taken care of, the kids had a ball, the adults did too, and it is really great value for money.
Park opening days and times vary during the summer season, therefore I would suggest that you plan to arrive 30 minutes before your guests - to get your booking organised and collect the "MyBands" which allow you to upload cash, book extra services, order photos, access a locker and pre-purchase meals. Unless you wish to use these services, there isn't any need for the band once you enter the park. The great news is that kids under the age of 4 enter Wet'n'Wild Sydney for free.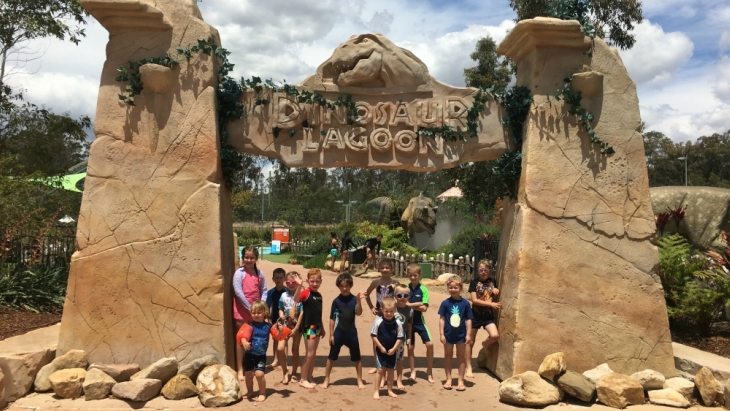 On The VIP List
We had 14 children attending our party ranging from 18 months to 8 years old. We had a mix of competent swimmers, learners, and toddlers. The day we visited, in early November was not too hot and not too cold although the kids did need time out to warm up every now and again. The park wasn't crowded, and we were able to go on favourite rides repeatedly. Once we entered the park we checked in with guest services and were met by our lovely party host. There is a dedicated lawn area with picnic tables for party bookings, but we were also given the option to base ourselves in a shaded area closer to the middle of the park. Our party host was brilliant – she made sure we were all settled, checked on what meals the guests required and confirmed our lunch time slot. She even booked us a locker to secure our wallets and phones. Having the wallets and phones safely stowed away was a great idea, there was no concern over security and it also meant that the adults participated without the distraction of technology.
So Much Fun To Be Had
Once we were all set up, it was time to let the kids roam. We started off together as we explored the Dinosaur Lagoon and then Wet'n'Wild Jnr. Dinosaur Lagoon is a long winding river that you float along on tubes. It was lovely and relaxing for the adults and the kids enjoyed making rafts by holding hands, racing over the bubbles, spinning around, and pushing off walls. Children will love Wet'n'Wild regardless, but being able to experience it with their friends was really special.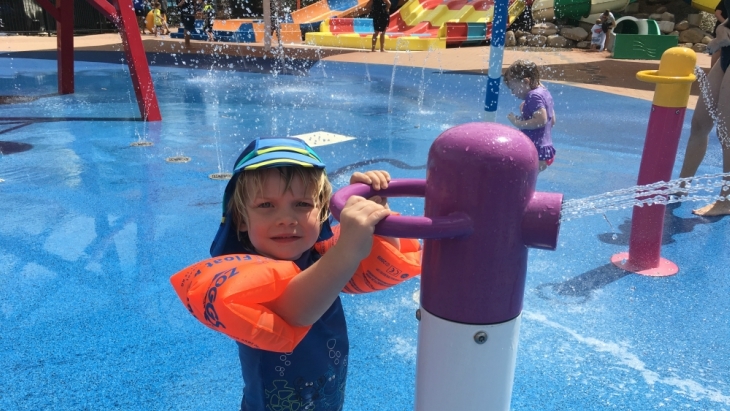 Wet'n'Wild Jnr is perfect for kids under 8. There is a splash pad with tipping bucket, small toddler pool, a whirlpool, and slides. Wet'n'Wild Jnr features a group of slides suitable for small children that they could play on independently, there are also slides that are miniatures of the other slides in the park. The great thing is that parents can accompany children on these slides on 2-person inflatables. To start with all our kids were begging mum or dad to ride with them but it wasn't long until they were grabbing single floats and heading up on their own.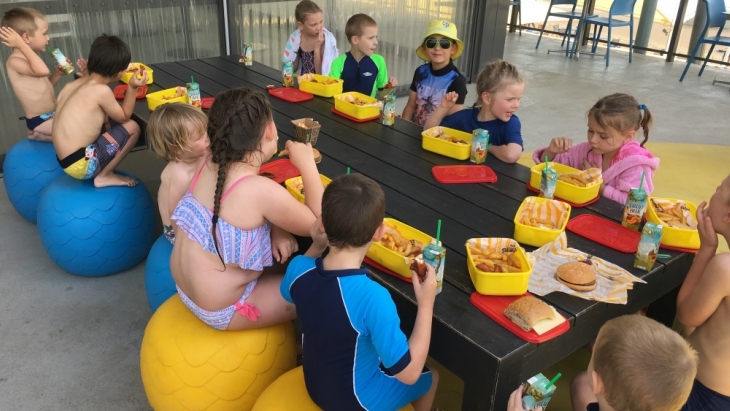 After an hour or so we headed back to base for lunch. Each child got a juice popper and a cute Wet'n'Wild lunch box with their meal inside. The choices were vegetarian, chicken strips and chips or cheeseburger and chips. There was plenty of food and the children were keen to tuck in. After the food had been eaten our cake arrived, Wet'n'Wild supplied a gorgeous collection of muffins and mini cheesecakes in a variety of shades of pink went down very well. As well as being able to keep their lunch box each child was given a novelty straw as a party favour and the birthday girl had a beautiful Wet'n'Wild towel presented to her.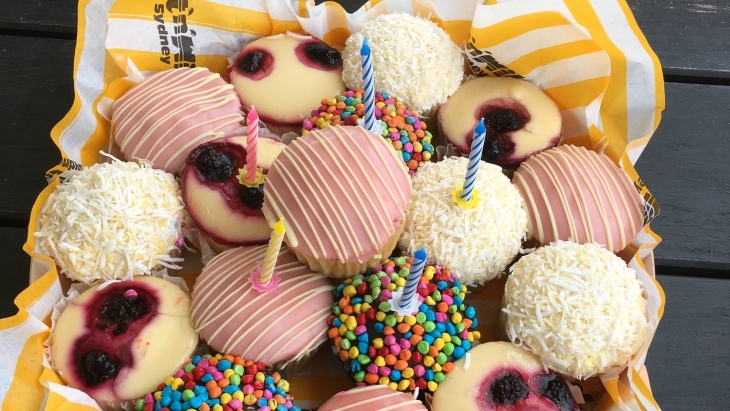 Let's All Slide!
Then it was back to the fun, but this time we split up a little more. There are a variety of height requirements at Wet'n'Wild. If you are under 110cm tall you are not allowed on any of the slides on the towers. 110-120cm tall riders can ride on about 75% of the rides and If you are over 120cm tall you can ride on all but a few of the slides. Given that the children in our party were on the young side, we started out slow with the rides on Tower 3. The great thing about these rides is that there are four people on an inflatable. So, we had two adults and two kids riding together, which was great to build confidence.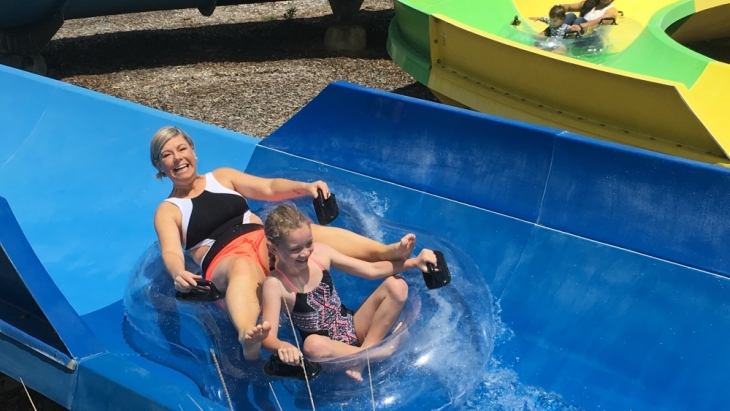 Then we moved onto tower 4. This tower requires you to ride in inflatables carrying 2 people so makes for a nice progression. Unlike Tower 3 - where an automated system delivered the inflatables to the top, on tower 4 you are required to carry the 2-person float up the narrow stairs yourself – which may be difficult for smaller children. We rode Aqua Tube and the Breakers but another of our parent child teams spent a good hour riding Typhoon (the only 4-person ride on tower 4) repeatedly.
Finally, we moved on to Tower 1 and tried the H2Go racers. Given that H2Go features 8 lanes of individual slides where you propel yourselves face first into the tube it required higher levels of bravado. One of our 7 years old had a moment at the top where she decided it was too scary, but did in fact make it down the slide and enjoyed it so much she went back for another run.
The final place to visit was The Beach, Australia's largest wave pool. The kids enjoyed a chance to have a play in the sand before tackling the waves.

All Bases Covered
After we had tested all the slides we spent the rest of the afternoon alternating between different rides. We also kept popping back to our home base to fill up on snacks and check in with everyone else. You are now allowed snacks to keep the energy levels high. I can also highly recommend a pram or a small cart for carrying all the extra bits and pieces. We found that wetsuits helped keep kids warm, while plenty of towels and dry clothes for the end of the day were essentials.
The staff at Wet'n'Wild Sydney are fabulous, right from the ticket and booking staff, the party host and the ride attendants. But special mention must go to the lifeguards. They really were 100% alert and kept a very watchful eye over all proceedings. We also really loved the free sunscreen stations dotted around the park, encouraging you to reapply often.
We arrived at 10am and departed after 6pm with tired and happy children. After a long day of sunshine and walking we all had sore feet and red cheeks. One of the great things seeing kids and parents heading out and spending quality time together. Wet'n'Wild really is a place for all the family to enjoy.
The Details
The cost of entry into Wet'n'Wild Sydney varies depending on age and height, time of year and whether you pre-purchase online. Given that pre-purchased general admission for anyone over 110cm is $69 and the party bookings are $55 (minimum of ten guests and include food, and 2 free adult admissions) they are great value for money and an excellent way to spend the day. A birthday Party at Wet'n'Wild is something a child will always remember and from a parent's perspective, the whole thing was so simple, easy to organise and so much fun.